Day:
June 28, 2022
How to Sell On TikTok: Tools, Best Practices, and Step-By-Step Guides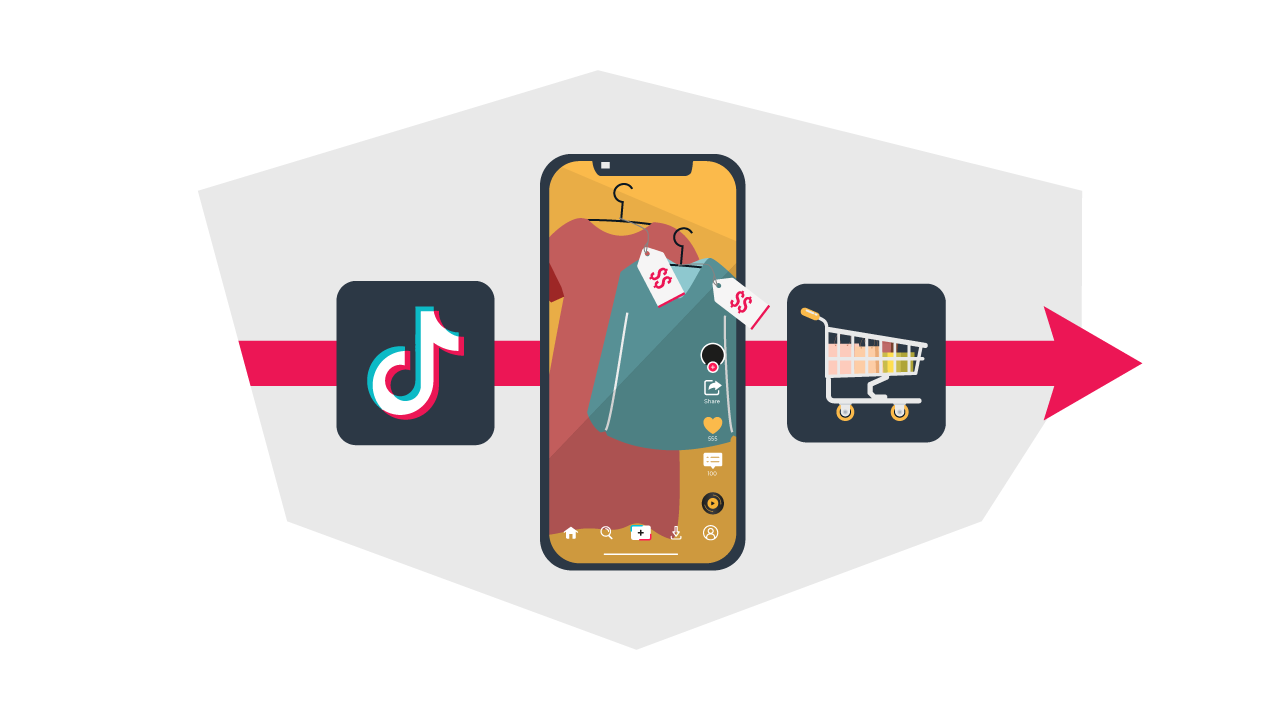 TikTok is a popular app that boasts over three billion downloads and is currently the sixth most-used social platform in the world. In fact, it's now more popular than Instagram among Gen Z users in the United States.
Known for the catchy and viral nature of its content, TikTok has become a powerful marketing and eCommerce channel for brands and individuals alike. In this article, we'll discuss how to harness TikTok for your business, and share some useful tips at the end.
What is TikTok?
TikTok is an app that allows users to create and share short-form videos on any subject matter (so long as it falls within its terms of use). Its personalized feed is filled with offbeat videos utilizing music and sound effects, and has earned the platform a reputation for being addictive and engaging.
Its easy content creation and collaboration for amateurs and professionals has turned TikTok into a powerful marketing and eCommerce tool.
Brand benefits of TikTok
Here are some of the advantages brands can draw from the platform.
1) Greater reach
Through TikTok, you can tap into a massive pool of over one billion active monthly users located in more than 150 markets. What's more, one out of four of those users exclusively use this social media platform.
What's more, TikTok is still rapidly growing. As reported by Hootsuite, the platform gains eight new users every second and an average of 650,000 daily. And, according to data.ai, it's expected to reach 1.5 billion users by the end of 2022.
2) Ease of use
TikTok's focus on short-form content means producing videos and watching them also takes up less time and effort. Anybody can record anything and post it in a few moments.
Since the app automatically plays videos as you scroll through your feed, you can easily watch user-generated content and get hooked. The following usage statistics for various countries provide evidence of the platform's addictive nature:
U.K.: An average of 27.3 hours per month, which is the most time spent on TikTok
U.S.: Comes in second with an average of 25.6 hours per month
Canada: Places third with an average of 22.6 hours monthly
3) Entertain your audience
A Global WebIndex survey found 60% of TikTok's visitors spend time on the platform to find funny or entertaining content; meanwhile, 45% use it to fill up their spare time. Other common uses include:
Posting and sharing original content
Keeping up with the latest events
Learning
This means traditional, dry content will most likely flop on the platform. Instead, addressing these user motivations can help brands thrive on TikTok.
4) Brand building
Heightening brand recognition on TikTok is possible for businesses of all sizes. For example, the stationery and gifts brand Sommer Letter Co. — owned by artist Kyle Sommer — uses TikTok in the following ways:
This approach has garnered the brand 163 thousand TikTok followers and 1.8 million likes. Sommer even sends surprises to some of her best customers.
TikTok business tools
The platform also allows brands to set up a TikTok For Business account, where you can advertise and access other tools to help grow your business.
1) TikTok Ads Manager
The TikTok Ads Manager lets you create and manage TikTok ads based on your brand's needs. It requires zero expertise, so you can conveniently access a global audience across the platform and its family of other apps.
2) TikTok Creator Marketplace
The TikTok Creator Marketplace (TCM), meanwhile, introduces you to the platform's massive pool of influencers (for free). You can partner with them based on your industry, budget, and goals, which simplifies the process of finding the right one.
3) TikTok Creative Exchange
The TikTok Creative Exchange helps you produce the best brand content. With it, you can connect with experts to create native-looking videos for your TikTok ad campaigns.
The Creative Exchange recommends and matches you with the best marketing partner based on your project's needs. You can then easily collaborate and sync your videos to the TikTok Ads Manager to launch your campaign.
4) TikTok Shop
Lastly, TikTok Shop is a feature that allows TikTok businesses to showcase and sell their products via shoppable videos and livestreams. Entertainment, eCommerce, and interaction combine to help you offer people a smooth and community-driven in-app shopping experience.
How to use TikTok for eCommerce
TikTok is an excellent tool to build communities, brands, and revenue. There are various ways to use TikTok for your eCommerce business beyond just a sales channel. In this section, we'll go over a few ways you can use this platform.
1) Build your community
Nurturing connections among TikTok users can help eCommerce businesses thrive on the platform. In fact, TikTok's What's Next Report 2022 revealed users loved engaging with brands and products on its platform:
73% of people felt more deeply connected to the brands they interacted with on TikTok.
Meanwhile, 67% said TikTok motivated them to make a purchase — even though they weren't planning to.
Conducting campaigns that encourage TikTok users to get involved is one way to achieve this type of engagement.
The U.K.-based fashion retailer Pretty Little Thing uses this type of approach. To build its presence among its target audience of 16- to 24-year-old women, the brand showcases the transformations women can experience through its diverse collections.
Pretty Little Thing also offers followers opportunities to feature or collaborate, win discounts, and share their opinions, which encourages them to engage on TikTok. This has garnered the brand 1.9 million TikTok followers and over 36 million likes.
2) Test new products
Some brands use TikTok as a space for product development — an approach puzzle company Blue Kazoo has adopted, with great success. Through the comments section, the company receives customer feedback and uses it to identify trends and make product changes.
Blue Kazoo has also reached out to artists through TikTok and emails to submit designs for new puzzles. As a result, the company has connected with three artists, has enjoyed more sales, and has new products in its pipeline.
3) Provide customer support
TikTok can also be used to answer customer concerns. For instance, the skincare brand Starface — known for its star-shaped hydrocolloid pimple patches — uses its feed like a live-action FAQ page. Through tutorials and Q&As, the brand addresses questions such as:
"How many stars are in a pack?"
"Should I apply it after my moisturizer?"
Using their TikTok presence this way allows Starface to offer its followers a knowledge base for its product and engage with them on a personal level. To date, the brand has 1.2 million TikTok followers and 22.7 million likes.
4) Implement influencer marketing
Collaborating with social media influencers on TikTok is another way to bolster your eCommerce efforts. It's so powerful, in fact, that brands are making an ROI of $5.78 for every $1 spent on influencer marketing.
To utilize TikTok's short-form style and viral nature, you can easily partner with a creator to produce branded promotional content on the TikTok Creator Marketplace.
Take the beauty brand Benefit Cosmetics as an example. Through TCM, it was able to work with 22 Gen Z/Millennial creators and Vamp — an influencer marketing agency — to launch the Benefit Brow Challenge.
This campaign, produced for the release of Benefit's new Brow Microfilling Pen, resulted in 22 videos launched in a synchronized fashion. It went viral and generated more than 3,500 hours of views and 1.4 million impressions off of just 4.5 minutes of creator content.
How to use the TikTok Creator Marketplace
Now we'll walk you through how to use TCM.
Step 1: Create a TikTok For Business account
First, complete this form to sign up.
You can do it either via email or phone, and TikTok will send a verification code before you can complete your registration. Or, if you have one, you can also use your existing TikTok account.
Step 2: Find and select an influencer
Once you have access, start looking for a TikTok creator you want to work with.
You can search for potential partners using filters like Country or Region, Age, Gender, Reach, Audience, etc.
The most notable, however, is eCommerce Anchor, which displays qualified creators who've enabled TikTok's eCommerce anchor function. This lets them insert a link that directs viewers to your product or external landing page.
Meanwhile, clicking on a creator's profile lets you view the following information:
Core Metrics: Key performance indicators including Total Reach, Engagement Rate, and more
Sample Videos: A creator's sponsored and non-sponsored videos, even their most recent and most popular
Audience Demographics: This shows their audience's gender, age, the percentage of a creator's active vs. inactive followers, and the brand device used (Apple, Samsung, Huawei, etc.)
Performance Trends: Shows data on followers, views, and engagements over the last three months
Step 3: Contact your chosen influencer
To get in touch with your chosen creator, you must first fill out a contact form.
It's mostly basic information, but since TikTok prohibits some industries from advertising, you'll have to specify yours. You'll also need to select your main goal for working with the creator, which includes options like gaining more brand exposure, increasing website traffic, etc.
Lastly, in the Suggested Talent Fee section, you can choose between To be negotiated and an Initial suggested fee.
Step 4: Wait for the influencer's content
After you and the creator iron out the campaign details, all that's left is to wait for the video to be uploaded. Once that's done, post it and see how it does.
Step 5: Monitor your campaign
TCM has a reporting tool that allows you to observe your campaign's performance.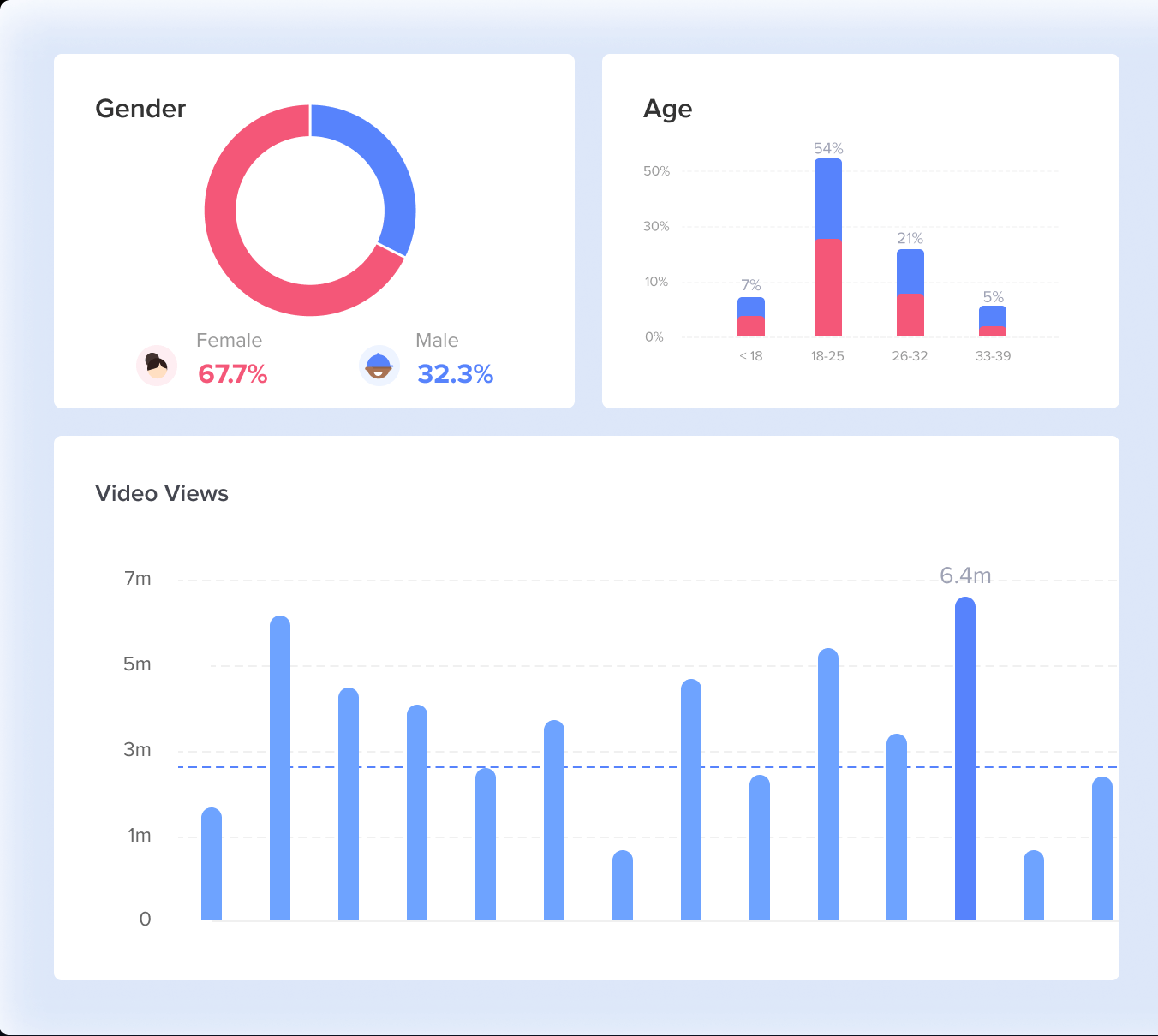 To ensure these insights are available, make sure the creator you hired associates their sponsored video with the proper campaign and discloses that the videos are sponsored.
5) Advertise to your audience
Hootsuite reports that ads on TikTok reach 17.9% of all internet users who are 18 years old and above — which translates to 884.9 million people.
The ability to advertise to this massive audience is a huge opportunity for eCommerce brands, and TikTok makes it possible through its Ads Manager and Creative Exchange.
How to use the TikTok Ads Manager
Getting started with the platform's advertising tool is simple. First, log into the Ads Manager with your TikTok For Business account.
Step 1: Select your objective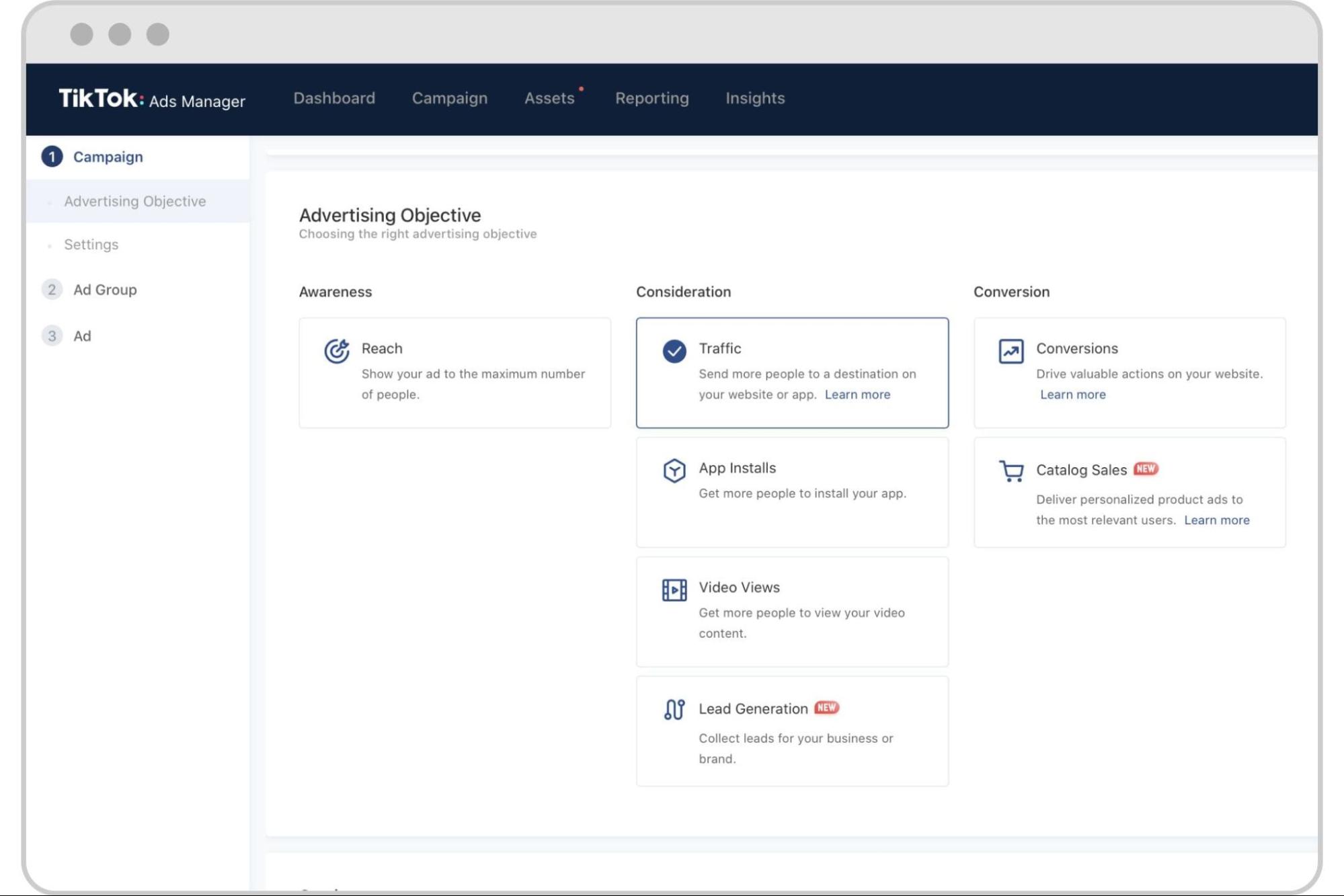 Then, click the Campaign button and choose among the seven ad objectives under the Awareness, Consideration, and Conversions categories. Take note, however, the Catalog Sales objective is still in beta and only available in supported regions.
Step 2: Set your campaign name and budget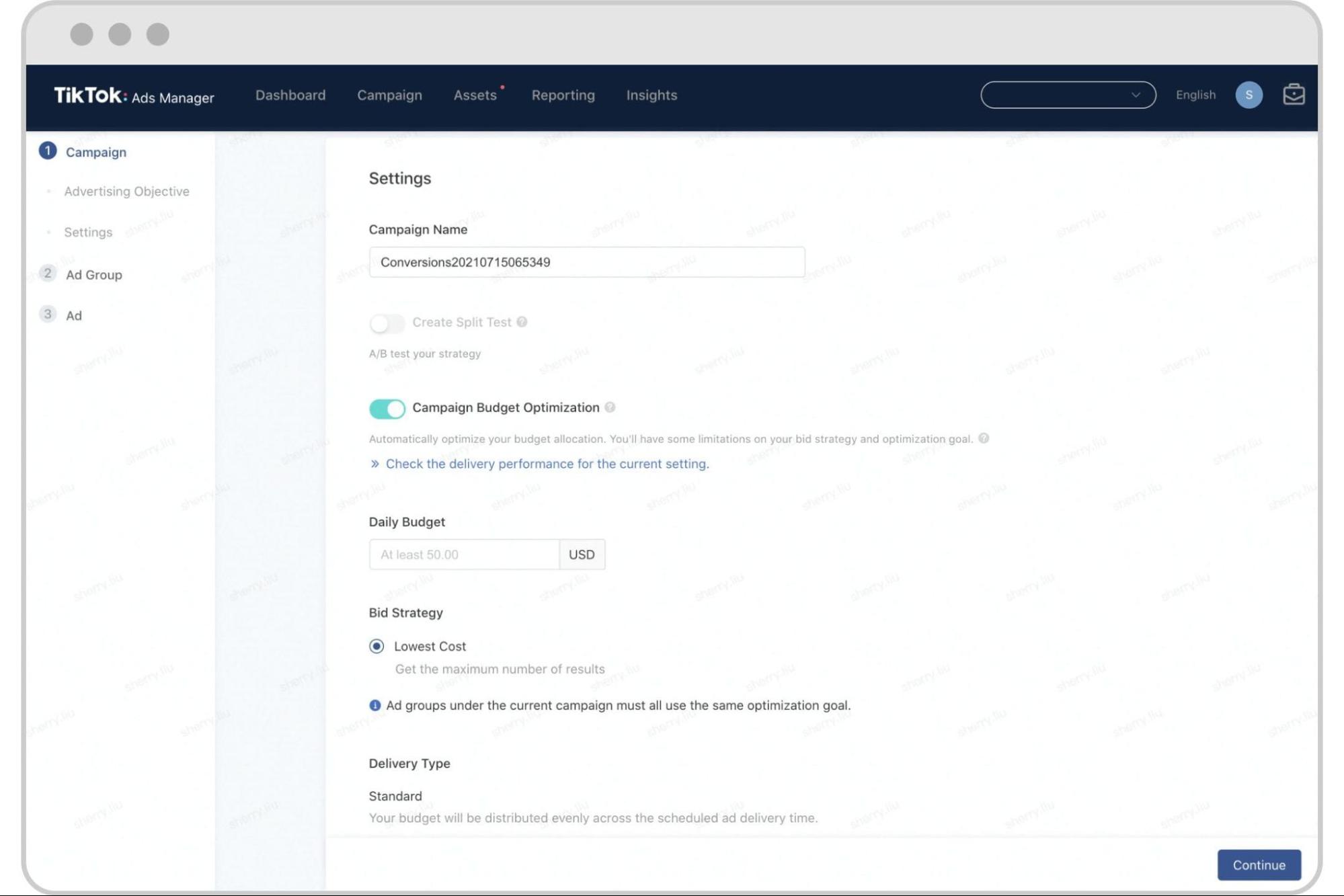 Here are some tips to remember:
Your campaign name can be up to 512 characters. Also, make sure it's unique and memorable.
If you have enough money (or want) to assign limits for certain ad groups instead of the whole campaign, set your budget to No Limit. Otherwise, you can set a Daily or Lifetime budget.
For the App Installs and Conversions objectives, campaign budget optimization is available under the Lowest Cost bid strategy.
TikTok is testing a Suggested Bid feature for optimized cost-per-click objectives.
Step 3: Name your ad group and choose placements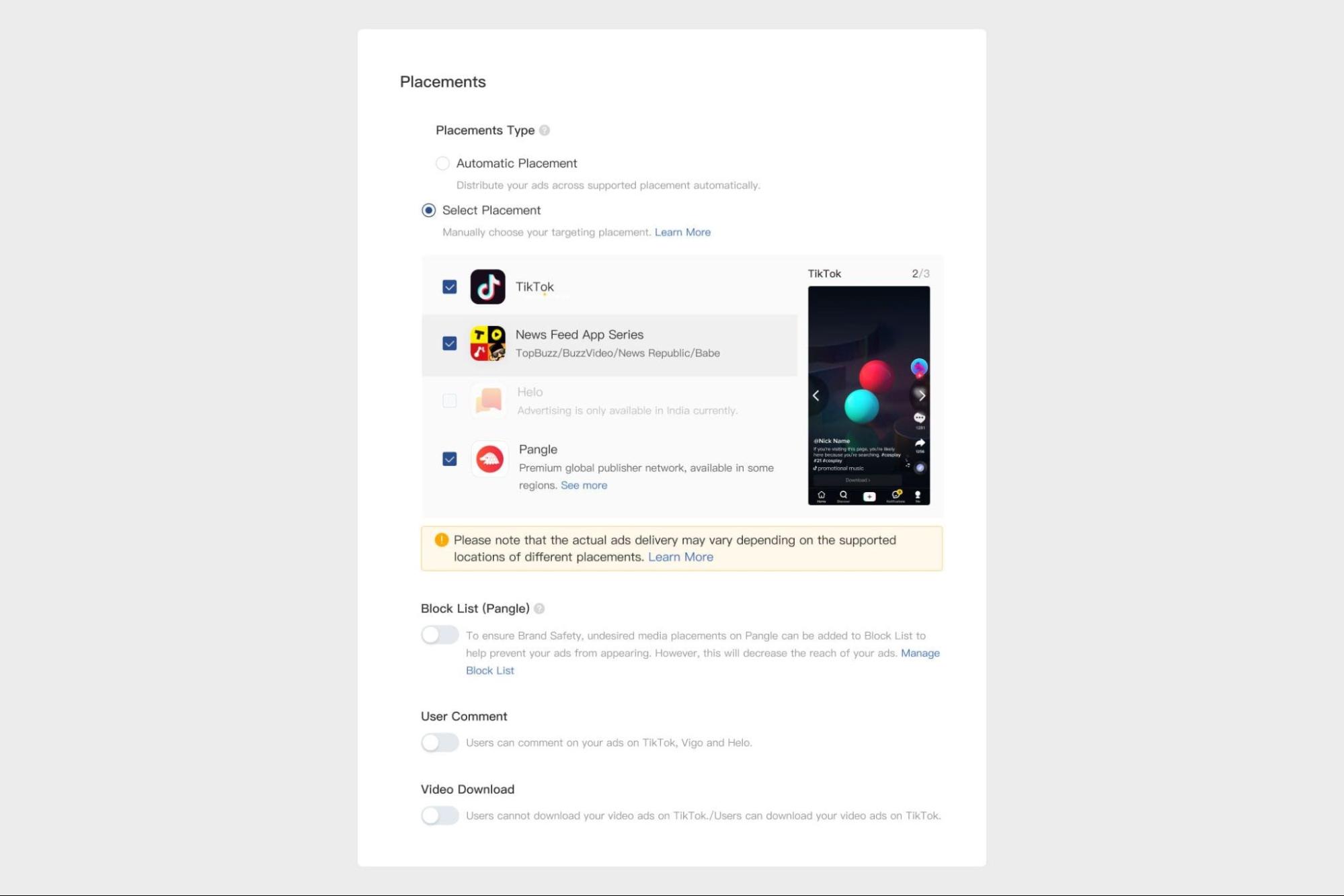 You can include up to 999 ad groups per campaign, and each one's name has a 512-character limit. Be aware your placements are dependent on your location. Other notes regarding placements are:
Automatic Placement: Optimizes ad delivery for you
TikTok Placement: Ads appear in the For You feed
News Feed App Series: For ads in TikTok's other apps
Pangle: TikTok's audience network
Step 4: Look at Automated Creative Optimization
For new advertisers, TikTok recommends turning this setting on, which you can do before uploading assets for individual ad creation. It lets TikTok make combinations of your images, videos, and ad text for you. Then, the system only displays those that are performing well.
Step 5: Select your target audience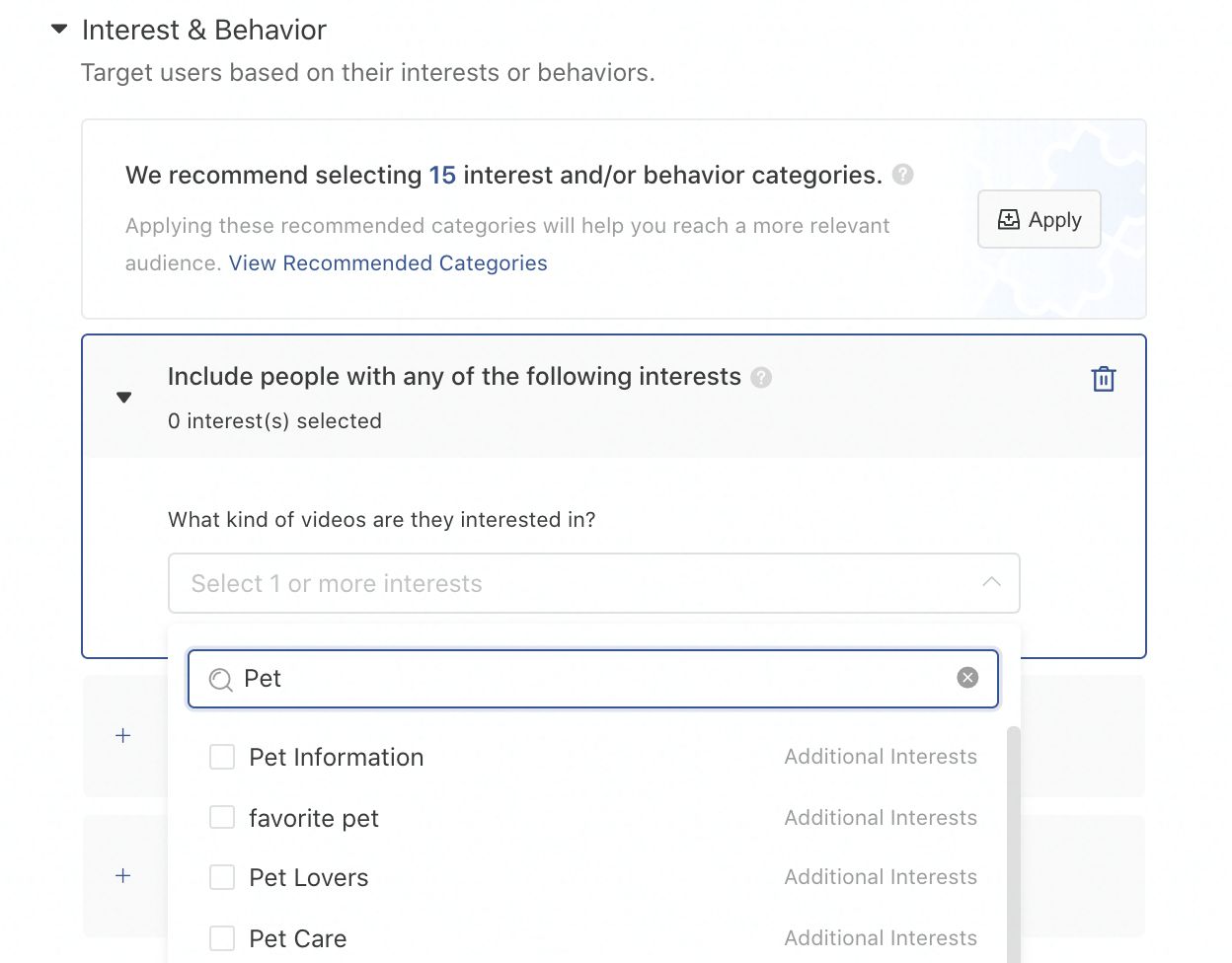 You can select either a lookalike or custom audience. You can also target your ads based on criteria including Gender, Age, Location, Device Details, and more.
Step 6: Set your ad group schedule and budget
You've done it for your overall campaign, now it's time to do the same for the ad group. Simply choose its daily or lifetime budget, then its start and end times. Based on your time zone, under Dayparting, you can also choose to run your ad at specific times of the day.
Step 7: Select your bidding and optimization options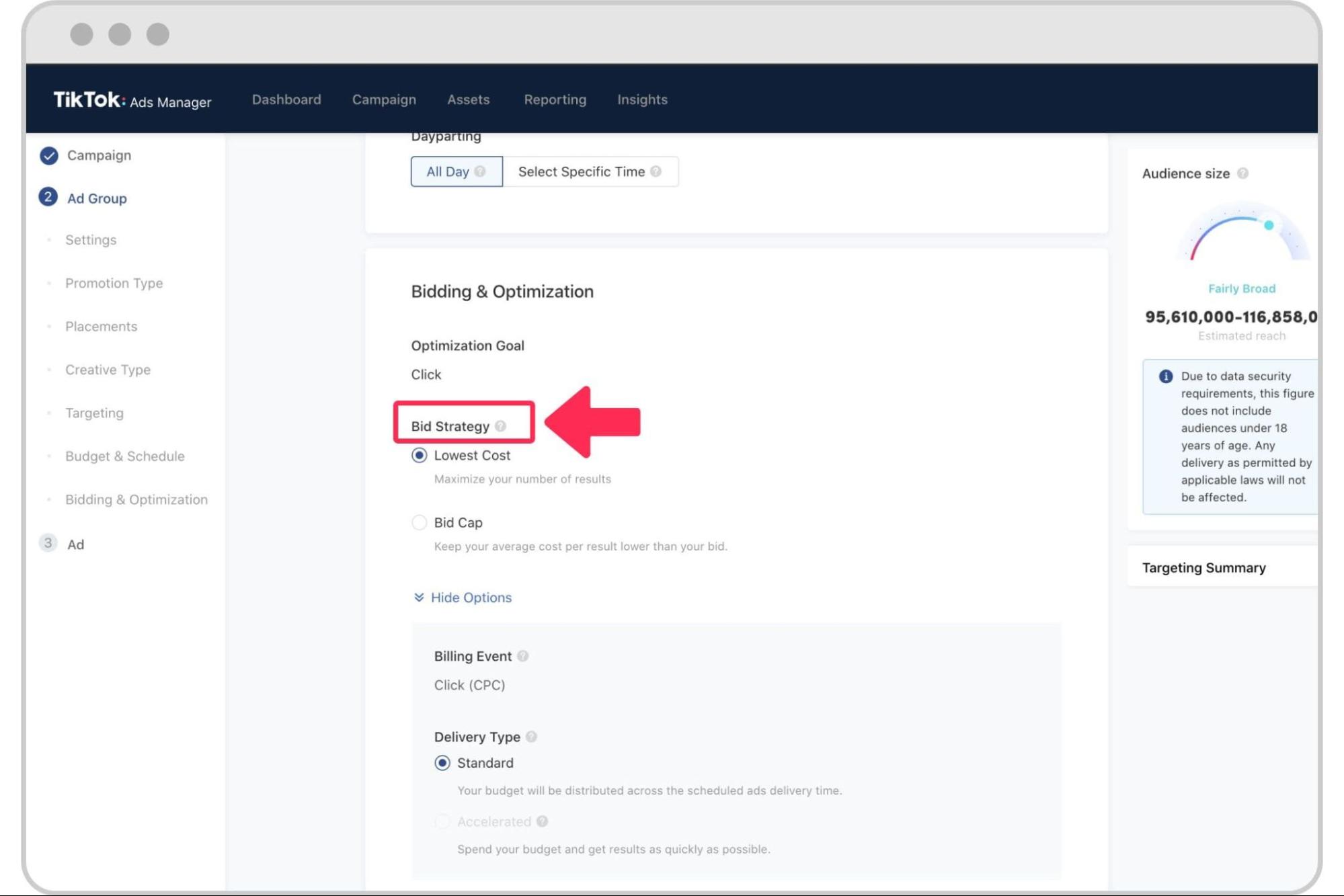 Choose whether your optimization goal is conversion, clicks, or reach (although it can be determined automatically by your campaign objective).
Then, set your Bid Strategy:
Bid Cap: Maximum amount per click (CPC), per view (CPV), or per 1,000 impressions (CPM)
Cost Cap: The average cost per result for optimized CPM
Lowest Cost: The ad system generates the highest number of results possible at the lowest cost
Lastly, choose between two delivery types:
Standard: Evenly distributes your budget over the campaign's scheduled dates
Accelerated: Spends your budget as quickly as possible
Step 8: Create your ad(s)
Here's a step-by-step guide:
Choose from three formats: image, video, or Spark ad. If you're using TikTok only rather than the family of TikTok apps, you can only choose either video or Spark ads.
Add your photos or video. Within Ads Manager, you can also create a video using the video template or video creation tools.
Choose a default thumbnail or upload your own.
Input your text and link. On the right side of your screen, check out the preview of your ad, then add any relevant tracking links.
Finally, click Submit.
Here's some other relevant information to help you make your choices:
Your ad will go through a review process before going live
An ad group can have up to 20 ads
Each ad's name can contain up to 512 characters, but it's only for internal use and doesn't appear on the ad
According to TikTok research, using the TikTok video editor can decrease cost per action by up to 46%
With Spark Ads, to use content, you'll need to get in touch with the creator(s) and get an access code from them.
How to use the TikTok Creative Exchange
If you want to take it a step further, you can use TikTok's Creative Exchange to connect with an expert and produce stronger content. Access it through your TikTok For Business account, then follow the steps below.
Step 1: Turn in your project brief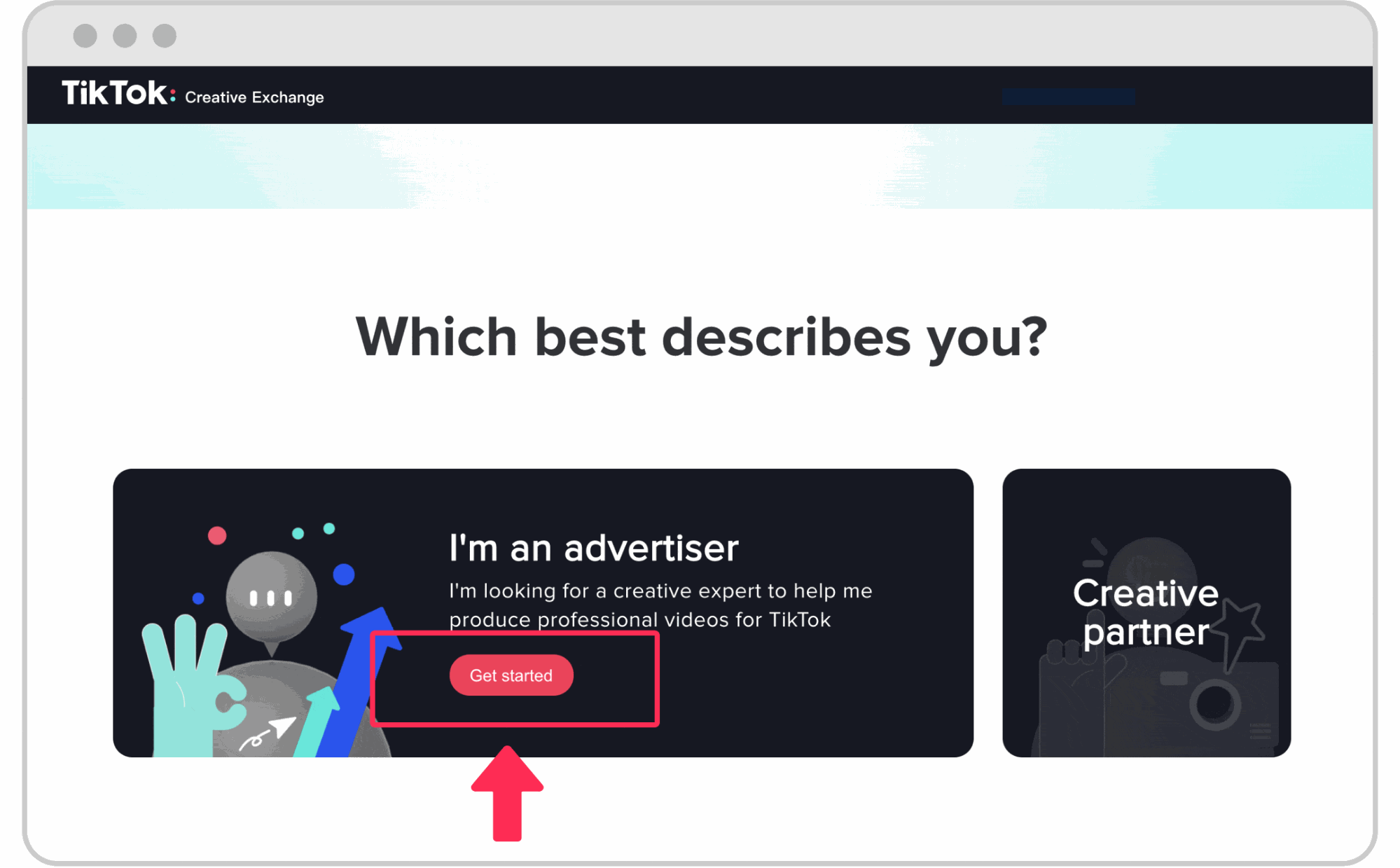 Go to I'm an advertiser and click Get started.
Choose Create project and fill in the necessary Business information, Project details, and Content details.
Select how much campaign performance data you'll share with your creative partner.
Finalize everything, then click Submit.
Step 2: Select a creative partner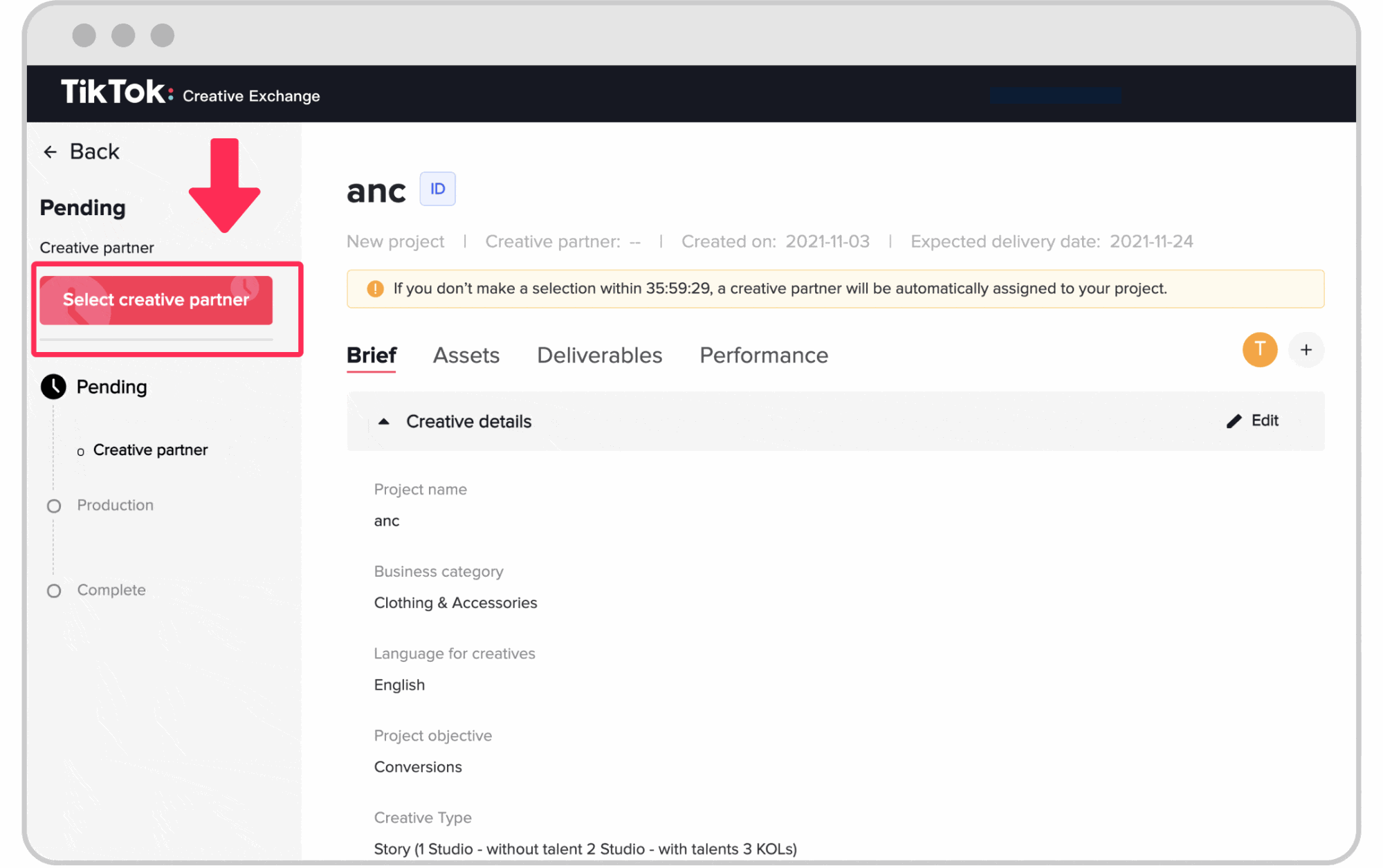 Open your project.
Click Select creative partner.
Explore the recommended partners and learn about their work by clicking View more.
Click Select to choose your desired partner.
Your creative partner will be automatically assigned if you don't choose one within 36 hours of your project's submission.
Step 3: Add your project assets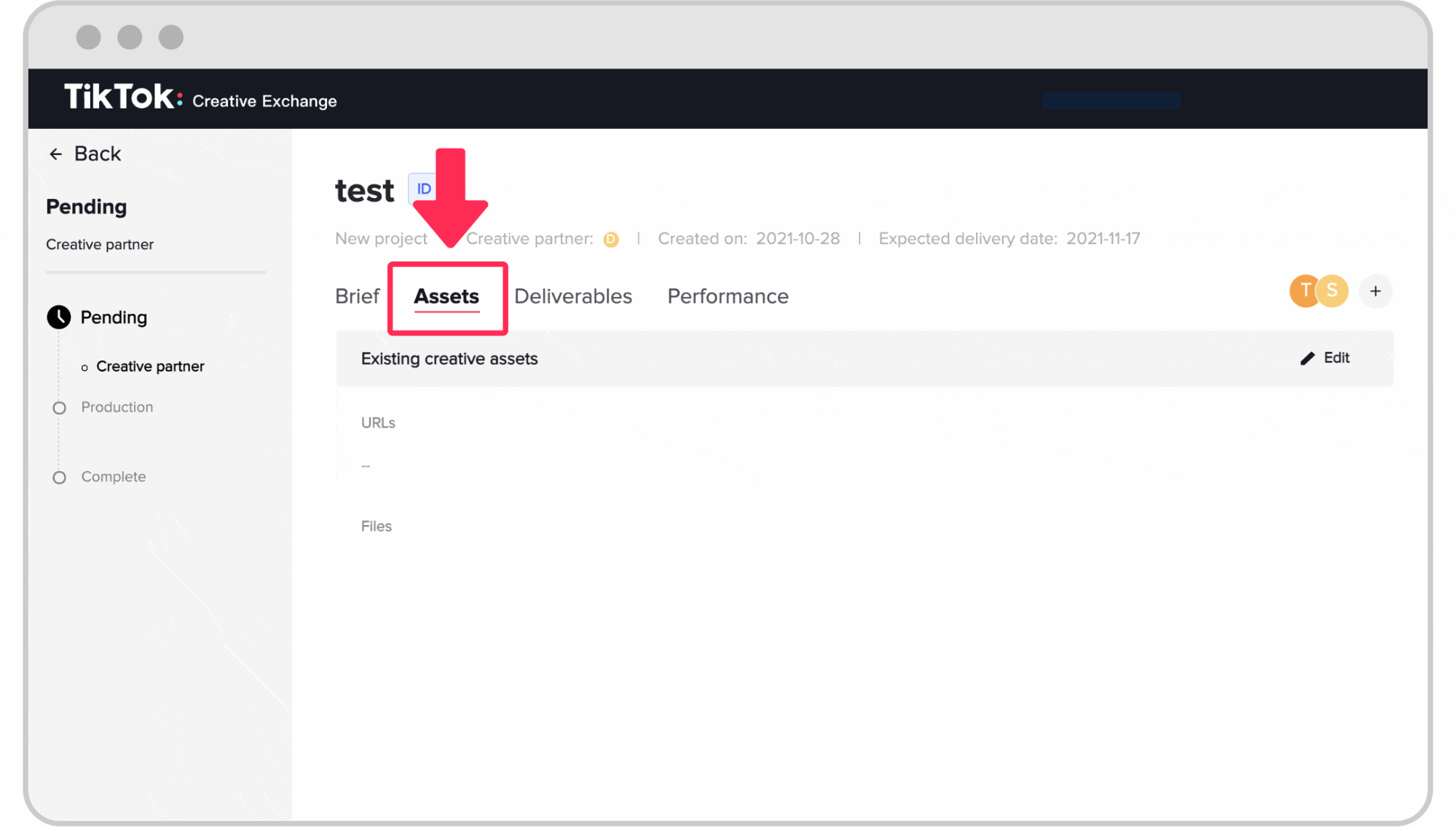 Click Assets, then select Edit under Existing creative assets.
Add your brand assets' (e.g. images, videos, and animations) URLs.
You can directly Upload up to five files to the platform.
Step 4: Add collaborators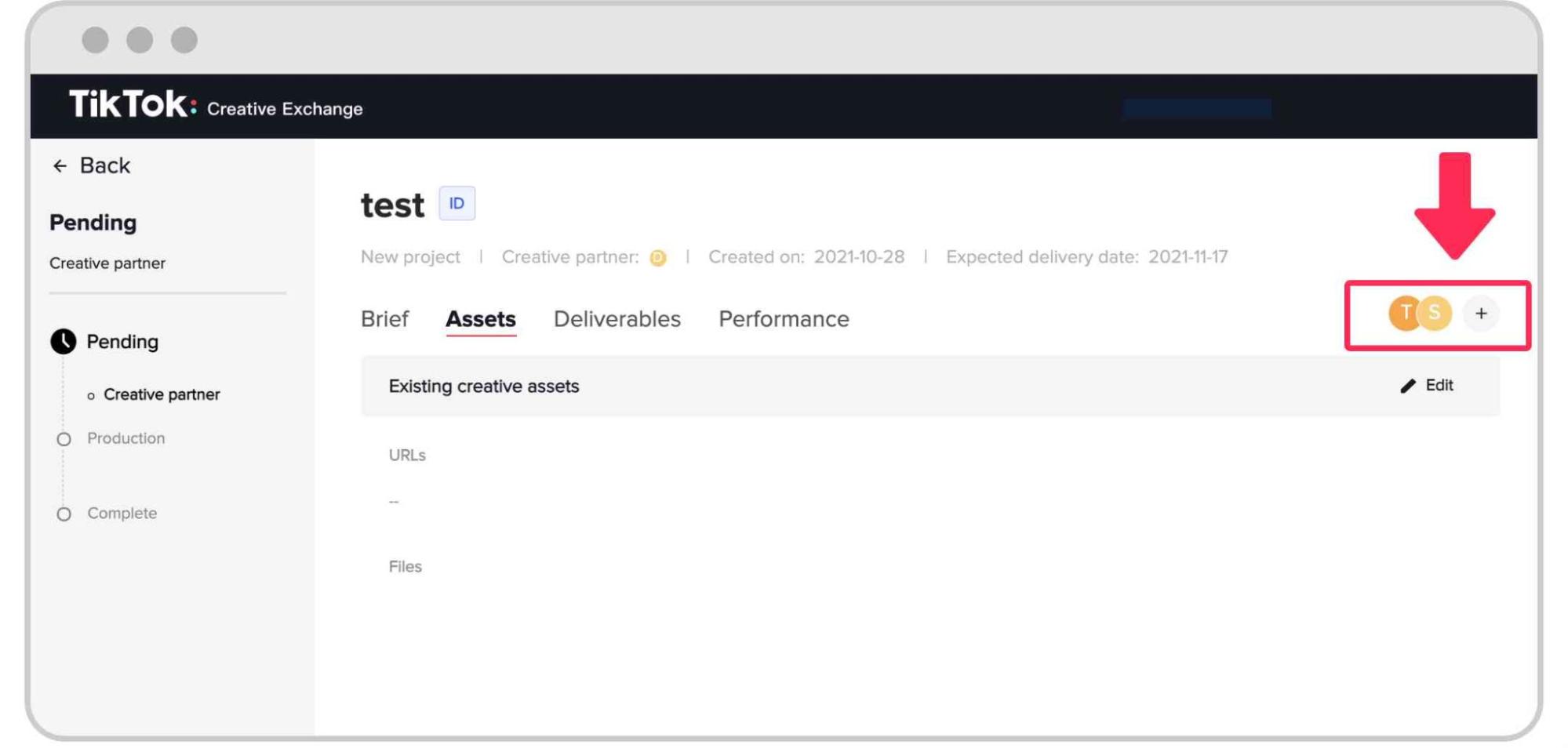 Click + in the upper right of the page, just above Edit.
Select the collaborator's level of access: Manager, Editor, or Commenter.
Either enter their email address or share the project link with them.
Once the collaborator accepts your project invitation, you can get in touch with them by clicking the chat icon.
Step 5: Monitor your project's progress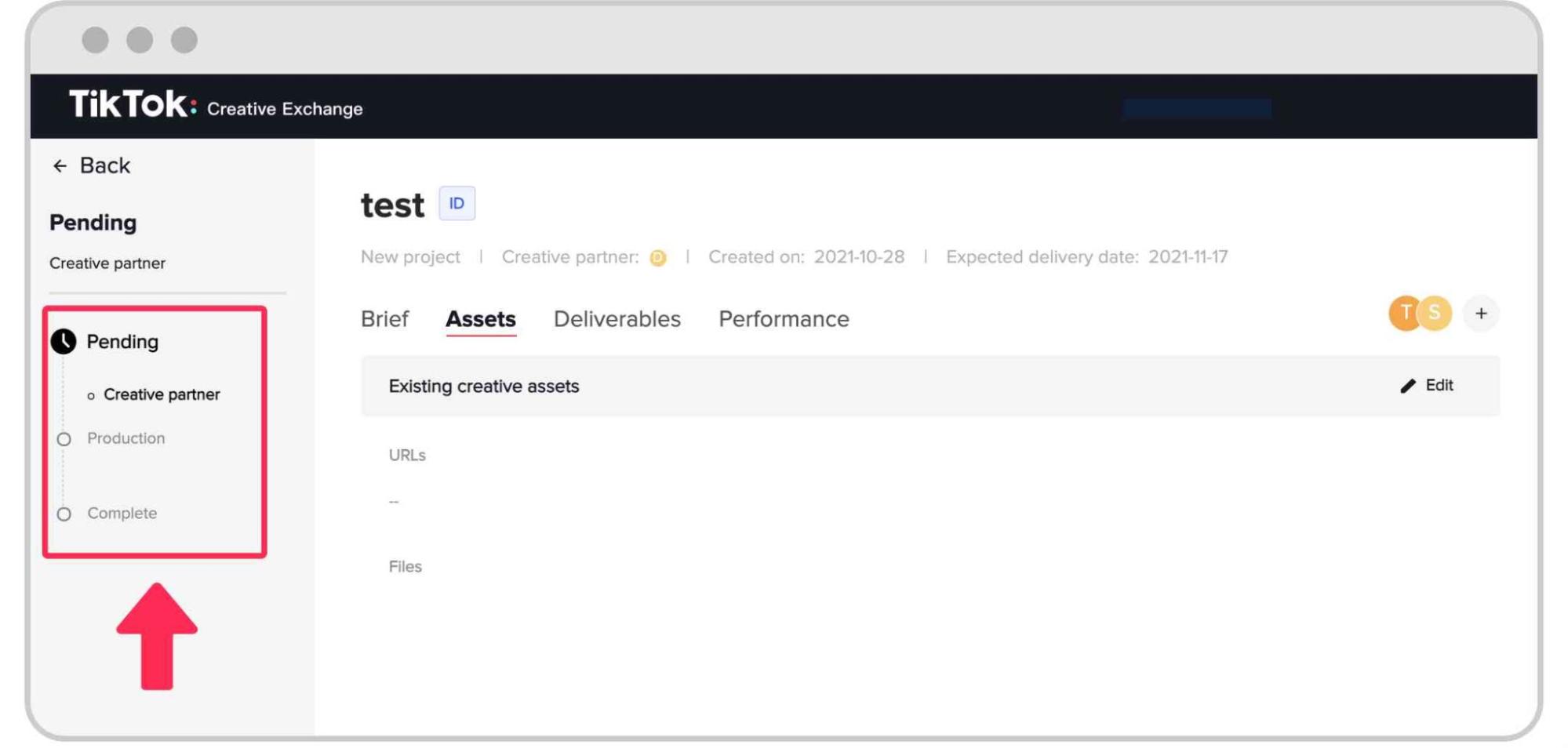 You can track your project's progress — which is grouped into Pending, Production, and Complete — using the bar on the left side.
Step 6: Communicate with your creative partner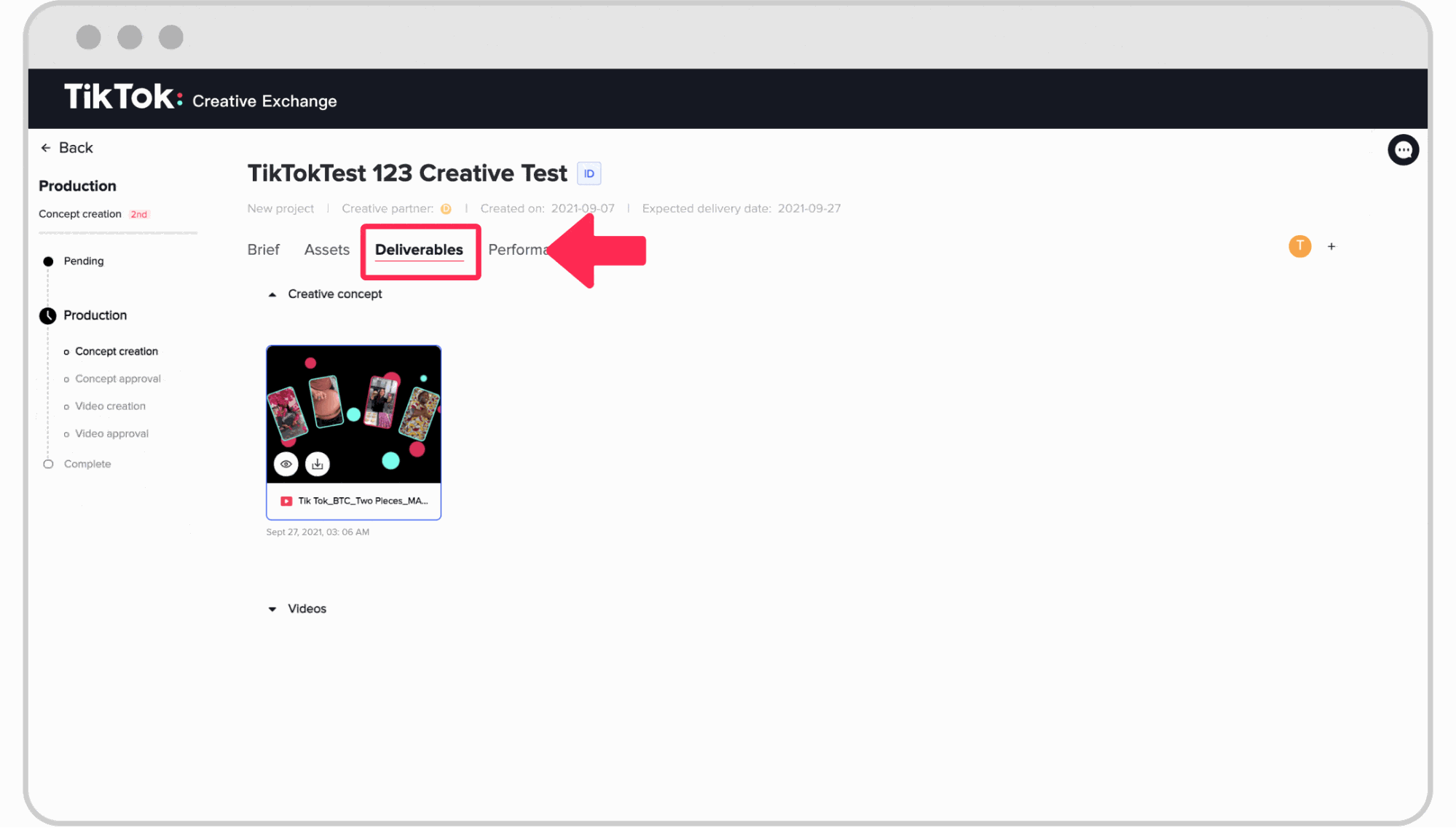 After your creative partner shares their work, click Deliverables.
In the Creative Concepts module, click the Preview button.
Review the concept or download it to your computer.
Leave your feedback and comments with your creative partner through chat.
Once you're satisfied, click Approve so your partner can begin video production.
Step 7: Review and approve your partner's work
You can review your creative partner's uploaded video drafts by clicking Deliverables and accessing the Videos module. Leave your feedback via the comments panel, then approve their work or request further edits.
Step 8: Sync approved videos to TikTok Ads Manager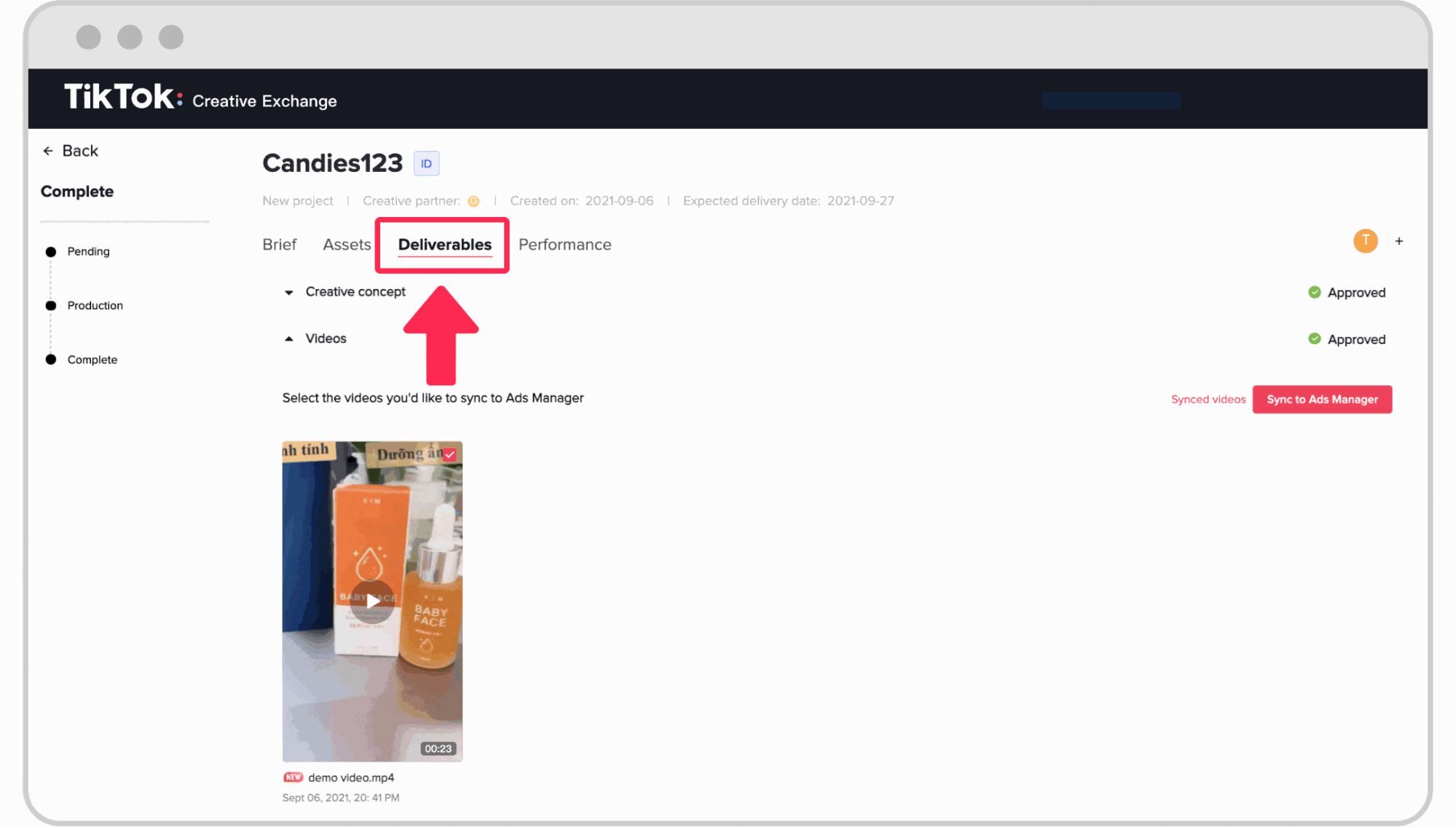 Once you've approved your partner's work, go to Deliverables and access the Videos module.
Choose which videos you want in your ads and click Sync to Ads Manager.
You can then go to TikTok Ads Manager and use the videos in your campaigns.
Step 9: Share performance data with your partner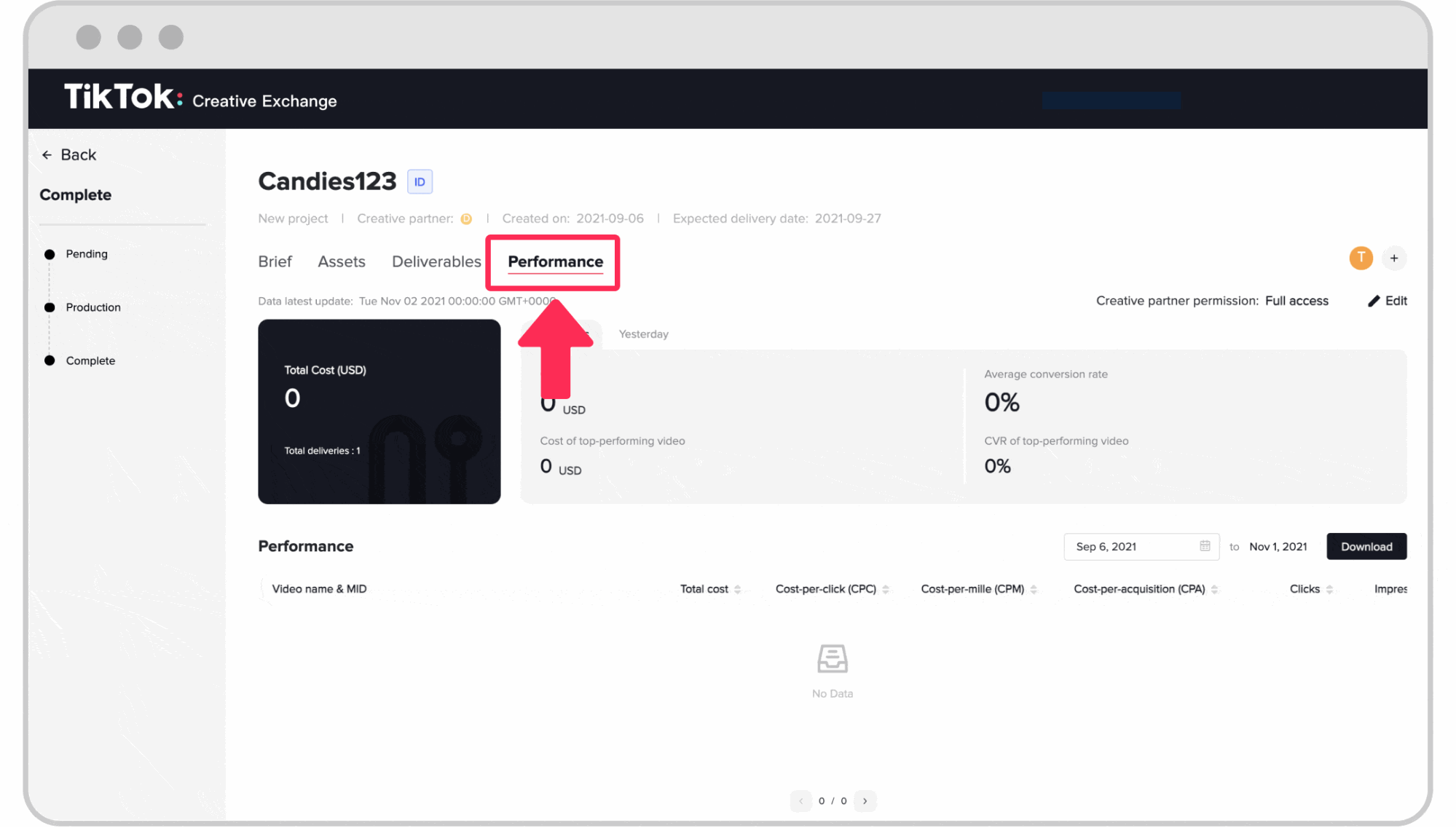 To share campaign insights with your creative partner, click Performance.
Then, under Creative partner permission, select Edit.
Select the level of data you want to share, and click Confirm.
6) As a direct sales channel
TikTok Shop lets you use the platform as a sales channel. The U.K.-based perfume brand PerfumeBoss Ltd. joined TikTok Shop in October 2021 and hosted its first shoppable livestream two days after onboarding.
Afterwards, the brand committed itself to hosting more than five of these livestreams per week and experienced superb growth in the following areas after a two-month period:
How to get started with TikTok Shop
If you want to do the same, getting started is simple. Take note, however, that TikTok Shop is only available in ​Indonesia, the U.K., and Northern Ireland for now.
Step 1: Prepare your requirements
You'll need your TikTok For Business account to sign up and, based on your destination market, you can register as one of two types of sellers.
Individual
Only citizens are allowed to apply as individual TikTok Shop sellers, and you'll be required to provide government-issued IDs like:
Your passport
​National ID
Driver's license
Corporate
As for corporate entities, here are the documents you'll have to prepare:
​Certificate of Incorporation
​Company Registration Certificate
​Proof of eligibility under applicable law to sell products/services via TikTok Shop
Step 2: Turn in your application
After turning in your documents, TikTok Shop will evaluate your application based on its registration guidelines. You'll then be notified to undergo account verification and will learn whether or not your application was approved.
Step 3: Set up your profile
Once you pass, you can set up your seller profile. Here's what you'll need to provide:
Your TikTok Shop name — which you can no longer change once submitted
A valid and accurate warehouse and return address
Bank account information that aligns with your identification documents. Also, corporate sellers should use a business bank account
If you want to use brand names or any intellectual property, you'll need to apply for proper authorization
Step 4: Start selling
If your TikTok Shop passes all the necessary procedures, you can start posting and selling your products. For further information, visit the Seller University.
For other markets
For markets that are unable to join TikTok Shop, you can still participate in TikTok Shopping through the platform's partnerships and integrations with other eCommerce marketplaces.
Shopify
If you have a Shopify business, you simply need to download and install the TikTok Shopify app. Through it, you can produce video ads, track metrics, and manage your orders. It also integrates with your TikTok Ads Manager and lets you manage your TikTok Shopping tab.
Bigcommerce
For BigCommerce stores, you can now download the platform's TikTok for Business app through your Channel Manager. It automatically installs TikTok Pixel on your storefront, which allows you to monitor your advertising campaigns. You can also:
Sync your BigCommerce catalog to TikTok to create dynamic ads
Add a Shopping tab to your profile page with product links that redirect customers to your BigCommerce store
Other platforms
Selling on TikTok through its integrations with other marketplaces like Square and Ecwid is also possible. Just prepare your requirements beforehand and follow the necessary procedures.
TikTok best practices for eCommerce
Finally, here are some tips to boost your TikTok eCommerce efforts.
1) Create immersive, shoppable livestreams
Providing your customers with better immersion can accelerate your brand's conversions. In fact, brands have reported conversion rates of up to 30% when they use livestream shopping.
Here are some ways to produce more engaging and immersive livestreams:
Adding elements like Q&As, reviews, and chat creates a more interactive experience — something buyers miss when browsing an online marketplace
Product demonstrations/tutorials, featuring influencers or industry experts, and offering behind-the-scenes looks makes shopping more personal and educational
Implementing an "event" type of format that includes mini-games and prizes entertains your audience and keeps them interested
2) Improve experiences with augmented reality
Incorporating augmented reality (AR) can offer people a fun and convenient online shopping experience. It can serve as a creative branding tool as well as allow the target audience to preview how your products fit, boosting their confidence before purchasing.
One such example is the online retailer ASOS which, in 2020, tested an AR feature that gave shoppers a glimpse of how its clothing would look on different-sized models. The brand's experiment received positive responses on Twitter.
AR can also improve your conversions. According to one study, virtual fitting rooms can make online shoppers more curious about a product and increase their intent to purchase.
3) Choose the right influencers
Find influencers that fit your brand's niche. The fashion-tech startup WANNA, for example, was working on the relaunch of Wanna Kicks, the company's AR app that lets users virtually fit a wide selection of kicks.
It wanted to reach a young audience through TikTok, namely Millennials and Gen Zers, to boost the app's downloads. To release relevant content, WANNA worked with TikTok creators who spoke the same language as sneaker enthusiasts.
In turn, these creators made videos that demonstrated how to use the Wanna Kicks app in a fun way. The campaign matched what WANNA's audiences liked and garnered 15 million views, 75 thousand app installs, and a 15.91% engagement rate.
4) Get creative with your challenges
Catchy challenges can do wonders for TikTok eCommerce. Through fun hashtag challenges, the American fast-food chain Chipotle has driven up its sales and Chipotle app downloads.
One example is the brand's #ChipotleLidFlip Challenge, created in 2019 to spread awareness of free delivery for digital orders during Cinco de Mayo. Users were encouraged to record themselves flipping a burrito bowl and adding their own spin on it.
Chipotle even partnered with huge creators like David Dobrik, and the challenge produced 111 thousand videos in its first six days. This, in turn, generated a record day in digital sales, app downloads, and delivery orders, especially among the Gen Z audience.
The Lid Flip Challenge generated almost 320 million views on TikTok, but another challenge Chipotle created fared even better: The #GuacDance Challenge, which encouraged guacamole fans to flaunt dance moves dedicated to avocados, has garnered 1.1 billion views.
Wrapping up — Learn how to sell on TikTok to access a powerful eCommerce channel
TikTok provides brands with the tools they need to thrive on the platform. It makes advertising and marketing simple, collaborating with content creators easy, and helps businesses offer seamless in-app shopping experiences for their customers.
And, given its massive audience and viral nature, TikTok can easily help businesses grow and reach new audiences — as long as they're willing to get creative. Overall, the social media platform has built itself up into a major force that can help your eCommerce business flourish.