Day:
July 28, 2022
5 Costly eCommerce Aggregator Mistakes And How to Avoid Them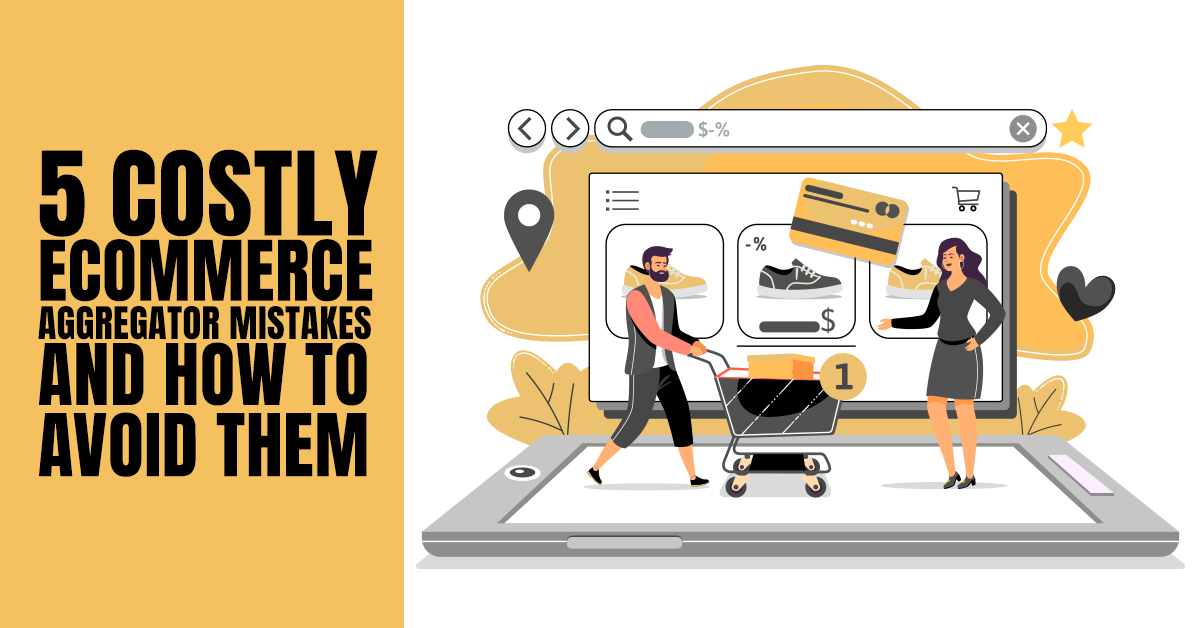 Since April 2020, funds raised stand at a whopping $14.9 billion with 47% of deals fetching between $2-$5million each. The secret is out. The eCommerce aggregator business model is now one of the hottest opportunities for making vast amounts of money online.
However, running an aggregator isn't all sunshine and rainbows. With multiple brands on your books, the stakes are high. A simple error can lead to eye-watering bills, unhappy customers, and lackluster returns.
But before you write off this stellar opportunity, know that despite the challenges that come with scaling a brand aggregator, you can still make your goals a reality. All you need is an awareness of the landscape and strategy to make it happen.
In this post, we'll uncover the 5 costly eCommerce aggregator mistakes and how to avoid them and grow to become a powerhouse business.
Looking for a way to level up your aggregator's result? Get your fulfillment processes right with MyFBAPrep.
Top 5 mistakes eCommerce aggregators make
Whether you're just starting out or a veteran in the eCommerce aggregator space, the fast-paced nature of the business makes it easy to trip up. These mistakes range from the face palm bloopers you can recover from quickly to the scary, business-altering errors that keep you up at night. So, to know what to keep your eyes peeled for, let's dive into some common mistakes eCommerce brand aggregators make:
1.  Buying the wrong brands
Some brand aggregators are distracted by shiny objects, like great publicity and high revenues, while others are lured by super-niche products. But behind the "cool" aesthetic, lie items with small markets that can be difficult to scale and weak branding that pulls down the eCommerce brand's perceived value.
In both scenarios, the brand aggregator has picked the wrong brand based on surface-level qualities and will need to course-correct by improving the vital metrics like profits, ROI, and margin (more on this later).
2.  Taking on difficult-to-market products
From having access to relevant territories to reaching your target customer, many factors go into successfully marketing an eCommerce product. Although some brand aggregators find themselves in hot water when they choose brands with offers that are challenging to market. Some issues that crop up include:
Legal, regulatory, and cost-related issues slowing down advertising launch
Product(s) prohibited on specific advertising channels, decreasing the brand's reach
Selling seasonal or highly competitive items that make reducing brand visibility
3.  No fulfillment strategy in place
Perhaps the eCommerce brand you've chosen started small with haphazard fulfillment, like impromptu post office runs and pickups from carriers. This setup may have worked just fine in the early stages, but as the brand scales, managing orders without official processes becomes increasingly difficult. On the flip side, some aggregators pick brands that have been a little too proactive in their fulfillment setup, causing them to use many carriers daily and missing out on the structure and deals that come with 1-2 reliable shipping providers.
4. Lack of funding
Ecommerce brands are notorious for being cash-intensive for good reasons. Not only do you have to bare slow pay-outs from sales channels, but you'll also need to cover large upfront investments in inventory to stay in stock.
Also, it takes significant cash injections to level up the brand to achieve your aggregator's growth goals and exceed competitors' offers. A lack of cash can result in you settling for less than top-tier strategies and processes, holding your brand aggregator back from the success it's capable of. A great example of this capital shortage in action is aggregators putting their brand acquisition dreams on the back burner due to cashflow shortages.
5.  Unprepared to navigate global supply chain issues
Although not an issue reserved for eCommerce brand aggregators, shipping delays and supply chain issues continue to rock the globe. This problem has made it more difficult to obtain goods fast without destroying their margins. Since the global supply chain chaos is far from over, every business needs a strategy to get and stay in stock quickly and affordably. Yet some brand aggregators are yet to get their procedures down, with knock-on effects on customer experience, sales, and ultimately growth.
Need a hand in building a winning fulfillment strategy? Look no further than MyFBAPrep.

How to build a successful eCommerce aggregator for online stores
If you're stuck wondering how to make gainful returns from your brand aggregator in the uncertain market, you're in the right place. Let's breakdown some key steps you should take:
Make profitability a must
When deciding whether to take an online store under your wing, it's vital you make profitability a requirement for both the business and its products. Also, look for traits like:
Business age (at least one year)
Solid sales volume year-round
A handful of profitable SKUs
Customer loyalty
Growing brand presence
Capital generating opportunities within the brand
Sells on multiple sales channels
For example, an Amazon business could have high ROI items, loyal customers, and consistent subscription revenue, but its costly fulfillment strategy wipes all the profits. So, if you could make the fulfillment process cost-effective, you'd have a winner on your books.
Tip: If you've mistakenly bought an unprofitable brand, don't panic. Look for places to slash costs, increase perceived product value, and build recurring monthly revenue through subscriptions to turn the brand's trajectory around.
Secure eCommerce funding
A great hack to grow your brand aggregator is to leverage external capital to bridge cash flow shortages and increase your buying power. More alternative eCommerce funding options are available than ever before, waiting to help you achieve your biggest eCommerce goals.
So, don't settle for traditional options like bank and government loans which can be inflexible and hard to obtain for eCommerce businesses. Instead, seek out a dedicated eCommerce funding solution. Some traits to look for include:
ECommerce expertise
Fair rates and fees
Simple application process
Provides resources and on-hand support
Has flexible rules on funding usage
It's time for your brand aggregator to shine. Learn how MyFBAPrep can put your business in the limelight.
Build memorable brands for each eCommerce store
A solid brand is a gift that keeps on giving. It can cause shoppers to single out your items in the online sea of offers and increase how much your brands charge for their products.
So, boost your brand above its competitors by investing in things like:
Global trademarks
Brand registry
A+ content
Sponsored brand and product ads
Professional photos emulating the brand's style
Branded products and packaging
Expand your horizons when sourcing eCommerce businesses
Cross-border eCommerce is now a huge business, and as a brand aggregator, taking advantage of this trend can strengthen your portfolio and supercharge growth. In addition, looking further afield for potential brands to purchase reduces the risk of having all your eggs in one basket. So, if disaster strikes in one territory, your brand aggregator can stay operational.
For example, if your brand aggregator consists of US-based brands, look at upcoming brands in Asia, Canada, Australia, the UK, and the EU.
Streamline supply chain operations
Leveling up each supply chain within your brand aggregator is one of the best ways to save money, maximize sales opportunities, and boost profitability. To ensure your supply chain runs like clockwork, you'll need to take a two-pronged approach. Let's zoom in on these steps:
Step 1: Conduct a supply chain assessment
Look at the supply chains with your brand aggregator and ask:
Which steps aren't essential?
What is costing us the most money?
Where are we wasting the most time?
Once you've identified unprofitable tasks in your eCommerce brands' supply chain, eliminate them or find ways to reduce them.
For example, after assessing the brands within your aggregator, you may discover you're spending a lot of time on money labeling and packaging products with prep centers before shipping them to warehouses and Amazon. You could rectify this by asking your suppliers to complete these tasks during the manufacturing process.
Step 2: Optimize key contributors in your supply chain
Next, optimize critical areas in your supply chain to improve efficiency, productivity, and error rates. 3 areas to tackle are:
Technology: Use AI-backed solutions to optimize things like inventory forecasting, PO creation, and freight bundling. Also, take advantage of these tools dashboards to identify potential threats and opportunities for each eCommerce brand in your ecosystem.
Fulfillment: Create 1-3 fulfillment strategies for specific product categories, types, or sizes, then assign products within your brand aggregator to them accordingly. Unifying the supply chains within your brand aggregator will allow you to save time and take advantage of economies of scale.
To make this move without increasing your team's workload, partner with a reliable fulfillment service provider house that can scale with your brand and has affordable rates. (Don't forget to maintain a relationship with another fulfillment house as a backup).
Suppliers: Audit suppliers to identify your top performers and consolidate production among them. Also, work with these suppliers to increase product quality, reduce production time, and lower product costs.

The secret to huge brand aggregator wins
Scaling an eCommerce brand aggregator is an exciting opportunity with huge upside potential for ambitious entrepreneurs. But to build an aggregator that can stand the test of time and produces sustainable returns, you'll need to be proactive.
Put profits first, create a standout brand, and ensure you have the finances for the journey to build each eCommerce brand within your aggregator's reputation and sales.
Also, keep an eye out for rising star online stores in other territories and focus on acquiring brands in specific product categories. This way, streamlining suppliers and fulfillment processes will be easier, and you can take advantage of higher total order volumes to get better fulfillment prices.
From here, your brand aggregator will be on a solid trajectory towards consistent returns, higher margins, and massive growth.
Are costly fulfillment strategies dampening your brand aggregator's results? Get profitable with MyFBAPrep.