Category:
eBay
eBay Fulfillment: Everything You Need to Know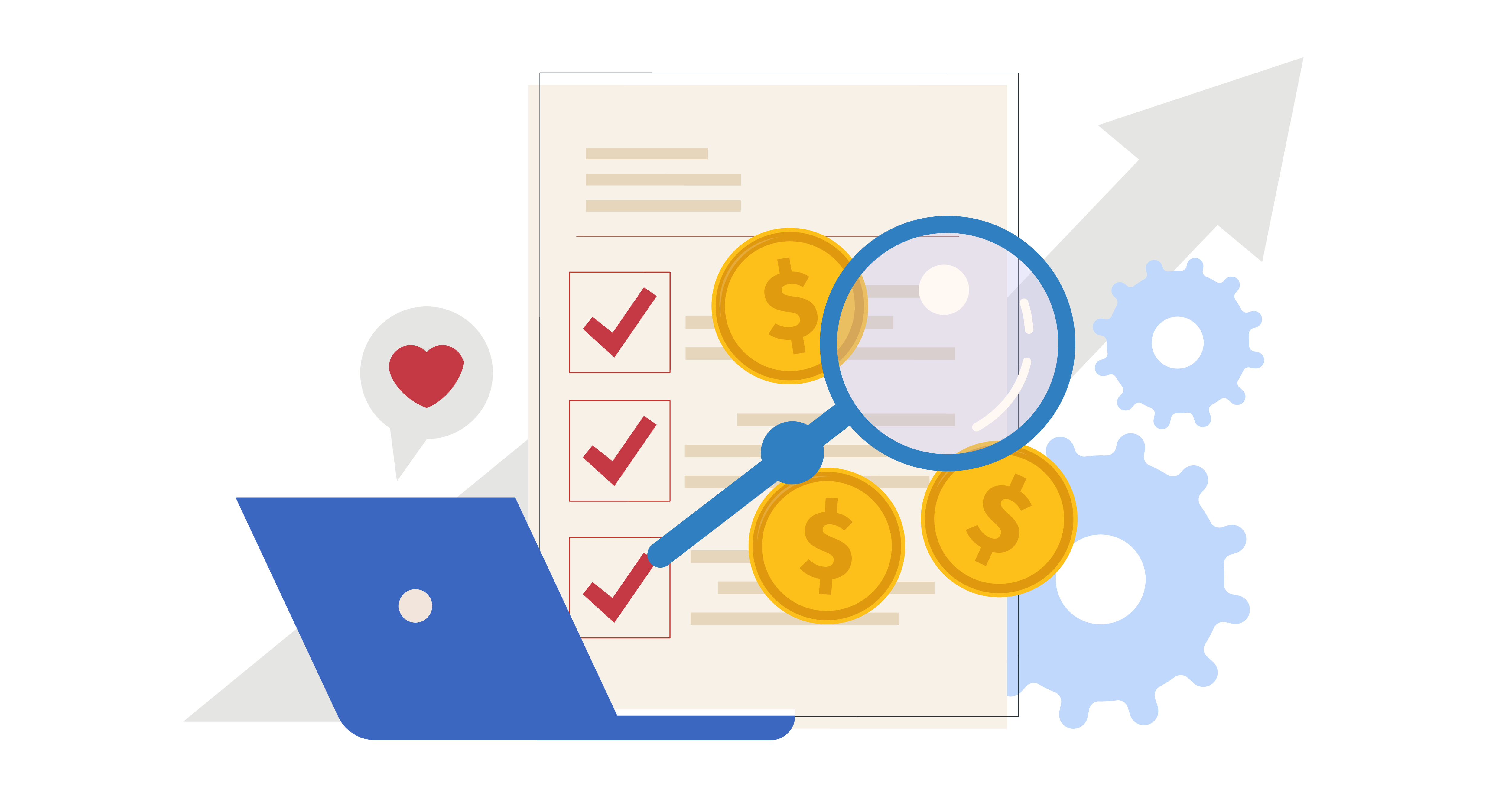 Debating an eBay debut for your brand? If so, it's easy to see why. With over 159 million users and 19 million sellers plus $10.4 billion in revenue in 2021, eBay holds a world of opportunity for ambitious eCommerce entrepreneurs.
When competing in such an expansive marketplace, it's vital to stand out and make a memorable impact in your target customer's world. That's where your fulfillment setup comes in. With the right approach, your brand can wow its customers and rise to the top as one of eBay's top performers.
But how do you go about crafting an effective fulfillment strategy? In this post, we'll dive into eBay's latest fulfillment service and share some simple tips for huge success on this titan marketplace.
Want to scale your eBay store? Learn how MyFBAPrep can help.
Does eBay have a fulfillment service?
If you've never heard of eBay's fulfillment service, you're not alone. Despite being tipped to be a rival to Amazon FBA, the service has flown under the radar.
The fulfillment solution called eBay Fulfillment by Orange Connex is a relatively new service. It launched in the US in July 2019 before expanding services in Germany in 2020 and adding a fulfillment option for the UK in late July 2021.
This isn't eBay's first rodeo in a fulfillment-related project. In 2019, eBay created a fulfillment service called Managed Delivery but shut it down shortly after in 2020. These days eBay acts as a broker with a select few delivery partners, combining their prep and shipping services with eBay's tech tools.
Got big growth goals for your eBay store? Discover how MYFBAPrep can make your goals a reality.

eBay Fulfillment by OrangeConnex services and fees: How it works
Like most prep and shipping providers, eBay Fulfillment by OrangeConnex has rules, processes, and fees you'll need to get accustomed to for a successful partnership. Let's explore some essential details:
Onboarding process
To get accepted and enrolled in the eBay Fulfillment by OrangeConnex program, some steps you'll need include:
Sign up to register your interest in the service, and an eBay rep will call to discuss your fulfillment needs.
Choose a fulfillment partner from the lineup.
Prep goods for shipping into the warehouse or request assistance with this task.
Send goods to the specified warehouse.
Storage and shipping processes
Once your goods are in eBay's fulfillment network, you're ready to start shipping goods. The partner fulfillment company will take responsibility for tasks such as:
Picking, packing, and shipping
Providing delivery updates
Processing returns
Fulfillment fees
eBay will invoice your business according to the fulfillment services you use. Fees for eBay's fulfillment service consist of 3 parts:
Fulfillment service fee: a flat fee for each order according to the package weight, and if it has more than 1 item, you'll incur an extra charge per piece
Storage fee: For every cubic meter your products require, you'll be charged daily
Additional services charges: From product labeling to disposal, you can pass on prep-related tasks and will incur charges depending on what service you use.
There's never been a better time to level up your eCommerce store. Get started with MyFBAPrep.
Pros and Cons of eBay Fulfillment by Orange Connex
For many brands, eBay Fulfillment by Orange Connex will be a much-anticipated saving grace. However, the service isn't perfect. To help decide whether eBay's fulfillment partnership is right for you, let's examine some of its pros and cons:
Benefits of eBay Fulfillment by Orange Connex
Attractive, customer-focused shipping perks: Late cut-off times, same-day handling, international shipping, next day, and same-day delivery options are just a few perks eBay Fulfillment by Orange Connex offers. These benefits can positively impact your customer experience and boost conversions.
End-to-end inventory management: From the moment you send goods to eBay Fulfillment by Orange Connex, you'll have full visibility of your stock's whereabouts. As a result, you'll have more peace of mind and the ability to plan stock purchases with greater accuracy.
Seller protection on errors: No more worrying about costly fulfillment errors. If eBay's service is at fault, your brand won't be penalized and will reimburse your business. You'll also get performance-related boosts when you sign up. For example, eBay will wipe all "Item Not Received" notes on your account.
Multichannel fulfillment capabilities: eBay Fulfillment by Orange Connex allows you to fulfill orders on other platforms using your stock in their warehouses. This perk will reduce the capital and time investment your brand needs to sell across channels.
Gain shoppers' trust with transparent delivery updates: eBay shares its service delivery up-to-date tracking and delivery information on orders. You can pass this on to customers to drum up excitement and reassurance.
Drawbacks of eBay Fulfillment by Orange Connex
Service quality could vary: The broker-like setup of eBay Fulfillment by Orange Connex could mean shipping service quality varies depending on your chosen delivery partner. This makes it difficult to know what service level your customers will experience.
Storage fees could rack up quickly, impacting your ROI: Since this program charges storage fees daily, you could end up with huge bills, especially if you send high volumes to the warehouse or have bulky items.
Your items may not be eligible for the service: Some items are prohibited by Orange Connex, which could render you unable to use their service. Some forbidden products include:

strong poisons
Biochemicals
Explosive items
Flammable liquids
Natural resources, e.g. plants
Fertilizer and raw materials
Foods

4 Tips for success on eBay
Whether you have a new store or have been selling on the eBay marketplace for years, there are some timeless and strategic moves you can make to improve your results. To get started, let's break down a few:
1) Pick the right products
Your product selection can make or break your conversion rates on eBay. Therefore, it pays to keep a catalog that meets your target customer's needs and reflects growing trends. Some steps you can take to uplevel your product portfolio:
Conduct research to find attractive goods your target customer is looking for.
Select items with high-profit margins to accommodate shipping and ad costs.
Monitor and adjust your prices according to market rates with a pricing tool to stay competitive.
2) Select the best fulfillment provider for the job
Getting your fulfillment processes right plays a huge role in success on eBay. But to ensure you have a profitable system, it's vital your fulfillment provider is the best fit. So, assess your options against your business' current growth stage and goals. Some additional pointers on what the "best" fulfillment service looks like are:
Experience in eBay selling
Capacity to scale services up and down (fast)
Offers services that complement your targets
Is fairly priced
Top tip: Excellent shipping and return options combined with fantastic products can help you achieve the highly coveted and profit-boosting "Top Rated Seller" status.
3) Make your listing stand out
Your listings are your products' stage. Ensure they don't fade into the background by improving key aspects of your listings and splitting testing for continuous improvement. For some pointers, here are steps to take:
Optimize your listings: Combine SEO with high-quality images and product descriptions to display your items in the best light and make buying from your brand the best option. Also, test different listing formats, e.g. auction and fixed price, to find the optimal blend for your product portfolio.
Offer free shipping to attract shoppers: eBay states winning over hesitant shoppers and business growth as just a snippet of the benefits you can experience with free shipping. So, tweak your pricing to make free shipping possible and impress shoppers with fast options. Also, provide a generous returns policy to decrease friction in the buying process.
Price products low when launching products: To gain sales velocity and reviews, aim to price your new offers 10-33% lower than your intended future selling price and your competitors' current asking price.
Drive your own traffic: To get more engagement on your listing, tap into organic traffic with social media and experiment with influencer campaigns and paid ads. Then split test with eBay's promoted listing campaign. Nearly 16% of products on eBay have promoted listings, leaving many opportunities for your brand to get noticed.
Use good reviews to drive more sales: Utilize user-generated content in your social media and email marketing campaigns to attract shoppers to your listing.
4) Encourage buyer reviews
A review is so powerful it can determine whether a shopper buys from your brand or your competitor. So, make it a priority to secure reviews from buyers by providing an outstanding product and service, delivering on your promises, and shipping goods promptly.
You can also request an honest review from buyers via the eBay platform, and package inserts encourage buyers to contact you if they have any issues or concerns. Also, appeal negative reviews you can't resolve with the customer. For example, say you ship the right product and the buyer mistakenly believes they received the wrong item and won't remove the review, even after you've contacted them. You can contact eBay to request they remove the review.
Build a successful eBay fulfillment strategy
From handling shipping in-house to outsourcing fulfillment services, many options are available to take your eBay fulfillment from good to great. But to maintain customer satisfaction and a healthy bottom line, you must explore what fees your business can handle compared to the service level it requires and use it to guide your fulfillment strategy. Stay updated on your store's fulfillment requirements as it scales, and be ready to upgrade when needed. Follow these tips and tricks, and it won't be long before your brand outdoes its competitors and thrives.
Ready to level up your eBay store's results. Partner with MyFBAPrep.
How To Sell on eBay: 3-Step Checklist, Fulfillment, and Best Practices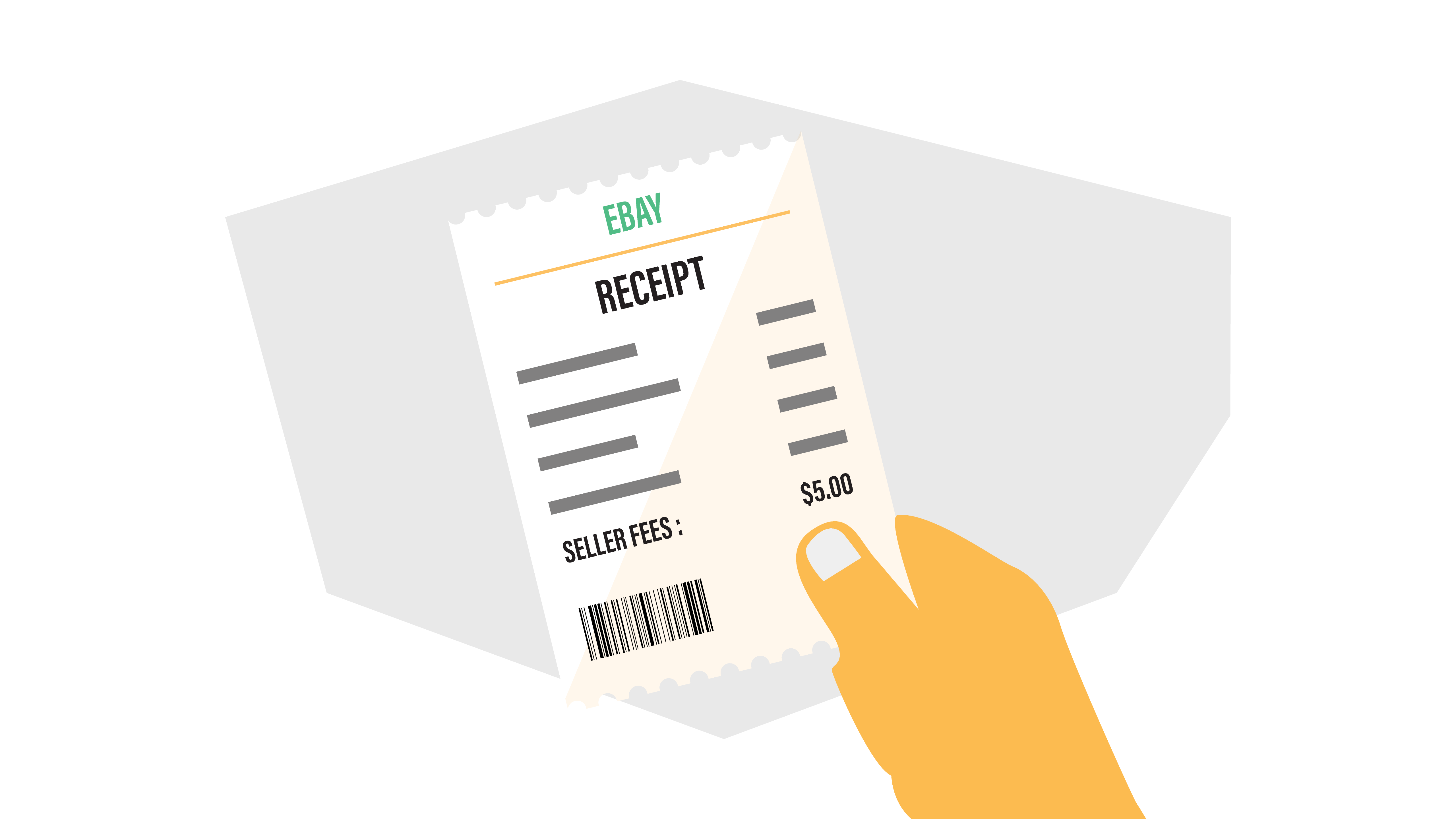 eBay was one of the earliest eCommerce platforms, founded in 1995 when Amazon was just a year old. Previously a marketplace primarily for selling used items, the company has transformed itself into a powerful platform for various brands and businesses.
If you're looking to launch your enterprise on eBay or are considering it as a new sales channel for your brand, there are several factors to consider. In this guide, we'll discuss them in detail, along with a three-step guide to getting started, how to fulfill on eBay, and best practices for success.
What is eBay?
eBay is an online marketplace for third-party individual sellers and businesses. The company positions itself as a platform for enterprises of all sizes, giving them access to global opportunities. Its original focus was auction-based selling for used items. Over time though, it's transitioned into a fixed-price marketplace that's great for selling brand-new products.
Joining eBay is simple and gives you access to a huge eCommerce brand with a wide reach. The company handles shipping and payments for you and offers many seller-oriented benefits. One thing to note, however, is packaging and handling items are your responsibility.
Why sell on eBay
Now that you have a general overview, let's delve into the platform's advantages.
1) Expand your reach
The biggest perk of selling on eBay is accessing its massive customer base of 147 million active buyers. What's more, a huge chunk of them are mobile users; eBay reported gross merchandise bought on mobile devices in the fourth quarter of 2021 amounted to $12.8 billion.
Mobile commerce is expected to continue growing. Statista stated mobile commerce accounted for 5.9% of total US retail sales in 2021, and it predicts this will grow to 6.9% in 2022. eBay is one important marketplace that can help you access all of those mobile shoppers on their preferred platform.
2) Merchant protection
eBay does its best to nurture a safe and active community of sellers and buyers by implementing various end-to-end measures, including:
Automated detection systems that monitor transactions
A seller protection team that enforces policies and tracks problems.
For example, eBay gives sellers the ability to report buyers who violate the buyer practices policy. This encourages sellers to conduct business confidently.
3) Seller experience
Selling on eBay is fairly straightforward, without having to apply or wait for approval. Once you sign up (more about this process below), you can list your items, get seller protection, and schedule your payouts. Merchants can even manage listings and respond to questions via eBay's mobile app.
The platform also gives you the freedom to sell almost anything within their safety guidelines. eBay is known as the marketplace where you can find anything (just take note of their prohibited and restricted items).
Finally, getting paid is convenient. eBay automatically deducts a final value fee only when your item sells. Meanwhile, you can opt to be paid either daily or weekly, with eBay depositing earnings directly into your designated bank account.
4) Diversify your revenue
Having an additional sales channel diversifies your business and decreases your risk. With multiple channels, if one suddenly performs poorly while the others thrive, you'll offset your losses.
Such a measure can also increase your revenue. Shopify reported that businesses with multiple sales channels generate 190% more revenue than those that only use one.
Additionally, eBay is a global brand that performs consistently. eBay ranks 56th among Interbrand's 100 Best Global Brands, and 52% percent of the company's revenue comes from its international operations. eBay's 2021 financial report revealed it earned $10.4 billion in revenue for the full year, exceeding expectations.
How to sell on eBay
Now that we've covered why to sell on eBay, let's go over a step-by-step process of how to sign up and get started.
Step 1: Create your account
You can sign up for eBay as an individual (consumer), or as a business seller. For this article, we'll talk about signing up as a seller.
To create a business account:
Click "Business account" on the Registration page
Enter your business name, business email address, and desired password
Choose your business location
Disregard the "I only want to buy on eBay" checkbox
Select "Create account"
eBay will ask for additional information like your business type and any beneficial owners, officers, directors, or account managers. You'll also be required to provide:
Your bank account or credit card information
Tax information
Your government ID
Again, you'll need to verify your account after its creation. You may also encounter special circumstances that require extra information:
If you're a U.S.-based seller with inventory outside the U.S., you may have additional tax obligations.
Make sure your bank account type matches your eBay account type — a business bank account owner should register on eBay as a business seller. If you have a personal account, you can change it to a business account in your account settings.
Step 2: Set up your account
With your account created, it's time to set it up. You'll need to decide how you receive payments, pay eBay, and which subscription is right for you.
Set up sales payments
Your payment options determine how you receive the proceeds from your sales and pay your eBay seller fees.
Navigate to the top-right corner of your eBay home page
Select the "My eBay" dropdown menu
Click on "Selling"
Select "Account"
Under "Payments," choose "Payment options"
Enter the necessary banking account information
Decide how to pay seller fees
Setting up Managed Payments is a simple way to handle your seller fees. It streamlines fee payments by automatically deducting them from your sales earnings. To select your payment method:
Scroll down within your "Seller Account"
You'll see "Payment methods for Seller Fees"
Add a checking account or a credit or debit card
Your account policies
As a business seller, you'll need to determine your account policies. These include your shipping, returns, and payment policy preferences that you'll use for your listings.
Your eBay Store subscription
You also have to select your desired eBay Store subscription. Available options are displayed in the table below.
Each plan has its own benefits. Here's a quick, general breakdown of what you get with them:
Inventory Management

: Access tools that help you list, bulk upload, and integrate with APIs. You can also use third-party tools.

Order Management

: Receive discounted shipping labels from major carriers. eBay also offers international fulfillment.

Research & Insights

: Leverage eBay's exclusive insights tool,

Terapeak

, which lets you conduct research on your competitors and how you can improve your listings.

Marketing Tools

: Create

Promoted Listings

, eBay's pay-per-click (PPC) advertising option, to increase your visibility.

Brand Building Tools

: Get a customizable storefront where you can showcase your brand and items.
Once your account is complete, you can customize your store's homepage. Then, all that's left is for you to start listing and selling your items.
Step 3: Upload and list your items
You can list your goods via eBay's mobile app or through bulk upload.
eBay's mobile app
eBay's mobile app simplifies the listing process:
Open your eBay app and type in a few keywords that correspond with your item.
Upload your photos and input your item details.
Choose eBay's price recommendation or pick your own price.
List your item.
Bulk upload
With your eBay Store subscription, you have access to eBay's bulk listing tools to upload your inventory.
You're good to go once the above steps are finished. With your automated payment options set up, once a buyer makes a purchase, you just have to pack and ship your items.
How to fulfill on eBay
Packaging, fulfillment, and returns are the responsibility of eBay merchants. You'll need to coordinate the labels, pick your shipping option, and ensure your items are prepped and packed well.
eBay Labels
eBay Labels is a service designed to make shipping your items easier. You can seamlessly add a shipping service when you list your merchandise. Then, once your goods sell, you can print their shipping labels.
With your buyer's information already in eBay's system, all you need to do is:
Enter your package's weight and dimensions
Choose your preferred carrier and shipping method
Send the label to your printer or, when available, generate a QR code on your mobile device and print the label when you drop off the package with the carrier
Domestic shipping services
For shipping in the U.S., eBay uses partners like UPS and USPS to streamline fulfillment.
These partners offer discounted eBay Labels with free automatic tracking. They also:
Accept eBay QR codes
Possess thousands of drop-off locations
Offer discounted rates to make shipping cost-effective and easy for you.
Select the partner and service that offers you and your buyer the most convenience. Each domestic shipping partner has its advantages.
USPS
USPS is good for light packages:
It has competitive pricing for packages below 1 lb (First-Class Package Service) and 5 lbs. (Priority Mail)
It's the only carrier that offers free, scheduled residential pick-up.
UPS
UPS is your best bet if you or your customers want definitive shipping dates:
It's known to be a reliable carrier and offers day-definite delivery.
It offers Saturday delivery, so your customers can receive their orders up to two days faster without extra costs.
FedEx
FedEx should be your chosen carrier if you want to maximize cost savings:
It offers unbelievable commercial rates when shipping to businesses, even heavy discounts for home delivery
Its residential delivery is available seven days a week
FedEx also has a flat rate 2-Day Air pricing (up to 10 lbs), which competes with slower shipping alternatives.
eBay Standard Envelope
This is a secure shipping service geared specifically for small items in the collectibles category (under 3 oz):
It's cheaper than using USPS's First Class Package Service (by up to 70%)
It has integrated tracking and shipping protection in case of loss or damage (up to $50 on combined items)
eBay international shipping services
To expand your business's reach, eBay offers international shipping. You have two fulfillment options to reach profitable markets such as Canada, UK, and Germany.
eBay international standard delivery
eBay's International Standard Delivery allows you to access over 210 countries. It's a cost-effective service with great shipping rates; eBay highlights your savings can average from 9% to 15% in most of the major international markets compared to USPS, allowing you to price more competitively in other countries.
International Standard Delivery also lets you print eBay Labels and use USPS drop-off services. You'll even have eBay's seller and shipping protections and a couple of set practices:
Duties and taxes occur on delivery
You, the seller, will determine how much to charge for shipping
Global Shipping Program
eBay's Global Shipping Program (GSP) is a Delivery Duties Paid (DDP) service where your buyer pays duties and taxes at checkout. After that, eBay remits them to over 100 corresponding countries to help expedite your deliveries.
Under the GSP, eBay determines all shipping charges on a listing. It also handles custom paperwork and import fees. You simply ship the packages to eBay's Kentucky hub and the company takes care of everything else.
Other perks include:
eBay provides end-to-end tracking
You get five-star shipping/handling when you provide free shipping to eBay's Global Shipping Center
Five-star shipping-time ratings are also possible with same-day or one-day handling
eBay claims sellers who use the GSP have seen up to a 15% increase in sales
Freight shipping
Freight shipping is ideal if you sell oversized items, as it's more economical. You can offer your buyers a flat rate or freight rate tables that provide up-front information, which lessens back-and-forth between you and allows them to check out quickly.
Flat-rate freight: This is the simplest and most efficient option. You either offer a flat shipping cost or free freight to all U.S. buyers.
Freight rate tables: This option lets you relay the costs to your buyer using a freight rate table, as freight shipping costs vary by region. You can charge accordingly based on up to 100 U.S. buyer regions.
To make it easier, eBay gives you access to a freight table builder. You can use it to apply the table to your listing flow or business policy or save it for future use.
Returns
Returns are also your responsibility on eBay, including missing items and refunds. The process typically looks like this:
When you receive a return request from your buyer, eBay sends you a message via email and eBay Messages
Once the return request is opened, you have three business days to respond and resolve their issue
eBay encourages its sellers to offer competitive returns policies. Options range in strictness from a "no returns" policy all the way to 60-day free returns. Choosing your policy depends on your business model.
You also have to send your buyer a return label. And, if an item doesn't arrive, is faulty/damaged, or doesn't match the listing, because of eBay's Money Back Guarantee, you're required to replace, return, or refund the item.
eBay seller fees
Typically, you only have to pay eBay's fees, which are automatically deducted, when you make a sale. However, there are a few special circumstances that may cost you more. We'll first cover eBay's two most important fees: insertion fees and final value fees.
Insertion fees
Listing on eBay is typically free up to a certain point. Merchants can list 250 items per month without any fees. For any listing beyond that, sellers must pay a $0.35 insertion fee per listing.
Final value fees
Final value fees, also known as referral fees on other marketplaces, allow eBay to keep a portion of each sale. It's calculated as a percentage of the total amount of the sale + $0.30 per order.
As for the total amount of the sale, this includes the item's price, handling charges, the shipping service your buyer picks, sales tax, and other applicable fees.
The final value fee percentages vary by product category:
Most categories

: 12.9% of the total amount of the sale up to $7,500 calculated per item; 2.35% of the portion of the sale over $7,500

Movies & TV

: 14.6% of the total amount of the sale up to $7,500 calculated per item; 2.35% of the portion of the sale over $7,500

Heavy Equipment

: 3% of the total amount of the sale up to $15,000 calculated per item; 0.5% of the portion of the sale over $15,000
There are a few tactics to reduce your eBay seller fees. For example, if you're just doing product research, consider limiting your R&D to items that will fit under the categories with the lowest final value fees.
eBay store subscriptions
By becoming a business seller, you get more free listings and lower final value fees. It follows the same principle as casual or individual sellers, where a percentage is deducted from the total amount of the sale. However, the rates are lower, as shown below.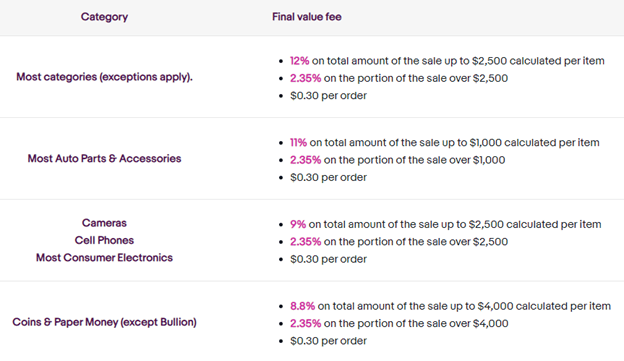 As you can see, you pay significantly lower fees as an eBay Store subscriber, but there's a catch: you have to pay subscription fees instead.
eBay subscription fees
Fees vary according to your chosen plan. You have five options: Starter, Basic, Premium, Anchor, and Enterprise. Below is a table of their respective fees.
Other fees
In addition to the regular fees we've listed above, there are a few other costs to be aware of:
Check out these fee calculation examples from eBay to see how fees are calculated for both auction-style and fixed-price listings.
Best practices for selling on eBay
Now that we've gone over the why, how, and how much, let's talk about optimization. Selling on eBay is only worth your time if you can make a profit, so here's how to do it.
Use Promoted Listings
We previously mentioned that as an eBay business seller, you have access to Promoted Listings. eBay's PPC advertising option boosts the visibility of your items, especially for sellers searching for products similar to yours.
Electronics seller TekReplay, for instance, increased the sales of their high-quality refurbished items by 179% thanks to Promoted Listings. Similarly, Reebok doubled its sales while only paying 6% in fees.
With Promoted Listings, you only have to pay when someone clicks on your item, and there are multiple ways to get started. You can track your campaigns via the Performance Dashboard and monitor key metrics like:
Impressions:

How many times your Promoted Listings appeared on eBay

Clicks:

How many visits from a promoted listing your listing page receives

Ad fees:

Total fees incurred by items sold within 30 days of clicking on your promoted listings

Click-through rate (CTR):

The percentage of times buyers saw your ad and clicked it

Sales conversion rate:

The percentage of promoted listings purchased after your buyer has clicked them
Leverage eBay initiatives
eBay has programs designed to help entrepreneurs and smaller enterprises grow their online businesses. Two notable programs are its Up & Running initiative and its Seller School, which are useful to people new to eCommerce or who hope to launch their eBay enterprise.
Up & Running
This eBay initiative is designed to help sellers launch and grow their online businesses. Through Up & Running, the company provides benefits to help individuals up to small enterprises run their eBay store. These perks include:
Selling tools and insights
Zero listing fees on up to 200 monthly listings
Virtual learning
Real-time consultations with fellow sellers and eBay staff
Up & Running has also expanded its efforts with a new grant program. Through it, 50 small business sellers based in the U.S. have received $10,000 grants.
eBay Seller School
eBay also invests in resources to help its sellers succeed in the digital economy. This virtual learning platform features on-demand lessons and other learning materials that cover a wide range of eCommerce topics.
Through the Seller School, eBay also offers tools that can help sellers scale their businesses, such as:
Image Clean-Up
Time Away
Seller Initiated Offers
Pay attention to trends
eBay-supplied research tool Terapeak uses eBay supply, demand, and pricing data to show sellers easy-to-understand trend visualizations.
Terapeak also has a useful feature called Sourcing Insights, which provides eBay marketplace data like categories with high demand and low supply. It can help you determine the popular products you should source next.
Let's say you're a sports retailer. You notice on the tool a spike in demand for winter gear like skis and snowboards, but the supply is low. This presents an opportunity to source these items and sell them on the platform.
Ensure proper packaging
Since you pack and handle your items, you're responsible for their presentation and condition before shipping.
Always make sure your products fit snugly in their boxes. Make use of packing peanuts, bubble wrap, or paper to protect them. If you want to promote your brand further, feel free to incorporate custom packaging, inserts, etc.
Create detailed, optimized product descriptions
eBay's shoppers search for items using keywords. Make sure to include relevant keywords and product identifiers like:
Brand: Samsung
Style or model: Galaxy
Model number: S22 Ultra
Color: Burgundy
Size (for shoes): Men's size 11, Women's size 7
Also, try to structure your product titles closely to how users type in their eBay searches. Instead of generic titles like "Samsung Galaxy Phone," be more specific. Something that includes attributes like "Samsung Galaxy S22 Ultra, Burgundy" would help guide potential buyers to your eBay Store.
Similarly, when crafting detailed product descriptions, disclose everything. Include your item's dimensions, its accessories, and what it requires to work (like batteries). Mention any flaws or defects if the item is used. This way, the buyer will be aware of what they're purchasing.
Wrapping up — Selling on eBay
eBay is a powerful marketplace that gives merchants access to more shoppers, and is easy to get started on. The marketplace also invests heavily in learning programs and resources to help sellers grow.
Before you begin selling, understand how fulfillment is handled, eBay's many shipping options, and the platform's fees.