Category:
Headless Commerce
The Ins And Out of Headless Commerce: What it Means For Growing Brands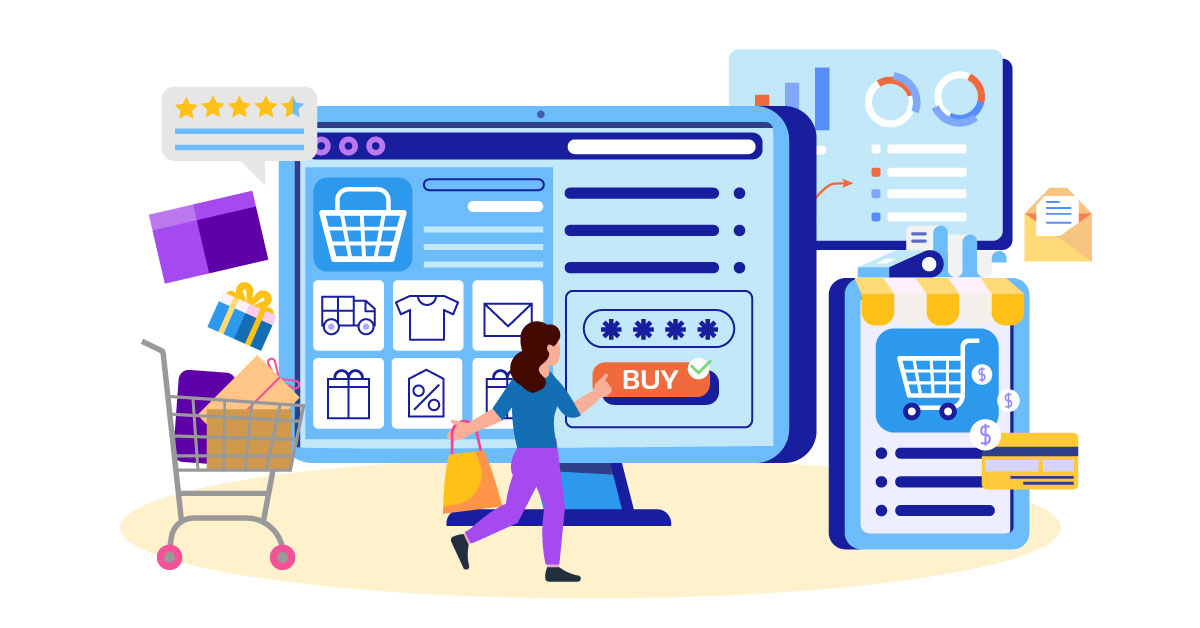 With eCommerce now tipped to reach $1 trillion in 2022, an acceleration of two years, and 95% of orders expected to be completed online by 2040, the eCommerce market is the place to set up shop.
As the market continues to change rapidly, headless commerce is becoming a must for brands who want to remain competitive, attractive to customers, and scale their revenue. But the term "headless commerce" isn't well known outside the programming and coding spaces, yet it plays a huge role in the eCommerce world's shakeup today.
In this post, we'll clarify headless commerce and how it operates. We'll also cover some benefits you can look forward to when you go headless and some pointers for success on your journey.
What is headless commerce?
While the name conjures up images from scary movies, rest assured, headless commerce is a bonafide tech term.
Headless commerce consists of an eCommerce solution where the front end, dubbed the "head" is separate from the backend. For instance, under a headless commerce setup, the customer-facing shopping interface is split up from the background tools and operating systems.
You can distinguish headless commerce from traditional commerce by looking at the characteristics. Traditional commerce adopts a rigid structure where the front and backend combine with coding and programming. It requires input from an IT team to make the slightest adjustment to your website interface or user experience.
A headless commerce store needs an effective fulfillment setup to match. Upgrade yours today.
How does headless commerce work?
A great example of headless commerce in action are solutions like Shopify and BigCommerce, which have set the stage for headless commerce for growing brands.
How headless commerce works is you upload and edit a theme or template with photos, text, layouts, and other customization features on the front end. The distinctive trait is that you won't have to touch backend features like dashboards, order management, shipping tools, stock counting functions, and SEO management tools.
Don't delay your eCommerce takeover any longer. Get ahead with MyFBAPrep.

7 ways headless commerce up-levels your brand
Perhaps your store runs on a custom-built program requiring developer input for updates, or you sell on an online marketplace and want to branch out to your own site. Either way, headless could be your next best action. Let's examine some ways going headless can help your business reach new heights:
Reduced admin and maintenance costs: No more paying out for programming and developer hours each time you want to tweak your eCommerce site. All you need to do is make an API call or edit in-line on your website's interface when armed with a headless commerce infrastructure.
Design flexibility and freedom: No coding background? No problem! Headless commerce is built with non-coders and business agility in mind. For example, you can customize your website to fit your goals and brand, from its content to the design.
Uplevel customer experience: Shoppers' wants and needs, along with market trends, are continually changing. It's vital your store does the same quickly to get the lion's share of sales. With headless commerce, you can take more risks and experiment, knowing you can return to previous settings without much hassle.
Responsiveness that fuels your competitive advantage: With a headless commerce setup, you'll have the necessary tools to outpace your competition. For example, you'll speed up the time it takes to launch and test front-end elements, customer experiences, and interfaces.
Take the pressure off your team: Having a laundry list of optimization tasks for your programmers and developers to tackle on top of their usual duties is no way to build morale. And, if it happens too many times can leave your team stressed and overworked, dragging productivity and business performance. Headless commerce releases your team to focus on core tasks to scale your business.
Go omnichannel stress-free: Headless commerce system allows you to get more out of your existing store since you can disburse your content assets across different channels. This characteristic will increase how many markets you can tackle without multiplying your workload.
Integrate with tools more seamlessly: Whether you need a countdown timer on your site or want to test a new design element, going headless will allow you to implement more tools without disrupting your existing store. As a result, you can optimize your site faster, increasing your competitive edge.

How to go headless for big eCommerce wins
As you go along on your eCommerce journey, it's important to find ways to increase your odds of success and lighten your team's administrative burden. That's where going headless can be beneficial. It can help create more room to focus on growth-related tasks. But you'll need a well-rounded plan to be triumphant in headless commerce. Let's dive into the steps you should take to secure impressive results:
Decide whether going headless fits your business goals
To ensure investment in going headless is the best route for your brand, it's vital to assess your business goals and needs. To put this into perspective, here are 3 eCommerce business scenarios to consider:
Fast scaling eCommerce business: If you have a site with customer-facing content that changes constantly, it could be a good fit. Alternatively, you could adopt a hybrid approach to accommodate any complex customizations you can't achieve with plugins, themes, or software.
Steady growth B2B wholesale store: Say your store only requires a simple or static site that doesn't require many updates or a sophisticated interface, switching from a traditional to a headless store may be futile.
New eCommerce store ready to launch: If your store is yet to create a website and you've been selling in retail stores primarily. It may be wise to test the eCommerce waters with a headless store. This will allow you to pivot and keep costs low as you grow.
Select your eCommerce platform wisely
eCommerce platforms come in different shapes and sizes. Therefore, it's essential to research each solution's features and benefits before setting up shop. As a guide, some traits to look for in your chosen online selling platform include being able to:
Serve a headless commerce system
Easy to understand processes
Integrate with your fulfillment house's tools
Offer on-hand support
Get the right team together
Your team's skillset and willingness to adopt headless commerce will significantly impact the results you achieve going headless. It's vital you sell the benefits of going headless to your core and executive team and utilize their skills in your new headless commerce store to breed confidence and a sense of mission. To conduct the switch effectively, observe each team member's skill set and update their roles according, e.g., For example:
A UX designer can take care of user experience building and testing
A web designer can create banners and images
A marketer can handle content creation and copywriting
A programmer can create any advanced customizations you need
Understand the time and financial investments involved
While up-leveling business processes and systems are part and parcel of scaling an eCommerce business, you'll want to avoid being blindsided by a deluge of work. So, take note of how much commitment the project will require to come to fruition, such as:
How easy or difficult it will be to migrate
The teams you need to involve
Tasks to outsource
Once you have this information, outline the steps you'll need to take to move to headless commerce successfully and how much each will cost. Then create a timeline adding in buffers for unexpected charges and events.
Competition in eCommerce has never been fiercer. Discover how MyFBAPrep can give your store the upper hand.
Wrapping up – Get ahead without your head
In recent years headless commerce has caused a stir in the online selling world. But the question remains: To go headless or not to go headless? The answer is, that it depends. Your company goals, team workload, budget, and willingness to embrace change will determine whether going headless is the best option for your store. Outsource to experts wherever possible so you can focus on scaling. Soon the project will have paid for itself, and you'll be operating an online store that runs like clockwork, delights shoppers, and boosts conversions.
Kickstarting your headless commerce journey? Learn how MyFBAPrep can position your brand for success.