Category:
Shopify
How to Leverage Shopify Collabs to Boost Your Marketing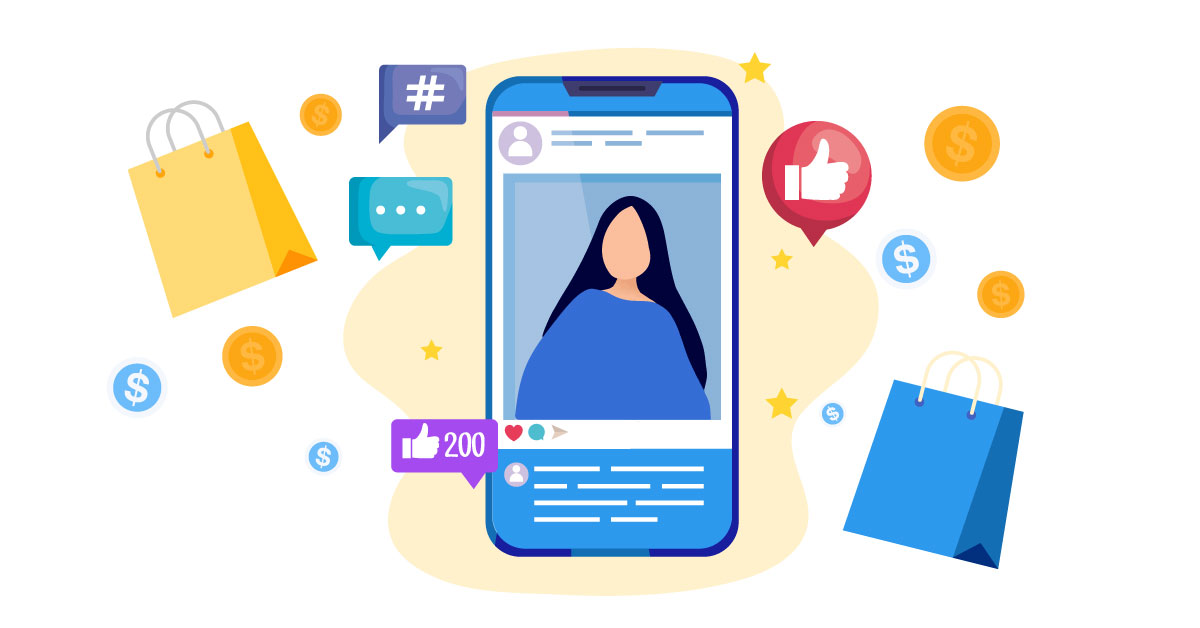 Thinking about giving influencer marketing a try? The stats are on your side.
Influencer marketing hit $13.8 billion in 2021 and is set to expand an extra 19% to $16.4 billion in 2022.
Whether you sell clothing or car accessories, influencer marketing effectively gets the word out about your brand, builds consumer trust, and drives sales.
And, if you sell on Shopify, good news!
Shopify is one of the latest brands to tap into the booming creator marketing industry with a new program, Shopify Collabs. Built to help brands like yours win big by working with influencers, this unique offer is causing a stir in the eCommerce and influencer marketing world.
This post will explore the ins and outs of Shopify collabs and how you can get in on the action.
Ready to take your eCommerce business to the next level? Partner with MyFBAPrep.
What is Shopify Collabs and how does it work?
Shopify has launched a free tool to help businesses collaborate with influencers. The aim of the game is to make eCommerce brands and creators more discoverable to each other and drive revenue for participating parties. Here's a quick breakdown of how Shopify Collabs works:
The merchants using Shopify install the Shopify Collabs tool.
Creators sign up for a collabs account, which lets them view and search Shopify's 1 million+ strong merchant directory.
Merchants can find and manage influencer collaborations on the platform, including sharing custom affiliate links and discount codes and creating curated shops together.
The influencer gets a cut when shoppers use their link to make purchases using their custom link or code.
Creators can also make their links shoppable by using Linkpop, Shopify's eCommerce tool that turns the link in a bio into an online store and provides a landing page to house important links to share with their audience.
Shopify store owners enrolled in the Shopify Collabs program can monitor orders, stock levels, and customer orders via their Shopify admin panel. This makes it simple to track a campaign's effectiveness.
Having the right fulfilment partner is critical to eCommerce success. Start afresh with MyFBAPrep.

Why Shopify Collabs is a huge opportunity for entrepreneurs and creators?
Before tools like Shopify Collabs, brands were left to fend for themselves when it came to learning how to collaborate with influencers successfully. This included managing fees, terms, and campaign optimization with multiple creators simultaneously.
The other alternative was to shell out for agency help. However, this choice increased their marketing spending with no guarantee of results. This made it only viable for brands with large advertising budgets.
Now brands big and small have tools like Shopify Collabs to make informed decisions on who to work with to increase their odds of success.
Shopify Collabs could also be a lucrative opportunity for creators hoping to go all in, increase their takings, or strengthen their brand. Just 4% of influencers currently create content full-time.
These factors combined help to enhance the available talent in the creator pool and willing participants in the merchant group, increasing the odds of good matches.
Scaling fast? Get a reliable fulfillment partner to match your speed.
How influencer marketing can help your brand succeed?
If you're wondering whether Shopify collab and creator marketing are just more fidget spinner-style fads destined for the trash, think again! When used correctly, they can drive strong results for your brands. Let's explore some perks you can expect:
Reach more people
Influencer marketing allows you to explore new audiences and territories to find more highly engaged buyers. Also, shoppers have different places they enjoy spending time online. Mixing up the creators you work with can also find other profitable audience segments you would have missed when focusing on alternative marketing channels.
Access user-generated content (UGC)
There's something about UGC that screams authenticity and gets people buying. Email campaigns with visual UGC report conversion rates 25% higher than those without and UGC boosts web conversions and campaign results by 29%. So, UGC is worth its weight in gold, and with influencer marketing, you get it in droves. From audience members participating in influencer giveaways to heartfelt video testimonials crafted by creators, influencer marketing can help you secure this type of conversion-boosting content.
Improve your marketing ROI
PPC ad costs are on the rise. Google racked in $61.2 billion from ad revenue in Q4 2021, which amounts to a staggering $15 billion rise compared to the previous year's final quarter results.
With these price hikes, you must look for alternative ways to market your brand and protect your margins and ROI. That's where influencer marketing comes in. Boasting an ROI 11x that of banner ads, influencer marketing is a cost-effective investment.
Plus, with more AI-backed tools and collaboration-boosting platforms entering the market, influencer marketing is poised to be more profitable than ever.
Uplevel brand awareness
When you're just starting out or in a competitive niche, it can be challenging to get the word out about your brand. Working with an influencer with a growing following can be just the push your brand needs to be seen,  pull your products into the limelight, and take your store global.
Elevate trust and credibility to supercharge sales
Some influencers have fiercely loyal followers who believe in and trust them, especially those with younger audience demographics. 62% of 18-29 year-olds surveyed said they trust influencers more than celebrities, and that figure jumps to 92% for micro-influencers. By working with creators, you can piggyback off their relationships with consumers. In turn, this will increase your perceived trustworthiness and credibility to skyrocket sales.

How to excel at influencer marketing with Shopify Collabs?
Competition for people's attention online is growing stiffer. So to win at influencer marketing with the Shopify Collabs tool in hand, you'll need some know-how, cash, and patience. Let's dive into some steps to get the best results:
Learn how the Shopify Collabs platform works
Before you dive into working with influencers on the Shopify Collabs platform, it's important to understand what's in front of you. Take a tour of the Shopify Collabs tool, read its resources, and play around with the features until you have a solid understanding of the lay of the land.
Determine your goals and set a suitable budget
Is it more traffic you're hoping for? Or perhaps it's an uptick in qualified leads and sales you're after. Whatever it is, it's vital you jot down a clear objective for every campaign.
Next, create a realistic budget to match your plans. For example, if you want to focus on collaborations with micro-influencer, you can have a smaller cash pot for inventory and payment. On the other hand, if you intend to partner with celebs and well-established creators, you'll need to account for higher reimbursements, legal fees, and admin.
Launch, assess, and adjust campaigns
Like most marketing channels, finding your sweet spot takes a few swings. There are a few things you can do to improve your campaign results. For example
Enter the influencer marketing game with a winner's mindset and unstoppable attitude. In other words, be willing to try, fail, and try again.
Run split tests on top-performing campaigns. You can test areas like territory, target audience, topic, audience sizes, and campaign storyline.
Monitor your campaign performance, combining your store analytics data with social listening and customer feedback to make appropriate adjustments.
Share, share, and share again
Collaborating with influencers to create awesome content is critical. However, how you distribute it will decide how much you get out of a campaign. Some ways you can distribute your influencer marketing content for maximized utilization include:
Create a reposting schedule: Discuss posting times with influencers so your uploads don't clash with them. Post the content to your social channels, pay attention to posting times, and use content formats native to them.
Get your followers involved: Encourage your audience to share your content (e.g., turn your campaign into a competition in which they share your content)
Use the content on your product pages: Place your influencer front and center on areas like collections, your homepage, and product photo reels.
Use the images and videos in your ads: Whether you advertise using email marketing or PPC, find ways to inject influencer content into your campaign. Insert quotes from testimonials and reviews from the influencer(s) and customer for added credibility.
The secret to making Shopify Collabs a money-making machine
Influencer marketing is one of the hottest opportunities for eCommerce brands and creators. But to see success in your influencer campaigns, you'll need to go in with a documented plan and the desire to make it a reality.
Use Shopify Collabs to streamline your influencer research and negotiations. Work with influencers whose content style and image match your brand and tell exciting stories that resonate with your audience. Before you know it, you'll have a profitable influencer marketing strategy to aid your store's expansion.
It's time to say goodbye to sleepy fulfillment processes. Learn how MyFBAPrep can help you boost backend efficiency.
The What, Why, and How of Shopify Audiences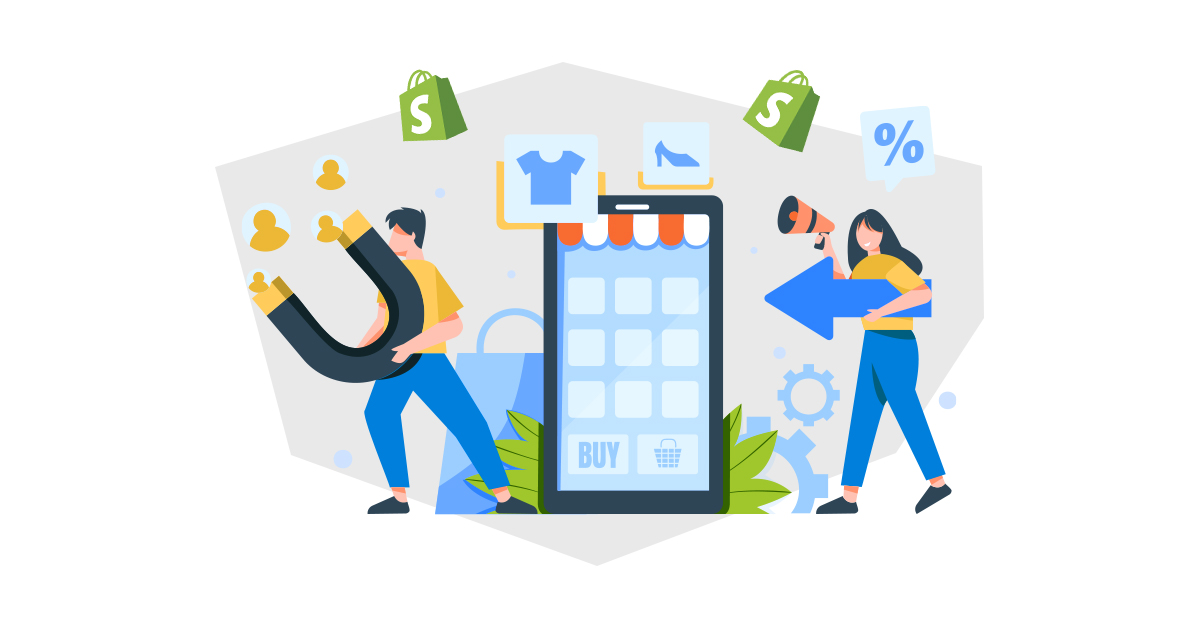 Updates like cookie opt-ins, iOS14, and the General Data Protection Regulation (GDPR) are creating smaller audiences for advertisers to work with. As a result, eCommerce businesses and retailers with an online presence have to find newer, more effective ways to reach their target customers.
Smaller returns, audience pools, and ad budgets continued on popular advertising sites, with platforms like Facebook seeing a drop in average daily uses for the first time in 18 years.
Enter Shopify Audiences.
With its growing data pool and next-level targeting, Shopify Audiences is the saving grace brands have been searching for to reach new buyers.
In this post, we'll dive into Shopify Audiences and reveal how it can help your business craft higher-converting ad campaigns. We'll also offer practical guidance to make the most of a Shopify Audiences integration.
What is Shopify Audiences?
Shopify Audiences is an insights exchange network that gathers conversion-related insights from merchants on Shopify who have opted into the program.
From this data, Shopify employs machine learning to craft audience lists of U.S. and Canada-based customers for use on digital advertising platforms, like Facebook and Instagram (and more to come). You can also select items from your product catalogs to showcase in ads and gain an edge over pure-play Facebook and Instagram ad targeting.
Tapping into insights from the millions of opted-in Shopify merchants, allows brands to optimize their marketing campaigns' targeting in ways that weren't previously available on ad platforms. Plus, Shopify Audiences operates with trust and transparency at its core, boasting features like an opt-in/opt-out setup and a fair order attribution model (more on that later).

How Shopify Audiences works
It's easy to implement Shopify Audiences as the next step in your marketing strategy: Create an audience list, then export it to your chosen ad platform (currently, Facebook or Instagram). You can then launch ads based on the list.
For instance, say you sell outdoor equipment like lawnmowers. Once you opt into the solution, Shopify Audiences can gather data on your shoppers. It'll then create a custom audience of people interested in lawnmowers and related tools, like sprayers and shovels. If shoppers from the custom audience engage and purchase, Shopify will attribute that sale to the campaign.
You first need to check your eligibility to use and install the Shopify Audiences app. You must be:
A Shopify Plus user
Located in the U.S. or Canada
Use Shopify Payments
Once you meet these requirements, sign up for the app to opt into the network through the following steps:
Head to your Shopify admin and click Apps.
Go to the Installed apps section and select the Shopify Audiences app.
Click Set up audiences.
Choose to turn on the data contribution and consent to Shopify Audiences' terms and conditions.
Link the Facebook account you want to use for advertising by clicking Set up.
Once you've linked your store to Shopify Audiences, you'll start contributing data to the Shopify Audience data pool and can craft custom audiences.
It's time to step up your eCommerce operations. Discover how MYFBAPrep can help you claim the top spot. 

The perks of Shopify Audiences
Shopify Audiences has opened a world of revenue-generating opportunities to online retailers. Below are some of the advantages you can gain from this innovative tool:
1) Improve top-of-funnel marketing campaigns
While you can't add existing customers to your lists, Shopify Audiences makes up for this by helping you find high-intent buyers. The custom audiences sharpen your targeting and drive more brand awareness.
2) Gain the upper hand in targeting U.S. and Canadian markets
Shopify Audiences is currently a location-specific tool serving the U.S. and Canada, which gives sellers in these countries a competitive advantage over businesses covering other territories, like Europe.
3) Access secure and privacy-compliant data sharing
Data sent to Facebook is used for data matching and then deleted. Also, audiences sent from Shopify to Facebook go through a secure method that you can't download, which keeps your customer data top secret.
4) Attract and retain more customers for less
Refined targeting and growth-powering reports obtained through Shopify Audiences lead to faster research and higher return on investment (ROI) on ad budgets.
Each custom audience is based on previous buying behavior, so you'll have the knowledge necessary to craft ads that resonate with your target customer to increase conversions. You'll also receive live, accurate data on shoppers' current wants and needs to keep them coming back for more.
5) Fair order attributions for reporting accuracy
Unlike other marketing tools, Shopify Audience isn't quick to take credit for an order simply because you use the platform. The program's attribution model accredits an order to an exported audience when a buyer purchases while your ads are live and up to a week after the campaign ends.
Also, if your customer is in more than one audience when they buy, Shopify Audiences will split the order and its total amount equally between the audiences responsible for generating it.
Advertising for growth? Leveling up your logistics is always a smart move. Get started today with MyFBAPrep.

Best practices for producing profitable ads with Shopify Audiences
To succeed with Shopify Audiences in the long term, it's vital you adopt a winning strategy and maintain an inquisitive mindset. We'll help you get started with some top practices that'll see huge wins with Shopify Audiences.
1) Keep your data fresh and accurate
The quality of your data pools relies on the information you put into them (remember, you can't update or download an audience once you've exported it to Shopify Audiences).
So, ensure the data you feed into your audience list is current and correct. To obtain the best insights on quality and performance, be sure to:
Schedule time to check your order and customer data regularly (including removing anomalies, duplicates, and errors)
Use robust tools to manage your inventory and organize store-related information on a clear dashboard
Create and launch your ads on the same day you send the data to Shopify Audiences
2) A/B test with intent
A/B testing has become a buzzword in the marketing world, with some brands randomly split testing in hopes of finding their golden ticket. But to gain better results from Shopify Audiences, you must approach A/B testing strategically and with a clear purpose. Here are a few testing tips to remember:
Keep your ad budgets in line with each ad's audience size.
Only A/B test audiences on Facebook.
Consider audiences with U.S. and Canada-based buyers only.
Exclude your current customers from the campaign you're comparing it against.
3) Let insights guide you
Use Shopify Audiences' reporting tools to understand campaign effectiveness and gain relevant, actionable insights from your results. You can then make data-backed adjustments to your ads to improve conversions. Shopify Audiences generates two types of reports:
1) Overview reports provide a bird's-eye view of how Shopify Audiences campaigns impact your store. You'll see information like:
Total orders — Combines all orders from your audiences, including those you've archived
Total sales — Aggregates the number of purchases from all buyers in your audience lists
2) Detailed reports zoom in on more granular metrics like:
Average order value — The typical amount buyers spend in your store per order, calculated as Total revenue generated / Total number of orders
Top products sold — The items shoppers in the audience list bought the most
Orders — The approximate items customers in an audience list purchased
Sales — The estimated cash earned on orders from an audience list, calculated as Gross Sales (excluding gift card transactions) – Discounts – Financial Refunds + Taxes + Shipping Costs
New customers — The approximate number of people in your audience list that have become buyers
Tip: Analyze reports on ad campaign spend impressions and clicks on Facebook to gain a more well-rounded view of your campaign's performance. This will reveal where to double down your marketing efforts to skyrocket leads and sales.
4) Optimize your ads
Although Shopify Audiences is an ad network, it's not an ad platform. This means you need to nail the essentials of a winning ad for your targeting to succeed. Here are some ways you can upgrade your ads:
Create eye-catching images and videos (avoid stock photos and videos).
Use engaging storylines and tone of voice.
Build sales funnels with optimized landing pages and offers for every stage of the buyer's journey.
If optimizing Facebook and Instagram ads isn't your expertise, don't sweat it. Get help from a Shopify expert for faster results.
5) Remember your other marketing channels
No matter how well your campaigns perform with Shopify Audiences, you also need to nurture your other marketing avenues. Leverage the Shopify Audiences tool to strengthen your Facebook and Instagram ads and diversify your marketing. Once you've mastered your Shopify Audiences targeting, some other channels to focus on include:
Email marketing
Pay-per-click ads
SEO
Wrapping up – The path to success through Shopify Audiences
If the numbers are falling short in your current ad campaigns, there's still hope. Shopify Audiences has cleared the path to sharper targeting and higher conversions for eCommerce businesses, both large and small. While it's still a young tool, you can use Shopify Audiences to gain a competitive advantage, build your customer base, and grow your revenue.
Ensure the data you feed Shopify's algorithms is current and accurate and split test purposefully and often. Finally, optimize every element of your ads and combine your existing marketing strategies with Shopify Audiences' powerful network of information. With these tips and best practices, your marketing efforts will soon drive your store towards huge paydays and supercharged growth.
Want more ROI on your marketing investment? Discover how MyFBAPrep reinforces your advertising strategy with built-for-you logistics.
Shopify vs Magento: eCommerce Platform Migration Basics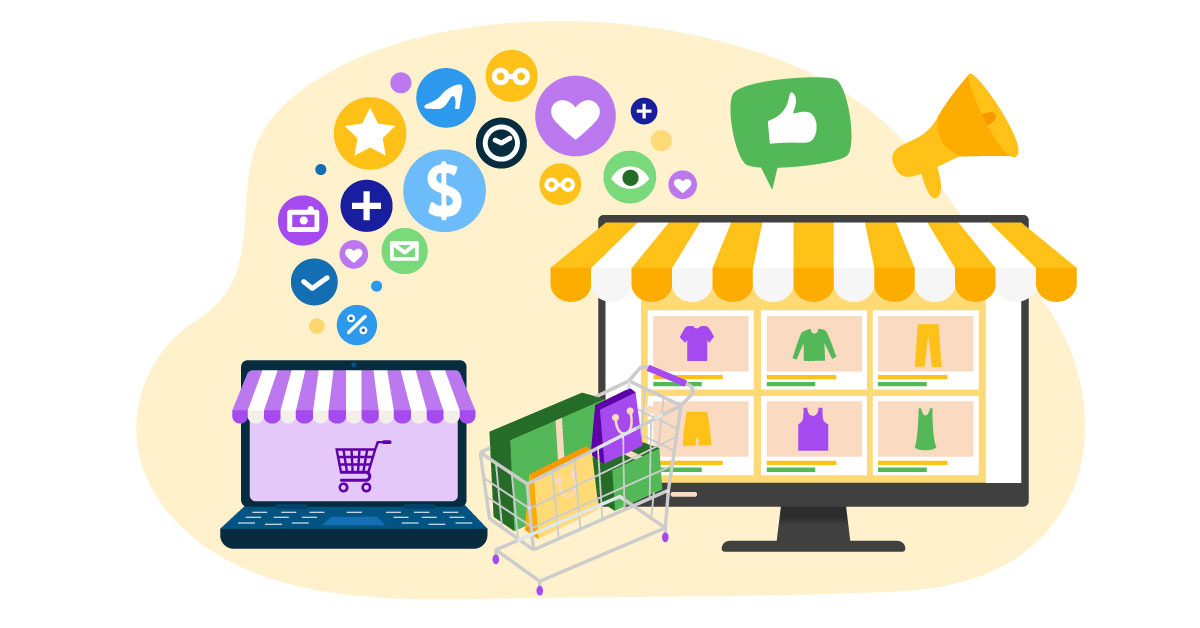 This is a guest post from Kate Parish, chief marketing officer at Onilab, who has 8+ years of experience in digital marketing and eCommerce web development promotion.
One of the unexpected downsides of managing a successful eCommerce store is outgrowing the platform it launched on. Your business, like a living being, transforms along the way; what covered your needs earlier may no longer be reliable, flexible, and scalable.
Take Shopify and Magento as an example: They make frequent appearances on lists of the most popular eCommerce platforms for thousands of stores. However, they're very different.
Shopify is the better option for small and medium-sized stores. It lets you set up an eCommerce website without having to think about hosting or hiring an IT team. Magento, in turn, outperforms Shopify in power, customization, and functionality, which is crucial for bigger and fast-growing companies. So, if you've been a Shopify client for a while but need to take your store to the next level, consider a platform migration to Magento.
The migration process may seem complicated, so we've divided it into digestible pieces for you to understand and make it easier to decide. This article will examine the two competing platforms, the reasons to switch from Shopify to Magento, and the step-by-step migration process.
Magento vs. Shopify
Magento
Magento is an open-source website builder based on the PHP scripting language. Its customers include Christian Louboutin, Agent Provocateur, Land Rover, Ahmad Tea, Nestle Nespresso, and more big names.
Magento ensures its clients receive the best functionality and security for every dollar spent. In keeping with this philosophy, the company recently released the Magento 2 upgrade and stopped supporting M1, encouraging merchants to follow their Magento migration steps for the most up-to-date experience. The Magento 2.3 version supports a headless commerce approach to build progressive web apps with an impeccable UI/UX on mobiles and desktops.
Creating an online store on Magento is challenging if you have no IT team or lack the means (or desire) to hire one. But once your store launches on the platform, you can enjoy the limitless capabilities that surpass Shopify's offerings.
The platform has its downsides, however. Although free to use, most extensions will cost you $60–$600. You'll also need to pay for hosting, third-party services, and developers. If you require more functionalities and tools, Magento offers a Commerce edition, which starts from $22,000 per year and may rise due to increased customer Gross Sales Revenue (GSR).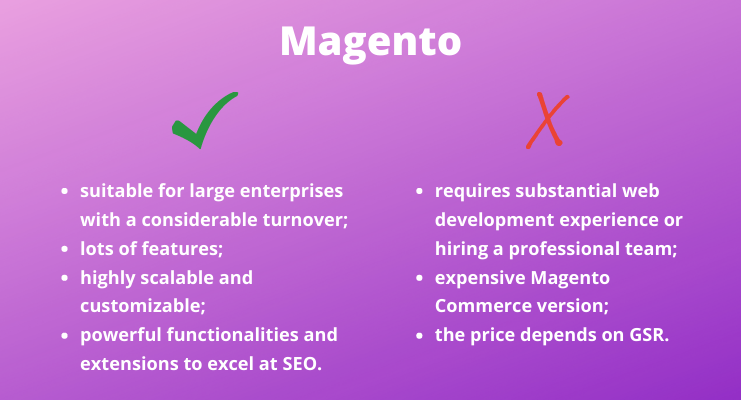 Shopify
Shopify is one of the most popular solutions for eCommerce businesses. Apart from SMBs, major brands like Heinz, Nestle, Rebecca Minkoff, and KKW Beauty also use it. Its popularity is attributed to the ease of setting up a store on the platform.
Shopify charges $29–$299 per month, plus transaction fees for 24/7 support, hosting services, and seamless themes. It provides indispensable elements for stores, including:
Layouts
A payment processor
A blog
Email marketing tools
The platform's multi-tenant architecture can slow website performance during traffic spikes though, so an expanding store may struggle to provide a polished user experience.
Although you can use custom code in the back end to change your store, if you need to go beyond Shopify's basic functionalities and features, you'll have to leave Shopify for adaptable solutions like Magento.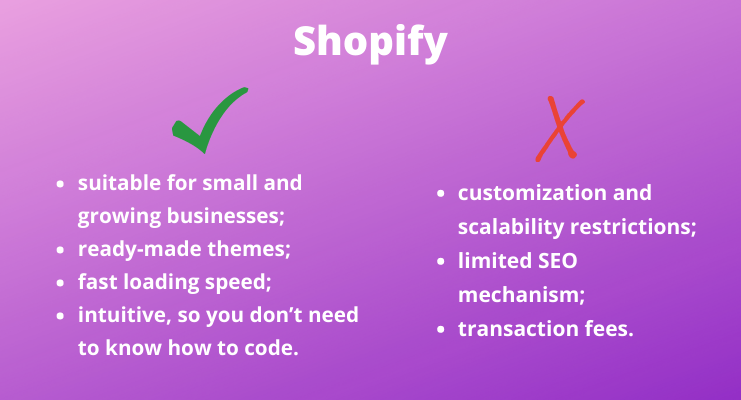 Why migrate from Shopify to Magento 2
Magento is a free (to use) and customizable constructor, while Shopify is a paid, ready-to-use eCommerce platform.
This difference gives Shopify various limitations, while Magento offers expanded capabilities. Below, we'll outline the reasons to migrate from Shopify to Magento.
1. Website performance
Fast loading speed is a prerequisite for an eCommerce store's success. It ensures a better user experience and higher rankings on search, improves online store metrics, and prevents visitors from leaving the website in irritation due to long loading times.
While Shopify has a better overall performance than Magento, it may not handle the needs of a growing business. The bottom line is, you can't improve the speed of a Shopify store. You operate on what the company offers to you. It's also impossible to reach the perfect mobile or desktop Google PageSpeed scores.
The self-hosted Magento option provides the opportunity to choose the most suitable hosting provider and boost your store's performance. It's especially relevant for huge loads when the proper hosting can save you from other websites affecting your resource. Shopify, however, is unable to provide hosting controls. So, even though Shopify's performance is initially better than Magento, you have more chances to fix the latter's issues.
2. Full customization
A Magento store requires solid technical skills, but is customizable. As a self-hosted platform, it gives you complete control over the server and hosting environment. On the other hand, Shopify only needs beginner-level development knowledge for hosting configuration, but it limits access to fundamental performance and customization opportunities. For example, it requires merchants to use its own payment gateway, has a basic category structure, and lacks advanced search functionality.
A point in Magento's favor is its flexibility and high customization as you gain access to the code. The layered architecture, which separates business logic from presentation logic, lets you tweak the look of your storefront without changing the core business logic.
Magento enables you to configure numerous languages and currencies, as well as different prices for various customer groups. Furthermore, the store owner can manage several stores from a single admin panel.
3. Available features
Magento boasts many extensions, giving it the upper hand in this comparison. The most popular ones (to name a few) are:
Facebook Business Extension
Google Shopping by Magenest
SimiCart Mobile App Builder
Follow Up Email by Amasty
The extensions allow users to add features to their stores right out of the box. A case in point is Follow Up Email by Amasty: This add-on streamlines sending email notifications, launching campaigns, and specifying coupon rules. Shopify also has various add-ons, but not to the same extent. For example, Magento provides more than 5,000 extensions as opposed to less than 4,000 in Shopify. Plus, Shopify's are less adaptable, have fewer features, and are more constrained.
4. Options for international trade
The multi-site capability with Magento allows store owners to maintain a single codebase for several websites. As a result, you can have a separate domain for each country and localize websites according to local regulations, taxation, shipping partners, and payment methods.
Consider countries in the European Union, whose laws require you to follow a cookie policy. Magento ensures European domains will display the EU cookie policy.
Magento is also beneficial for running many online stores, which is crucial for taking country-specific localization to the next level, including:
Local currencies
Translated text
Local SEO
And more
Magento's multi-warehouse capability assists in managing scattered warehouses from a single source. It boosts operational efficiency, enhances global inventory management, and streamlines resource allocation.
Before opting for Magento, determine if you plan to grow your company. Should the store cover a considerable turnover? Will you need to launch the store at the international level? If you have no intention to scale, you'll pay extra costs for unnecessary functionalities.
How to migrate from Shopify to Magento
Magento is the upgrade you need to help your growing business continue to flourish. You can migrate from Shopify to Magento manually, with automation tools, or by hiring specialists to do the job for you.
Manual migration is possible for stores with fewer data arrays. However, if each CSV file contains more than 9,000 rows, you'll need to employ automated tools like LitExtension or Cart2Cart.
Preparing to migrate
Whether you choose to migrate manually or through automation, you have to set up the environment and build a Magento store:
Install the software, including MySQL, PHP, and Apache, and review the system requirements.
Install the Magento program on your computer.
View your storefront and the Magento Admin to confirm the installation and see if you installed the Magento software correctly.
Before changing Shopify, back up crucial files and export data from your back end to CSV files. A CSV file stores data in a table-structured format, which you can use to import and export product, customer, and order information to and from the store.
1. Manual migration from Shopify to Magento
It's relatively easy to migrate from Shopify to Magento manually: Determine the data to move from the Shopify store, download it, and transfer the Shopify CSV files to the Magento store. Navigate to the Magento admin panel and select "System" => "Import/Export profiles." It supports data such as:
Customer main files
Advanced pricing
Products
Customers and addresses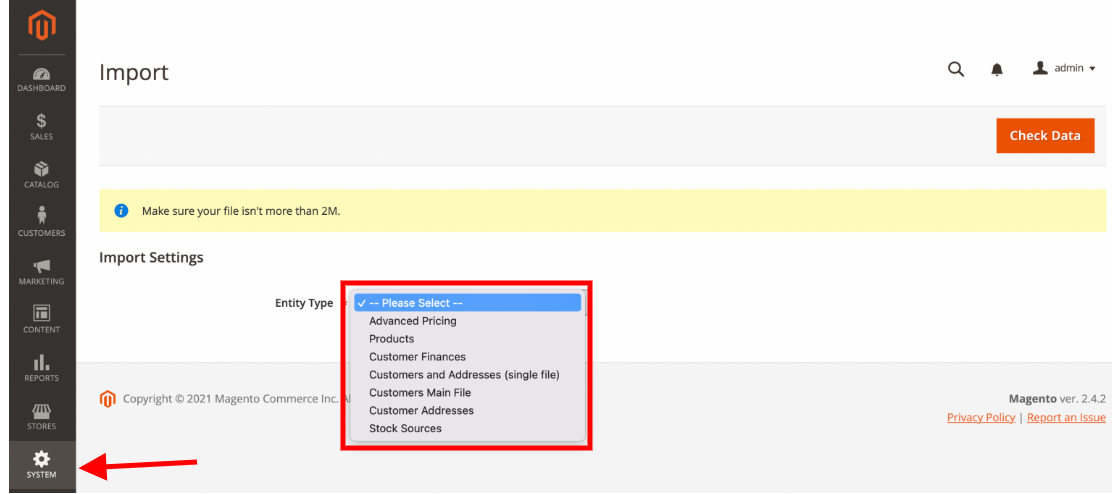 Unfortunately, exporting themes is impossible; the only option for moving unsupported data is copying and pasting it from your old website. Be aware, though, you may lose the relationships between the data tables after importing.
2. Automating the Shopify to Magento migration
Automation tools ensure a smoother transfer. We'll illustrate this migration method using LitExtension. This is a Magento add-on to move your data from one platform to another without the need for coding experience. Its price depends on your store's number of customers, products, and orders and starts from $29 (the tool conveniently provides a cost estimator on its website).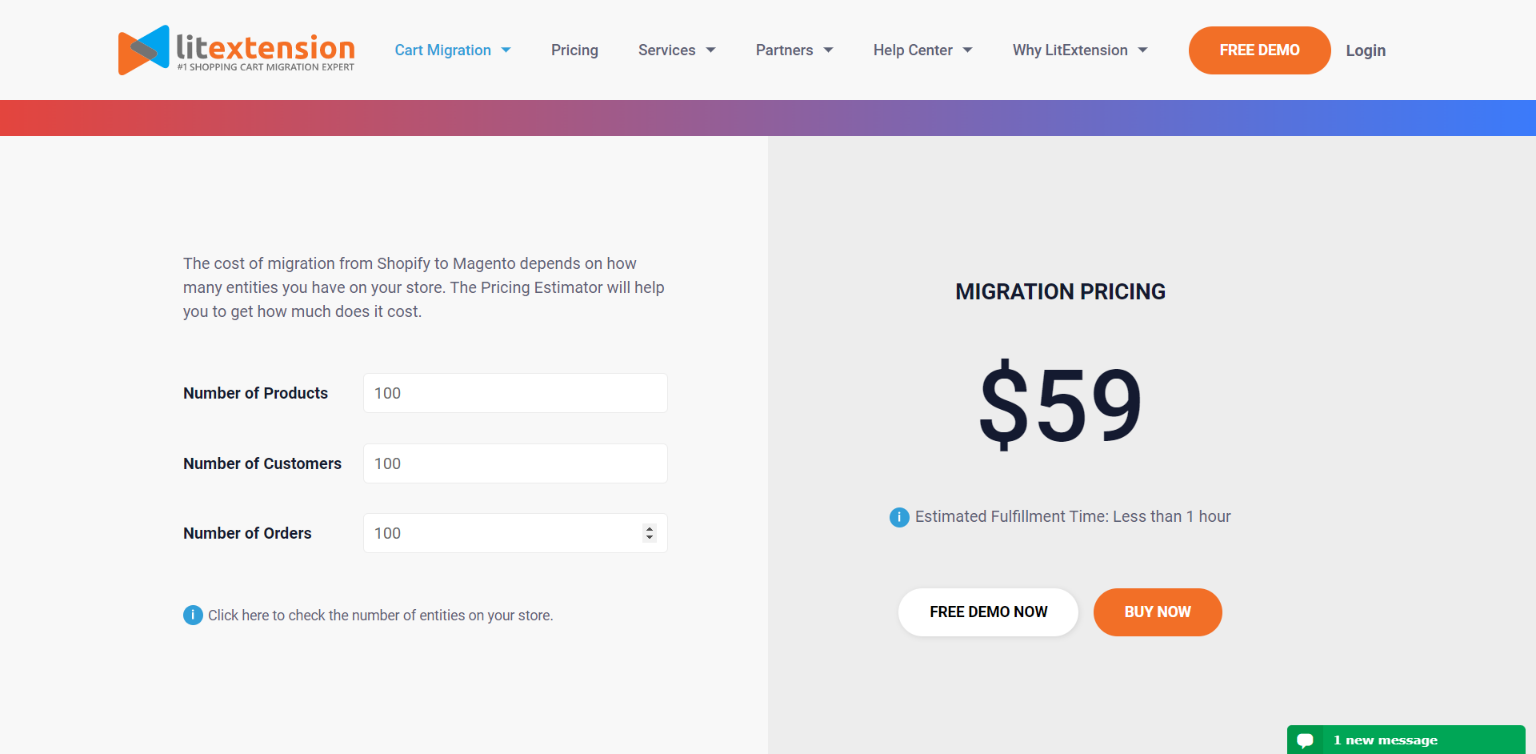 Set up an account or sign in with Facebook or Gmail, then click "Create New Migration" on the admin board.
Specify the source (Shopify) and target (Magento) stores. Then, insert the store's URL and API password in the lines shown below.
Download LitExtension Connector to receive a zip file named "le_connector." You'll need to upload this to Magento's root folder and insert the store's URL as in the source cart step.
The next stage involves selecting entities to migrate, such as products, customers, coupons, pages, etc. You can choose to move all elements or only the necessary ones, and there are extra options to configure the store and map the language or order status as well.
Click the "Next: Start Free Demo Migration" button or skip it and proceed to the "Start Full Migration" button.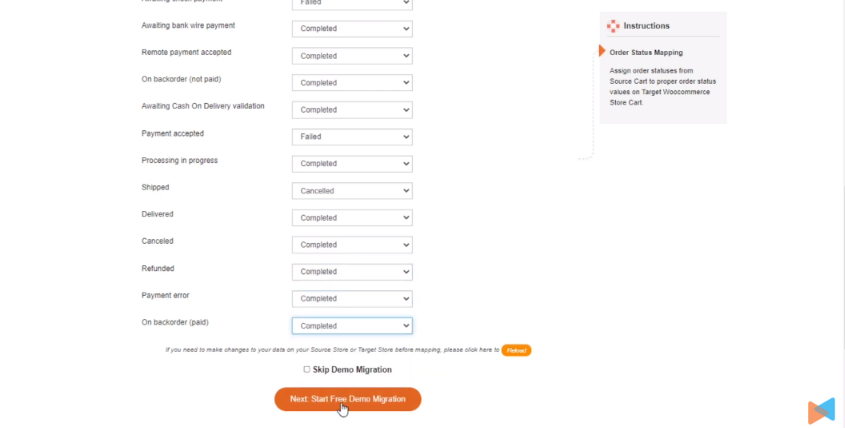 After the full migration, you'll receive an email notification. Hit the "Check result" button to see if everything moved successfully. You can go to the Catalog section to review the imported products.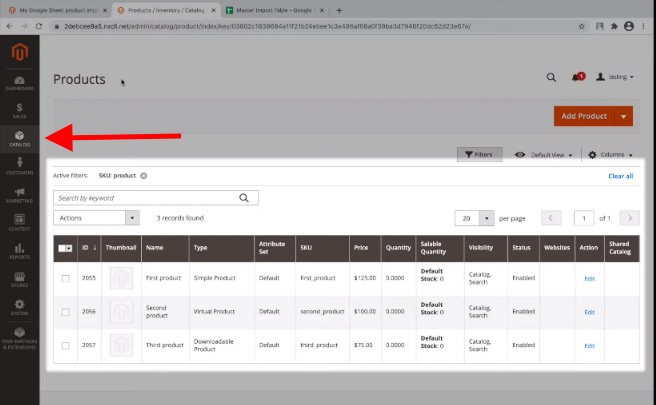 Dealing with the transferred data
Clear the cache and reindex the data through the following CLI commands:
php bin/magento indexer:reindex
php bin/magento cache:clean
Check whether the out-of-stock products are activated and visible from the front end. Install a free or paid Magento theme or develop a new one to restore your storefront's previous design.
On a regular basis, migrate recent data while the store operates after the full migration. New orders and customers will arrive, which you'll need to transfer to your new resource. Take advantage of LitExtension Recent Data Migration to update data three months after the complete migration.
Purchase and customize one of the Magento templates for higher quality design and functionality to make your store stand out. Lastly, finalize the migration by changing DNS and switching the domain to your new Magento 2 store.
3. Hiring specialists to handle the migration
Because Magento is a knowledge-intensive platform, you may need experienced programmers to transmit the files to a new platform and obtain the best results from the migration. Budget roughly $18 to $40 per hour for each team member needed for your migration.
Migration specialists will study your needs and budget to determine how best to help you. The team will eliminate issues while keeping you up to date, customize the design, and ensure smooth operations so customers have a seamless shopping experience.
Programmers will also take care of your website's marketing. This includes configuring the proper redirects, optimizing the home page, and notifying existing customers about the new store.
Final thoughts
Platform migration is about transferring an online store and its data, content, and systems from one platform to another. The reasons to change the platform vary as you're forced to adapt to customer needs, trends, and an expanding product range.
A migration opens up opportunities to manage more orders, customize your store to changing needs, and download advanced features. We focused on comparing Shopify and Magento, examining their pros and cons, why you should switch to Magento, and the migration options.
If your store is rapidly scaling up and requires more customization, Magento is an excellent choice. It'll boost your website performance, allow you to deal with large, complex orders, and make the store an international selling point.