Category:
Walmart
How to Sell on Walmart Marketplace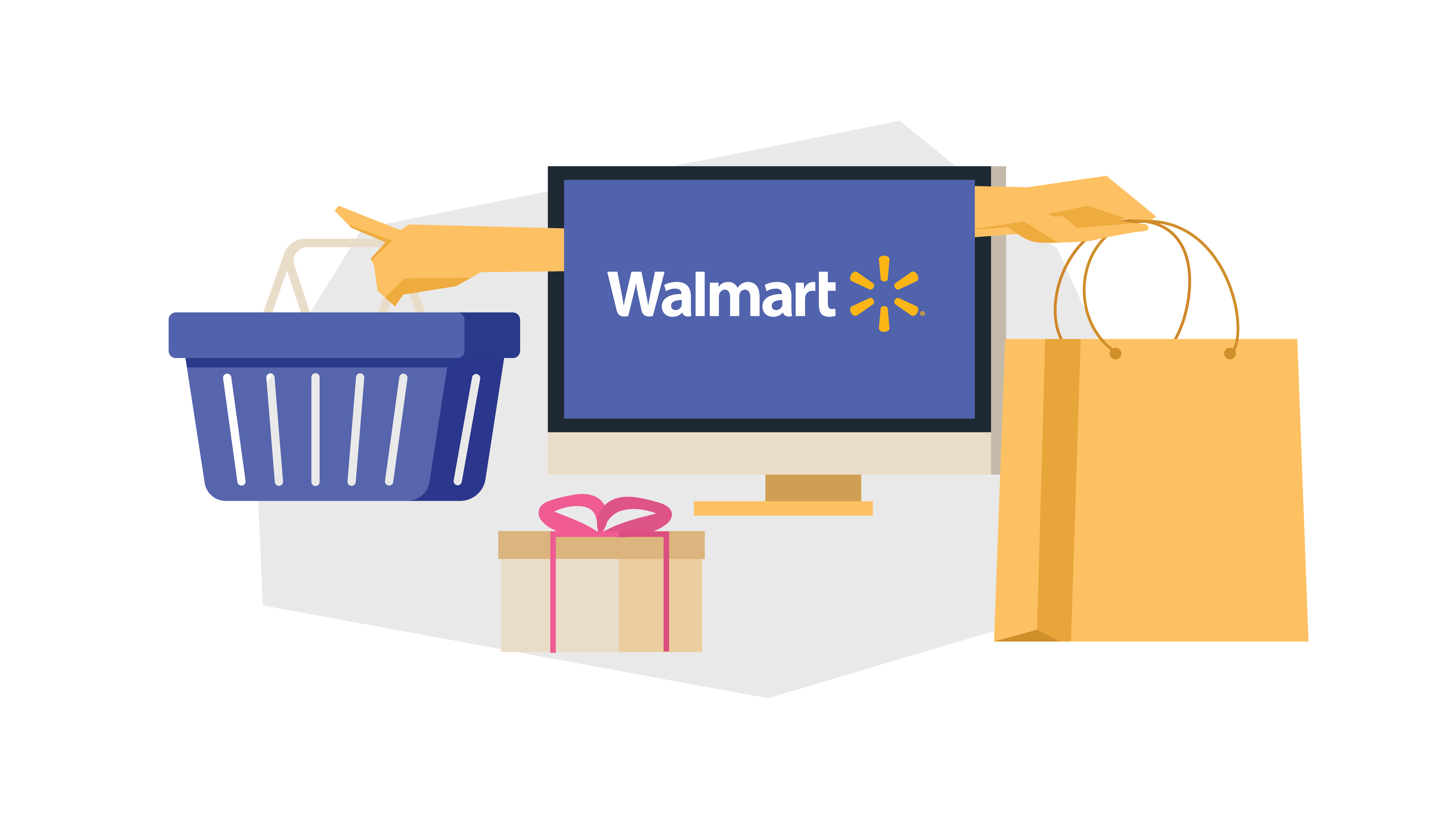 The Walmart Marketplace is a robust online selling platform. Backed by Walmart's widely recognized brand, it's appealing to businesses looking for additional sales channels or those who want to try their hand at eCommerce.
However, there are some initial steps to complete before becoming a Walmart Marketplace seller. To help you out, we'll discuss them in detail and share some tips so you can hit the ground running.
What is Walmart Marketplace?
Walmart Marketplace is Walmart's eCommerce arm and platform where both Walmart and third-party merchants can sell items to consumers. It boasts a curated community of professional sellers that offer high-quality products and customer service.
To become a seller, you have to go through an intricate application process. But once you pass, Walmart will handle all fulfillment and customer service responsibilities for you. The Marketplace also features integrations, programs, and partners that can help you grow your business — all of which we'll discuss further below.
Why sell on Walmart Marketplace
Although relatively young compared to others, Walmart Marketplace has several advantages that make it a strong contender among eCommerce platforms.
1) Greater brand exposure
Broaden your brand's visibility with Walmart's nearly 120 million unique monthly visitors. What's more, these visitors frequently buy online:
99% make at least one online purchase per month
67% make at least one weekly purchase
20% make at least one purchase daily
Walmart's brand already possesses a massive, loyal customer base. An astounding 90% of the U.S. population lives within 10 miles of a Walmart store, and those who are Walmart customers keep coming back:
32% of the brand's shoppers continue to buy on Walmart.com because they've always shopped at Walmart
33% do so because they're familiar with Walmart's products and stores
2) Diversified income streams
You can implement a multi-channel approach by adding the Walmart Marketplace as one of your income streams. This diversification also decreases risk for your business.
For example, let's say you have three sales channels. You then discover one of them is failing. The two thriving channels will cover for the losses of your third as well as allow you to eliminate it completely. If you relied on a single channel though, your losses would be more severe.
3) Increased revenue
Accessing a large and faithful consumer base and diversifying income streams naturally leads to increased revenue. As Shopify reported, businesses with multiple sales channels generate 190% more revenue than those that use only one.
You also get to tap into Walmart's outstanding eCommerce presence. According to the company's earnings report, by Q4 of 2021, Walmart's eCommerce sales grew 1% and 70% on a two-year stack. Meanwhile, for the full year, the company's eCommerce sales in the U.S. grew by 11.0% and 90% on a two-year stack.
4) Larger catalog support
The Marketplace features convenient integration methods — namely, direct APIs, third-party solution providers, and Walmart's Seller Center — that let you:
Easily add your items
Control your inventory
Set your prices
Whereas you might be limited to certain items and types on other marketplaces (for example, handmade, vintage, or craft supply items on Etsy), you can sell a broad range of goods on Walmart.com.
Tip: Be mindful of their policies on prohibited products and product limitations.
5) Convenient payments
Walmart sellers enjoy a convenient method of receiving payments, with no setup or monthly fees. Walmart simply deducts a referral fee once a sale occurs on the Marketplace. Then, they automatically deposit your payments into your preferred U.S. bank account every two weeks.
6) Affordable marketplace fees
Walmart Marketplace also has some of the most competitive marketplace seller fees available. As of March 2022, referral fees ranged from 6% to 15% across most categories.
We'll discuss the costs of selling on Walmart.com further below.
What is Walmart Fulfillment Services?
Walmart Fulfillment Services (WFS) is a program that gives sellers access to Walmart warehouses to store inventory and fulfill orders. Similar to FBA, WFS also handles customer support when related to shipping concerns.
You can choose from a flexible array of carriers, delivery methods, and shipping prices. We'll discuss them in greater detail below, along with what WFS can do for you.
Seamless logistics and fulfillment
WFS lets you leverage Walmart's established supply chain and team of experts. It provides end-to-end fulfillment, customer service, and seller support that's available seven days a week.
With Walmart handling order fulfillment and the customer experience, you'll be able to focus on activities like successfully scaling your business.
Improved brand awareness, visibility, and sales
WFS can take your brand to the next level by improving your customer experience. It has several features that can achieve this.
1) Two-day shipping, plus free and easy returns
With WFS, you can offer two-day shipping to anywhere in the United States. However, it's not guaranteed during the peak season (September to January). You can also offer free and easy returns to keep customers satisfied with (and thus loyal to) your brand.
2) Free shipping opportunities for customers
WFS items are included in the Walmart+ free shipping subscription program, which helps customers save on delivery costs. Minimizing your buyers' expenses can entice them to keep coming back.
3) Increased product visibility and conversions
Your WFS items will prominently display the "Two-Day Delivery" and Fulfilled by Walmart tags. Walmart claims this can achieve higher search rankings and Buy Box wins, which results in 30% to 50% more sales on average.
Lower shipping costs
WFS can reduce your business expenses through its Preferred Carrier Program, which helps merchants save on inbound transportation costs.
Compared to those shipping inbound themselves, early participants report an average of 50% lower rates on inbound shipping. WFS also charges minimal fees for shipping customer returns and inventory removals.
Business monitoring and metrics
WFS features dashboards and APIs that let you view real-time data on your sales performance. You can manage your inventory, shipments, and order tracking through Walmart's Seller Center, direct APIs and third-party solution providers.
How to advertise on Walmart Marketplace
Walmart Marketplace has a premium advertising option from Walmart Connect known as Sponsored Products.
Sponsored Products ads are native, cost-per-click (CPC) ads that direct Walmart customers to the promoted products' detail pages. They're easier to discover since they're given prominent placements:
Search In-grid, which appears on the first page of search results
Buy Box, where your product is displayed as the most relevant alternative on product detail pages
Product Carousel, which shows your items on search, category, and item pages as a relevant alternative
These ads make your items more visible and help drive more sales for your business. Also, since they're CPC ads, you only need to pay when someone clicks on them.
How to get started with Walmart Sponsored Products
Step 1: Make sure you're eligible
Sponsored Products ads are available to different users like brands, Walmart Suppliers, and Walmart Marketplace sellers. However, you have to meet the following criteria:
A monthly sales minimum
Price competitiveness
Also, your products must comply with certain eligibility requirements:
They should be in stock
They must win the Buy Box
Products must be base items
For pickup and delivery eligibility, they should be published on Pickup & Delivery
To be eligible for Search In-grid placement, your items should also:
Be in the top 128 organic search results
Have a higher or equal ranking compared to their organic search
Be under the same category as the search query
Be of the same product type as at least one non-sponsored product in the top 20 results
Step 2: Fill out a form or get in touch
All you need to do is complete an interest form, then Walmart will pair you with an ad partner. That partner will contact you within a week, fill you in on the details, and help you with the onboarding process.
Another way is to get in touch with Walmart Connect or send an email (source) to request access to the Walmart Sponsored Products self-serve platform.
Your last option is to use a third-party AdTech platform. You can start by contacting any of Walmart's four official advertising partners:
Step 3: Choose your Sponsored Products campaign
The Sponsored Products platform has two campaign types: automatic and manual. Determining which is the best option for you will depend on your goals.
Automatic
Automatic campaigns are ideal for users who are new to advertising or want to expand their reach. They serve ads to all customers searching for items similar to yours, and offer three key benefits:
Easy setup
No need for keyword management
High impression volumes
Manual
Manual campaigns are ideal for businesses that know their customers, have a history with Walmart, and want a targeted approach. This type presents your ads to customers based on the keywords they use, and you also get the following perks:
The ability to select keywords
Access to Walmart's Keyword Analytics Tool
Control over your campaign
How to sell on Walmart Marketplace
We've introduced you to the Walmart Marketplace. Now, we'll discuss the application process.
It can take you 14 to 30 days to complete the whole process. To speed things up, we'll walk you through the steps.
Step 1: Have your requirements ready
Here's a list of what you'll need before you begin filling out your application:
Your U.S. Business Tax ID (SSN not accepted)
Your U.S. business address and the address where your physical operations take place
A W-9 or W-8 form and an EIN Verification Letter from the Department of the Treasury to verify item number 2
Your planned integration method for your product catalog
Your primary product categories, catalog size, and related information (how many SKUs you plan to sell, whether your items are used or refurbished, etc.)
Step 2: Fill out an application
Once your requirements are prepared, you can then complete Walmart's application. It asks for your personal information, primary contact information, and information regarding the requirements mentioned in step 1.
Tip: Save each section as you go and remember to double-check the information you input.
Step 3: Wait for approval
After you submit your application, the approval process can take anywhere from a few weeks to several months, so be patient. The time varies from business to business and depends on factors like:
The seller's capabilities
The size of their business
How qualified they are
Once approved, you'll receive a notification from Walmart. Then comes the fine print.
Step 4: Sign the contract
Congrats! You made it to signing Walmart Marketplace's Retailer Agreement. The screenshot below shows what it looks like.
Read it closely before signing, as it'll detail your duties as a retailer to ensure continued access to the platform and sales.
The Retailer Agreement outlines important information like:
Your responsibilities as a seller
Order and fulfillment processes
Returns management
Pricing details
Walmart's role and responsibilities
Step 5: Complete your registration
Now it's time to complete your registration. You'll need to create your seller profile and connect your payment account, for which you'll receive a unique link via email. Click on it, then complete the following steps.
Account creation
Your Walmart Marketplace account's username is auto-filled based on the information you provided during the application process. Now it's time to create your password. Keep it in a safe place and make copies.
You'll use these credentials whenever you log in to the Marketplace and Walmart's seller account management portal, the Seller Center, so make sure they're secure.
Business registration
To register your business, all you need to do is input its display name and corporate address.
Your display name is what Walmart.com customers see, while your corporate address is what you use internally.
Tax forms
For tax purposes, you'll need to fill out a W-9 form. Required fields are:
Your name
Address
Taxpayer Identification Number (TIN)
Setting up payment
To receive your Walmart payments, you'll need to register with one of their partners. Your two choices are Payoneer and Hyperwallet.
For sellers with a W-8 tax classification, be aware your only option is Payoneer.
Setting up shipping
Next is setting up your shipping options. You'll need to configure your shipping model, pricing, transit times, etc.
Also, once you're approved, you can set your standard processing schedule, shipping time zones, days off, and shipping policies in your settings.
Step 6: Complete Walmart's onboarding process
After finishing your account setup, it's time for onboarding. During this, you'll choose your integration method and add your items. Below is a diagram showing the milestones you'll hit throughout the process.
The onboarding process can take a few weeks, but it depends on how fast you can complete the order testing scenarios without problems.
Step 7: Request your launch
With the previous steps finished, all that's left is to file a request for your store's launch.
Walmart will conduct a final review, then release your account so you can go live and start selling.
Your merchandise will be published to Walmart.com, becoming transactable within a few hours and searchable within 24 to 48.
Walmart Marketplace seller fees
We mentioned Walmart only deducts a referral fee once a sale occurs. The cost is simply a percentage of your gross sales proceeds taken from the sale of each product.
Referral rates
The applicable rate varies according to each product's category and the information provided at the time of the upload. They're typically 15%, but certain categories have rates as low as 6%.
15% fee: Apparel & Accessories, Books
12% fee: Automotive & Powersports, Industrial & Scientific
10% fee: Plumbing Heating Cooling & Ventilation, Tires & Wheels
8% fee: Major Appliances, Consumer Electronics
6% fee: Personal Computers
Other category rates
Certain product categories have potentially lower referral fees depending on the total sales price:
Baby: 8% for items with a total sales price of $10 or less, 15% if it's greater than $10
Beauty: 8% for items with a total sales price of $10 or less, 15% if it's greater than $10
Electronics Accessories: 15% for the portion of the total sales price up to $100, 8% if it's greater than $100
Grocery: 8% for items with a total sales price of $10 or less, 15% if it's greater than $10
Health & Personal Care: 8% for items with a total sales price of $10 or less, 15% if it's greater than $10
Tips for Walmart Marketplace sellers
You now have the tools to get started on Walmart Marketplace. To finish it off, here are some tips to help you thrive as a seller.
Leverage Walmart's Marketplace programs
Besides its TwoDay delivery service, Walmart also has programs designed to help you reach more customers and sell more products.
1) FedEx Advantage for Marketplace
The FedEx Advantage program lets sellers utilize the established and reliable services of the carrier. You can save on shipping costs with  discounts of up to 50%, which are also applicable to international shipping (namely Canada and Mexico). The program also helps you perform consistently on the Walmart marketplace thanks to:
Various shipping options with weekend delivery capabilities
Marked discounts across multiple shipment methods
Accurate tracking for all your orders
All of these perks come with a money-back guarantee, and you'll have your $1 return label fee waived.
2) Marcus by Goldman Sachs
The Marcus by Goldman Sachs program gives eligible sellers a business line of credit. Goldman Sachs offers funding at flexible or fixed, yet competitive interest rates (5.99% to 14.99%) and transparent terms. What's more, the program has a streamlined application process.
This is invaluable for sellers who may find themselves in a financial pinch, such as:
There's a sudden demand for your products, but you lack the necessary funding for more inventory and warehousing
You need a monetary boost to conduct activities like marketing or advertising
Optimize your listings
Earlier, we mentioned the Listing Quality Score as a requirement for Sponsored products. It also shows how effective your listings are, reflected as a percentage (from 0 to 99) that appears at the item and catalog levels.
You can view it on the Listing Quality Dashboard, which also shares tips for improving your listings and attracting more customers.
This is more important than you might think; one Walmart seller, Big Red House, experienced an increase in sales after improving their Listing Quality Score from 17 to 78.
Minimize the cost and stress of product returns
To round out your role as a Marketplace seller, you should opt into Walmart's Enhanced Returns program. With it, you can lower your returns processing costs: The service gives you access to discounted rates, so you can save on customer service and return fees. Along with easy label printing, you can also offer free returns and multiple returns options, making the overall customer experience more seamless.
All you need to do is select Walmart's Returns Shipping Service (RSS) as your preferred option for label printing.
Advertise strategically
Marketplace ad programs at Amazon and eBay use a 2nd price auction method, which means if you win a bid, you would have bid the most, but you only have the pay the cost of the second highest bidder. This method helps to mitigate overpayment.
However, Walmart Sponsored Products uses a 1st price auction method, which means if you win a bid, you pay whatever you were bidding.
We suggest starting with a bid that's 30% under what you're willing to pay, monitoring results, and then slowly upping your bid price from there.
The good thing about Sponsored Products is you only have to pay for clicks, and you can set up different match types based on what your advertising strategy is (phrase, broad, exact, and auto). For example, you might go with exact match for your best sellers, and broad match if you're looking to get more exposure for a new product.
One other thing to note is that Walmart Marketplace only shows either organic or paid listings in search results, but not both. That means you have to be extra careful not to cannibalize your already-successful organically ranking listings with ads for the same items.
Leverage Sponsored Product ads strategically to align with your goals.
Wrapping up — Diversify to Walmart Marketplace
The Walmart Marketplace is a powerful eCommerce platform backed by the company's strong brand recognition and massive customer base. It can take care of many headaches, but has several intricacies to joining and using. You'll need to familiarize yourself with it first, but once you become a seller, the platform can drive major growth for your business.
Walmart vs. Amazon: Which eCommerce Marketplace is Better For Your Brand?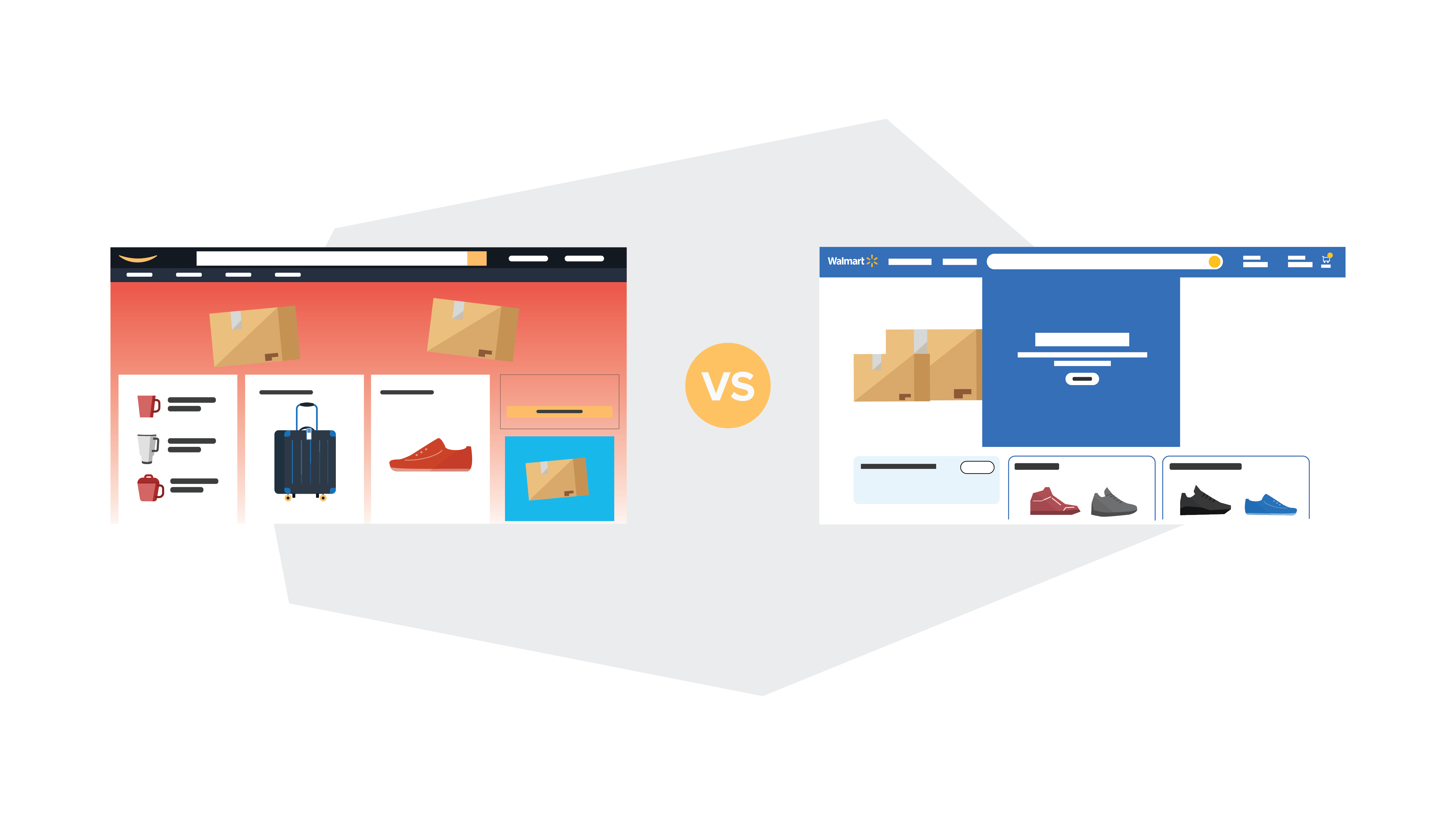 This is a guest post from Channel Key, a full-service channel management marketplace consulting agency that has helped generate nearly $500M in Amazon sales for brands worldwide. Complete 360-degree services include marketplace strategies, content development, marketing and advertising, catalog management, marketplace and fulfillment setup, and ongoing consulting.
Call it the retail rivalry of the century. For 30 years, Walmart has ruled as the king of all retailers, easily outperforming its competition by offering a vast selection at low prices. Along the way came an online bookstore called Amazon. From a humble garage in Seattle, Amazon quickly grew and expanded into other market territories. It proved to be a formidable force, launching innovation after innovation.
Then, it happened: In 2019, Amazon surpassed Walmart and took the crown as the world's largest, most valuable retailer (outside of China). In terms of gross revenue, Amazon solidified its top position this year. Forbes reported the eCommerce giant generated $610 billion in retail revenue from June 2020 to June 2021, while Walmart brought in $566 billion.
But this rivalry is far from over. The brick-and-mortar juggernaut is seeking to reclaim its title by charging onto the digital battlefield with its own platform: Walmart Marketplace.
For brands, the rivalry between Walmart and Amazon has proven beneficial, providing more opportunities to reach customers and increase sales. While eCommerce has been around for years, it's only recently become a mainstream way of shopping. The COVID-19 pandemic turbo-charged this growth, as lockdowns, in-store capacity restrictions, and fear of contagion forced people to embrace online marketplaces like Amazon.
Today, brands know eCommerce is an essential component to their success. What remains unclear for many is which marketplace to join: Amazon, Walmart, or both?
Below, Channel Key highlights the major similarities and differences between the two platforms to help you decide which is the better eCommerce channel for your brand.
Amazon overview
As the largest and most powerful online marketplace in the U.S., Amazon is a popular platform for businesses and individual sellers.
It's relatively simple to start selling on Amazon. The platform offers two plans: Individual and Professional. With the Individual plan, you pay Amazon a commission of $0.99 per sale. The Professional plan costs $39.99 per month no matter how many items you sell. For both, Amazon collects a referral fee from each sale as well, which is a percentage of the total transaction and varies by product category.
You also need to decide whether to sell as a first-party (1P) seller or a third-party (3P) seller. In the 1P model, you are the wholesaler and Amazon is the retailer. This follows a traditional two-tier distribution model where you negotiate pricing and terms with your Amazon buyer, sign a Vendor Agreement, and ship your product to Amazon when you receive weekly replenishment purchase orders. This business is run through the Vendor Central portal.
With 3P, you become the retailer. In this model, you set up your own Amazon storefront and sell your products directly to consumers. Sellers on Amazon have full brand authority and complete control over how they list and market their products. Unlike 1P Vendors, 3P sellers set their own pricing, determine which products to list and promote, and manage their own inventory through the Seller Central dashboard.
Amazon 3P sellers have two options for fulfilling orders: Fulfilled by Merchant (FBM) and Fulfillment by Amazon (FBA). In the FBM program, you are responsible for maintaining your own inventory and shipping products to customers. FBA sellers, on the other hand, pay Amazon to handle all receiving, packing, shipping, customer service, and returns. One of the main benefits of FBA is that your products become eligible for Amazon Prime Free Two-Day Shipping.
Walmart Marketplace overview
Walmart Marketplace is similar to Amazon in several ways. Sellers undergo an approval process, onboard their listings, choose a fulfillment option, utilize marketplace marketing and advertising programs, and get paid.
However, there are a few key differences. First, it's challenging to qualify as a Walmart Marketplace seller. While Amazon welcomes just about anyone to open a digital storefront, Walmart is selective about the brands it allows to sell under its name; until 2016, Walmart Marketplace was an invitation-only platform.
Today, any brand can apply, but they must demonstrate a history of eCommerce experience on other platforms, reputable customer service, a compelling product assortment, and competitive pricing before receiving approval.
Walmart Marketplace offers several fulfillment options. Like Amazon's FBM program, sellers can opt to self-fulfill orders (upon qualification) through its Seller Center platform. Walmart Marketplace FBM sellers can display the "Free Two-Day Delivery" label on their approved listings, which is a core component of the retailer's strategy against Amazon. Thanks to the latter's precedent, one- and two-day shipping are now factored into the customer's purchasing decision.
Walmart seems to acknowledge the new standards Amazon set. In February 2020, the company introduced Walmart Fulfillment Services (WFS). Similar to Amazon's FBA, WFS sellers store their inventory at Walmart fulfillment centers. When a customer places an order on Walmart.com, WFS picks, packs, and ships the item(s) on the seller's behalf. WFS also handles all customer support and returns for these orders.
The WFS end-to-end fulfillment experience grants access to Walmart's omni-channel capabilities, such as its Free & Easy Returns program.
Approved items wear the Free Two-Day Delivery and Fulfilled by Walmart tags for increased product visibility and higher conversion. Like FBA, the WFS cost structure includes a fixed monthly storage fee and a fulfillment price that's based on item weight.
Walmart+ vs. Amazon Prime
Walmart and Amazon both offer subscription-based services that provide members with various benefits and perks. Launched in 2007, Amazon Prime boasts more than 200 million subscribers worldwide (102 million in the U.S. alone) and is one of the most popular and appealing features of the Amazon platform.
Walmart launched its own membership service called Walmart+ in September 2020. With 8.2 million subscribers, Walmart+ is much smaller than its Amazon counterpart. In terms of performance, it's difficult to compare the two programs because Walmart+ has little data available. From a customer point of view, both function virtually identically and offer similar benefits.
Source: Jungle Scout
How Walmart Marketplace stacks up against Amazon
Without a doubt, Amazon is the more powerful eCommerce platform. It has nearly 20 years of experience over its retail rival, during which time it has built a global marketplace that serves billions of customers and millions of sellers. A new report from Jungle Scout forecasts Amazon to end 2021 with over $468 billion in eCommerce revenue, while Walmart's online revenue is expected to reach $75 billion.
That said, to underestimate Walmart's role in eCommerce would be a mistake. For almost 50 years, Walmart has accumulated a massive customer base by offering low prices, familiar brands, and fast and easy in-store pickup and returns. This gives Walmart Marketplace the potential to become an eCommerce powerhouse – and they're well on their way. According to the same Jungle Scout report above, Walmart's eCommerce sales could increase 89% this year, compared to Amazon's 16%.
The primary selling point of Walmart Marketplace is gaining access to its established network of locations and customers. In addition to 11,500 brick-and-mortar stores frequented by 265 million customers each year, more than 120 million people visit Walmart.com each month (according to their data). This is only a fraction of Amazon's monthly search traffic, so to compensate for it, Walmart emphasizes other key distinctions to attract sellers.
Nine out of ten Americans live within 15 minutes of a Walmart store, which makes returns and customer service easy by leveraging the retail giant's existing capabilities in its brick-and-mortar network. Amazon pros
MASSIVE CUSTOMER BASE – Amazon dwarfs Walmart Marketplace in terms of number of customers. With an average of 2.7 billion monthly visitors worldwide (compared to Walmart Marketplace's 100 million unique visitors per month), your brand will reach far more shoppers on Amazon.
EASY ONBOARDING – Launching your business on Amazon is much easier than on Walmart Marketplace, which requires an application and review process. Once you purchase a selling plan and set up your account, you can list your products right away.
ACCESS TO AMAZON PRIME – As an FBA seller, your products will automatically display the coveted Prime Badge. This makes your items eligible for free two-day shipping and increases their visibility for Amazon Prime Members.
TARGETED MARKETING AND ADVERTISING – Amazon's advertising suite is much more robust than Walmart Marketplace's platform, offering a wider selection of ad types, targeting options, and reporting tools.
Source: Jungle Scout
Channel Key takeaways
For most businesses, whether you should sell on Amazon or Walmart Marketplace will come down to one factor: how established your company is. Just about anyone can open a Seller Central account and begin selling on Amazon.
Conversely, Walmart Marketplace requires a history of selling online via your own website or eCommerce channel. Startups and young indie brands often have no choice but to start with Amazon.
For established brands that are not on either, the question usually is not, "Should we sell on Amazon or Walmart?" But rather, "Should we sell on Amazon and Walmart?" The former is a much larger marketplace that offers access to more customers. Larger brands with strong marketing budgets will have no problem finding their customers there.
For this reason, established brands typically begin with Amazon and then consider adding Walmart Marketplace. Whether or not the latter is a good fit will depend on factors like industry and production capabilities. If you sell products in a category with high search volume and low competition, and you have the infrastructure to support both marketplaces, then Walmart Marketplace is likely a good fit for your business.
At the end of the day, there's no magical formula to determine which marketplace is better for your brand. Both have their pros and cons.
Walmart Marketplace has been around for more than a decade, but by industry standards, it's still in its infancy. From a seller's point of view, this offers both advantages and disadvantages compared to Amazon.
With only around 100,000 current sellers, it can be much easier to generate traffic to your listings than on a platform with 6.4 million competitors.
On the other hand, its marketing and advertising capabilities are noticeably limited. Amazon has a much larger collection of consumer shopping data that it uses (with the help of advanced technology) to develop an increasingly expansive arsenal of tools to target customers.
Still, Walmart is no entry-level soldier in the ranks of retail. It's the former king, a retail behemoth with six decades of momentum, and it's determined to reclaim the throne by shifting its forces to eCommerce.
Regardless of the outcome, the true victor of this rivalry will be neither Walmart nor Amazon; it will be the brands who profit from the ongoing challenge to create the most modern and effective ways to reach their audiences, and the customers who save time and money with easier, more streamlined shopping avenues.