⭐ MyFBAPrep is #1 on South Florida Business Journal's "Fast 50" List of South Florida's 50 Fastest-Growing Companies of 2023 Learn More
Value-added services
Whether you need items securely shrink-wrapped to go to your retail stores MyFBAPrep has the value-added services that will take your logistics to the next level.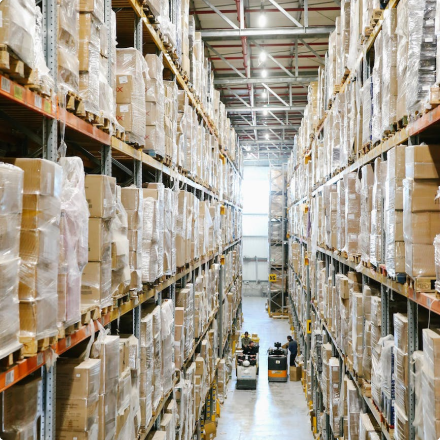 Bundling
Impress your customers with custom-designed bundles from MyFBAPrep. From subscription boxes to gift packs and multi-variety packs, we'll create packaging that aligns with your brand's unique specifications.
Shrink Wrap
Protect your packages of all sizes with custom shrink wrap from MyFBAPrep, preventing breakage and keeping items grouped and organized.
Re-labeling at scale
MyFBAPrep ensures accuracy and organization of your labels, and adds safety and branded stickers at scale to align with your guidelines.
Sort and Segregation
Send items exactly as they are from your suppliers with minimal fuss. MyFBAPrep can handle blind receiving to sort and segregate your SKUs exactly where they need to be.
48-hour prep: Blind receiving 55,000 units/19 gaylords/multiple SKUs
One MyFBAPrep customer sent us 19 gaylords with 55,000 individual units & multiple SKUs — all needing to be sorted and prepped, with no direction from the merchant.
The team was able to handle blind receiving and inventory reconcile to sort and prep all 55,000 items within 48 hours.
Co-packing
Batch similar products together to save space, optimize your item replenishment, or improve your brand experience.
Single SKU
Club packs
Multi-pack
Variety Pack: 4, 6, 8, 12, 18, 24 ct. configurations
Pre-print film
Assembly of EAD (End of Aisle Displays)
Shipper Displays
Update packaging with your branding
FDA or USDA Tracing Available
Kit Assembly
Cartoning
Blister Packaging
Cosmetic / Perfume Cello Wrapping
Basic Cello Wrapping
Rainbow Packs
Wrap pallets with protective film
Small and Large capabilities available
Additional certifications: SQF, USDA, FDA-certified, alcohol bonded, food grade
Book a call today
Learn more about our value-added services and how they can benefit your business.