Your Amazon Inventory Performance Index (IPI) score dictates important aspects of your business, such as your inventory limits and FBA fees.
It can be scary when your IPI veers toward the red and Amazon starts cutting your FBA storage, but it's not impossible to turn things around.
In this article, we're going to break down:
What an IPI is and why it's so important
What factors contribute to your IPI
How to boost your IPI scores
What is the Amazon Inventory Performance Index (IPI)?
Your Inventory Performance Index score is a measurement of how efficiently you keep your products in stock. Amazon will give your business a score between 0 and 1,000 based on a few metrics we'll cover later in this article.
Your IPI is important for two reasons:
It affects your FBA storage limits
It helps you run your eCommerce business more efficiently
If you want to run a profitable business using FBA, you'll need a healthy IPI score. Keep reading to find out everything you need to know about IPI scores and what you can do to improve yours.
The importance of a good IPI score
A strong IPI score is a crucial part of growing your eCommerce business. Amazon periodically checks your IPI and, if you aren't doing great, they'll limit your FBA storage capacity. That means you have less stock in FBA and a greater risk of selling out.
Another side effect we've observed is that you may also end up with a lower chance of winning the Buy Box. This is likely because the marketplace won't want to award it to a seller that doesn't have the inventory to handle the sales spike.
Where to find your Amazon IPI score
Checking your Amazon IPI is simple. You can find your score on your Inventory Performance Dashboard. Click the Inventory dropdown menu at the top of your screen, then select Inventory Planning and click the Performance tab.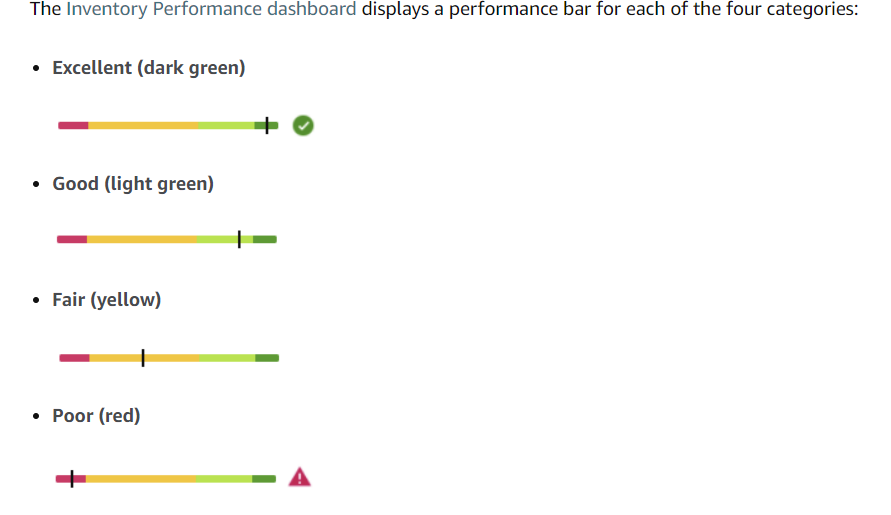 Source: Amazon
Your Inventory Performance Index, along with a breakdown of the top influencing factors of your IPI score, will look like the image above.
What factors contribute to your IPI score
Updated every week, your IPI score tells you how well you balance inventory levels, avoid long-term storage fees, and fix listing problems.
Here are the most important factors that go into calculating your IPI score.
1) Excess inventory
Avoid having excess inventory in FBA. Amazon considers a SKU to have excess inventory if it has stock for more than 90 days, based on forecasted demand.
Having too much excess inventory and a low sales volume can affect your FBA sell-through rate and indicate poor inventory management practices.
2) Aged inventory
Amazon charges you for storing inventory in their fulfillment centers for long periods of time. This applies to any inventory that's been in a fulfillment center for more than 365 days.
The charge is based on which is greater: the volume of items in storage or the number of units in storage.
To improve your IPI score, you'll definitely want to avoid long-term storage fees. We'll get into the steps you can take to avoid those fees later.
3) Stranded inventory
Listing problems cause stranded inventory, which is inventory that doesn't have an active listing even though it's in an Amazon fulfillment center. These listing issues result in lost sales, and wasted space for the stranded inventory that cannot be sold.
If you're paying fees for inventory that can't be sold to customers, it'll hurt your bottom line and isn't great for your IPI score.
4) FBA sell-through rate
Your FBA sell-through rate is a measurement of how many units you've shipped in the past 90 days as compared to how much inventory you've had, on average, in fulfillment centers during that time.
Having a good FBA sell-through rate indicates a healthy sales volume alongside enough inventory to sustain it with good inventory planning and forecasting.
5) FBA in-stock rate
Amazon monitors your stock levels using an FBA in-stock rate. This is a measurement of how well you're keeping up with customer demand. This is to help you keep your most popular products at the right stock levels to meet demand and maximize customer satisfaction.
Although you want to avoid storage limits or long-term storage fees, you also don't want to miss out on potential sales because you've fallen behind on restocking your inventory.
A good rule of thumb is to hold enough inventory in stock to cover 30 to 60 days' worth of expected sales.
How to improve your Amazon IPI score
Since your IPI score affects your storage limits and is a reliable measurement of your eCommerce success on Amazon FBA, it's easy to understand why you need to improve your score.
Here are a few tips to improve your Amazon IPI.
Don't send in too much inventory for one SKU
You don't want to keep too much inventory in stock at one time. However, you also want to have the inventory to satisfy your customers' needs. You should aim to hold enough inventory in stock to cover 30 to 60 days' worth of sales.
Improve your sell-through rate
Your Inventory Performance dashboard can also help you figure out how to improve your sell-through rate with specific advice tailored to your situation.
Your goal should be to keep your sell-through rate in the "good" range year-round. This means maintaining a sell-through rate of at least 3.

Source: Amazon
Stay in stock, especially for your best sellers
Watch your in-stock rate. This measures the amount of time your inventory has been in stock over the past 30 days, and it's a useful tool to determine how well you're keeping pace with demand.
If you've previously had problems maintaining stock of your inventory, you can check your estimated FBA lost sales in the last 30 days to see how many sales you've missed out on.
It's especially important to keep your best sellers in-stock, because higher sales volumes and faster sales velocity mean more FBA inventory allowance.
Avoid long-term storage fees
Long-term storage is more expensive than regular storage, so it cuts into your bottom line. It's also an indicator of poor inventory planning or an unpopular item.
To avoid those long-term storage fees, try using Amazon Outlet to sell your older inventory at a discount.
You can also submit a removal or disposal order, which allows you to select and remove specific inventory. Similarly, you can set up automatic inventory removals for unsellable inventory or for any that's subject to those long-term storage fees.
Monitor listings and fix any issues immediately
Avoid getting stranded inventory (stock that, because of listing problems, can't be sold even though it's held in an Amazon fulfillment center).
If you have any stranded inventory, your Inventory Performance dashboard will tell you. You can find that information by checking your stranded inventory percentage. Fix stranded inventory immediately to prevent your IPI score from taking a hit.
6 Frequently asked IPI questions
Now that we've answered the basics of Amazon IPI scores, here are a few questions we've come across frequently.
What's a good IPI score?
An IPI score above 550 means you're doing a great job keeping a balanced inventory and fixing listing problems. If your score is under 550, you have room for improvement.
How are storage limits determined?
Individual selling accounts have a fixed storage limit of 10 cubic feet. For professional selling accounts, on the other hand, storage limits can vary.
A few factors influence storage limits for professional selling accounts. The most important ones to consider are your overall sales volume, seasonal variations in sales volume, your historical IPI scores, and storage capacity at fulfillment centers.
What are score thresholds and checks?
Amazon will notify you in advance when they're going to do a score check and what the IPI score threshold will be. If you meet that threshold, you can have your storage limit removed.
But you'll need to be a little patient — Amazon will actually conduct two score check weeks on your account before you can have your storage limit removed.
If you meet the IPI score threshold on either of those two weeks, you're in the clear. If your IPI score is below the threshold on both score check weeks, you'll still be subject to storage limits.

Source: Amazon
What is sell-through rate and how is it calculated?
Amazon calculates your sell-through rate by looking at two numbers: your units shipped in the past 90 days, and your average inventory on hand in fulfillment centers during that time span. The number of units shipped is then divided by the average number of units held, and the result is your sell-through rate.
For example, imagine you shipped 250 units in the past 90 days. Over that same period, the average number of units on hand in fulfillment centers was 50. Your sell-through rate would be 250 divided by 50, which equals 5.
Amazon considers a sell-through rate above 7 to be an excellent score. Scores from 3 to 7 are good, while scores of 1 or 2 are fair. A sell-through rate of less than 1 is a poor score; it means you held more inventory than you sold in the past 90 days.
How do I improve my Amazon sell-through rate?
One simple way is to submit a removal order to remove any inventory that's not selling fast enough. You can also try to get rid of that inventory quickly by selling it at discounted prices through Amazon Outlet.
Other options include lowering your prices, improving keywords for search engine optimization, and advertising your products through sponsored ads on Amazon. This guide can help you navigate the ins and outs of advertising your products on Amazon.
Why am I missing an IPI score?
To get an IPI score, you need to meet the following criteria:
You need a professional selling plan
You need to be holding inventory at a fulfillment center
You need to have recent account activity
So, if you're new to FBA or if you haven't been using your account recently, you won't have an IPI score. You also may not have an IPI score if you only use FBA for multi-channel fulfillment, not selling your inventory on Amazon.
Wrapping up — Increase your IPI and drive revenue
A healthy IPI score is a sign that business is booming. But if things aren't looking great, you can take advantage of any of the tips we outlined above to get ahead of the competition and start shifting more units.
Sound a little daunting? MyFBAPrep can help. Our team has years of experience getting products into FBA quickly, ensuring each item is sent in compliance with Amazon's standards. This saves you a ton of time and hassle so you don't have to worry about Amazon sending items back to you.
Avoid the headache and book a call with one of our professionals now.