Rewarding customers for their loyalty is a smart way to increase customer lifetime value for your eCommerce brand.
Customer lifetime value (CLV) is the total worth of a particular customer over the entire period of their relationship with your brand. The idea behind CLV is simple: the better your customer retention, the greater your profits will be.
Prioritizing customer loyalty to increase your CLV can also help offset customer acquisition costs. After all, retaining existing customers is generally much easier than constantly investing in new customer acquisition.
If you're wondering how you can boost customer lifetime value for your eCommerce brand, let us introduce you to eCommerce referral programs.
An eCommerce referral program is your answer to turning customer acquisition into valuable customer retention. So, let's dive into eCommerce referral programs: what they are, why they work, and how to launch your own successful referral program.
What are eCommerce referral programs?
Based on an incentive structure, an eCommerce referral program rewards your existing customers for telling other people about your products. This is often done by giving customers their own unique referral code or link to share.
The rewards offered in your referral program could include:
Free products
Store points/credit
Exclusive access to products
Loyalty member perks and benefits (e.g., exclusive events, early sale access, special coupon codes)
Setting up a referral program for your online shop can be a cost-effective way to increase customer acquisition for less. You can set up your referral program, develop an attractive referral marketing strategy, and watch as your current customers bring you new followers.
Note that referral programs differ from affiliate programs. With affiliate programs, anyone, including people who aren't customers, can reap rewards for telling people about your products or services. On the other hand, referral programs are open only to existing customers.
Why do referral programs work?
Referral programs work on the same premise as word-of-mouth marketing, whereby people are likely to trust recommendations from friends and family.
For years, word-of-mouth referrals have reigned supreme. Word-of-mouth marketing carries the most weight out of any other form of brand advertising, making it one of the most valuable methods of customer acquisition.
Research by Nielsen also found that 83% of consumers will believe a recommendation from friends and family, further advocating for the power of recommendation-based programs.
Much like word-of-mouth recommendations, referral programs are based on social proof and trust, two factors that work hand-in-hand to boost the credibility of your brand.
To expand the social proof capabilities of your referral program, make sure you specifically reward customers for sharing their referral code via social media.
As for trust, by encouraging existing customers to share your brand with people they know, your referral program will help build the trustworthiness of your online store.
eCommerce referral programs can also combat problems affecting customer loyalty. For example, if your eCommerce brand exists in a competitive niche, rewarding customer loyalty through an attractive referral program can help your brand stand strong against competitors.
Implementing a referral program can make your customers feel valued, and thus inspire them to take positive action.
Successful eCommerce referral program examples
To help you understand what comprises a successful eCommerce referral program, let's take a look at some examples.
These DTC eCommerce brands have successfully integrated referral rewards programs into their overall brand marketing strategy. As a result, they managed to turn existing customers into loyal brand advocates.
Use these examples as inspiration for launching your own eCommerce referral program.
1) Bombas – Comfortable socks and enticing rewards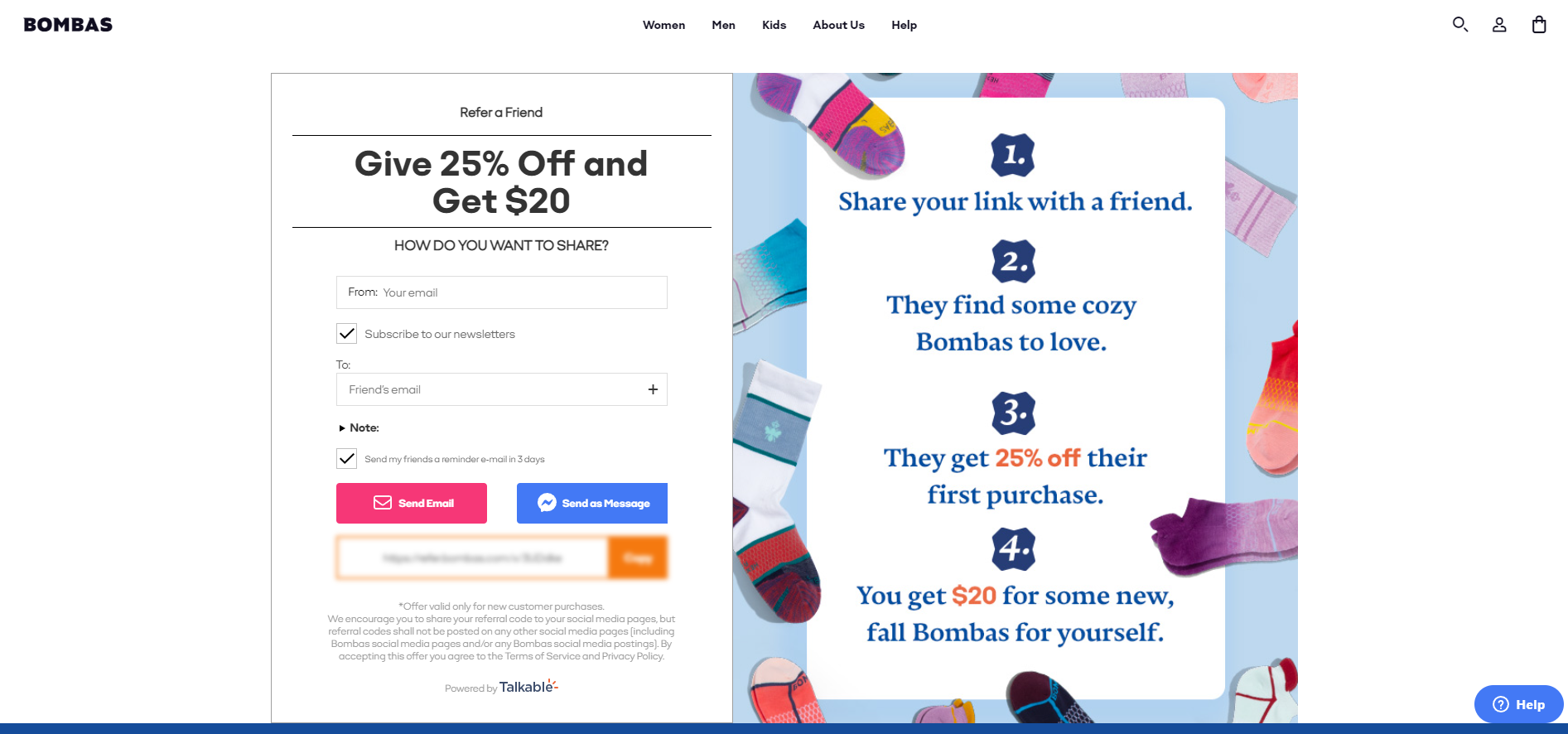 Bombas is an apparel brand selling comfort-focused socks. They pride themselves on their 100% happiness guarantee and are committed to doing everything they can to support and lift up their customers.
One way they do this is through an enticing referral program. Through Bombas' referral program, customers can offer their friends 25% off their first purchase and, in return, will receive $20 in store credit.
2) Saje – Refer a friend to give wellness and get wellness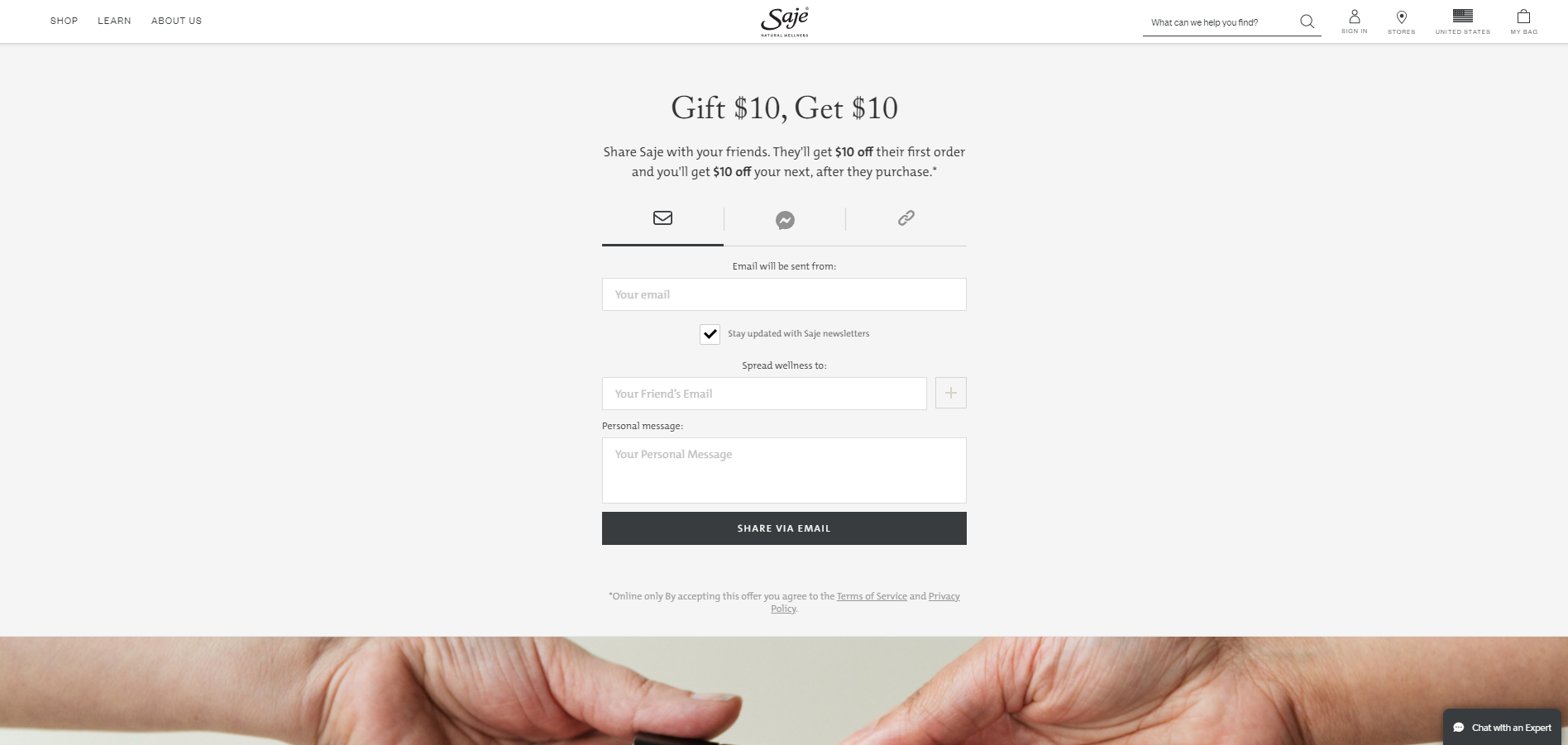 Saje is a wellness eCommerce brand offering plant-based essential oils and other natural products. As part of their commitment to wellness, Saje has a refer-a-friend program that rewards customers for recommending Saje to their friends. As part of this program, new customers receive $10 off their first order. Once they've placed an order, the referrer then receives $10 off their next order.
3) SimpliSafe – Alarmingly good referral program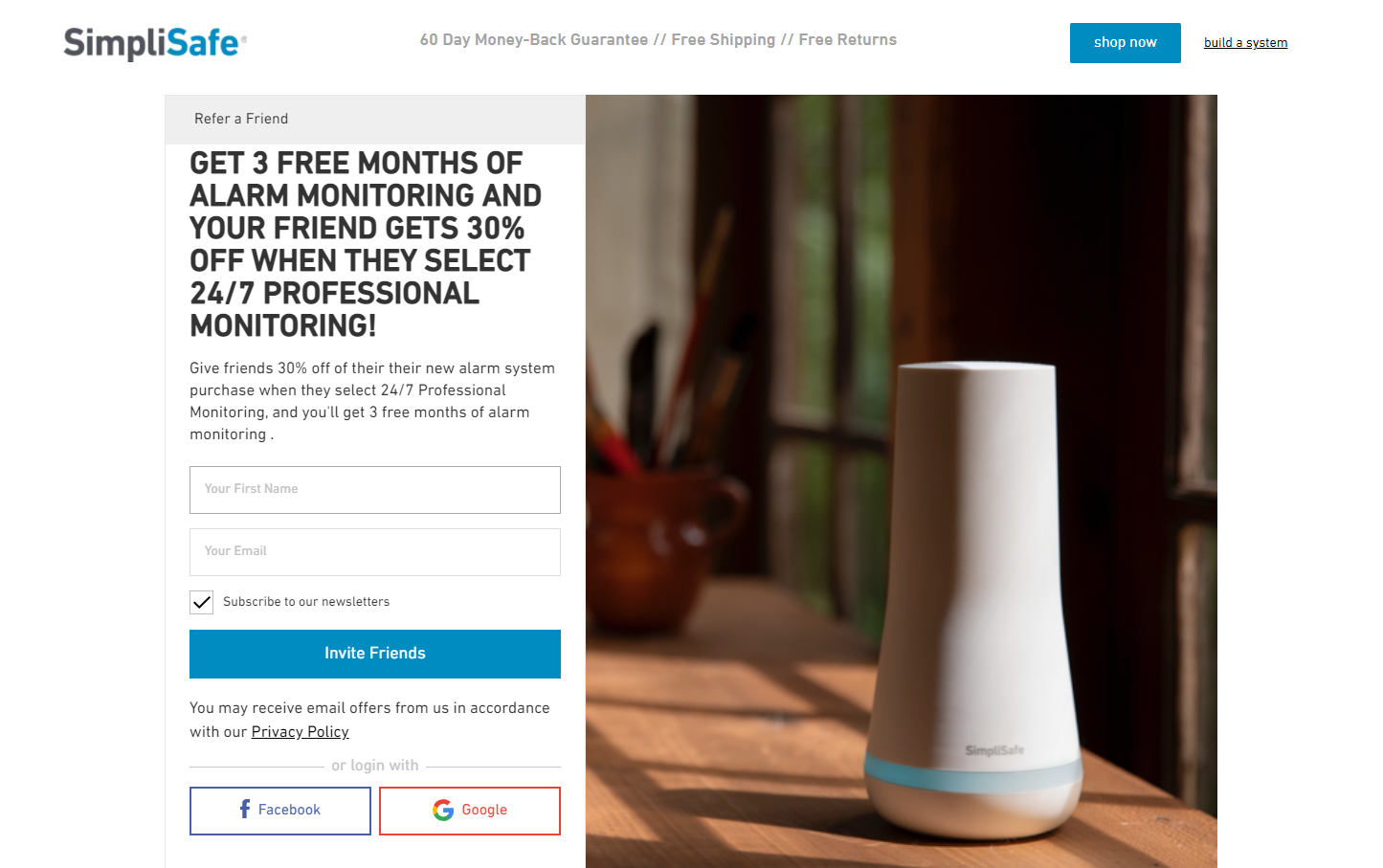 In the home security niche, SimpliSafe does things differently by steering clear of cash incentives.
Instead, as part of their eCommerce referral program, SimpliSafe offers existing customers three free months of alarm monitoring after they encourage friends to choose the 24/7 professional monitoring when purchasing a new alarm system. New customers who visit via the refer-a-friend program also get 30% off their first purchase to further encourage them to buy.
Types of referral program rewards
Not all referral programs follow the same formula. When designing your program rewards, you can get creative.
Before you decide what types of rewards to offer, though, you first need to consider what rewards your customers would like to receive. After all, if your customers aren't wowed by your referral program, they won't feel incentivized to join.
To help you decide which referral strategy is best for your eCommerce store, it can be helpful to ask yourself the following three questions:
What will be our parameters for rewards?
What rewards will we offer to the referrer?
What rewards will we offer to the referred customer?
Once you've mapped out your answers to each of these questions, you can start to build an attractive eCommerce referral rewards program for your customers.
Rewards criteria and parameters
The most popular parameter for any referral program is to offer the referring customer a reward each time a referred customer makes their first purchase. This is usually monitored by giving the referring customer a unique link or code they can then share with friends and family.
However, you might want to develop more sophisticated rules for your program. For instance, you could implement a rule wherein the referral reward is only accessible once the new referred customer meets a minimum spend threshold. Brilliant Earth, for example, offers loyal customers the opportunity to earn $100 in store credit when the person they refer spends $1,000 or more.
Alternatively, you could leverage the power of scarcity marketing by adding a time limit to store coupons. Outdoor Voice's referral program rewards existing customers with $20 in store credit each time they refer a new customer. However, this referral credit expires if it's not redeemed within two weeks. Tapping into scarcity can be a great way to encourage repurchases.
Rewards for referrer
A successful eCommerce referral program is dependent upon knowledge of two things: what rewards are attractive to your customers, and what's profitable for your store.
Referral rewards programs can take many forms, but the bottom line remains the same — your eCommerce referral program has to be enticing enough that your customers want to share it and reap the rewards.
The types of rewards you can offer customers include:
Cash incentives
Store credit
Discounts
Free shipping
Early access to new goods
Extended warranties
Free account upgrade
Loyalty tier upgrades
When deciding which rewards to include in your loyalty program, think about which incentives your customers will find the most valuable. This will differ depending on the type of products you sell or the type of customers who are most likely to buy from your brand.
1) Cash incentives
Example messaging: Refer a friend and get $20 cash back when they spend $100.
Receiving money in return for doing something easy can be motivating for a lot of people. But if you do offer cash incentives to customers who promote your products, make sure you can afford it.
Cash incentives tend to work best for premium eCommerce stores that sell high-ticket items or products with higher margins. The reward could be offered as cash back each time a customer refers a friend to make a purchase, or as a monetary voucher they can redeem for future purchases. The redeemable monetary voucher is the most likely option to encourage customers to shop with you again.
2) Store credit
Example messaging: Get $5 in store credit when you recommend us to your friends and family.
Store credit is similar to a cash incentive. It helps increase the likelihood of one-time customers becoming repeat buyers by incentivizing them to shop with you again. In turn, this can ramp up customer loyalty.
The more people your customers refer, the more store credit they can accumulate for future orders. This is great for encouraging customers to choose you over competitors the next time they want to make a purchase.
3) Discounts
Example messaging: Give your friends 20% off their first order and get 10% off your next order.
Discounts don't have to be reserved for key gifting periods alone. You could build discount offers into your eCommerce referral program.
The bigger the discount percentage, the more appealing it will be to your customers. But, just like with cash incentives, you need to make sure the discount is still profitable for your business.
This is where you can get strategic and decide whether offering a cash incentive or discount reward would be better for your business. For example, offering $10 off a $100 product might not seem as appealing as offering 10% off that product. Choose your offer and your wording carefully when setting up an eCommerce referral program.
4) Free shipping
Example messaging: Get free shipping off your next order when you refer a friend.
75% of online shoppers expect free shipping on orders under $50. If your online store doesn't already offer free shipping, it may be worth building this into your eCommerce referral program.
Offering free shipping as part of your referral program could encourage your existing customers to refer your products to even more of their friends. Free shipping can be a key driver for encouraging customers to reorder from you in the future as well. This helps give your brand a competitive edge over other online retailers.
5) Early access to new goods
Example messaging: Recommend a friend and get exclusive early bird access to our new product.
Exclusive offers are one of the most effective ways to drive conversions for a select group of consumers. You could integrate exclusivity into your eCommerce referral program by providing customers early access to new goods in return for referring their friends to your store.
A consumer shopping survey by Kelton Global and SheerID found that exclusive offers can help eCommerce stores acquire and nurture high-value customers, who are more likely to make repeat purchases. 82% of these shoppers said an exclusive offer would increase how often they shopped with a brand.
6) Extended or free warranties
Example messaging: Refer 3 friends to unlock 3 months free warranty.
Online retailers offering tech products should consider offering extended warranties as part of their eCommerce referral program to increase customer loyalty.
One of the biggest barriers to customers purchasing warranties for their products is the cost. Working free or extended warranties into eCommerce referral programs could motivate customers to pay to protect their purchases. It can also encourage long-term loyalty and profitability, especially if customers decide to keep their warranty after the free trial period expires.
7) Free account upgrade
Example messaging: Refer 3 friends and we'll upgrade your account to premium status for 1 full year
Another option to incentivize customers is to offer a free account upgrade in return for recommending your products to their friends and family.
Many online retailers include account upgrade options. One popular upgrade is unlimited next-day delivery in return for a fixed annual fee. For example, you could offer customers free, unlimited next-day delivery for $10 per year.
Then, as part of your referral program, you can give customers access to this premium account level for free when they refer a friend.
8) Loyalty tier upgrades
Example messaging: Refer a friend to receive 10x loyalty points and access exclusive member rewards.
One lucrative idea that many online retailers are tapping into is tiered loyalty programs.
In these types of programs, customers can earn points each time they refer a friend. Each point earned will help them climb the ladder, moving through different tiers of the loyalty program and receiving bigger and better rewards along the way.
This is a great way to reward customers continually for their loyalty through gamification. Customers will feel incentivized to keep shopping with your brand in order to increase their loyalty level and access the next tier of member-exclusive perks. This could include free birthday gifts, exclusive events, entry into sweepstakes, exclusive discount code, and more.
Rewards for the new, referred customer
Along with rewarding your customers for recommending your brand, you also want to consider offering incentives to the people being referred to your online store. Rewarding new referrals will encourage them to shop with your brand.
When mapping out your referral program, think about what you can do to make it easier for new customers to buy. Giving new customers a bonus when they receive a referral can prod them to make their first purchase.
You have a few routes to go down when choosing a reward to offer to new, referred customers. You could offer a free gift with their first purchase, give store credit off their next purchase, or offer a shared discount for both the referrer and the referred customer, to name a few.
How to launch your own eCommerce referral program
Now that you understand why your online store needs a referral program and what that could look like, it's time to learn how to launch your own eCommerce referral program.
To help you get started, we're sharing three additional steps you need to take to spread the word about your referral program:
Create a landing page that converts
Set up email campaigns
Build your referral program offer into your checkout flow
1) Create a landing page that converts
Once you've built your referral program, you need to work on how you present it to your customers. The most important aspect of this presentation is creating a dedicated landing page for your referral program.
The landing page provides a dedicated place to display everything your customers and store visitors need to know about your referral program. The content you share on your referral program landing page serves to wow your customers and get them to convert.
When shaping your landing page, keep your messaging concise, yet compelling. You also want the copy to be infused with emotion. Focus on selling the benefits of your referral program, not the features. Using bullet points can also make it easier for customers to scan the landing page quickly and get all the information they need.
Don't forget to add a short form where customers can enter their details to join the referral program. Customers who complete this form should then be redirected to a thank you page that includes their referral code or link.
To help kickstart the program, add social media referral links to your thank you page so people can quickly share their code and start earning their first referrals.
Include a link to this landing page on your website as well so it's easy for customers to find. You may also want to add a pop-up box promoting your loyalty program, or include links to your program's landing page on social media, in email marketing, and as part of your paid marketing campaigns.
2) Set up email campaigns
Another way to introduce your existing customers to your referral program is to produce a series of emails, otherwise known as a drip campaign.
The aim of this series is to showcase the benefits of the program and encourage customers to sign up.
To maximize the effectiveness of this email series, you should segment your email subscriber list so that only repeat customers receive these communications. For example, you could create a rule that only sends the program emails to customers who have shopped with you two or more times in the last six months.
By strategically picking and choosing who receives these emails, you'll automatically increase the expected performance of your referral program.
3) Build your referral program offer into your checkout flow
Finally, you should build your referral program offer into the customer checkout flow to encourage uptake.
Store visitors who've reached the checkout stage have already shown a high level of interest in your brand. This makes it even easier to sell other products or services to them during the checkout process.
Add your referral program into the checkout flow by presenting it as a post-purchase offer. This means that before customers reach the thank you page for completing their order, they'll first be notified about the opportunity to join your referral program. This could be in the form of a pop-up box, an upsell box within the checkout page, or a dedicated page in between the checkout page and the thank you page.
Promoting your referral program at this stage will help you tap into customers who are currently engaged with your brand. When incorporating your referral program offer into your checkout flow, make it quick and easy for customers to sign up.
Last, but not least, launching a successful referral program requires the tools. Choose the referral program software that best suits your brand and audience needs.
To help you decide which referral program is best for your eCommerce store, we've analyzed a selection of referral program tools. We're sharing a few of our favorite ones below.
Swagbucks is a popular choice for eCommerce owners to reward loyal customers. With Swagbucks, you can list your business on their rewards platform to showcase rewards and prizes for people who shop with your store.
Currently, Swagbucks has 7,000 participating stores actively sharing rewards and offers for shoppers. Customers can then shop brands through Swagbucks and earn rewards as they buy. From free gift cards to cashback and exclusive discounts, customers are rewarded every time they shop with a Swagbucks store.
It's a great way for eCommerce businesses to launch a rewards program if they don't have the time, budget, or resources to set up their own.
Influitive is a customer rewards program that helps turn customers into loyal brand advocates through gamification, engagement, and rewards.
With Influitive, you can build a fully customizable and trackable referral landing page that converts. You can even tailor your referral campaigns to different audiences, creating a personalized offer that's even more likely to boost sign-ups.
Yotpo is an advanced, all-in-one solution that offers various tools to help eCommerce owners reward customer loyalty.
As part of the Yotpo package, you can craft branded loyalty programs designed to encourage customer behaviors that drive measurable increases in LTV. Yotpo offers multiple campaign choices, so you can choose a referral program structure that best suits your store and audience. These options include points, products, store credit, and discounts.
You can also include tiered incentives, where customers earn better rewards every time they refer someone new. You can then monitor and evaluate the performance of your referral program within Yotpo's comprehensive analytics dashboard.
LoyaltyLion's referral program software allows eCommerce owners to build long-term relationships with their customers and enhance the growth of their eCommerce store.
LoyaltyLion uses data-driven insights to help online retailers create a loyalty program that's as unique as their brand. Retailers using LoyaltyLion can A/B test their referral program to see what works best for their customers and accelerate performance.
Wrapping up — Launching an eCommerce referral program
eCommerce referral programs present a lucrative opportunity for online retailers to increase repeat purchases, drive customer loyalty, and maximize their CLV.
If you want to boost customer loyalty for your store, launching a referral program is a powerful way to drive engagement and create those all-important customer relationships.