Month:
January 2023
How To Write a Killer Return And Refund Policy
Imagine you're standing in line at a store preparing to purchase an item and you have some doubts in the back of your mind. Perhaps you're worried it won't match the color scheme of your home, or maybe it's an article of clothing that, once you try it on later, doesn't flatter the way it did in the fitting room. As you prepare to check out, you ask the cashier about the return policy — specifically, about getting your money back. The clerk explains the policy, circling it on your receipt so you know what to do if you want a refund.
In eCommerce, customers have no opportunity for this type of conversation at checkout. As such, it's important to ensure your returns and refund policies are clear and easy to find on your website. This critical piece of information can help you reduce returns, avoid refunds, and improve the customer experience.
While it may seem like a hassle to deal with returns and refunds, they're an important part of doing business online. Even if you strive to provide top-notch products and excellent customer service, there will nevertheless be times when a customer wants to return a product or request a refund. When this occurs, your well-honed refund policy will be your lifesaver to navigate the process smoothly, and we'll explain how to draft one that fills both you and your customers with confidence.
---
---
Why you need a strong refund policy
A refund policy outlines the rules for receiving refunds for purchased goods and/or services. It details the eligibility requirements for returns, what types of refunds are given, the time frame, and the return process, giving you and your team a rule book to follow when processing returns and refunds. This is especially important as you grow your business when you'll likely begin to receive more returns as your sales increase, making a one-off or ad-hoc returns too cumbersome to manage.
The document lets customers know what to expect before they buy, which reduces the likelihood of dissatisfaction and avoids additional returns on your end. Clearly defining your policy and laying out the terms for customers in a concise manner act as insurance for your sales. For example, if you only offer refunds on regular-priced merchandise, customers know they can't get their money back on sales items.
You should also aim to be fair and reasonable with your policy. It's understandable you don't want to give refunds for products that have been used or heavily worn, but you should also consider the unique circumstances of each request. If a customer has a legitimate complaint about something they've purchased, it's in your company's best interest to resolve the issue as quickly and amicably as possible.

How to write and launch an appealing return policy
Every return policy is unique to the individual business, and different products might require different eligibility terms. However, there are certain core elements that every document should include. Approach your writing thoughtfully and consider how to accommodate your and your customers' best interests.
Determine a reasonable time frame
Firstly, choose a time frame during which your customers are eligible to request a refund. This can be whatever range you prefer, whether it's 10 days or 365.
Decide when you'll start the clock as well. Does the refund period open when the purchase has been completed (the date on the receipt), when the order was fulfilled (sent from your warehouse), or when the order has been delivered (as noted in the tracking information)?
You might opt to build your policy around a "try before you buy" approach, letting your customers use the product for a predetermined amount of time, such as one month, so they have the opportunity to change their minds with less hassle. These types of guarantees are attractive to shoppers, but they also benefit you.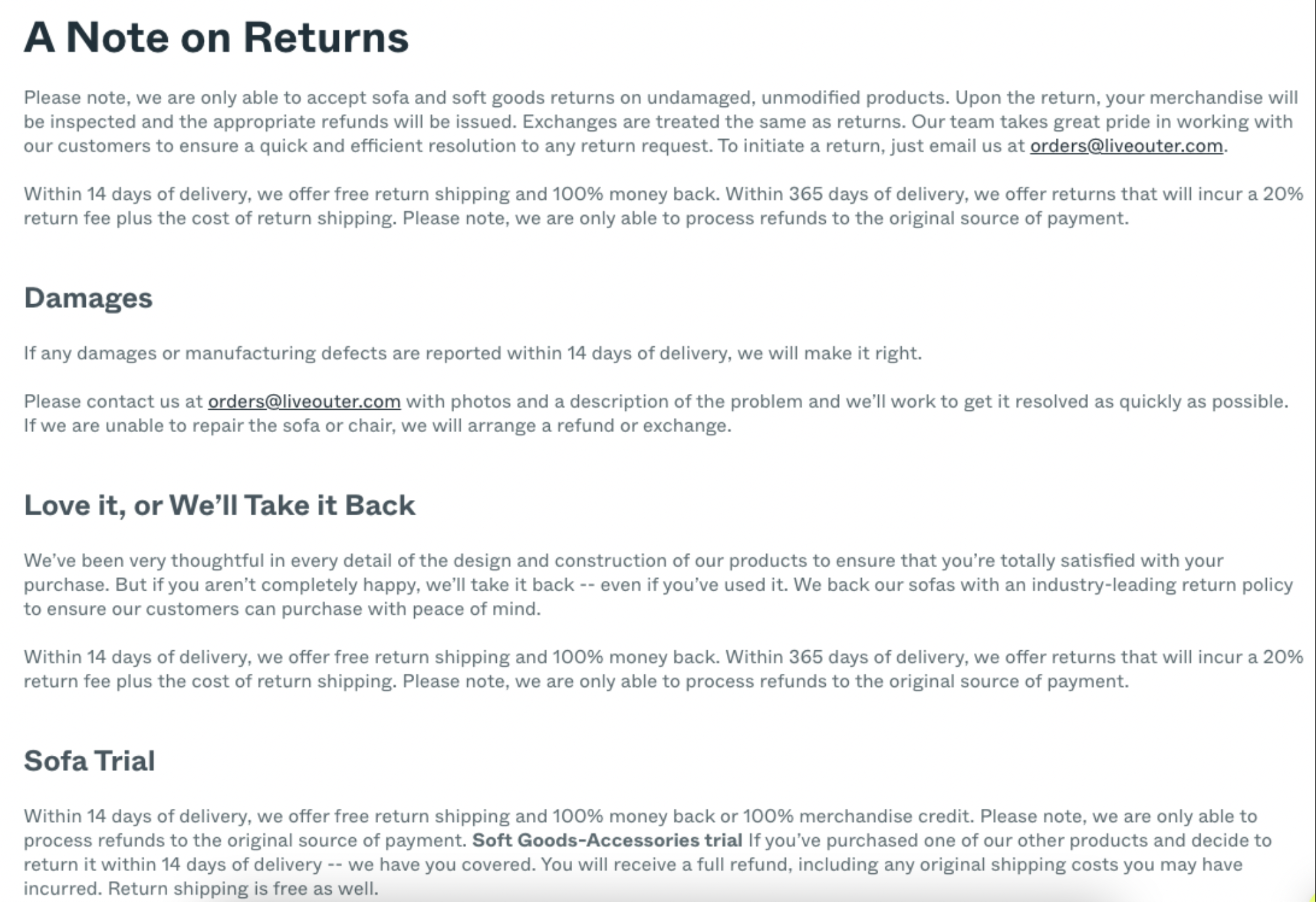 Source: Outer.com
O​uter, for example, is a furniture company with a generous and unique return and refund policy: They'll refund 100% of the cost of an order if the request comes within 14 days, but customers can receive an 80% refund up to one year after buying Outer products. This allows customers to test an item for an extended period of time. However, Outer doesn't offer free returns outside of the 14-day window.
Longer time frames — those greater than the standard 10 to 14 days — allow your customers to become familiar with and fall in love with your products. When customers are not bound to a tight refund window, such as a 10-day limit, they may put off submitting a return, which could result in them missing it altogether.
Establish acceptable item conditions
Depending on your product type, you can have an array of requirements concerning the condition of items eligible for refunds. Regional laws where you do business can also dictate (or at least influence) these terms as well. For instance, in some countries, baby items like carriers, strollers, breast pumps, and larger toys can only be returned if the box is unopened.

Source: Allbirds.com
If you adopt a "try before you buy" approach, you'll need to be comfortable accepting items in varying degrees of a used condition, but that doesn't exclude you from having strict requirements for the condition. For example, if you allow customers to test a product for 14 days, you can still require the item to be in a gently used, undamaged condition.
As a concrete example, A​llbirds, a popular lifestyle company that sells footwear and other products, have different requirements for returns and refunds based on the products offered. They'll happily take back any product within 30 days, but underwear and socks must be in unopened packaging; however, shoes can be worn.
List the steps for refunds to be processed
Once you've determined a time frame for refunds and the condition required for an item to be eligible for a return, detail the steps for the refund process.
Depending on your company and processes, you may have an online request form that customers can fill out, or buyers may need to contact you directly. The request may include:
Proof of purchase (order number)
P​roof of condition (photos)
Complaint or reason for refund request
Whether or not to offer free product returns is up to you, but there's considerable evidence that free returns boost sales. While free returns will cut into your profits, a 2012 report demonstrated how free returns can increase sales by a whopping 357% — proving it's a worthwhile investment.
The next step in offering returns is to verify the return package has shipped. Some large retailers like Amazon (particularly through FBA) simply wait for tracking to start before processing a refund, with funds deposited to the original form of payment within a few days. But many other retailers require the returned products to be delivered in acceptable condition before the refund is issued.
In some cases, returned products may only be fit to be used for parts, or you might be able to resell them at a discount with an "open box" label. Keep this in mind when you decide on the item conditions you're willing to accept.
It goes without saying that defective products — that is, those with manufacturing issues or that arrived at their final destination damaged — should be refunded or replaced as quickly and seamlessly as possible.
Finally, you may choose to offer refunds on products without requiring your customer to send the item back (although this practice is less common).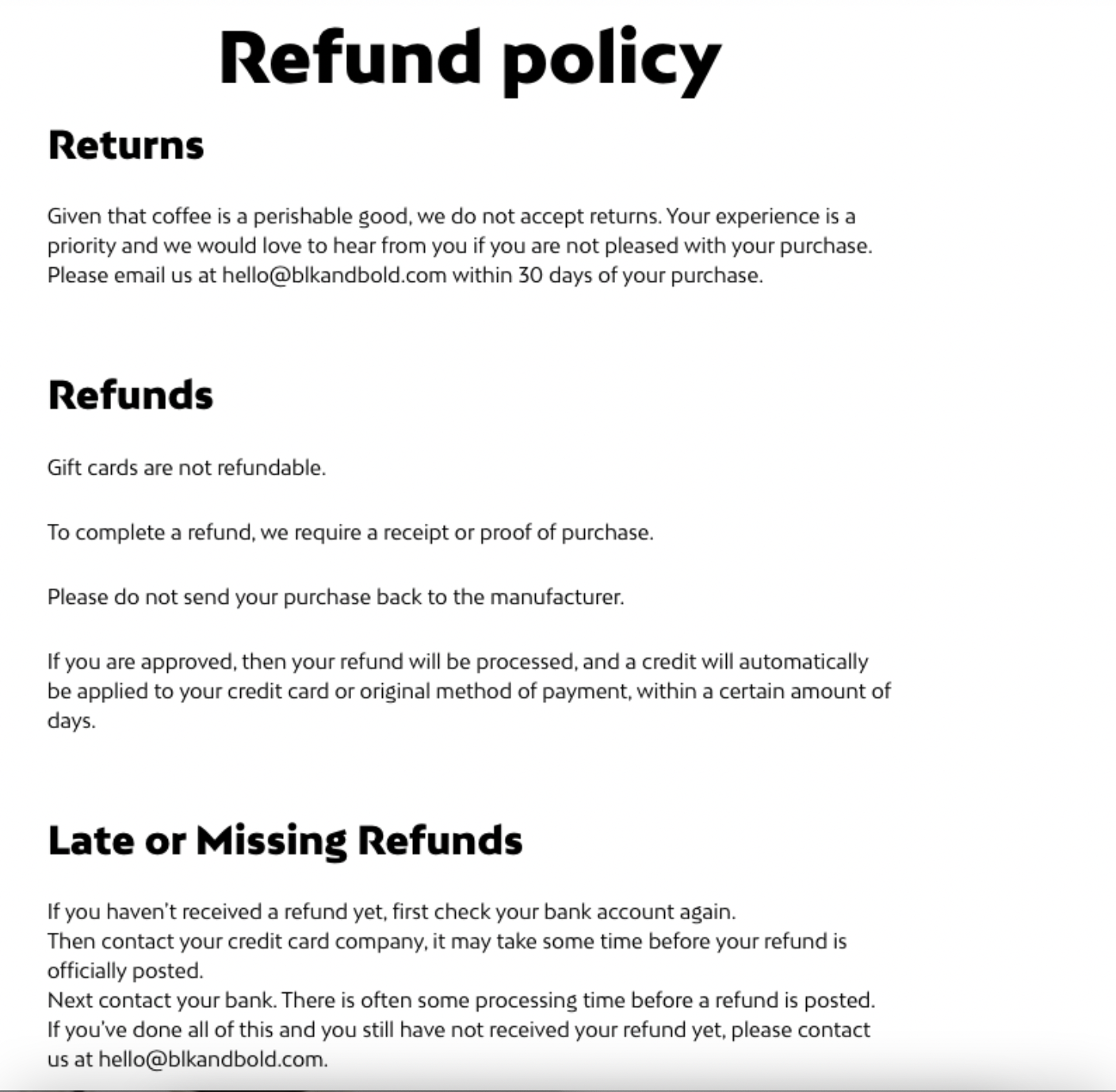 Source: blkandbold.com
BLK & Bold is a coffee and tea beverage company with a focus on supporting youth initiatives. They offer in-store and online purchasing options, including subscription programs, and customer satisfaction is a main focus for them. They're committed to excellence in that regard, and it's reflected in their refund policy: The company doesn't require products to be returned. However, refund requests will only be processed within 30 days of purchase.
Clearly display your policy
Y​our returns and refund policy should be readily visible and easy for your customers to find. Some retailers have gotten creative to make it easy for shoppers to see. T​enTree, for instance, includes their return policy directly on their product pages, located in a handy accordion that can expand. Although their policy is somewhat generic, costing customers a flat $10 within 30 days of purchase, its visibility, and simple language ensure zero confusion.
Employ a service to handle your returns
Services exist that can support your return and refund policy by handling every step of the process for you.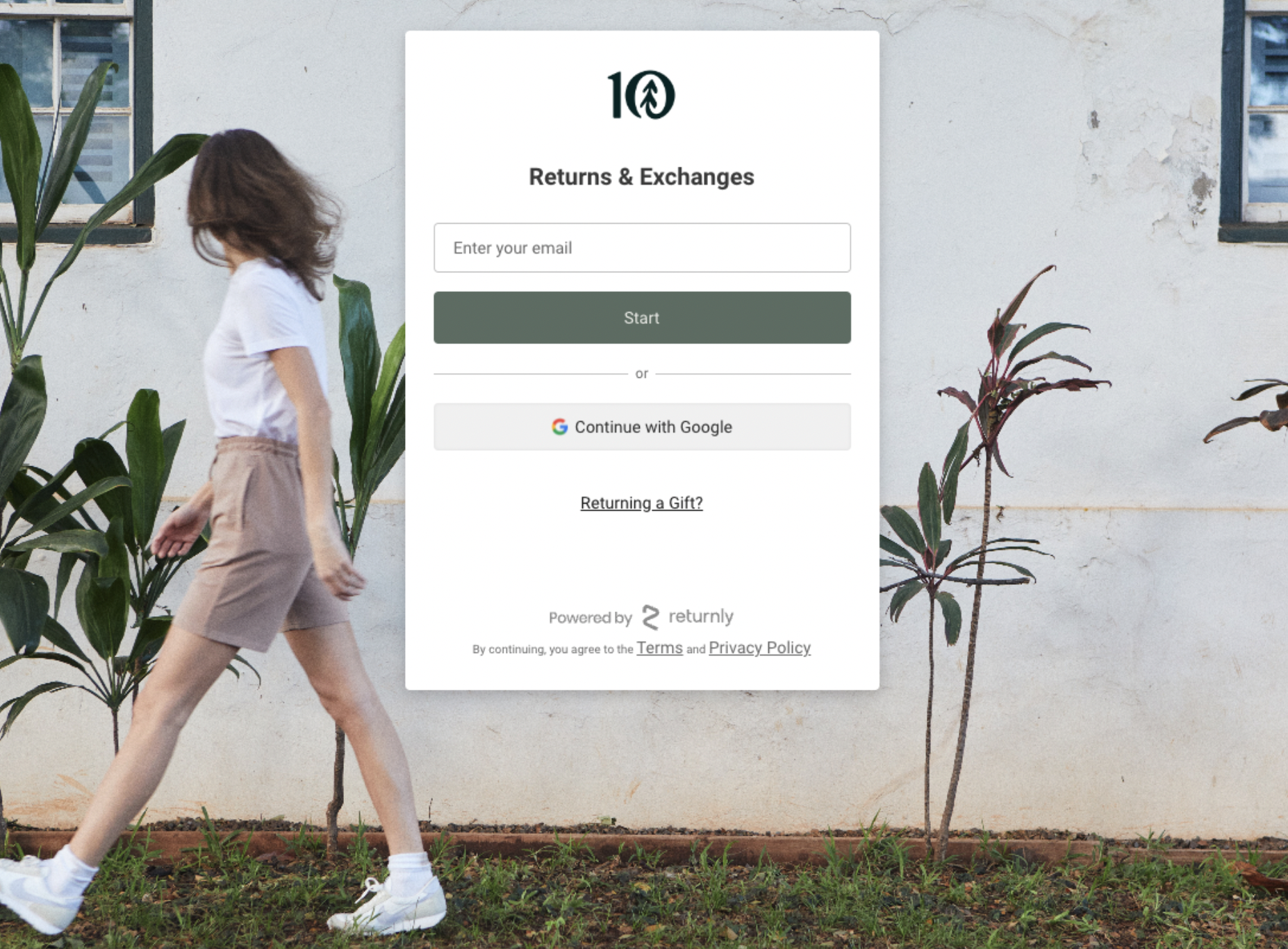 Source: TenTree.com
For example, TenTree (mentioned above) uses a platform called Returnly, while Allbirds uses Loop. Meanwhile, Amazon sellers who use Fulfillment by Amazon (FBA) can rely on FBA to take care of all aspects of customer service, including returns and refunds.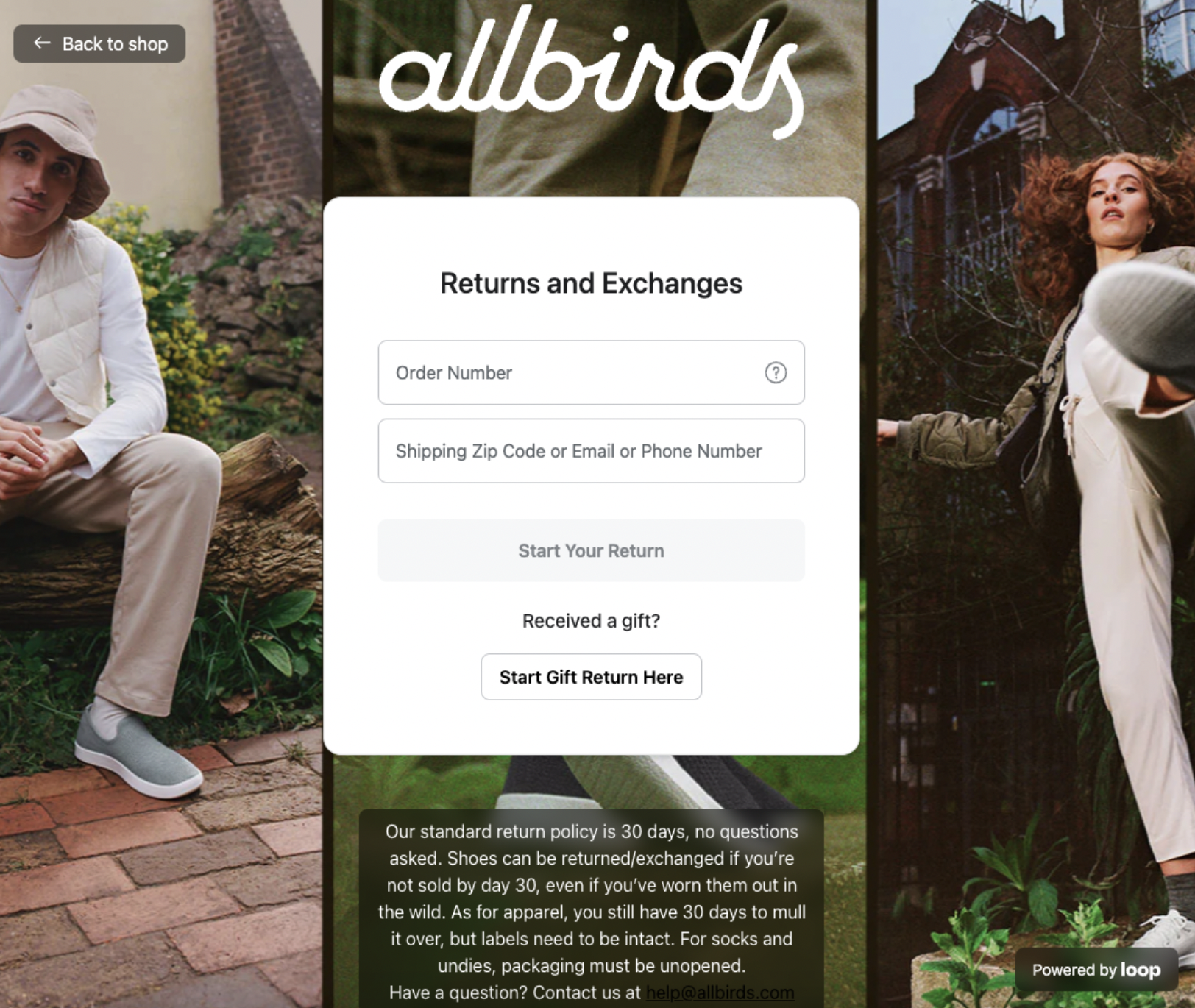 Source: Allbirds.com
These are but a few services that manage the reverse logistics of returns and refunds to ensure seamless customer experiences.
Choose between a refund or store credit
Another important decision you'll have to make is whether to offer refunds or store credit for returned items.
One advantage of refunds is that customers can choose how they want to handle the returned item. This is appealing to buyers who are unhappy with the product or who changed their mind about the purchase.
On the other hand, offering store credit allows consumers to purchase a different item from your store, which is an effective way to retain their business. It can also be less burdensome administratively for your business, as you don't have to process a refund.
You can make refund methods time-sensitive, such as offering a full refund within X days, or they can vary by product — for example, offering only store credit when a product was purchased on sale. However you decide to proceed, communicate whether items are eligible for refunds and/or store credit (and if any items will be labeled as "Final Sale").
Keep the language simple and to the point
The language in your refund policy must be clear, concise, and easy to understand. This helps ensure customers understand their rights and options when it comes to returning a product or requesting a refund. If the policy language is too complex or difficult to comprehend, it can cause confusion and frustration for customers, which could lead to negative experiences and potentially damage your reputation as a merchant.
By implementing clear verbiage, you effectively communicate your policy and resolve customer issues in a timely and efficient manner — often before they purchase, which reduces the number of refund requests you receive. Additionally, an open and simplistic refund policy can build trust and confidence in your company by demonstrating transparency and fairness in your dealings with customers.
Disclose any associated fees
Returns can be a necessary but expensive evil in an eCommerce business. With shipping costs rising around the world, it's understandable some merchants choose not to offer free returns on products. If you decide to follow suit, it's imperative you outline any fees associated with a return.
Two companies we've previously mentioned clearly define the costs accompanying any returns:
TenTree has a flat $10 rate on all returns to cover the cost of postage.
Outer offers free returns within 14 days. Past that date and up to 365 days post-purchase, they require customers to cover the cost of return shipping.
In general, the cost of returns is subtracted from the total refund offered.
Leverage tools to generate a policy for you
Crafting a full returns and refund policy can be overwhelming, and if you dislike writing, it can be downright unpleasant.
M​yFBAPrep offers a DIY solution to generate your refund policy that takes the heavy lifting out of policy creation. The Refund Policy Generator takes only minutes and provides an easy-to-read policy that clearly details your company's approach to returns and refunds.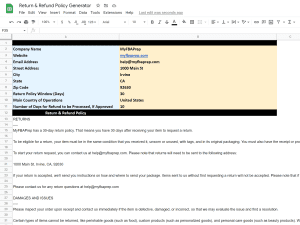 Download it below!
---
---
Answer the form above, fill out your company information, and make any necessary edits. From there, you can copy and paste the generated policy onto your eCommerce store and begin promoting.
*Note that this is not professional legal council. Every store's policy will be unique, so please review the generated policy before adding it to your store.
Promote your policy
A strong refund policy also provides a great marketing opportunity for your business. Show off your generous refund policy to build trust with prospective customers. As long as you adhere to it, your policy can breed customer loyalty by showing them you'll do what it takes to make things right for each issue.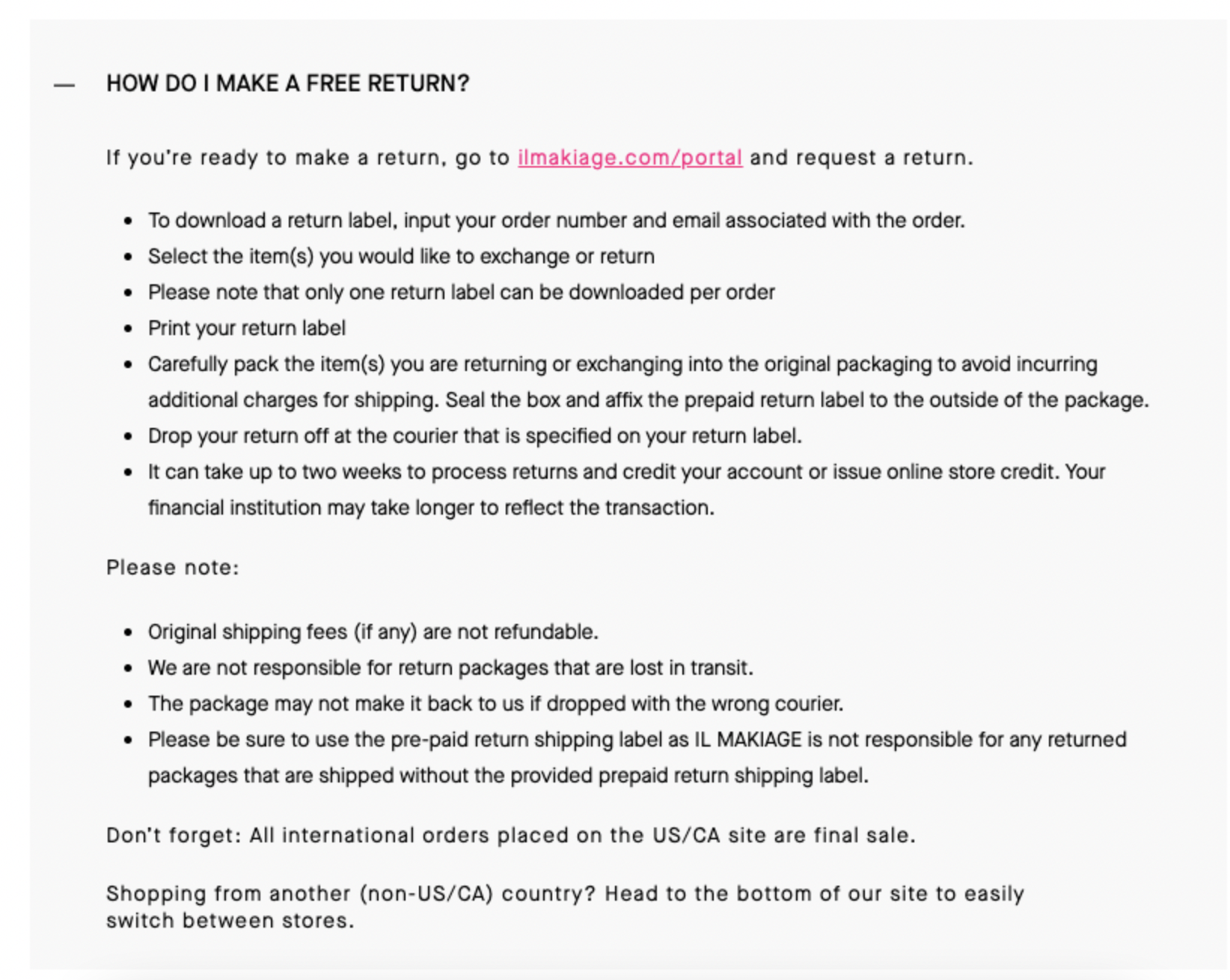 Source: IlMakiage.com
Take I​l Makiage, an eCommerce brand that sells cosmetics and skincare products, for example, much of their marketing leans on their Try Before You Buy approach while also highlighting their unique "shade finder" tool and other products. They allow customers to use the product for up to 14 days, and at any time during that period, dissatisfied customers may request a refund — no questions asked.
N​ot sure where to begin? Keep the following key tips in mind:
I​nclude your refund policy on product pages.
Highlight your returns and refunds policy on your home page.
Work your refund policy into your marketing messages.
Link to your returns and refunds policy in every post-purchase communication, from the success page to your retargeting emails.
Wrapping up — Create an awesome return and refund policy to set expectations

Having a clear and concise refund policy not only protects your business but also builds trust and credibility within your customer base. It's also a fantastic marketing tool for your business when displayed strategically.
It shows potential customers you're a professional and reliable company that stands behind its products. A generous refund policy also encourages customers to shop with confidence, knowing they have recourse if they're dissatisfied with their purchase.
The Ultimate eCommerce Glossary for Online Sellers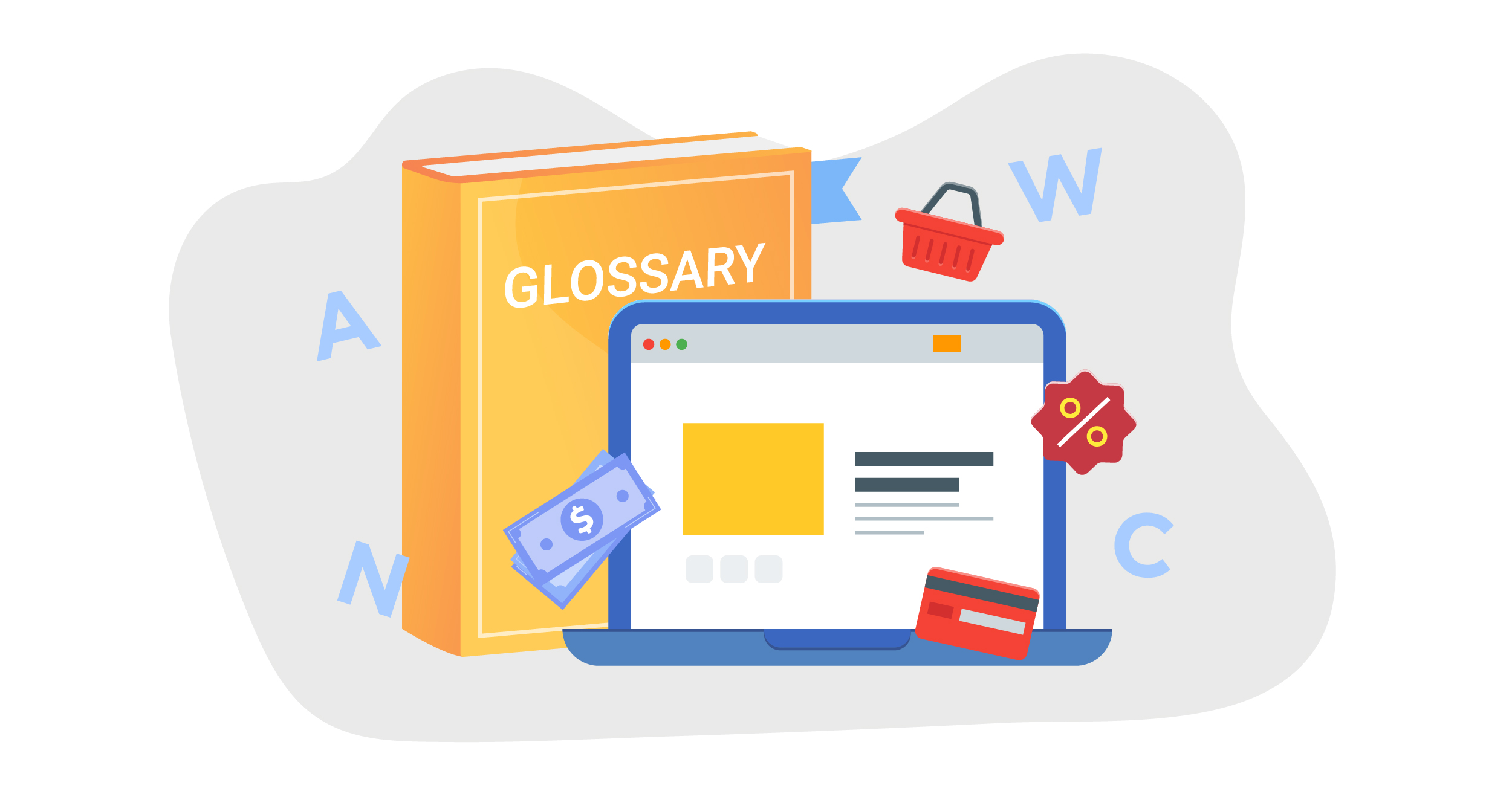 If you've been in the eCommerce world for a while, you know the space comes with its own terminology, methodologies, strategies, and tactics. There are many to learn, understand, and implement to ensure your eCommerce business reaches its full potential. So, to get you up to speed, we've put together a comprehensive eCommerce glossary. Let's dive in.

Stock-related terms
Bundling: The process of grouping products together for sale. A brand can create a bundle by packing multiple quantities of the same item into one offer, varying products, or both.
Product kitting: The procedure of taking individual items in any state and turning them into a bundle or kit, typically via packaging.
Variety packs: An offer created by packaging different items or variations of a product together, e.g., multipack chips.
Product kits: Singular items grouped together to form a new product offer. Kits can also be customized to customer specifications per order. A kit usually has a purpose, like simplifying and systemizing a process.
Listing: An online page created on a website or eCommerce marketplace to display products. It holds crucial assets like product descriptions, images, videos, and reviews. It can also act as a landing page for marketing campaigns.
Product descriptions: Text written to highlight the key feature of a product for sale. Weight, measurements, materials.
Minimum Order Quantity (MOQ): A figure that represents the lowest unit quantity you can purchase from a supplier or manufacturer, e.g., 100 boxes.
Economic Order Quantity (EOQ): The order size you need to minimize risks and costs such as holding/storage, shortage, order processing, and waste.
Hazmat: Short for hazardous materials. It's an umbrella term for liquids and substances that can be flammable, toxic, carcinogenic, corrosive, or dangerous. For example fertilizers or cleaning solutions.
Inventory turnover: Reveals how quickly a business sells through goods. Inventory Turnover is calculated using the formula Cost of Goods Sold / Average inventory value during a specified period.
Auto-replenishment: A subscription model that sends refills to clients on autopilot using machine learning to gauge when customers need to top up their products. It's also used as a sales and marketing selling convenience and timesaving.
Anticipatory Stock: Inventory purchased and stored in advance of a Season change or major Sale
Beginning Inventory: The value of stock items a the start of a specific accounting period
Ending Inventory: The value of stock items at the end of a specific accounting period; this is also the Beginning Inventory for the next account period
Cycle Counting: A method of periodic inventory taking where only certain portions of stock are counted at a time. This eliminates the need to close entirely to take inventory. 
Periodic Inventory: Physically counting items to ensure counts are accurate with digital records; often the business needs to close while this is underway
Cycle Stock: Also known as working stock; the amount of inventory kept to fulfill anticipated orders for a specific period of time. This is replenished as soon as it is sold.
Demand Forecasting: Using various data points to anticipate demand and help make business decisions such as new products or working relationships.  
Digital Inventory: Number of items in stock based on data from software and digital scanners. Physical Audits should be done periodically to ensure accuracy. 
Physical Inventory: The amount of physical items in stock as confirmed by a person; can be used to confirm Digital Inventory
Pipeline Inventory: Items purchased that are not yet in-hand; may be in-transit or still being manufactured. 
Excess Inventory: Raw materials that are past their expiration dates, unsold items, or otherwise unsellable stock
Psychic Stock: Inventory used for marketing, that is not for sale 
FIFO (First In, First Out): an inventory and accounting method that works on the assumption that items are being sold in the order in which they were purchased. 
LIFO (Last In, First Out): An inventory method based on the newest inventory being sold first. 
Finished Goods Inventory: Items that are packaged and ready for sale; also referred to as Merchandise inventory
Out of Stock: No inventory available, without an anticipated restock date
Reorder Point (ROP): A predetermined inventory point at which specific SKU's are reordered to maintain stock
Safety Stock: Additional inventory kept on hand for use in case of increased demand or supply issues
Stellar products need stellar fulfillment. Learn how MyFBAPrep can give your business the upper hand.

Marketing and sales-related terms
Sustainability: The process of meeting human needs without hindering the progress of future generations or the globe. There are 4 pillars of sustainability: social, human, economic, and environmental.
Social proof: A psychological and social occurrence in which people are influenced by others and, as a result, copy their actions in a situation. Brands use social proof to convince shoppers to buy based on other buyers' actions.
User-Generated Content (UGC): Content created by your customers and influencers displaying your products. It can take many forms, including short and long-form videos and images.
Landing page: An individual web page set up for people to "land" on after clicking on an ad or link. It can be created on a website or hosted via landing page software.
Influencer marketing: Promoting your brand and products by collaborating with content creators.
SMS marketing: Outreach method to a phone number lead list using text messages. Due to legalities, shoppers often need to opt-in to receive communications and have an opt-out option.
Content marketing: A marketing strategy that involves attracting, nurturing, and closing leads through various content assets like blog posts, case studies, and eBooks.
Email marketing: A marketing strategy executed via email campaigns. The emails educate, build relationships, and drive sales. They include newsletters, nurture sequences, and win-back campaigns.
Affiliate marketing: A marketing method that involves promoting products through influencers and industry experts known as "affiliates".
Split testing: Also known as A/B testing, split testing is a conversion rate optimization method that involves testing different variations of an element against each other to determine which feature performs best.
Content management system: Software, also called a CMS, centralizes content assets, allowing you to create, edit and manage them across your business ecosystem.
Presale: The sales strategy of selling goods to customers before they're manufactured.
Giveaways: A marketing strategy involving giving away products via a competition to raise brand or product awareness and increase engagement.
Referral program: A reward system that incentivizes customers to introduce their network to a business.
Customer loyalty program: A program designed to reward customers for repeat purchases and visits.
Customer retention rate: A metric that measures how many of your buyers remain your customers over time.
Bounce rate: A metric that calculates how many visitors go to a webpage and leave without taking action. The formula is: single-page sessions / total sessions.
Conversions: When a prospect or customer sees marketing material and takes action. E.g., a link click, email signup, or purchase.
Average Order Value (AOV): The typical amount a customer spends in your store. AOV is calculated by the formula total revenue / total orders.
Customer Lifetime Value (CLV): How much a buyer is worth to your company on average over the time they spend as your customer.
Pay-per-click (PPC): An advertising vehicle that is used to drive traffic to a website or landing page. The users typically pay for the advertising through impressions and/or clicks generated.
Advertising Cost of Sales (ACoS): A metric that reveals how much you spend on PPC, e.g. (Amazon PPC) to generate revenue. The ACoS formula is (Ad spend / ad revenue) x 100.
ROAS: A KPI which shows how much revenue is generated per $1 spent on advertising. ROAS is calculated by the formula revenue / ad spend.
Cost per click (CPC): Refers to how much you pay as a bid per click. You can set maximum bids to control costs.
Conversion Rate Optimization (CRO): The process of improving your website or landing page to increase the percentage of conversions it generates.
Cart Abandonment Rate (CAR): The percentage of carts users add items to and "abandon" before completing a purchase.
Return on Investment (ROI): A ratio that displays the net income to capital invested over a specified period.
Click Through Rate (CTR): A metric that shows how many people view your ad and click on it compared to how many times it's shown.
Presale: A sales initiative in which goods are sold (normally at a reduced price) before they're manufactured.
BFCM: Stands for Black Friday and Cyber Monday and represents two of the most significant final-quarter shopping events in many countries.
eCommerce personalization: The continuous act of providing tailored experiences and communication to shoppers on your website, including personalized offers and product suggestions.
eCommerce landing page: A standalone page built to market eCommerce products and services.
Post-purchase survey: A survey sent to a customer after they've made a purchase to gauge satisfaction with their experience.
Checkout optimization: The practice of improving an online store's checkout process to increase its conversions.
Customer-first data: Insights gathered from prospects and customers with their permission and explicit consent.
Augmented Reality (AR): A technology that creates images and overlays them on the user's view of the real world, altering and enhancing their view.
Virtual Reality (VR): Technology that creates 3D image simulations. They are used in retail and eCommerce to help shoppers visualize products in their environment or on their person.
Omnichannel eCommerce: a type of selling that aims to make the customer seamless regardless of where they start and finish their buying journey.
Multichannel selling: Selling goods on multiple channels simultaneously. Multichannel selling includes online and offline channels.
3D Secure (3DS): A security protocol built to provide additional security for debit and credit card transactions.
Headless commerce: An eCommerce solution in which the front end is decoupled from the backend. E.g., the customer-facing shopping interface is split up from the background tools and operating systems.
Cross-border eCommerce: The act of selling and fulfilling goods online internationally.
Platform migration: The process of moving from one eCommerce or web platform to another. E.g., switching from Shopify to Magento.
Amazon Seller fees: The charges Amazon levies on sellers. It includes a referral fee, a selling plan subscription, and fulfillment fees (if you fulfill via Amazon).
Live shopping: A marketing initiative in which brands sell goods through a live-stream broadcast.
Amazon seller account suspension: When Amazon removes the selling privileges of a seller account holder. The suspended seller will need to appeal with a Plan of Action to request reinstatement.
Amazon aggregator: A business model which acquires Amazon brands. They optimize the brand's marketing and backend operation to scale and make a positive ROI.
Amazon Inventory Performance Index: A metric between 0-1000 Amazon assigns stores which measure how effectively a store manages its inventory.
Shopify Audiences: A marketing solution that helps users find and close new customers by creating an audience list of engaged buyers from ad platforms like Facebook and Instagram.
Section 321: A US law issued by the US Customs and Border Protection (CBP) permits low-value shipments to be cleared through customs without imposing taxes and duties and with less paperwork.
Retail Arbitrage: The business model of buying goods from a physical store and selling them with a markup on marketplaces like Amazon and eBay.

Fulfillment and logistics-related terms
Distributed order management system: A rule-based system that helps users manage and fulfill customer orders while keeping costs low and maximizing fulfillment operations and actions.
Inventory management: The process of managing stock levels and flow in a business.
Direct-to-customer (DTC): A business model which involves selling goods to the end consumer with no middleman, e.g., on your own website.
Fulfilled by Amazon (FBA): A fulfillment service offered by Amazon to sellers on its platform. FBA orders get perks like Prime shipping, improving the service for customers and sellers.
Fulfilled by Merchant (FBM): When the sellers execute the order fulfillment for an order on an Amazon order.
FBA Prep: A term that refers to preparing and packaging goods to go into the Amazon FBA network.
Batch fulfillment: A type of shipping process which involves grouping packaged orders to be shipped out simultaneously.
Crowdfunding fulfillment: The processing and shipping of a crowdsourced product to funders.
Amazon Multichannel fulfillment (MCF): A fulfillment program in which Amazon handles the storage, picking, packing, and shipping of orders for goods sold online (and not just on Amazon).
Distributed fulfillment: The fulfillment strategy that involves placing inventory and fulfillment service close to demand and customers.
Looking for help with your fulfillment? MyFBAPrep is the answer you've been searching for.
Picking: Selecting goods in packing and for shipping.
Packing: packaging goods in anticipation of shipping goods to customers.
Value-added services: Premium services typically offered by 3PLs, which modernize, streamline, and improve fulfillment,e.g., pallet bagging and product kitting.
Barcoding: A service in which barcodes, e.g. UPC codes, are added to products in preparation for storage and sale.
Stock Keeping Unit (SKU): An eight-digit number (usually) that businesses with physical products use to track and manage inventory levels.
Third-Party Logistics (3PL): A service that enables businesses to outsource key parts of backend operations like goods distribution, warehousing, and fulfillment.
Fourth Party Logistics (4PL): A service that allows businesses to outsource the management of their entire supply chain and logistics to one fulfillment provider.
Fifth Party Logistics (5PL): A service that manages all aspects of the business's supply chain starting at production and ending at delivery.
Prep and pack service: A service offered by a fulfillment provider in which they manage receiving customer orders, arrange the package with the purchased goods, and ship the items.
Backorder: An order that can't be fulfilled when made due to a lack of available inventory.
Electronic Data Interchange (EDI): Using technology to share data instead of paper-based. For example, customer data and order insights.
Zone skipping: The practice of shipping many packages to a carrier's parcel hub near the package's end destination.
Returns process: The process for managing when a customer buys goods from a store and sends it back to your distribution center for a refund or exchange
Shrinkwrapping: A service that involves tightly wrapping boxes or products with a polymer plastic film that "shrinks" around the object.
Relabelling: Relabelling involves taking products with premade labels, e.g. barcodes or printed packaging, and attaching new labels in line with the requirements of the sales channel and brand.
Co-packing: A service that consists of taking goods from their raw and packaging them into finished products.
Pallet bag packing: A fulfillment-related service in which goods are bundled and attached to outbound shipments to a pallet in one go.
Sort and segregation: Also known as sort and seg. A value-added service in which the fulfillment provider handles unloading and reorganizing shipments. It also includes services like stock counting, quality inspection, packaging, and repacking.
Fixed logistics: A logistics approach with more permanent fixtures through assets like leases and owned buildings and takes place in a set location, making set up and take down
Flexible logistics: A logistics model with little to no assets or long-term commitments, allowing for simple setup, adjustment, and take down.
Inbound logistics: Obtaining products and materials from suppliers. 
Assembly Services: Some (not all) 3PLs offer this service to add a finishing touch that manufacturers don't provide, such as placing items in branded boxes, or adding custom packaging 
Awaiting Delivery Scan: A designation meaning that the item is out for Delivery, but has not been scanned as such; this does not mean that the package has not arrived, as there may be extenuating circumstances, however these discrepancies are often cleared up within a day or so
Carrier Facility: A location that acts as a hub for Shipping Carriers within a region, similar to a Distribution Center
Delivery Duty Paid (DDP) shipping: A method of shipping in which the Seller takes responsibility for all aspects of the sale. If you choose to use this option, the Customer is charged at the time of their order for the product, shipping cost, and associated fees. This will require you, as the seller, to estimate these fees in advance and implement them to amounts charged. 
Delivery Duty Unpaid (DDU) shipping: In this case, the responsibility for Shipping costs is shared between you, the seller, and the buyer. You would ensure that items are received at the Country of Destination, and absorb any associated costs. Once the item has reached Customs, it then becomes the responsibility of the buyer to pay for import Duties or transportation costs before they can claim their items. 
Delivery Exception: Any type of unexpected delay a Shipping Carrier encounters while a package is en-route. This could be anything from poor weather conditions, to a more widespread issue such as border closures. 
Delivery Not Attempted: A message used to show that a package was out for delivery but was unable to be completed. The Driver may have run out of time, or encountered another issue.
Dimensional Weight (DIM): Also known as Volumetric weight, is a formula used by Shipping Carriers to determine cost per Volume for eCommerce packages
Discreet Shipping: A method of shipping where there are no labels, branding, or address to identify the Seller or what the item is. There are a number of reasons this could be selected, from sensitive contents, or detraction of theft. 
Dunnage: Sturdy packaging material to protect items during shipping, such as packing peanuts or bubble wrap. 
Out for Delivery: A notice that the Shipping Carrier has the package on a truck for delivery.  
Packing Slip: An itemized list of all package contents
Reshipment: A replacement shipment sent if an order is damaged, lost, or incorrect. 
Scheduled Delivery Pending: A message received when the shipping carrier is unable to make the delivery as expected and is unable to provide an alternative date
Wrapping up
And, there you have it – a list of commonly used eCommerce terms. For the best results on your selling journey, keep on top of these terms to uplevel your knowledge. Also, use the services and strategies mentioned to get inspired on things you can improve in your eCommerce business for bigger and better wins.
New to eCommerce fulfillment. Go from novice to pro with MyFBAPrep.
Leverage Automation to Make 2023 Your Best Year Yet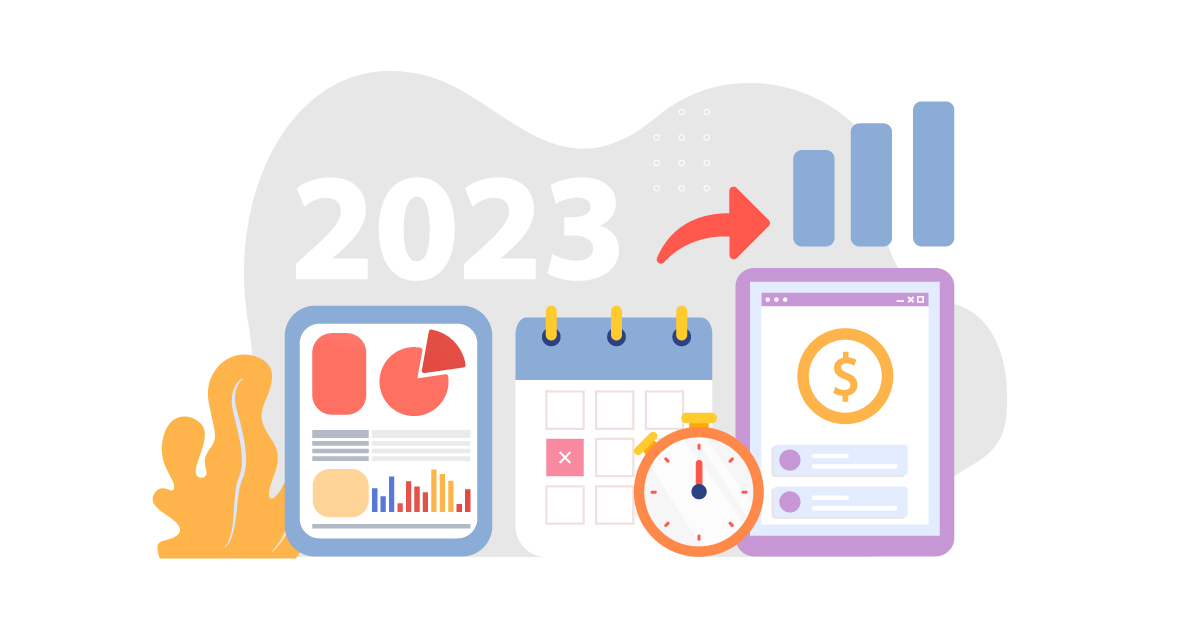 Automation has become a buzzword in the online selling community. As an eCommerce seller with an endless to-do list, you're probably wondering:
Does automation really live up to the hype?
Is automation appropriate for my growth stage?
After all, 80% of businesses that are yet to hop on the automation train believe it isn't necessary for them.
But the stats say otherwise. For example, 72% of successful eCommerce businesses use marketing automation, and 31% of businesses' main reason for using marketing automation is to improve their customer experience.
Automation can provide an excellent vehicle to get out of the hamster wheel of work to scale faster and more affordably. Below, we'll share why leveraging automation should be a priority in your eCommerce business and the key areas to automate for more success in 2023.
Got a haphazard fulfillment process? Discover how MyFBAPrep can get you organized.

The benefits of harnessing automation in online selling
You don't need to look far before you find someone singing the praises of eCommerce automation. But why? Let's break down why automation has become a favorite among online sellers.
Grow your business in your sleep
Arguably, the best eCommerce automation benefit is that it helps reclaim your time. The expansive capacity and durability of tech solutions allow you to multiply yourself in essence. As a result, your store stays productive around the clock.
For example, in lifecycle marketing, you can automate welcome email sequences, abandoned cart emails, and win-back campaigns.
Need help upgrading your fulfillment strategy? Speak with a MyFBAPrep expert.
Make your stores more secure
Security in eCommerce payments remains a big issue. Global eCommerce payment fraud is expected to hit $41 billion in 2022 and $48 billion by 2023.
With automation, boosting security in your store doesn't require manual 24-hour surveillance. From multifactor authentication to 3D encryptions, there's a growing list of tools you can use to automate security checks and prevent breaches. And thanks to the advent of AI in security, many solutions are better at spotting and predicting threats than humans.
Build stronger customer experiences and relationships at scale
We know forging stronger customer connections is a surefire way to grow your leads and sales and secure repeat business. There are just two problems; time and energy, or a lack of them. Automation can make it easier to stay in touch with your target market and develop stronger ties, even when you've got a small team.
Increase profits
As expenses like ad costs and shipping continue to rise, it's essential to find more ways to boost profits in your eCommerce business. Automation tools that improve things like customer experience, personalization, conversion rate, and ad spend optimization all help you build a healthier store and strengthen its bottom line.
Eliminate repetitive tasks from your task list
Sometimes mundane admin tasks can creep up and fill your to-do list, leaving you shuffling (virtual) papers instead of focusing on scaling. But some admin is critical to your business' success; think customer support and accounting, so it can seem like you've either got to DIY or outsource. The truth is, you don't have to do either. Automation tools can take over manual admin tasks. In turn, you'll have more downtime to mastermind your next winning product.

Must-have automation solutions for a bumper 2023
When you're just getting started in eCommerce automation, the endless options can be overwhelming. To avoid analysis paralysis, we've put together the key areas to focus on in your eCommerce automation journey to see major wins:
Sales
Sales automation involves running business-driving activities with technology to increase nurture leads,  accelerate sales cycles, and increase conversions. Some areas to automate in your sales include:
Marketing
Marketing automation covers all the tasks you find, attract, engage, and reengage leads. When done correctly, marketing automation can have a massive impact on your store's growth. Here are the top areas to automate in your marketing strategy.
Customer service
Customer service automation entails systematizing and powering tasks related to customer support. Some tools you can use to ensure peak productivity in your customer service initiatives are:
Security
Security automation allows you to implement, monitor, and upgrade your store's online defenses. From firewalls to biometrics, it's best to take a multifaceted approach to automate security. Here are some key tools to consider:
Admin
Admin automation covers all the backend tasks your business uses to operate. Some key tools to implement are
Fulfillment
Fulfillment automation involves using technology to control the movement of goods from your manufacturers to your customers and back.
Succeed with eCommerce automation
Whether you're a fast-scaling business with a small or large corporation looking to skyrocket productivity, automation is a safe bet.
Using eCommerce automation, you can scale your business without exploding your workload and, in essence  – get more done in less time, even if you've got a small team.
So investigate which areas your business could benefit from some extra attention to improve performance and start to implement complementary solutions first. Once you're getting results in these key areas, expand your automation use.
Soon you'll be able to grow your business, lowers costs, and keep customers happy independent of your time and output.
Make 2023 the year your business shines. Level up your fulfillment with MyFBAPrep.
6 Proven Tips to Improve UX and Increase Sales For Your eCommerce Store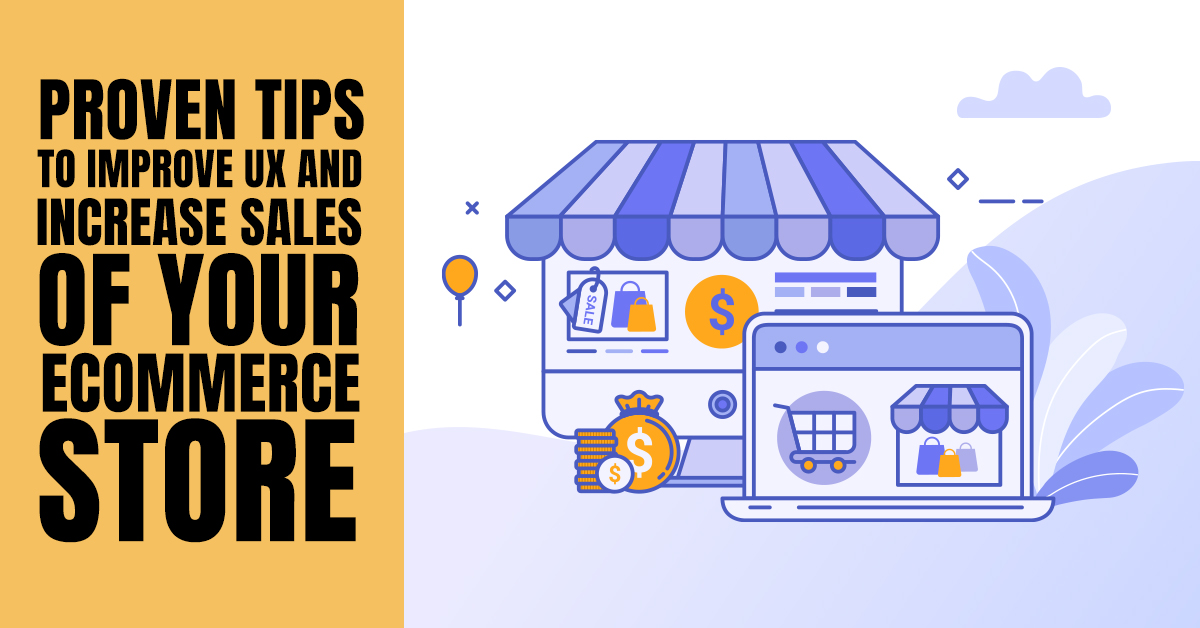 This is a guest post from Simon Walker. Simon is an eCommerce consultant with more than 8 years of experience helping eCommerce businesses generate leads and increase sales. Currently, he is the marketing manager at FMEextensions – a leading Magento development firm.
User experience (UX) is just as important for an eCommerce store as the display and interiors are for a brick-and-mortar store. It helps users browse a website, search for products, place orders, and remain connected without hassle.
User ease and comfort significantly contribute to their purchase decisions. An attractive web appearance may draw in users, but ensuring they stay and interact with features (and complete the checkout) requires a strong UX design.
If you struggle to retain users or convince them to place orders, you need to review your UX design. Below, I will share some valuable tips that can help you improve your website's UX and boost your eCommerce store's profit margins.
1. Integrate advanced navigation
When you enable customers to find products or items easily on your eCommerce store, you can expect them to place an order. One way to achieve this is to upgrade your website's navigation so visitors understand the catalog structure and can search for products in a simple way.
Navigation should require little thought on the shopper's part. You don't need to reinvent the wheel; simply follow navigation best practices so visitors can quickly grasp how to maneuver around your site.
With that being said, you can introduce some creativity by improving filters and categorizing items with logic. These can be based on type, style, design, usage, best-selling, etc.
A search option is another way to improve navigation for higher conversions: Allow users to find a product or page by typing a word related to it and receiving relevant suggestions. By suggesting the closest-matching products or landing pages, users are more likely to locate what they want quickly and continue through to the checkout.
2. Optimize landing pages
The design and layout of a landing page or product page can move shoppers further along the buyer journey or stop them in their tracks.
A key component of a converting landing or product page is photography. Invest in a professional photo shoot of your products so visitors have a clear idea about the make, model, and size. To reduce server load, you can replace product photos with WebP images. WebP is the latest image optimization technique that compresses images without compromising their quality. It cuts image sizes to almost half so the pictures load faster.
Relatedly, consider your landing page's color palette. Test different combinations to find the one that best matches your business and web design theme. Unappealing colors can discourage users from moving forward with their orders.
Also, consider each page's textual content: Revisit the product's copy to make it more attractive and persuasive; in the description, cut long sentences short so it's easy and enjoyable to read, as well as informative; add keywords to the product page as well so it ranks higher in search results.
Calls to action (CTAs) are another crucial element for your store's web pages. Sometimes, shoppers may be confused and need guidance on how to proceed with their order. With a customized CTA, you can quickly and easily move them to conversion. Again, choose appealing colors to highlight your CTA.
3. Expand product filters
Including filters to facilitate product search is mandatory. However, you can further boost its UX design by introducing more specific ones. This lets people narrow their search so they return only relevant results. Search extensions like the Magento 2 Improved Sorting make a huge difference in conversion rates.
Be sure to give attention to the display of additional filters rather than simply slapping them on a side menu. Design experts must ensure the usability of these extra filters. If shoppers find it difficult to use them, they'll ignore them, and you'll have wasted your time and resources.
Have your webmaster or eCommerce store managers keep an eye on their efficacy. Heat maps, for example, can help determine how easy it is for visitors to interact with these features. Consider the following tips as well to improve the UX of your product filters:
Enable multiple filters selection
Allow manual filter modification like price range, amount, etc.
Base filters on a logical sequence like most recent, in stock, etc.
Optimize filters for mobile screens
Display selected filters above search results
4. Simplify checkout
Checkout plays a major role in your eCommerce store's conversions. If users get stuck at any point in the process, they may decide to abandon their cart. According to BayMard, 17% of cart abandonments happen because of a complicated checkout. Other factors include difficulty in calculating order costs, compulsory user registration, and extra costs.
Look into revamping your checkout experience to secure sales and accomplish more ambitious conversion goals. You can start with autofill forms that grab users' locations like country, state, city, etc., from their IP addresses or suggest options with the help of Google Maps. This helps them easily enter billing and shipping information.
You can also accelerate the load time between multiple steps in a checkout process for a better experience. Or, modify the design and replace a multi-step checkout with a single page (if you're able) so that people fill in all details at once and submit without any load time delays or errors.
Consider waiving mandatory user registration as well so they can place orders as guests and create an account later if they want. This allows users who don't want stores to retain their data to checkout with peace of mind. Although a guest checkout option reduces user data collection, it can boost your eCommerce store sales.
5. Provide a brilliant mobile experience
Mobiles, cell phones, and other smart technology are carving out a larger presence in the eCommerce industry. In fact, mobile responsiveness has become a basic requirement for online stores. Therefore, your online store must provide a brilliant mobile experience to compete and thrive in the market.
Google has included mobile responsiveness as a ranking signal, so your eCommerce store needs to comply with mobile-friendliness standards to appear higher in search results. Incorporate mobile responsiveness in the development of your webshop and, later on, optimize it for better UX.
Review how pages look on mobile screens to ensure they're concise and on point. To target local communities, optimize your website for local searches. Help people find your eCommerce store by including target keywords.
Additionally, mobile users may expect smart functionalities like easy tap and scroll. Keep design elements accessible with tap options. Avoid making your contact form or surveys too long to answer; use checkboxes or multi-select options.
6. Integrate visual and voice search
The need to serve an increasing number of customers and preferences has made eCommerce brands expand their catalogs. As a result, shoppers have to work harder to find the right product. However, robust search and voice search offers a simple solution to this problem.
To go the extra mile, consider adding a smart visual search option for people who have images on a mobile device or computer and are searching for look-alike items. Visual search features allow shoppers to upload an image and obtain relevant results. They don't need to know an item's name, design, make and model, brand, or designer — your site's search feature does the work for them.
You can boost eCommerce store sales further with smart product recommendations. Track consumers' search and shopping history to suggest matching or related products and potentially increase their cart values.
Final words
Your eCommerce store's conversions are directly tied to the preferences, likes, and shopping behaviors of your consumer base. If you put effort into removing the hassle from their shopping experience and making it more enjoyable, you can enjoy greater success. Implement the tips discussed in this post and keep testing various design elements to maintain a helpful and converting UX that benefits both your customers and your business.
MyFBAPrep 2022 in review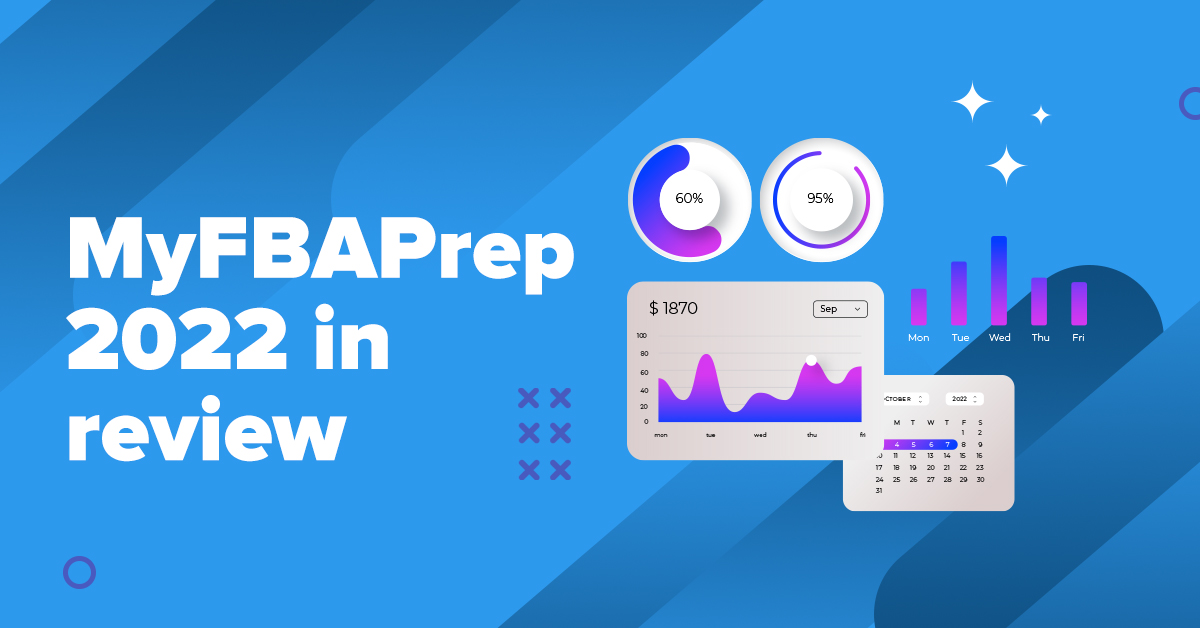 2022 was an amazing year for the eCommerce industry, and MyFBAPrep witnessed the growth through our clients and our own business. We're here with a 2022 recap to showcase what's happened over the past year.
In 2022…
$1 billion in GMV
The team processed $1 billion in gross merchandise value across our clients. We worked with an impressive brand lineup this past year, ranging from Amazon aggregators and top Amazon sellers, to DTC brands in food, health and beauty, apparel, and more.
10 million units
MyFBAPrep processed more than 10 million units in 2022, with most of that being under health and beauty, and apparel.
Check out how we blind received 55,000 units and prepped it within 48 hours. And that's just one of many projects!
30% team growth
We grew our headcount 30% from 2021 to 2022, with many of the hires coming into Account Management, and growth across product and marketing.
This means you can look forward to even more human interactions, faster response times, an enhanced Preptopia® experience, and a more standout brand.
300% growth
From 2021 to 2022 we grew our revenue 300% — that was on top of already growing our revenue 3,000% from our launch in 2019.
Thank you!
As always, all of this is possible through our customers, partners, and team. Thank you to everyone who made it such a wonderful year.
Reverse Logistics: Best Practices to Make Returns Your Competitive Advantage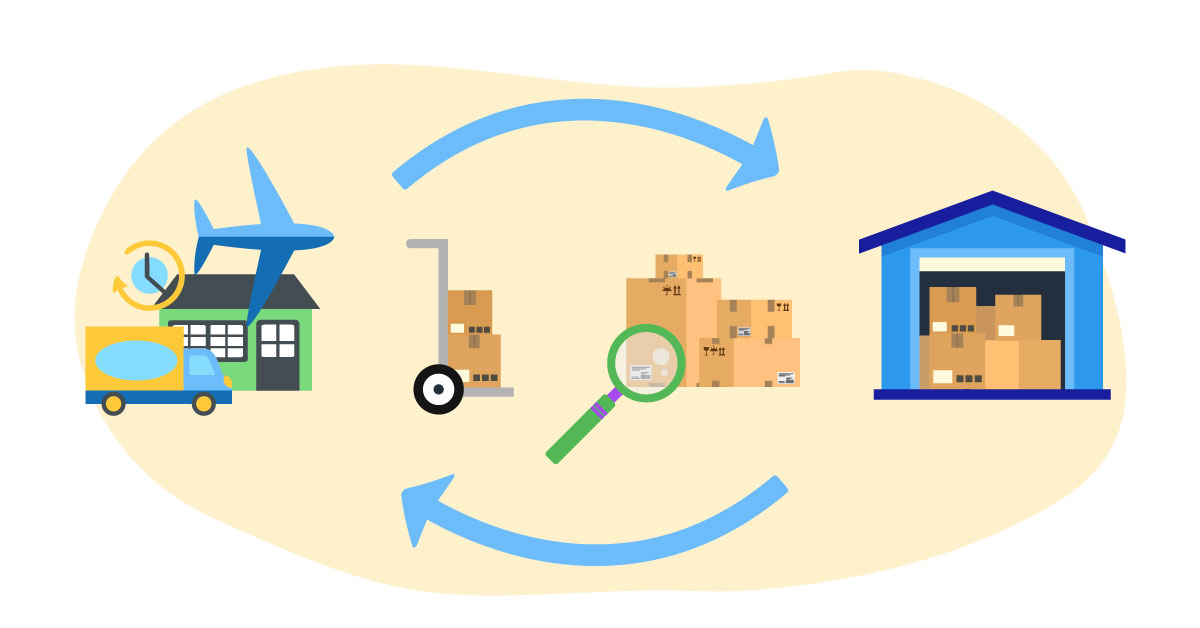 A quick browse through online marketplaces clearly shows that eCommerce is booming. Sellers and brands abound, and orders constantly pour in fast. In fact, the global eCommerce market is expected to reach $8.148 billion by 2026.
Unfortunately, the fairy-tale ending remains out of reach: Goods are regularly sent back in droves, with 30% of online orders returned on average.
If your returns stats look similar, don't despair. With the right setup, you can hone your reverse logistics to stay in your customers' good graces and inspire future sales. In this post, we'll dive into what reverse logistics is and unveil the steps to build a top-notch returns process.
Great online stores have great logistics. Discover how MyFBAPrep's solutions can help you thrive.
What is reverse logistics?
Reverse logistics, commonly referred to as a returns process, is a supply chain management feature that involves "reversing" the fulfillment process by shipping goods back to the retailer. Returns often take place through courier pickup, parcel hub drop-off, or posting items back to the business's distribution center.

The returns process: To upgrade or not to upgrade?
You'll see some telltale signs if your returns process needs refining. Let's run through the most common indications that it's time to hone your operations.
Sign #1 Customers are complaining
Time is precious, and no one likes to waste it. So, it's easy to see why 28% of shoppers cited returns taking too long as their biggest gripes, while 24% said it was being unable to track or having to repackage their returns.
Whether it's having to chase updates or meet complicated repackaging requirements, delays and inconveniences create a poor customer experience and discourage return visits to your store. So, if shoppers vocalize dissatisfaction with your returns process, it's time for a makeover.
Sign #2 The process costs more than it's worth
Just like shipping costs, returns impact your bottom line, and sometimes the resources required to process them make no sense for either party. This is why retailers like Walmart and Amazon have turned to refunding shoppers' money and encouraging them to donate the items instead of sending them back.
So, if you sell low-ticket items or goods that can't be resold for sanitary reasons, reassess what qualifies for returns.
Sign #3 Your returns process is unorganized and lengthy
If you have high order volumes or peak seasons with a small team, returns can quickly become overwhelming — and unmanageable.
So, if returns are delayed or, worse, misplaced or forgotten, you'll need to streamline your returns process stat.
Ready to upgrade your returns process? Learn how MyFBAPrep can give you a boost.
How to craft an impeccable returns process
Spotting areas for improvement in your returns logistics is a golden opportunity to land in your customers' good books. With a little effort, you can differentiate your brand and keep sales flooding in. Let's break down the steps to take.
Refine your shopping experience
No one likes returns, especially your customers. More than half of surveyed U.S. consumers said they would do "nearly anything" to avoid having to return products, and 67% stated it's the worst part of the shopping experience. Yet, in the same breath, 74% of shoppers have experienced buyer's remorse after making a purchase, and 58% admit to habitually buying more than they intend to keep (aka bracketing). Clearly, something is missing in the buyer's journey.
The moral of the story? It pays to help shoppers make smarter shopping decisions to prevent returns. So, before you jump into upgrading your reverse logistics, do some digging to learn what sparks returns in your business and when. Then, find ways to improve the customer experience and decision-making process to eradicate buyer's remorse and reduce returns. For instance, look for:
The most common reasons for returns
Products with the highest returns
Seasons or months with the greatest return rate
Products with the most instances of bracketing
Then, based on your findings, you could:
Launch an AI to help shoppers find products that best fit their needs
Improve your product descriptions, images, and videos
Implement customer suggestions and feedback into your products and website
Be open about your return policy
Honesty is the best policy when it comes to communicating your criteria for returns. It'll inform your customers of essential information immediately, reducing the number of instances when you need to step in. So, make sure your return policy is:
Clear: Provide transparency in your terms, including what you'll allow, the return options shoppers can use, when, how you'll refund, and an approximate window. Also, if you know returns will take longer than usual due to an event or season (e.g., a warehouse move or Black Friday Cyber Monday prep), communicate this upfront.
Accommodating and customer-focused: If you can afford it, offer a longer return window. Provide labels and packaging the customer will need, along with clear instructions, if necessary.
Flexible: Offer multiple ways for shoppers to send back items. For example, 61% of shoppers prefer returning goods in-store under the BIPOS trend.
Well distributed: Customers should be able to find your return policy easily. Place terms and conditions for your reverse logistics in multiple areas, including your social media website and product descriptions.
Work with a 3PL to execute returns efficiently
Backlogs in your returns process can frustrate customers and hold up sellable inventory. However, when you have a ton of tasks to manage, a slowdown is inevitable. That's the time to look into partnering with a fulfillment service like a 3PL or 4PL. The right provider can:
Pick up customer returns and distribute them to appropriate warehouses
Confirm returned orders
Check the condition of the goods
Repackage items for sale
For best results, vet your suppliers thoroughly, including asking for their performance records, testimonials, and experience.
Offer free returns (if feasible)
The customers have spoken — 81% of shoppers desire free, simple returns. To boost consumer happiness without obliterating your margins, you'll need to be strategic about how you offer returns at no charge. For example, it could be wise to adjust your pricing model, or you could provide free returns and then focus on pushing repeat orders to offset costs. Whatever approach you choose, ensure the numbers make sense.
Assess and adjust your strategy regularly
Fluctuations are common in the online shopping world. So, assess whether your returns operations match the current needs of your customers and the market.
For example, a few years ago, contactless returns had low popularity. But during the Covid-19 pandemic, they spiked and are now an included option for shoppers. "Buy Online, Return In Store" (BORIS) is also gaining ground in the post-pandemic era, with 62% of shoppers more likely to make an online purchase if BORIS is available.
To ensure your returns process meets customer wants and needs, analyze your returns data regularly and gather your customers' opinions on what you can improve.
Scaling your eCommerce business? Ensure your fulfillment is up to the task.

3 examples of stellar returns processes
Winning feature: Paperless returns with immediate payouts
The eCommerce behemoth has struck again with a returns process so smooth, it wows even longstanding customers. Amazon adopted paperless and packaging-free return options, along with payouts while goods are in transit to Amazon's warehouse and issuing returns without requiring the goods back. In short, Amazon's returns process wins time and time again.
Key takeaways:
The simpler your returns process, the better.
Reimburse returns as soon as possible.
Write off items if the return costs make resale unprofitable.
Winning features: Simple process with numerous drop-off hubs and carrier options
PLT is known for more than its fashionable clothing: Their fuss-free, paperless returns process, and readily available customer support remove the hassle of sending back items. PLT offers fast support to keep customers coming back.
Key takeaways:
Provide reusable packaging.
Go paperless for returns.
Offer multiple returns options.
Winning features: Extended return window and at-home collection
Returning a bulky item can be challenging, but Tediber has found a way to make the process painless with easy appointment booking to arrange a collection from home. Tediber goes above and beyond by allowing shoppers to try their mattresses for 100 days risk-free instead of the usual 14 days.
Key takeaways:
Adopt a flexible return policy.
Have a strategy that ensures the item is in good condition before you accept returns.
Know what you'll do with the returned items you can't resell (e.g., give to charity).
Master your returns logistics
No matter what stage you're at in your eCommerce journey, your returns process doesn't have to be stressful or complex, as that harms your brand image. With the right tools and approach, your reverse logistics can inspire customers to continue shopping with you.
When it comes to returns, prevention is better than cure. Hone your strategy to keep your margins intact and customer satisfaction high. However, returns are unavoidable returns, so build your process around your customers, making it easy to understand and simple to execute.
Provide omnichannel returns and be ready to jump in and help shoppers quickly if they decide to part ways with their goods. Put these measures in place, and you'll be able to replace those returned orders with the new traffic and sales your returns process drives.
It's never too late to bolster your returns process. Discover how MyFBAPrep can set you up for success.
Falling short: 8 Amazon FBA mistakes to avoid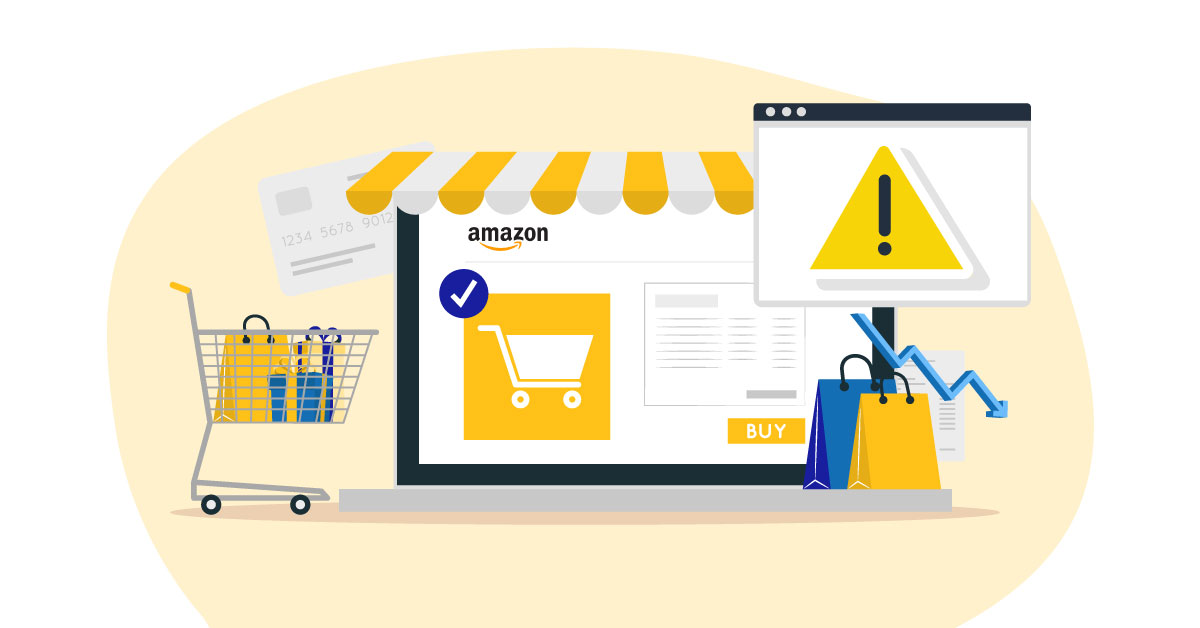 Boasting a $705.65 billion valuation, an estimated $162,360 million from first-party sales, and an expected 40% share of the U.S. market's eCommerce sales in 2022, Amazon is the epitome of eCommerce success.
While the titan leads the pack in U.S. eCommerce, getting ahead in its massive marketplace is challenging and can incur costly mistakes without the right approach.
So, what can you do to minimize Amazon selling blunders?
Despite its reputation, Amazon is no longer the platform where you can list umpteen products and make a killing. Yet many sellers simply jump in without acquiring the critical skills and traits necessary to get their stores off the ground.
In this post, we'll spotlight the seller weaknesses that lead to mistakes on Amazon and the most common errors they make. We'll also share tips and tricks to help you dodge marketplace suspensions and thrive online.
Amazon's rules are constantly changing. Stay compliant with MyFBAPrep.

8 Costly Amazon FBA mistakes to avoid
Small mistakes like using the wrong color shrink wrap on your palletized shipments or the incorrect dunnage won't hurt you. But when more significant errors cost you time, money, and sales, it's time to rethink your approach. To help you boost your Amazon selling prowess, we've broken down some of the most expensive errors to avoid.
Mistake #1 Not paying attention to Amazon's fluctuating rules
Amazon is a stickler for rules. From the category you list your product in, to the items you send to their warehouses, everything must follow a strict protocol. For example, Amazon has non-negotiable requirements about how you pack goods, detailing maximum box measurements and imposing the infamous drop test.
Amazon constantly changes, and you as the seller have to keep up. You can stay up to date on your obligations in a number of ways, such as regularly reading Amazon's Terms of Service or reviewing their Seller Central Resources for updates on essential areas like IPI scores, inventory limits, inbound shipment rules, and product restrictions. Whatever your style of consuming content and learning, develop a habit of checking and implementing the latest Amazon intel.
The strict rules may seem excessive, but they're meant to maintain a high standard for their customer experience. If you fail to meet the requirements, things can turn sour fast.
Learn what Amazon expects of you for every product type to make adequate preparations and sell the items on the marketplace unhindered (e.g., fragile, light, oversized, hazardous goods).
Top tip: Watch your emails for announcements, check the Amazon seller app for a quick breakdown of the comms Amazon sends you (and its customers), and monitor your account's health.
Mistake #2 Launching generic, copycat items
Amazon boasts 9.5 million registered seller accounts globally and more than 2.5 million active sellers — and that number continues to grow.
With increasing competition and ad costs on the Amazon marketplace, it's no longer enough to launch commonplace products. Whether it's the quantity, quality, or a game-changing feature, every product you put on the Amazon marketplace should be more enticing than what's already on offer.
Mistake #3 Failing to optimize your Amazon listings
Listings are your real estate on the Amazon landscape. They're also an extension of your ads since they act as landing pages, so they need to shine. Create an Amazon listing optimization checklist and make adjustments regularly based on store analytics and customer feedback.
You can protect your progress by using Amazon selling tools like Helium 10 to set up alerts to catch problems like intellectual property violations and hijacking.
Also, browse your competitors' listings to understand what you're up against, and review listings in other categories and eCommerce platforms for inspiration on ways to make your listings stand out.
Mistake #4 Making do with underwhelming prep and fulfillment processes
Thanks to Amazon's next-level supply chain efficiency and world-renowned Fulfillment by Amazon (FBA) service, you have to have an air-tight fulfillment process. Whether you ship via FBA, Fulfilled by Merchant (FBM), or both, you need a strategy to get and stay in stock fast, as well as have goods prepped in compliance with Amazon's regulations.
If you go the FBM route, it's wise to use shipping options that emulate what shoppers expect on Amazon, like next- or same-day shipping, time-specific deliveries, and fulfillment notifications.
Mistake #5 Being strapped for cash
It's normal for a growing brand to face cash shortages now and then, but frequent ones can stunt your business's growth. Additionally, Amazon is notorious for slow payouts and increasing selling and ad costs, so it's crucial to have access to capital to see you through leaner months.
This is especially true for Q4 prep, the holiday season, and other times when your bills for inventory and storage spike. Address cash flow before it becomes an issue.
Mistake #6 Throwing money at Amazon ads and hoping for the best
Typical ads no longer cut it on Amazon. Thanks to updates like A10 and growing consumer savviness online, you have to refresh your ads regularly to maintain their profitability. This includes assets related to your ads like a listing copy, images, and brand colors.
You'll need a productive launch strategy to attract and maintain attention to your offer. For example, you could offer a low launch price and raise it gradually (within ToS rules), using Instagram shout-outs to drive traffic and press releases to gain media attention for innovative products.
Mistake #7 Neglecting to build a brand
Some sellers fail to prioritize branding from the beginning, which is one of the most costly mistakes on Amazon.
In a sea of similar products, branding influences a customer's decision to buy from one name over another. So, brand your product packaging, build an external website, and grow a social media following to boost your business's perceived value and sales.
Pricing should also be part of your branding strategy, such as selling your items at premium prices because of their superior quality.
Mistake #8 Not building experience
"Experience is the best teacher", especially on Amazon. Complex listing indexing, affordable currency conversion hacks, and other skills take time to master, and you acquire more knowledge the longer you're in the field.
Conducting small tests, whether in your product catalog or selling territory, as you learn the Amazon landscape will help minimize your losses and allow you to invest the most capital in what works. Expanding and updating your knowledge about Amazon, including its rules, updates, fees, and tech, is essential for long-term success.

What to prioritize to achieve success on Amazon
We've identified the mistakes to avoid, so the next task is to determine the best way for you to gain traction in your Amazon selling journey. Here are some key areas and tasks to focus on.
Rule changes
Set up RSS news feed alerts for updates when Amazon makes a change or launches a statement.
Visit forums for every territory you trade in to gather intel on how other sellers manage their obligations.
Update your standard operating procedures to align with Amazon's updates.
State your requirements in brand and packaging guidelines and standard operating procedures.
Inventory prep and shipping
Delegate product packaging and order fulfillment to an experienced Amazon prep center.
Use fast carriers with excellent track records.
Offer fast and simple return options for your Fulfilled By Merchant orders.
Understand your inventory needs at different times of the year using inventory forecasting.
Keep backup stock at key locations.
Partner with local suppliers in case of emergency.
Need help getting your products Amazon-ready? Talk with MyFBAPrep.
Products and branding
Double-check that products aren't restricted or prohibited before sending them to Amazon or listing them for sale DTC.
Ensure your packaging is sturdy and protects your items.
Price competitively and use repricing software to execute adjustments automatically.
Embrace Brand Registry.
Make your name recognizable by branding your packaging, Amazon store, and social media professionally.
Offer subscriptions and bundles where possible.
Direct your external website to your Amazon store.
Marketing
Know which metrics to track in your ad campaigns.
Determine which optimizations will help you maximize ad spend.
Drive external traffic through resources like PPC, blogging, and affiliate marketing.
Pay attention to reviews and share user-generated content.
Create an ad optimization schedule and stick to it.
Money and mindset
Adopt a growth mindset and commit to scaling.
Say "no" to laziness.
Negotiate EVERYTHING, from fulfillment to stock prices.
Save six to 12 months of business expenses for emergencies.
Set aside a portion of your profits each month in preparation for Q4 expenses.
Take the right steps with Amazon
It takes strategic knowledge, commitment, and resources to thrive in the Amazon marketplace. However, many sellers become too focused on money-making tactics and forget to watch out for harmful errors.
To protect your business, pay close attention to Amazon's ToS and adjust your approach based on policy and rule changes. Choose your products wisely, tweak your marketing campaigns often, and adopt reliable prepping, packing, and fulfillment to stay on Amazon's good side.
Despite your best efforts though, you'll slip up occasionally. But mistakes are normal, so don't aim for perfection. Instead, take Amazon's lead and commit to continuous improvement in every area of your business. By investing in the aspects we've recommended, you'll circumvent fatal errors and guide your Amazon business toward success.
Ready to upgrade your Amazon store's results? Make this year your best one yet with MyFBAPrep.
11 Effective Ways To Optimize Your Shipping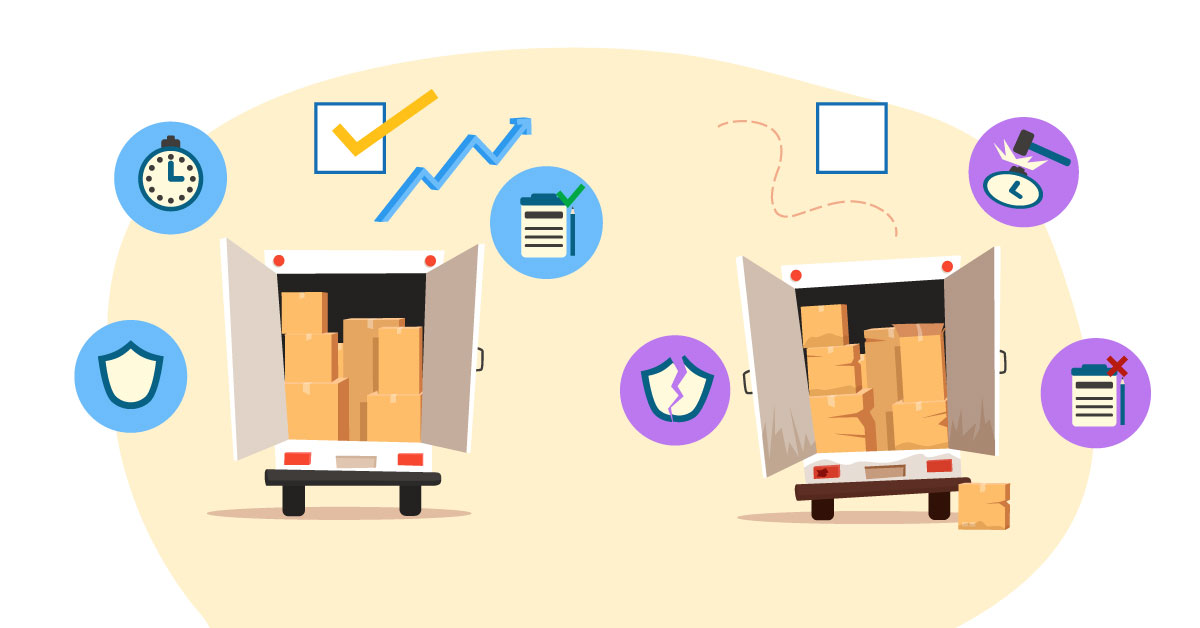 As more players enter the eCommerce market, it's essential to find ways to stand out. There's one area that online stores notoriously neglect that can give your brand a competitive edge; fulfillment.
Just 28% of people surveyed by DigitalCommerce 360 said they were completely satisfied with their online order delivery experiences. Clearly, there's a lot of room for improvement, but you may be wondering how to go about it.
We've got you covered. In this post, we'll share why upgrading your shipping is always a good move and the best ways to make it happen.
Is your fulfillment option causing problems? Get a makeover with MyFBAPrep.

Why optimize shipping anyway?
Optimizing backend processes may seem like a task to complete when you've got more time on have outgrown your existing ones, but this couldn't be further from the truth. Acting now to uplevel your fulfillment can pay off in many ways. Let's explore a few:
Save cash to invest
Poorly executed shipping and expensive carriers cause businesses to bleed cash. This wastage creates an opportunity cost since you could invest this cash elsewhere in the business to scale. Conversely, the more capital you save on shipping, the more you'll have to invest.
Drive more sales
A great shipping experience isn't just beneficial for customers, it makes your business more memorable. This, in turn, makes it easier to sell more goods to these customers and boosts your bottom line.
Improve supply chain efficiency
An optimized supply chain keeps service consistent and high quality and has positive knock-on effects on your business. For example, you can clear goods through customs, restock items, launch new offers, and manage returns efficiently and cost-effectively.

11 Strategies to uplevel your shipping process
No matter your operation size, there are some actions you can take now to build a phenomenal shipping experience. Let's dive into some ways you can improve your fulfillment:
1. Streamline stock receiving process
On the surface, receiving inventory may not seem like a factor that can impact shipping, but backlogs in receiving inventory can cause delays in restocking and ultimately sending goods to customers. So, analyze your existing process, and remove unnecessary steps in your unloading and stock count. You could use robotic process automation to receive and arrange stock shipments.
For example, brands like Amazon and Walmart are investing in warehouse automation to streamline supply chain management, fulfillment, and logistics. This includes tasks like receiving, sortation, and retrieval.
2. Revaluate packaging for internal and external shipments
Ever received an oversized box containing a small item or a package excessively wrapped with bubble wrap? It's not ideal. These scenarios not only leave customers perplexed, but they can increase your shipping costs and waste. It's also essential to use the right dunnage for the transportation of your goods to and from warehouses and in customer packages to protect items from damage. Some tips include:
Establish criteria and standard operating procedures for outer packaging selection.
When shipping goods to your warehouse, optimize shipment weights at the point of loading.
Bulk ship items to your warehouses when spreading stock.
3. Upgrade your prep and pack process
The faster your prep and pack process, the faster you can dispatch orders. So create packing processes with the most efficient methods for creating. Here are some tips to optimize your prep and pack:
Create standard operating procedures for each product's packaging requirements and distribute them among manufacturers and staff.
Train staff on how to create and pack each product type you sell.
Work with one manufacturer to get labeling outer packaging.
Pre-packing certain items ahead of time in preparation for shipment and storing them in.
Ship and store pre-packed items in key locations.
 4. Work with an experienced multichannel fulfillment provider
If organizing and shipping orders internally don't work for you, there's another way to build a top-tier shipping process. Use a fulfillment partner that covers multiple channels and steps such as prep, pack, delivery, and returns. The fulfillment provider should also have:
Experience in managing the products you sell
The facilities, equipment, and staff to execute
Warehouses distributed in key locations
Reliable carrier partners
For example, at MyFBAPrep, we have 50+ warehouses globally, offer 3PL and 4PL services, and can handle any volume. We've also transformed a shipment of 50,000 dog bones into individual packs with J-Hooks and hang tags. Plus, our team customized the prep process by making custom plywood tools to boost productivity and maintain high hygiene standards.
5. Consider zone skipping
If you've got high order volume and ship to specific regions regularly, shipping options like zone skipping can come in handy. Zone skipping is a fulfillment method that involves sending a large number of packages (by truckload or less-than-truckload) to a carrier's parcel hub, which is close to the parcel's final stop.
Many retailers and eCommerce brands engage in zone skipping because the practice of skipping carrier zones allows them to save costs and get goods to customers faster and easier with less product damage.
Before you sign up with a carrier, ensure:
They have experience in zone skipping for your product type
The cost and time savings are worthwhile
Have resources to build the right prep and dispatch setup
6. Offer subscriptions
If there is one shipping service shoppers love, it's subscriptions. The market rocketed to more than $23.18 billion in 2021. Work out the products shoppers buy the most, along with the typical buying frequency and quantity, and use the information to guide your offers.
To get your shipping right, you'll need tech solutions to share customer data and produce order reminders seamlessly. Solutions like Nexer, ReCharge (for Shopify sellers), and Subbly,
You'll also need to find ways to fulfill orders fast, especially if you pack and send subscription boxes once a month. For example, you could assign specific days to prep outer packaging boxes and educate staff on efficient packing methods.
7. Present shipping multiple options
Shipping costs can be the difference between whether someone buys or walks away. 54% of shoppers have abandoned an order due to delivery costs. Also, 70% of people consider free shipping to be the most important factor, followed by shipping speed and delivery options (43%) when considering delivery from retailers.
In the same breath, costly carriers and fulfillment strategies can wipe your margins, so it's important to find a balance between customer wants and keeping profits. For example, you could offer multiple shipping options that match customer needs, e.g., free, expedited, BYOP, and price shipping and returns costs into your products. You could also look for the most cost-effective delivery channels.
Shoppers are ready to buy. Is your store ready to ship? Get your fulfillment process.
8. Make tracking goods a memorable experience
Did you know 24% of buyers will abandon a cart if delivery dates aren't given? Tracking orders is important for both parties. But when it comes to customers tracking shipments should be an exciting experience that builds anticipation and reduces buyer's remorse. Here are some ways to keep customers engaged during the delivery process:
Share the parcel tracking number within 24 hours
Provide updates on where their order is
Show time slots on when the order will arrive in their neighborhood
Offer an hour's notice of delivery and driver details or allow shoppers to book delivery slots
Share photos of where the item was left
Share tips on how they can use the products bests
Encourage shoppers to share content on receiving the parcel and unboxing items.
Massive growth on the horizon? Level up your fulfillment strategy to maximize results.
9. Distribute clear shipping terms and conditions
Not knowing what to expect from a company can be frustrating and blindsiding. So be upfront about your terms and conditions, especially during peak season.
Share updates to your shipping schedule in multiple areas, so regulars become aware of any changes, and place your terms and conditions in multiple high-traffic areas to increase visibility.
 10. Optimize stock storage location to reduce shipping times and costs
Going out of stock slows down your shipping process and forces you to rush in orders which cut into your margins. To avoid this scenario, it's critical to optimize your inventory and shipping, so they work together to keep optimal stock levels.
Store goods close to demand and in quantities that will match sales velocity.
Have buffer stock in key areas.
Choose carriers that can offer fast and affordable transportation to hubs and shipping to customers both internationally and domestically. (Note: shipping charges should reduce as your order volume increases).
11. Make your returns process painless
Your eCommerce business' reverse logistics process is just as crucial as your outbound shipping. The right strategy would inspire shoppers to give your brand another chance even if the product wasn't the right fit. Offer multiple stress-free options like Buy Online Return In Store (BORIS), paperless returns, and locker drop-offs.
To keep your returns operations economical and efficient, it's critical now which products make sense to return to your warehouses and which products can be written off a loss without requiring them back. It's also important to know what you'll do with goods once they are returned. E.g. refurbishing and selling them on an alternative marketplace.
Power ahead with streamlined fulfillment
Shipping offers your brand the chance to shine and make operations more profitable. Also, the better your shipping experience, the increased likelihood that customers will return. So, take advantage of this opportunity. Step back from your current operations and pinpoint the areas that need work. Ask customers for feedback and onboard reliable shipping solutions, and start your optimizations in areas that'll have the most impact first. Take action, and soon, your fulfillment will be running like a well-oiled machine.
It's never too late to uplevel your fulfillment process. Learn how MyFBAPrep can set you up for success.
10 Critical Questions to Ask Before Choosing Your Fulfillment Partner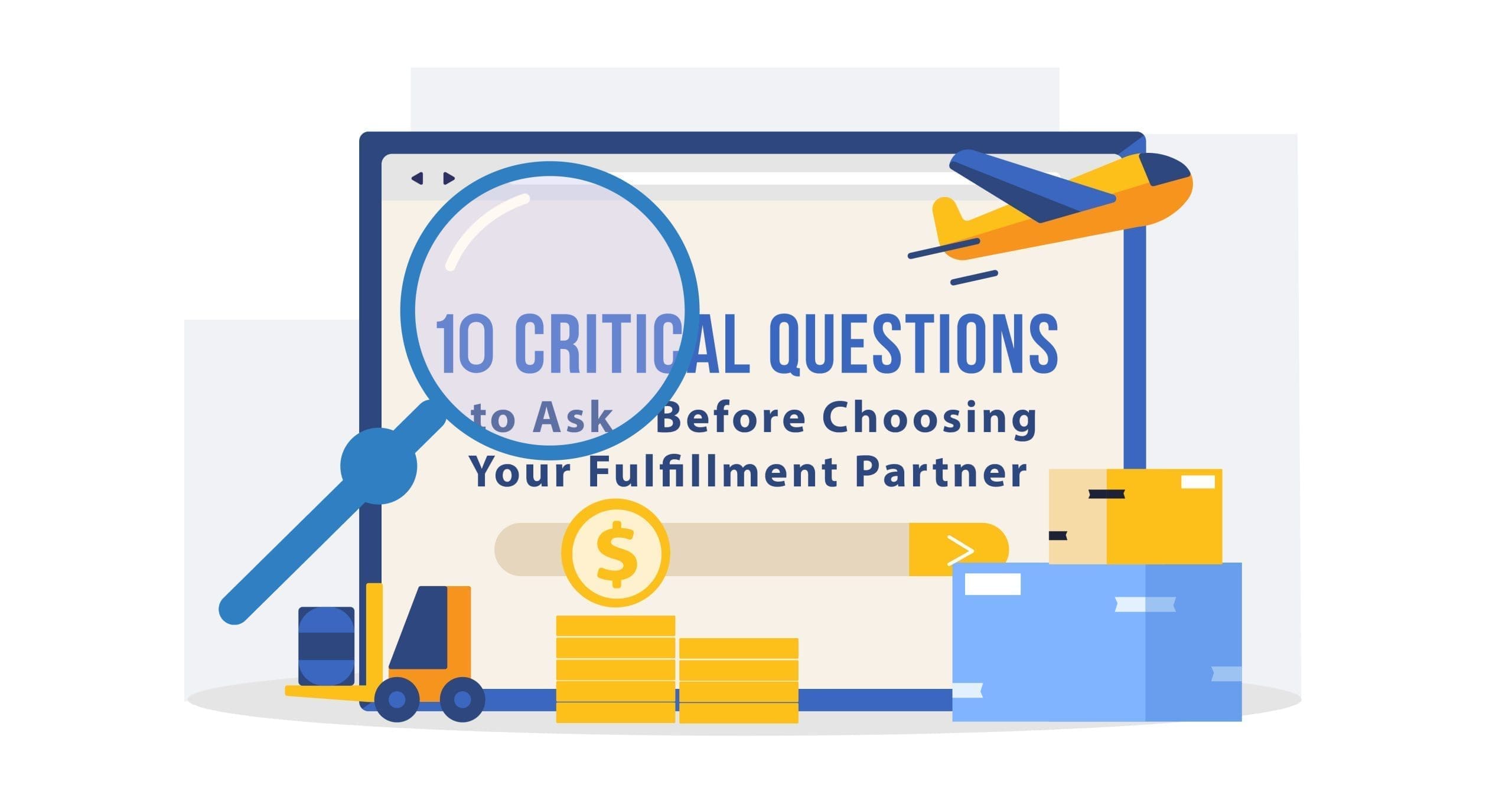 Fulfillment is an important consideration for buyers. They judge companies based on the speed, cost, efficiency, and trustworthiness of their shipping and return options — and they have high expectations. So much so that over 90% of shoppers expect their items in less than a week. Moreover, 53% of shoppers have canceled an order when they found shipping to be too slow, and 54% due to expensive fulfillment.
Needless to say, your fulfillment process is a huge deal and will play a critical role in your brand's long-term results.
So, how do you get started on your search the right way?
Today we'll shine the floodlight on the best questions to ask when looking for fulfillment services to ensure you find the right fit.

The real reasons why brands struggle to find their fulfillment match
Picking the right fulfillment partner is a long process, but there are some common mistakes businesses make that can prolong and increase your costs.
Rushing the process
It can be tempting to sign up for the first deal you see with little research to back up your decision. But "slow and steady wins the race" when searching for fulfillment services. Ideally, the fulfillment partner you choose will be with you for the long haul, so you should take your time.
It's a worthwhile investment to assess your options diligently before committing. Set aside time in your schedule to give the search your full attention and thoroughly evaluate your options.
Not knowing what to look for
No matter how many years they've operated or awards they've won, no fulfillment service is perfect and offers everything.
Every business is unique, which means the services and turnaround times you need from your fulfillment partner will be unique as well.
It's vital you know what the green and red flags are when searching for a partner. This approach will up your odds of finding your ideal match. Consider your budget, products, trading territories, services required, and the desired fulfillment experience before searching.
Tip: While it's important to find a service that provides good value for money, if a deal sounds like it's too good to be true, it probably is.
Having unrealistic expectations
It's critical to enter the search with a clear understanding of what services are reasonable to ask for from a fulfillment provider.
For example, if you value ownership, you can ask for more insight into the warehouse processes. A fulfillment partner should be happy to take you on a warehouse tour to see how your inventory will be handled, and most should have a warehouse management system that provides real-time visibility into where your inventory is at all times.
However, you cannot hire your own warehouse manager and expect a 3PL to put them in charge of their entire warehouse.

10 Questions to ask before you select a fulfillment partner
1. What processes do we need to outsource?
Assess your fulfillment obligations, including prep and pack, warehousing, and shipping. Remember to add the tasks that aren't mission-critical but either take up too much of your team's time or are simply tedious and unenjoyable.
Action points:
List the fulfillment tasks you need.
Consider tasks you may want to outsource in the future.
Assess the fulfillment options your competitors offer to gain an idea of what you're up against.
2. What are our fulfillment needs?
Even if a company sells identical products, its fulfillment needs can differ greatly depending on things like internal processes, capacity, and budget.
Be specific about what characteristics and assets you want in a fulfillment service. You could look at:
Experience
Pricing
Transparency in processes
Setup offered (e.g., flexible or fixed logistics)
Order volume capacity
Storage capacity
A variety of services offered
Take note of any storage, packing, and transportation requirements. Also, acknowledge your current customer shipping expectations (e.g., two-day shipping and free, paperless returns). If you aim to target new markets, research shipping options and expectations in those regions.
Action points:
Understand your customers' shipping wants and needs.
Pinpoint essential characteristics your fulfillment provider must accommodate.
Research your target customer's shipping expectations in territories where you aim to sell.
Ask if the provider can inventory-related initiatives like back orders, presales, and subscriptions.
3. What's our budget?
To receive realistic quotes, it's vital you establish a healthy budget that reflects the fulfillment services you need. If you have a small budget, it's okay to start small. It may mean outsourcing only a few tasks until you have more capital to work with and add as you go.
It's important to know upfront the costs of fulfillment services and materials like dunnage, shipping boxes, and custom packaging for your order volume and shipping requirements. The offer should then go into a service-level agreement (SLA).
Action points:
Shop around to gain an idea of the typical starting price for the services you need and the type of fulfillment provider you want to work with.
Create a shortlist of potential providers based on who can provide the best value for the money.
Gather quotes from your shortlisted fulfillment service providers.
4. What information do we need from the fulfillment providers to make an informed decision?
While you can uncover certain things on your own, like reviews and testimonials, you'll need to request other information directly from the fulfillment provider (although some details may be proprietary).
This can include performance data (e.g., on-time shipment rate, error rate, and inventory damage), closed case studies from businesses in your niche, insurance documents, and samples of standard operating procedures they use for items like yours.
Action points:
Know what data you need, using your internal processes, executive team's requests, and past experiences as a guide.
Request the information you need from Sales, Customer Support, or Management.
5. What tech integrations do we need?
From CRMs and inventory management software to sales and social media channels, every business has the essential tech tools they need to operate. Before you sign on the dotted line, learn whether the fulfillment provider can accommodate your preferred stack.
Action points:
List the software you wish to integrate.
Inquire whether the fulfillment provider accepts these tools for integration.
Ask how much data you can export from existing tools.
Understand the downtime involved in integrations.
Ask whether it's possible to integrate tools not on their current integrations list, how much it'll cost to execute, and how long it'll take.
6. What shipping services are must-haves?
Efficient and affordable transportation of goods from manufacturers to warehouses and then to customers is critical. So, enquire about the provider's logistical capabilities to ensure they match your needs.
For example, if you sell in multiple territories, ask if they have access to a freight network and contracts with various reputable carriers to act as first-, second-, and third-line options.
Action points:
Understand your average inventory turnover rates.
Know the average time it takes to ship goods using your chosen transportation method (e.g., by rail and road).
Ask the fulfillment service about the shipping types they offer and their costs.
7. Is the fulfillment provider tech-driven?
From AI product sorting to live inventory tracking, digital transformation is sweeping the fulfillment industry. A company that's serious about driving efficiency, speed, and productivity for its customers should be invested in technology. This could be analytics to track inventory levels, bots to handle boxing, and more. Continuous improvement should be an ongoing priority of theirs.
Action points:
Find out what tech stack the fulfillment service uses.
Enquire which services are executed manually and why.
Ask about pending technological improvements and when they'll go into effect.
8. What security measures are in place to protect our inventory?
Counterfeiting, theft, tampering, and tech malfunctions pose huge risks to your business. Your fulfillment provider must have robust security systems to keep your inventory safe, no matter where it is in their ecosystem.
Action points:
Ask whether the fulfillment provider has 24/7 security and if so, how robust it is (e.g. how many guards oversee the facility and do they have quality video surveillance and alarm systems).
Find out if they have temperature and fire control systems in place.
Investigate how many security issues they've had in the past year and how they resolved them.
9. What are the service level agreements you must adhere to?
Each sales channel has its own service level agreements (SLAs). This helps to protect the buyer experience by ensuring items are delivered on time, accurately, and reliably.
You want to find a good logistics partner that matches where your supply comes from and where your consumers live.
For example, if you're based in Florida but your shipments come into California, look for a partner that has a California warehouse so you don't have to truck items all the way across the country before you start prep. Likewise, if many of your customers live on the East Coast, you'll want a partner that can store inventory nearby for fast deliveries.
Action points:
Ask about a fulfillment provider's service level agreements when it comes to turnaround time and delivery reliability.
Find out what holidays they take that might interrupt regular delivery hours.
Enquire about their delivery rates for other merchants and how they meet SLAs on different sales channels.
Learn if there's a communication channel in place for emergency support.
10. Can a provider support international expansion?
As brands look to scale and expand their businesses, cross-border selling is quickly becoming a must.
Many brands are eager to reduce risk through territorial diversification, accelerate sales, and increase brand notoriety. So, look for a provider that can help you execute cross-border strategies affordably and efficiently.
For example, at MyFBAPrep, we have a warehouse network of over 50 warehouses and partnerships with some of the world's most trusted freight and logistics companies like SEKO.
Action points:
Ask what cross-border services the fulfillment provider offers.
Find out how much it costs to ship goods to the countries you receive the most orders from.
Determine pricing and timelines for shipping by region and item size/height.
The right partner is worth the effort
Finding a fulfillment partner that's the right fit for your brand can be a research-intensive process that requires significant time and resources. But when you're armed with precise information, you can sidestep mistakes to identify your ideal match faster.
Create a partnership framework with our questions, approach potential providers, and set up tests to verify assumptions or dispel any concerns. With a reliable fulfillment provider, you'll have optimized shipping solutions at your disposal, and your customers, staff, and bank account will thank you for it.
Open Role: Marketing Distribution Manager
This is a contract role with an estimated time committment of 10-20 hours per week at $20-30/hour.
The marketing distribution manager will own our content distribution channels, including the newsletter, social media channels, and communities. They will work with internal and external shareholders on a flexible timezone to ensure every piece of content is shared out according to tiers of importance. They will report to the director of marketing, and manage and organize the social media, newsletters, and amplification Asana boards.
Responsibilities:
Plan, coordinate, and execute content distribution strategies.
Monitor and manage engagement on our online channels.
Own the social media and newsletter as main distro channels.
Research and post to communities such as Quora to share MyFBAPrep perspectives and resources.
Collaborate with partners to help our joint efforts, such as guest blogs and webinar content, go further.
Write compelling newsletters that share our latest blogs twice a month.
Upload the latest newsletter links to the website to keep our newsletter page updated.
Work with our account management team to ensure social media messages are responded to in a timely manner.
Track distribution and engagement ROI and report regularly to the director of marketing.
To apply, please email rachel@myfbaprep.com with the subject line "Marketing distribution manager candidate" and share your experience handling content distribution across online marketing channels.
No agencies or recruiters please.
Thank you!