What do NASA, Kroger, and the BBC all have in common?
Showstopping content marketing strategies.
Using blog posts, videos, and everything in between, these brands have cracked the code on capturing the hearts and wallets of their target audience with show content.
And it's easy to see why.
Not only are there 5 billion digital users and 4.65 billion social media users globally, but content marketing also generates 3x more leads than outbound marketing strategies and costs 62% less. Yet many brands struggle to create engaging content that generates leads consistently. If this sounds like you, don't fret. You can team up with an eCommerce content marketing agency.
In this post, we'll dive into what a content marketing agency is and discuss whether they can help your eCommerce brand get ahead. We'll also share some top content marketing agencies for eCommerce businesses.
Don't wait for your store to hit its next growth stage. Refine your fulfillment strategy with MyFBAPrep now for a smoother ride.
What is a content marketing agency? And what does it do?
A content marketing agency's job is to spread the word about a business, increasing your brand's perceived value, driving engagement, and closing sales.
Content agencies create content at every stage of the buyer's journey to inch shoppers closer to hitting "buy" with every interaction. Some assets a content marketing agency can create include:
Videos
Blog posts
Product descriptions
Web copy
Ad copy
And much more.
Taking your brand to the next level? Ensure your fulfillment processes are fit for the task.
Benefits of working with an eCommerce content marketing agency
With popular marketing vehicles like pay-per-click advertising and influencer marketing to choose from, it's easy to question whether content marketing can help grow your eCommerce brand. The answer is a resounding "yes".
Let's explore some ways content marketing can help you build a better brand:
Increase your content output
Let's imagine you decide to start a blog. You'll need at least 1-2 blog posts per week with relevant keywords. Then you'll need to mix in other content assets like social media posts, explainer videos, and how-to tutorials to accommodate how people like to consume content.
The time, energy, and skills required to produce these successfully can't be understated. It also becomes tempting to put off content creation during busy periods, slowing down your momentum. Luckily, when you're partnered with a content agency, you can ensure that the work gets done no matter what.
Get more eyeballs on your offers
In today's digital age, hoppers are glued to screens more than ever, 7 hours and 4 minutes per day to be exact. So, attention is currency. This fact provides a huge opportunity to get in front of your target customer, earn their trust through helpful content, and secure more sales.
Build brand authority
Being on multiple platforms with engaging content can educate shoppers on how your product can help them and improve its trustworthiness and authority in your target customer's eyes. As your brand authority grows, you can become the go-to advisor in your niche, increasing your conversions.
Great tech builds great online stores. Discover how MyFBAPrep's solutions help you thrive.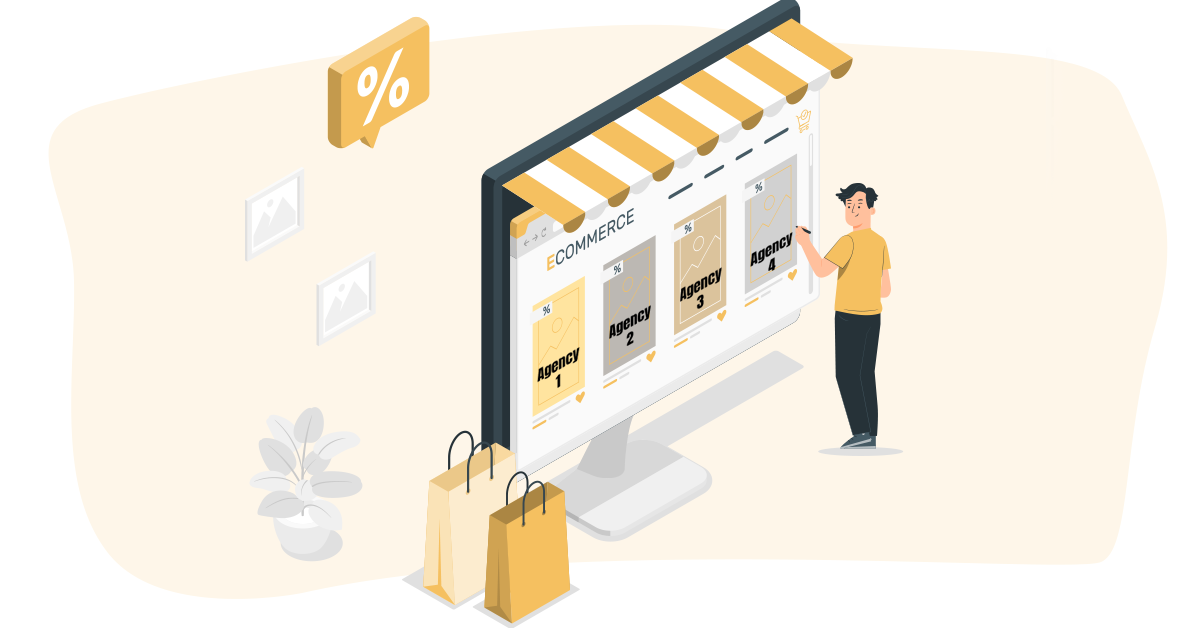 7 Qualities to look for in an eCommerce content marketing agency
While every eCommerce marketing agency will have its own quirks and specialties, there are some universal characteristics you want to look out for to increase your chances of picking a winning agency. Let's look at a few:
1) Creativity
Whether you're promoting products on TikTok, launching new product descriptions, or split-testing web copy, eCommerce content needs to be eye-catching, engaging, and in line with the times.
Finding an agency with a creative eye and knowledge of what's hot and what's not is vital to remain competitive. Your content marketing agency should constantly test new asset types, topics, and tactics to keep content fresh and the lead pipeline full.
2) Experience
It takes different skills to create compelling content for a B2B insurance broker or SaaS company than for eCommerce stores. Relevant experience is essential to know what shoppers want to see now and predict what will be appealing in the future. Experience in crafting winning eCommerce content will also allow the agency to create content that appears native to the marketing platform and has the capacity to outdo competitors.
3) Transparency
Transparency is essential for your content agency partnership to flourish.
Your eCommerce content marketing agency should be willing to share crucial project details. This is to help you understand how they'll execute their duties and determine how to measure success. For example, the agency should reveal:
The strategies they will use on your account
Past results
Campaign performance
Fee structure
4) Excellent communication skills
Communication keeps the wheels spinning on a project, whether it's a short, one-off gig or a long-term, large-scale project. So, look for clear, consistent communication in your initial interactions with a content agency. Also, sift through reviews for information on how they've communicated with past clients.
5) Ability to meet deadlines
Consistency is essential to building a successful content marketing strategy. A reliable agency should help you establish a predictable workflow, meet deadlines, and implement tactics to ensure content launches on time. For example, if you need weekly blog posts, they should work and could even help you build a content pool you can pull from if a content asset needs more time to create.
6) Track campaign performance
"What gets tracked, gets measured." Reputable content marketing agencies will subscribe to this sentiment. The agency you pick should not only track results through custom-picked KPIs. They should also keep you informed on their through clear reporting.
7) SEO-optimization skills
Search Engine Optimization (SEO) plays a critical role in amplifying your content and pushing organic content to your store. Look for an agency that understands the value of SEO and can help you craft and implement a comprehensive SEO strategy in tandem with your content strategy.

4 eCommerce content marketing agencies to watch
Finding a suitable content agency starts with good, old-fashioned research. This vital step can make or break your content marketing success, so make it a priority from the start. To launch your search mission, here are 4 eCommerce content marketing agencies to look into:
Best known for: Creatives, Email Marketing, SEO
Common Thread is a full-scale eCommerce marketing agency with an eye for content that grows businesses. From email marketing to SEO, this agency's expansive skill set and belief in connecting the dots across marketing platforms ensures stores see huge returns.
Never a brand to shy away from giving valuable advice upfront, Common Thread offers a free content audit to set the stage for success with their brand.
Best known for: Content creation, PPC, and Web Design
Fluid Commerce is all about helping you create strong branding and sales across marketing platforms and shopping channels. Using agile content strategies, regular split testing, and web design.
As its name suggests, Fluid Commerce helps brands say "no" to rigid marketing strategies, helping create relevant content that keeps up with the fast-paced, ever-changing eCommerce world. If your site runs on Adobe Commerce (Magneto 2), you're in luck as Fluid Commerce sites this platform as one of its strong points.
Best known for: SEO, PPC, and Web Design
Dubbed digital growth experts, SEO Works has been helping eCommerce brands get a foot up the rung using top-tier SEO services for over a decade. From content-driven SEO to award-winning PPC campaigns, this agency thrives from using a data-driven approach to drive traffic and sales.
SEO Works has achieved impressive results like a 557% uptick in online revenue on a project and an all-star client list, including brands like Decathlon, Denby, and Lowe alpine.
Best known for: Full-scale eCommerce Marketing
Blending content marketing, email marketing, CRO, PPC, and Paid Social, Inflow is on a mission to help online stores scale sustainably.
Once signed up, each client gets a custom strategy and help from specialists to get more eyeballs on their products, increase sales, and keep shoppers coming back for more. 
InFlow's multifaceted approach to content marketing is working a treat. They now boast a 97% customer retention rate and 134% increase in Ad revenue as just a few of their wins. So, if you're looking for a content agency with a solid track record and extensive experience, InFlow could be just what you need.
Win big with eCommerce content marketing
Working with a reputable eCommerce content marketing agency is an effective way to scale up content production, drive engagement and improve your lead generation. So, be on the lookout for the tell-tale signs of a great content agency like experience, communication, results monitoring, and a creative eye.
Be open to trying new ways to market your business with content and allocate funds to sufficiently test strategies. Soon, your business will be on the path to profitable content funnels, bigger paydays, and an ever-growing audience.
Ready to level up your eCommerce business? Learn how MyFBAPrep can help.