There was once a day when TV commercials ruled the world. Over-the-top production quality, crowd-stopping visuals, and emotional storytelling were common methods brands used to grab people's attention.
These days, people have grown numb to disruptive advertising techniques. Consumers want meaningful connections. They want to know brands care. As such, we've seen a dramatic shift toward personalization and community-building.
The secret sauce for DTC success is to create an immersive experience for consumers. Running a DTC brand is about more than selling products. Flourishing DTC brands curate the entire customer experience. Things aren't slowing down either. This is just the beginning of the DTC takeover.
If you want to build a champion DTC brand at every step of the customer experience you need to build an affinity with your audience. In this article, we're sharing our favorite strategies for building a strong DTC community.
How DTC brands differ from traditional retailers
The key difference between DTC and traditional retail is that DTC cuts out the middleman.
The traditional method of selling products relied heavily on go-between solutions for manufacturing, marketing, and sales. DTC brands, however, favor direct relationships with their suppliers and customers.
Rather than relying on out-of-home (OOH), television, or magazine ads, DTC brands reach customers directly through online mediums such as social media, YouTube, and podcasts.
Traditional retail tends to focus on the product experience and selling as many products as possible. DTC prioritizes the entire customer experience. They want to create a favorable experience every step of the way, not just at the point where people are ready to purchase. It's evident that DTC is more focused on community and loyalty than one-time purchases.
Another key priority for DTC is hyper growth. Traditional brands often rely on longevity and brand heritage as an indicator of quality. Yet, brand age no longer holds as much value as it once did.
Tactics such as personalization, AI chatbots, reactive campaigns, and increased product development are some of the ways DTC brands are innovating at a faster rate. With increased innovation, these DTC brands are overtaking traditional brands on the road to hypergrowth.
Community + Loyalty = The secret to DTC success
Community and loyalty are arguably the secrets to running a successful DTC brand.
Consumers are more likely to be loyal to brands that offer higher quality products than competitors. Yet product quality isn't the only influential factor over brand loyalty. Many consumers will stay loyal to a brand if they feel a strong sense of community.
Community-building is one thing that DTC brands get right. From a brand perspective, community-building means capturing customer loyalty with interaction and engagement. Loyal brand communities can be built naturally through customer reviews, feedback, and forums. These communities can also be curated through smart community-building strategies. Curated brand communities create a sense of exclusivity where community members feel like valued insiders.
Building brand communities also provide a coveted space for customers to share their feedback, wants, and challenges. These consumer insights can be used to tailor your brand to your ideal audience's expectations and desires.
6 community-building strategies for DTC brands
Don't leave community-building up to chance. Leverage the secret power of engaged brand advocates by tapping into these tried-and-test strategies for building strong DTC communities.
Get to know your audience
First things first, you need to understand your audience. If you don't know who your audience is or what they care about, you won't be able to create the product, content, or experiences they love.
Find out what makes your target customers tick by conducting audience research. Interview customers and carry out surveys to get to know your buyers better. Speaking with your customers and target audience is the best way to unearth their desires and challenges. 
Talking to your audience also offers an opportunity to optimize your brand tone of voice — how do they speak? What's their emoji use like? What phrases and slang words do they use? What would they never say?
Focus part of your audience research on uncovering the brands and channels they enjoy. If your target audience hangs out on TikTok, you know to add this channel into your marketing strategy. Looking at the other brands they engage with presents an opportunity to analyze these brands and find out what it is that people love about them. 
Let your audience guide your brand strategy by focusing on adding value to their lives. Everything from product development to tone of voice, marketing campaigns, sales messaging, and design can be led by audience research.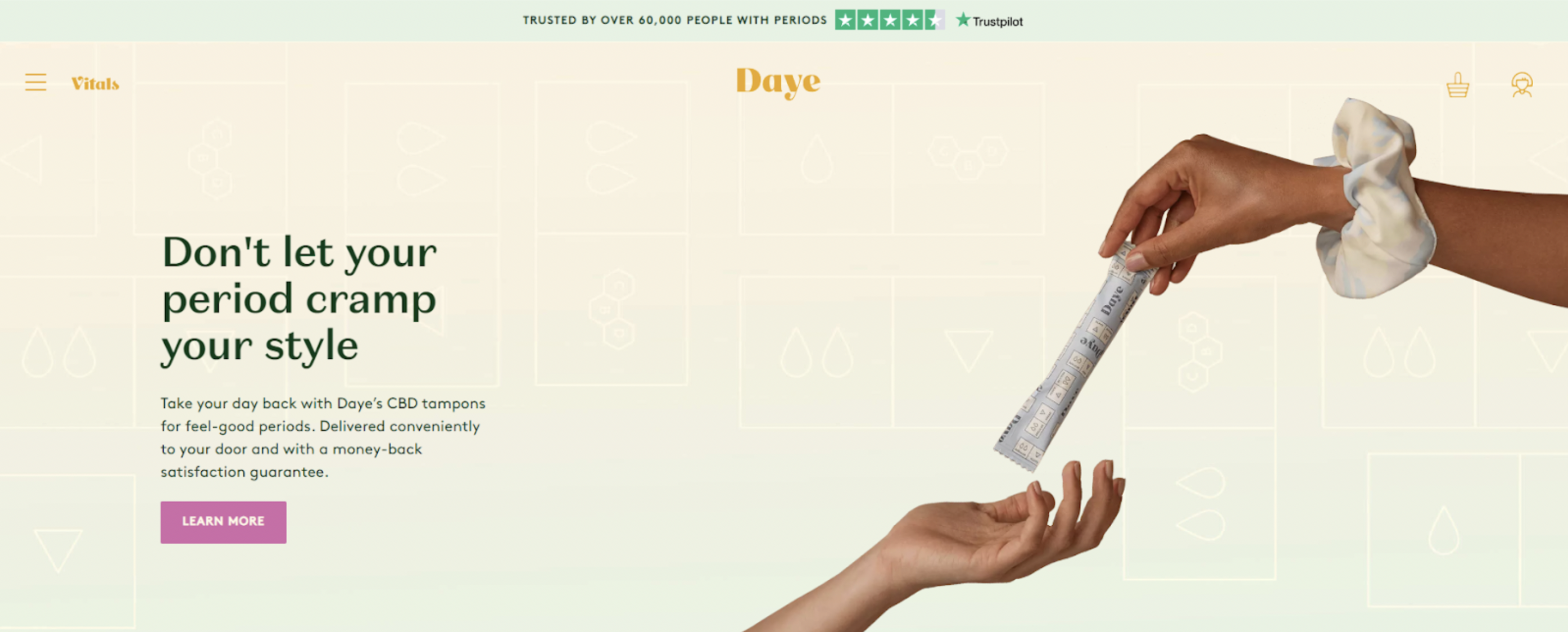 Daye, a CBD tampon brand, is a DTC brand whose strategy is led by audience research. Daye goes beyond product-led marketing. Instead, they focus on sharing content informed by audience interests and values — sexual health, culture, and innovation. Being an active participant in these conversations allows Daye to show their audience that they care. 
Daye also collaborates with other brands that are affiliated with their target audience. Partnering with Squish beauty, a purveyor of acne patches, allows Daye to increase their appeal to its younger audience members. Daye and Squish can use this collaboration to bolster both of their communities.
Content-wise, Daye can be found sharing relatable memes, educational threads, and empowering messages as a way to tap into audience interests.
Hone in on word-of-mouth recommendations
Word-of-mouth will likely always hold the reigning crown as the most powerful marketing tactic. Yet, how word-of-mouth looks will change over time. 
Where word-of-mouth once focused on recommendations from friends and family, it now extends to peer-to-peer selling, referral schemes, and influencer relationships. There are countless opportunities to hone in on word-of-mouth recommendations as a brand.
Shoppers are actively seeking word-of-mouth recommendations before making a purchase — almost 50 percent of consumers will seek social media comments to learn what others think about a brand. But word-of-mouth recommendations aren't a one-way street. Customers these days expect brands to actively respond to social media comments. Publicly responding to customer feedback is key to building a trusted community.
Word-of-mouth recommendations influence consumer emotions and intentions. Customers are more likely to be enthusiastic about your brand, feel more strongly affiliated, and be much more likely to purchase. Tapping into word-of-mouth marketing builds strong bonds with your target audience.
In the digital era, you can build a community through digital word-of-mouth methods such as influencer activation, affiliate marketing programs, referral schemes, and review platforms. Remember to engage with any recommendations and be active in online forums where consumers are discussing your products.
Direct peer-to-peer selling is one example of how word-of-mouth recommendations have undergone a digital transformation. In peer-to-peer selling, consumers become advocates as they buy products, share them with their peers, and encourage them to also make a purchase. Brands like Storr are capitalizing on the power of peer-to-peer selling.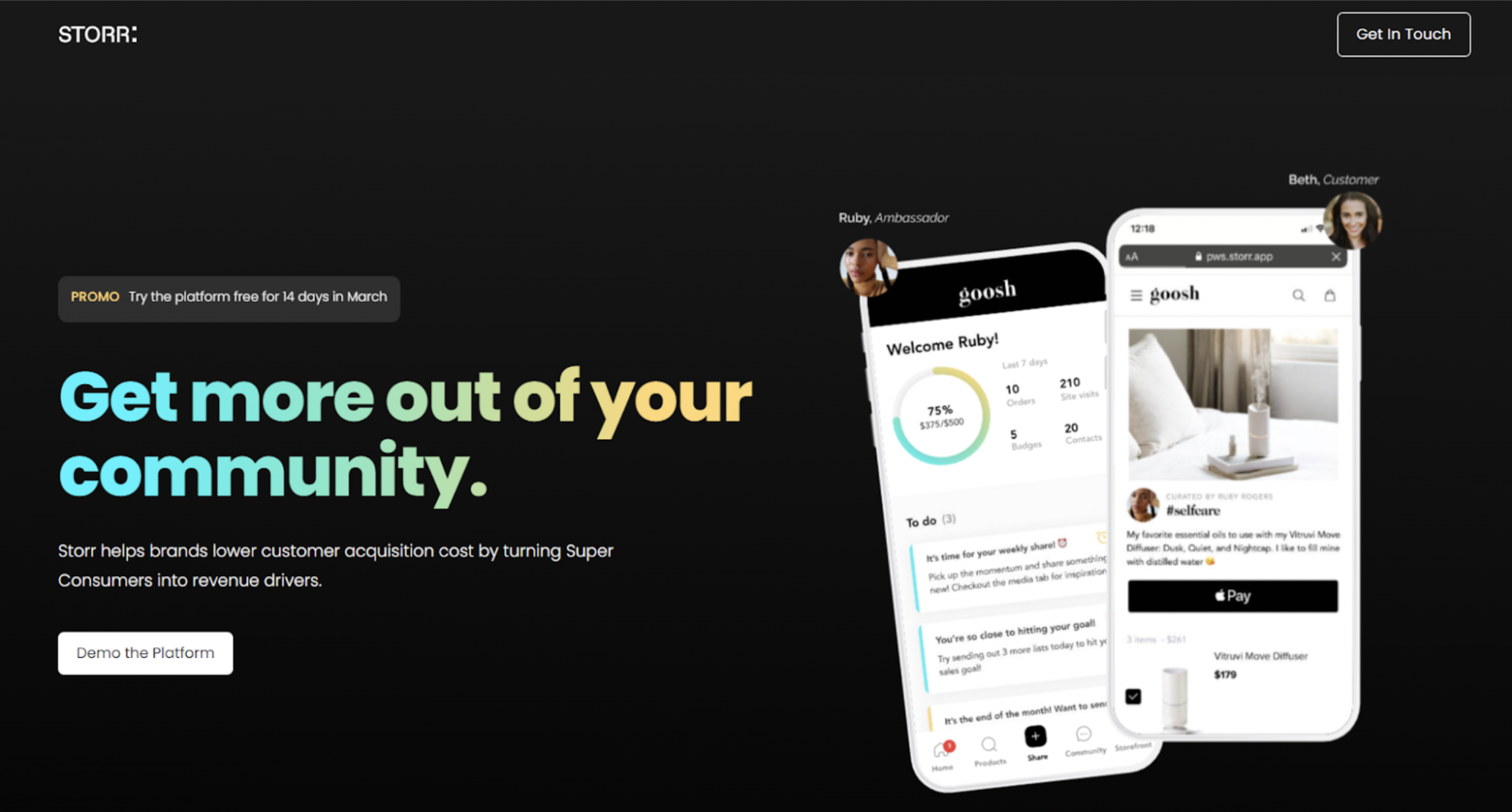 Storr is a peer-to-peer sales channel that lets people make money selling brand-new goods with their peers. With Storr, anyone can open an online store to easily sell products they love and recommend. Storr's model allows brands to acquire new customers based on trust, expanding their community every time a new customer comes via peer recommendations.
Inject some personality into your brand
Don't be afraid to have fun — inject personality into your brand as a way to attract your ideal customers. If you want to build a cult following, you need to embrace your brand personality.
Think about it: people connect better with people. Personifying your brand makes it more relatable for people. Research shows that creating a strong brand personality can positively impact brand love. This heightened brand love subsequently increases brand loyalty, word-of-mouth, active engagement, self-disclosure, and a willingness to pay more.
Channeling a conversational tone of voice can increase customer affinity as they associate your brand with more 'human' qualities.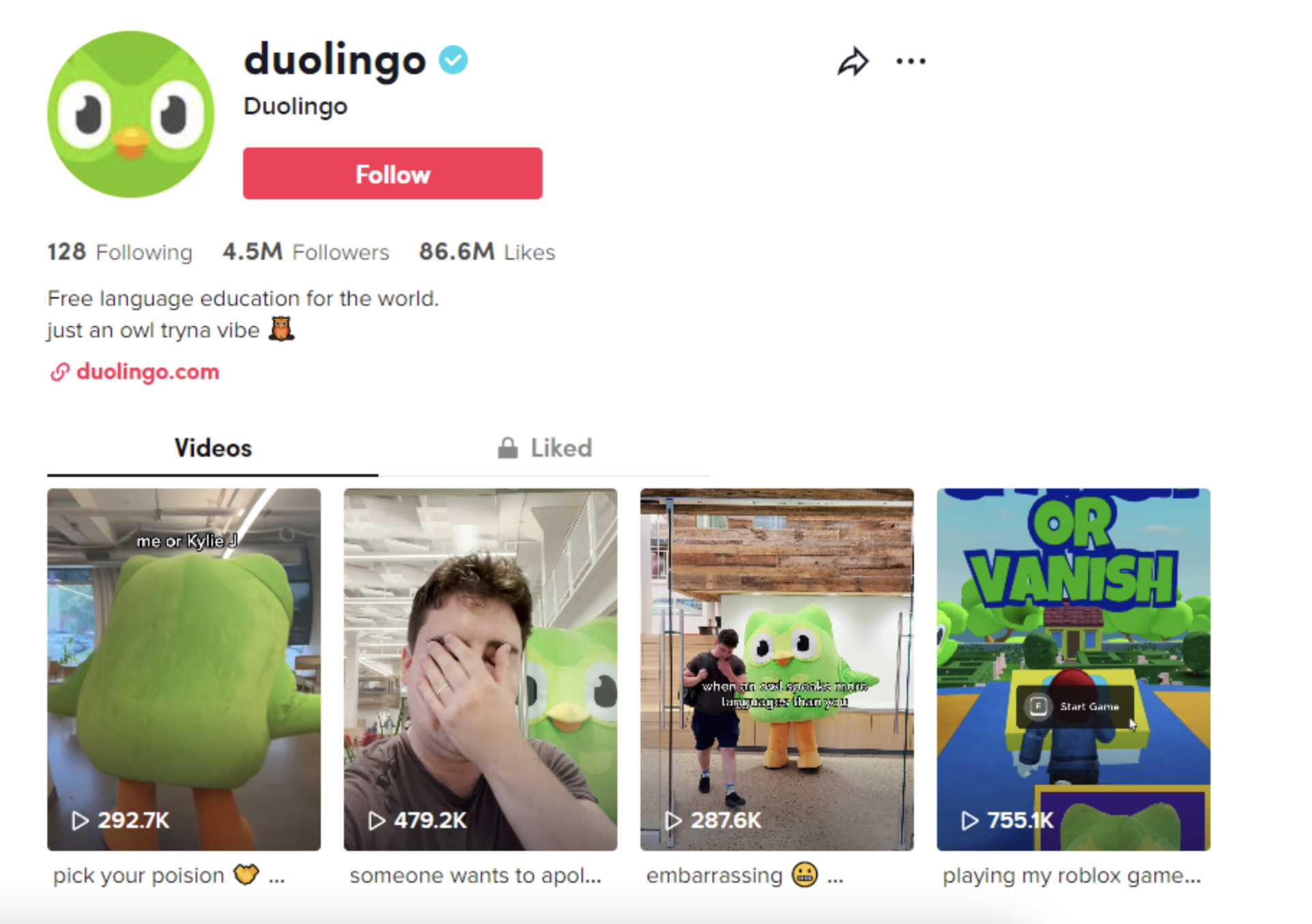 The translation app DuoLingo has nailed its brand personality and tone of voice. With 4.5 million followers (and counting) on TikTok, DuoLingo has successfully used its Duo mascot to personify its brand and grow an active community.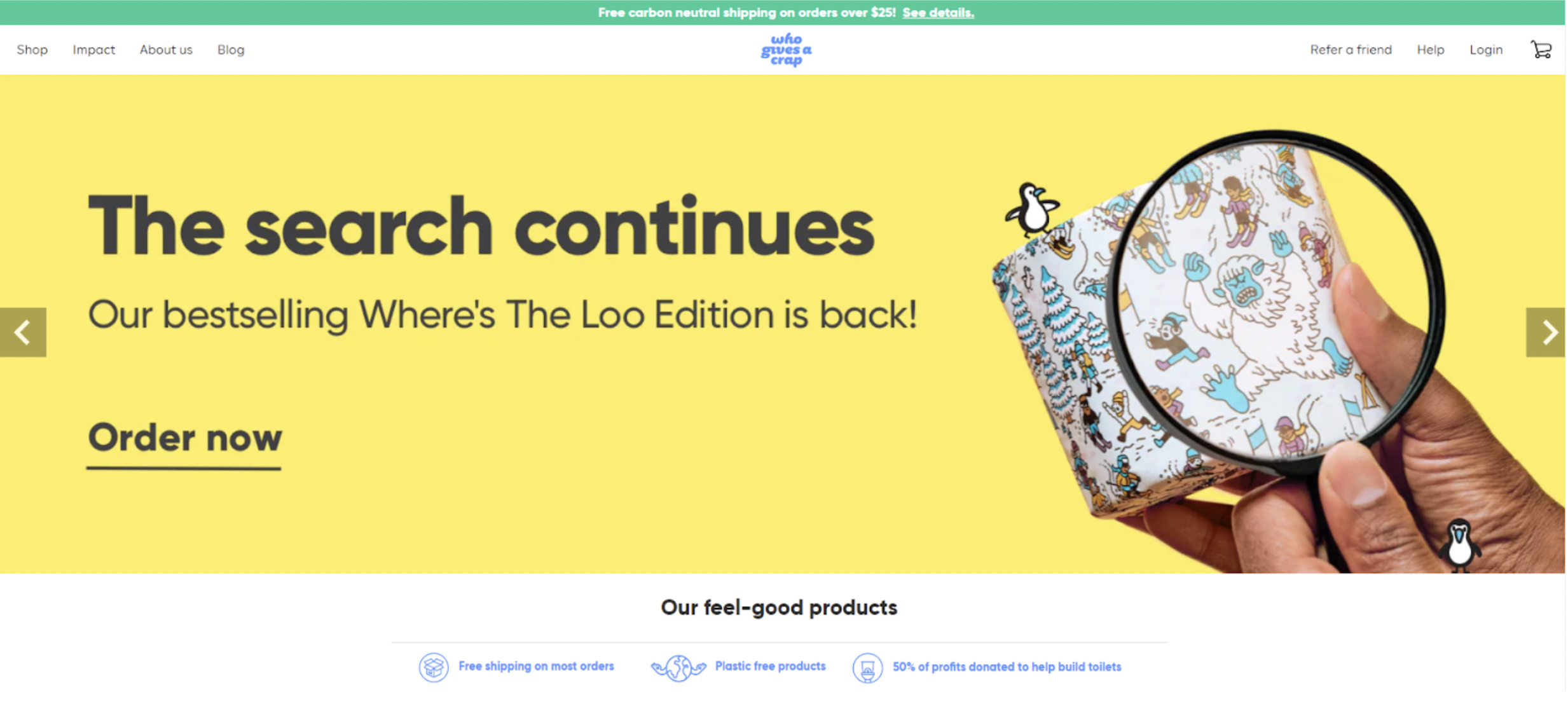 Looking toward a DTC retailer who has embraced their personality, we have Who Gives A Crap. Toilet paper isn't the most glamorous product on people's shopping lists. It's something we all stock up on as part of our grocery shop, often without a second thought. Yet, Who Gives A Crap toilet paper has leveraged its brand personality as a way to revolutionize the way we see toilet paper brands. 
With the fun tone of voice, quirky designs, and caring values, Who Give A Crap has built a bought-in community of followers. Who Gives A Crap encapsulates a down-to-earth tone of voice that makes them seem relatable to consumers. Their DTC brand started with a crowdfunding campaign engaging an early community of insiders by promising social media shout-outs, launch party invites, and branded swag in return for investment. Who Gives A Crap's brand strategy has been informed by community-building tactics from the very start.
Leverage the power of live shopping
Get up close and personal with your customers with live shopping.
The immersive experience of live shopping goes beyond the norm of plain products on a shelf or online storefront. Live shopping offers real-time interaction and conversation. Use live shopping to offer a behind-the-scenes view of your brand or drum up hype for new product launches. Live shopping combines shopping with entertainment by drawing upon tactics such as expert collaborations and gamification.
35% of people purchase products after watching a brand's social media live stream. If anything, this statistic demonstrates the power behind building authentic immersive experiences for your brand followers.
Recognizing the power of live shopping, TikTok is currently testing a live shopping feature that lets brands and creators sell products in real-time. Learning how to sell on TikTok is critical for nurturing a loyal brand community — and the addition of live shopping only makes TikTok a more central component for any DTC brand strategy. The rise of live shopping on TikTok's UK platform is transforming the iconic 'TikTok made me buy it' phrase.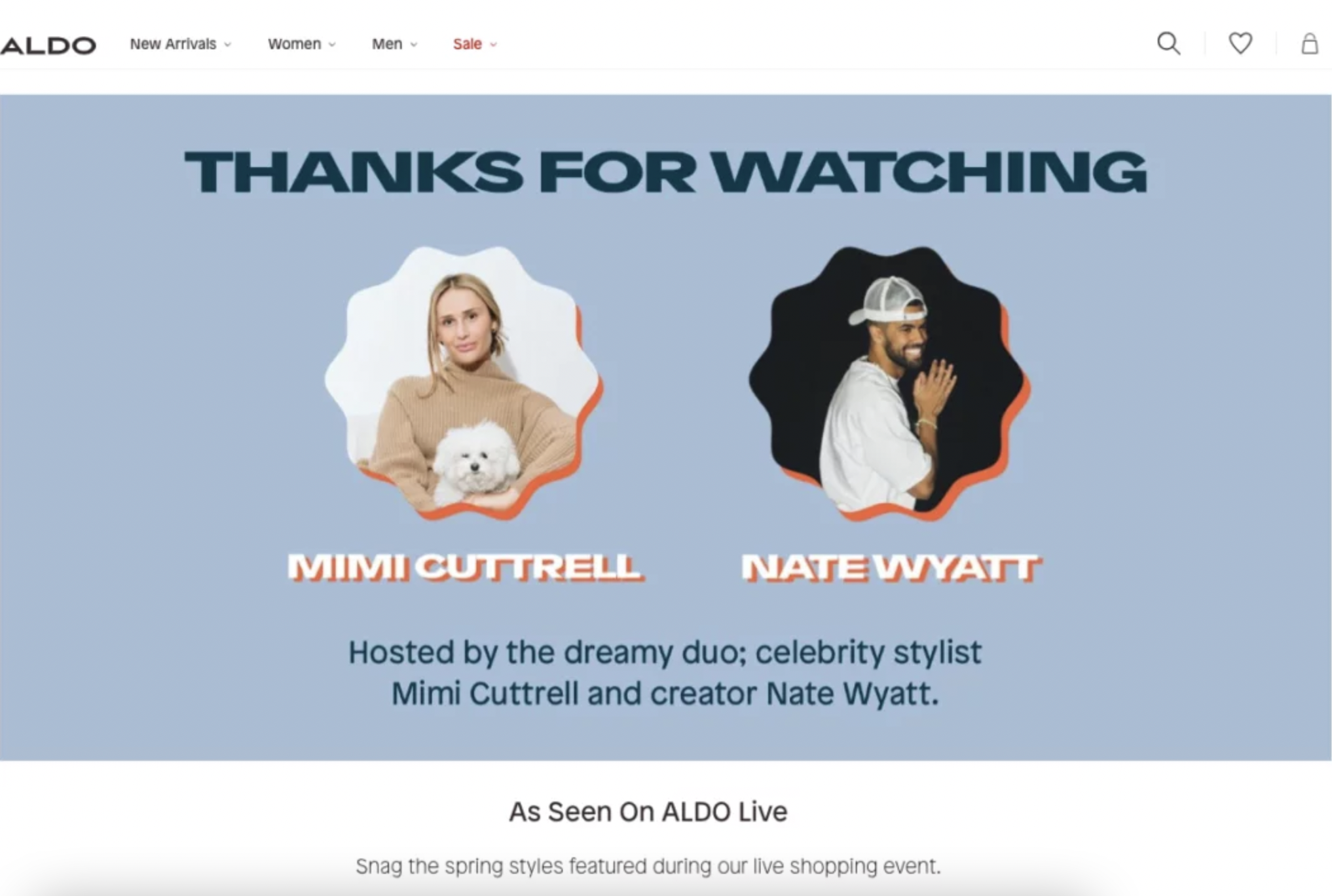 Image credit: Retail Insider
Outside of TikTok, many brands are already using live shopping as a core sales strategy. Shoe retailer, Aldo, hosted a live shopping event in partnership with celeb stylist Mimi Cuttrell and TikTok creator Nate Wyatt. Hosted on their native 'Aldo Live' landing page, the event saw a spike of 17,000 page views in the first five days following the event. The average viewing time was 12 minutes and six seconds and an engagement rate of 308% showed high levels of community interest.
Popping off on TikTok right now — e.g. Paula's Choice https://www.tiktok.com/@paulaschoice  / https://www.paulaschoice.com/on-the-rise – regular TikTok live shopping videos & work with 10 on the rise influencers to promote their skincare range and live shop
Focus on user-generated content
You get the idea by now — person-led content is king for building engaged communities. Forget corporate product-quality content, DTC brands that want to resonate with their audience need to zoom in on homegrown content creators.
Add a user-generated content (UGC) strategy into your marketing strategy to ensure you're creating engaging content that resonates with your audience.
UGC refers to any content — be it text, videos, reviews, or images — that is created by people, not brands. Better yet, these people are everywhere. UGC creators can be anyone from your everyday customers to influencers and online content creators. These UGC creators can be found all over the internet; on TikTok, Instagram, YouTube, blogs, and podcasts. 
Work with creators who resemble your audience as a way to build a strong community for your brand. Hire UGC content creators to create native content for your own channels and promote it on their channels. Working with content creators that have established audiences will help your brand forge connections with their community and, in turn, expand your own loyal following.
When bringing UGC into your marketing strategy, make it easy for everyday consumers to create and share content. Have a hashtag, incentivize people for sharing your brand online, tell them where to share (e.g. tag us on Instagram), offer templates and filters, and reshare their content to your channels too. UGC acts as social proof, letting other people know how consumers feel about your brand.
UGC generates deeper connections by humanizing your brand, much like crafting a unique brand personality. Even traditional brands have tapped into UGC such as Coca-Cola's 2011 'share a coke' campaign that encouraged people to take photos of their named beverages. While UGC isn't a new concept, it has seen a significant uplift in recent years as more brands uncover the power of humanizing their brand.
Paula's Choice is a skincare brand that understands the potential behind user-generated content. On their own social media channels, Paula's Choice hosts share educational and entertaining user-generated content that busts common skincare myths, decodes ingredients, and cuts through scary jargon. They are also backed by their 'on the rise' team of ten skincare influencers who create user-generated content promoting Paula's Choice.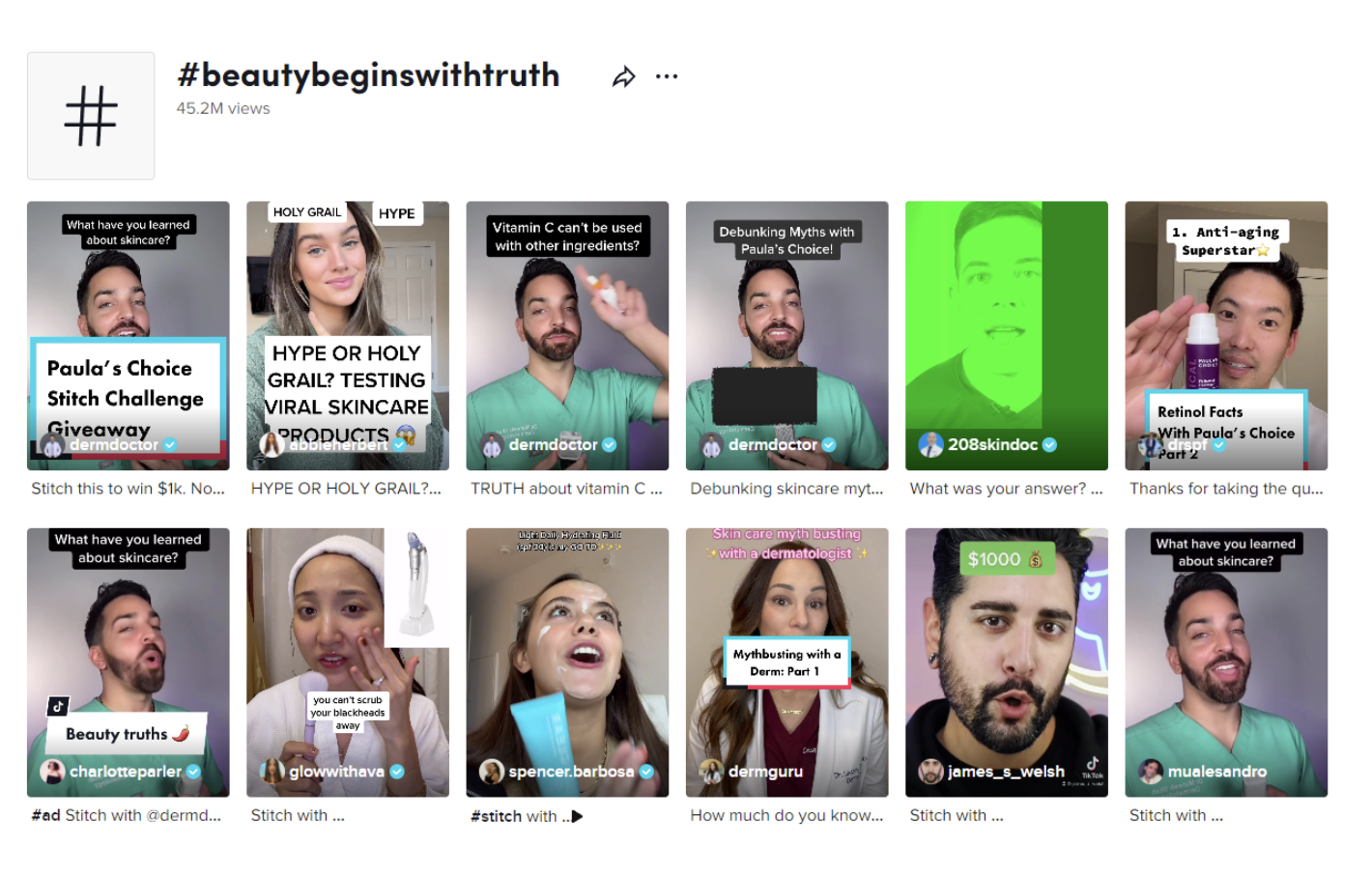 UGC-led social media strategies are one of Paula's Choice's main tactics for nurturing their community. Their first-ever influencer campaign leveraged user-generated content. They hired 18 content creators and gifted 1,500 influencers to generate user-led content featuring their products. This campaign drove $963,000 in earned media value and was received positively by beauty and skincare fans.
Collaborate with your brand allies
Building trust can be hard when you're just getting started. One way to make sure your brand reaches the right people is by collaborating with complementary DTC brands. The trick to successful brand collaborations is to make sure they are complementary brands rather than direct competitors. 
Brand collaborations are a mutually-exclusive way to boost brand exposure and strengthen your communities. When finding great partners to collaborate with, revisit your audience research. Partner up with brands that your audience already loves. A pizza oven brand may, for example, want to partner with an outdoor furniture brand or a clothing brand might benefit from partnering with a haircare brand.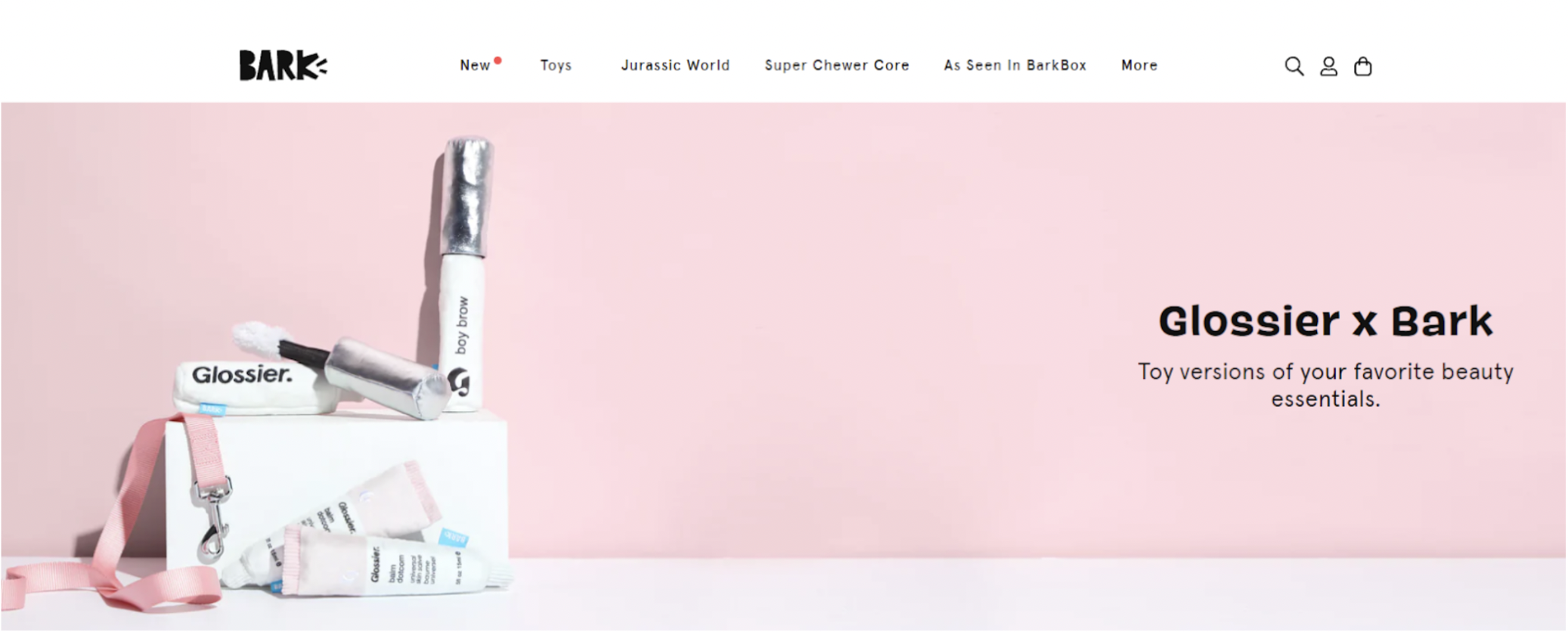 You can have fun with this community-building strategy. Take Glossier for example — the beauty brand Glossier partnered up with pet brand Bark on a limited-edition range of Glossier-branded pet toys. The team behind Bark originally approached Glossier for a collaboration after noticing how many Glossier companies were bringing dogs into the store. This fun campaign reflected the light-hearted nature of Bark's brand personality while tapping into Glossier customers' love of pets.
Wrapping up — Grow your DTC community
Community is everything in the world of direct-to-consumer (DTC) brands. Customers who feel like they belong to a community will have higher levels of brand loyalty and will be more engaged shoppers.
Community-building is a viable strategy for any DTC retailer that is willing to create immersive experiences. Get creative and don't be afraid to add a flair of personality to your brand strategy.
Above all else, make sure your audience is at the heart of everything you do. From live shopping events to brand collaborations and user-generated content, creating unforgettable experiences for your audience is crucial for building loyal and engaged communities.
Here at MyFBAPrep, we offer seamless order fulfillment services for passionate DTC brands. You can focus on nurturing your community while we offer them the 5-star experience they expect to receive.
Looking for more DTC inspiration? Take a look at our ultimate list of DTC brands here.