Author:
Taylor Meeker
The Benefits of Integrating Social Commerce Into Your eCommerce Platform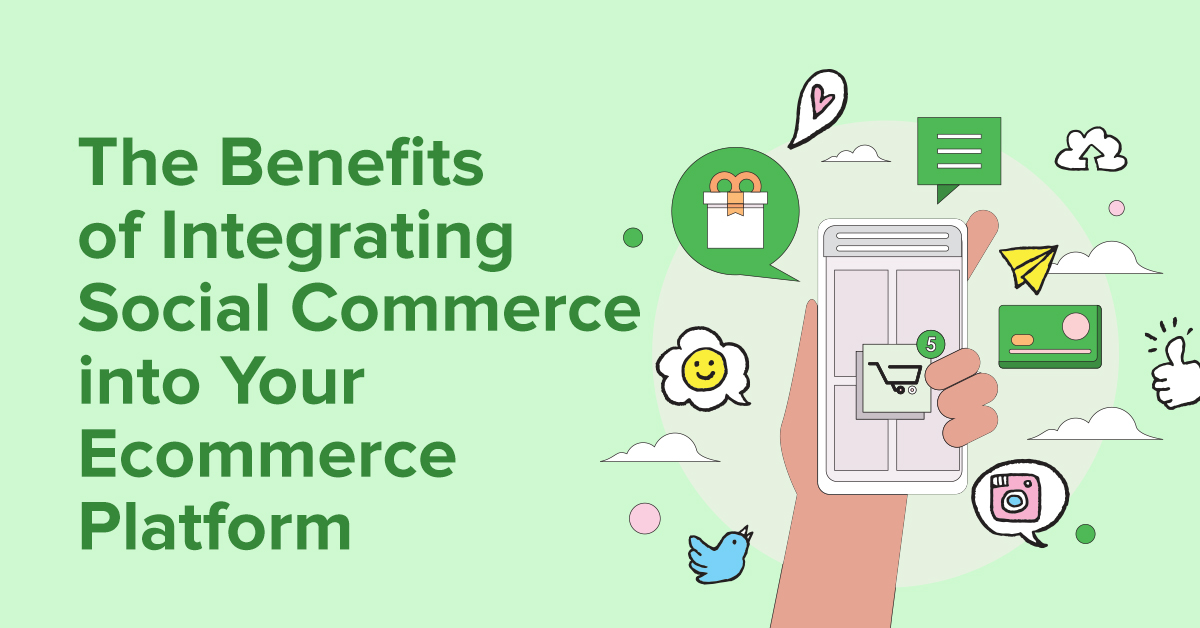 Approximately 29% of internet users between the ages of 16 and 64 admit their primary motivation for using social media is to seek inspiration for things to do or buy.
The phenomenon known as social commerce is already revolutionizing the shopping experience. Only a few years ago, social networks were primarily used for personal connections: meeting new people, engaging with friends, and sharing glimpses of one's private life.
However, today, nearly 53% of people who use social channels globally have access to a more comprehensive experience. Platforms like Facebook, Instagram, and even TikTok now allow users to make purchases through them without being redirected to a brand's website or physical store.
The social commerce boom is reshaping the customer journey as innovative customer experiences emerge, delighting connected consumers.
But, what does the landscape of social commerce entail? What are the benefits for brands? And which social platforms should you focus on for developing connected commerce? We answer these and other questions in the following article.
What is social commerce?
Social commerce involves selling products and services directly through social media platforms. The entire shopping experience occurs within the social media ecosystem, from discovering and researching products to completing the checkout process. With more than half of Gen Z using social as their search engines, it's vital for brands to be able to attract, engage, and close sales all within social. Currently, social apps that feature integrated native social commerce capabilities include Instagram, Facebook, Pinterest, and TikTok.
Imagine coming across a pair of must-have summer slides on your Instagram feed. With social commerce, you can simply tap "shop now," add the item to your cart, and complete the purchase within the app.
Similarly, while scrolling through TikTok, you might spot an affordable crewneck and click the "Buy" button. Once your purchase is finalized, you can effortlessly return to your regular TikTok viewing, enjoying duet videos of your favorite artist without interruption.
These shopping opportunities are readily available on the digital platforms your target audience frequents. It's essential to capitalize on these avenues to enhance your business prospects.
Interested in learning more about social commerce? Check out The psychology behind social commerce (and why it works).
Types of social commerce
Shoppable posts are social media posts with embedded "Buy" buttons or shopping tags, which allow customers to purchase products directly from the post without leaving the platform. This type of social commerce is prevalent on Instagram and Facebook.
With social storefronts, you can set up a fully functioning store within a social media platform, such as Facebook Shops. This allows customers to browse and purchase products without leaving the social media site, creating a seamless shopping experience.
Influencer marketing involves partnering with influential individuals who have a significant social media following to promote your products. This type of social commerce is effective because it leverages the trust and authority of influencers to build your brand and drive sales.
Peer-to-peer selling entails individuals selling products directly to other consumers via social media platforms like Facebook Marketplace or Instagram's direct messaging feature. This option is popular among small businesses and individual sellers.
Social commerce vs. eCommerce vs. mCommerce
For businesses, social commerce entails selling products or services via social networks. In marketing vernacular, the term "sCommerce" is also used (not to be confused with "eCommerce" or "mCommerce").
eCommerce, or electronic commerce, encompasses all remote transactions conducted through computers, smartphones, or tablets. In recent years — particularly since the Covid-19 pandemic — eCommerce has experienced tremendous growth.
Meanwhile, mCommerce, or mobile commerce, refers to sales and purchases made using mobile phones. mCommerce offers unparalleled flexibility so shoppers can make purchases while on the move.
While eCommerce, mCommerce, and sCommerce each have distinct characteristics, their ultimate goal is the same: to create more immediate, streamlined customer journeys while delivering exceptional digital experiences.
Benefits of integrating social commerce
Still unsure if investing in a platform that integrates with social commerce is a wise decision? Here are five compelling reasons to give it a try.
1. Greater reach and visibility
By incorporating social commerce into your broader eCommerce strategy, you can tap into the vast user base of various social media platforms and significantly expand your brand's reach. This multi-platform approach boosts your visibility and attracts potential customers who otherwise might not have discovered your products or services.
As more users engage with your brand through likes, shares, and comments on social media, these interactions grow your online presence, which leads to increased brand awareness and, consequently, higher sales potential.
2. Increased engagement
Social commerce fosters a more interactive environment for customers to connect with your brand.
By enabling buyers to comment on, rate, and share products with their friends, you create a two-way communication channel that deepens customer relationships and encourages brand loyalty. This rich engagement enhances the overall consumer experience and provides valuable insights into their preferences and opinions.
3. Deeper customer insights and brand loyalty
Tangential to the above point, incorporating social commerce into your eCommerce platform offers a wealth of data on customer behavior, trends, and preferences.
Each time buyers interact with your brand on social media, they generate information you can accumulate and analyze to better understand their needs and desires. That, then, enables you to produce more targeted marketing campaigns, develop products or services that resonate with their preferences, and personalize offers to maximize their appeal.
Plus, the real-time nature of social media allows you to monitor and respond to emerging trends and customer feedback promptly, ensuring your brand remains agile and adaptive in a rapidly changing market landscape.
By leveraging these insights, you continuously improve the customer experience, build stronger relationships with your audience, and drive sustained growth for your business.
When customers are invested in your company, they're more likely to become brand advocates, share their positive experiences with their social networks, leave glowing reviews, and recommend your products or services to others.
This word-of-mouth marketing strengthens your brand's credibility and attracts new customers, both of which serve to drive organic growth and amplify the impact of your marketing efforts.
4. Higher conversion rates
By streamlining the shopping process and reducing friction, such as through the navigation between websites or apps, you craft a seamless and user-friendly experience that encourages customers to make a purchase.
The ease of use combined with the power of social proof through user-generated content, reviews, and recommendations, yields higher conversion rates and boosts revenue for your business.
5. More sales and revenue
Social commerce can significantly contribute to your business's growth by expanding your customer base and fostering repeat purchases.
When you tap into the vast audience of social media, you draw in new customers who failed to discover your brand through traditional channels. Plus, engaging and nurturing relationships with existing buyers encourages loyalty, which leads to repeat purchases and greater lifetime value.
Best platforms for integrating social commerce
As social commerce continues to gain traction in online retail, numerous platforms have begun to facilitate seamless shopping experiences for consumers. With so many options available, we've listed some of the best platforms for integrating social commerce into your eCommerce strategy:
Instagram: Instagram has become a powerhouse for social commerce thanks to features like Instagram Shopping and Shoppable Posts, which allow users to explore, learn about, and purchase products without leaving the app. With its visually driven interface and extensive user base, Instagram is an ideal platform for businesses looking to showcase their products and attract new customers.
Facebook: Being the world's largest social network, Facebook offers a range of social commerce tools, including Facebook Shops and the Marketplace, that enable businesses to sell products directly on the platform. The extensive targeting options available through Facebook Ads also make it an excellent choice for companies that want to reach specific audiences and drive sales.
Pinterest: Pinterest is a visually oriented platform that drives product discovery and inspiration. With features like Buyable Pins and the Shop tab, users can easily browse and purchase items on the platform. Pinterest is especially suitable for businesses in fashion, home decor, and DIY industries, where visual appeal plays a crucial role in generating sales.
TikTok: TikTok has rapidly become a popular avenue for social commerce, with its short-form video format providing a unique and engaging way to showcase goods. Features like TikTok Shopping and shoppable live streams offer users the ability to buy directly through the app. It's an attractive option for businesses looking to tap into the platform's younger demographic and viral potential.
Snapchat: Primarily used among younger audiences, Snapchat hosts social commerce features like shoppable ads and the Snap Store, where businesses can create and manage their product catalogs. The platform's unique, ephemeral content and AR capabilities provide opportunities for creative and immersive shopping experiences that drive engagement and sales.
The right platform for your social commerce strategy depends on your target audience, industry, and overall business objectives. Select one that best aligns with your brand and audience to leverage the power of social commerce to grow your business and drive sales.
Wrapping up — Drive more sales with social commerce
Integrating social commerce into your eCommerce platform offers a wealth of benefits for your business. From increased brand exposure and customer engagement to streamlined purchasing processes and more, social commerce is an essential strategy for online retailers to stay competitive.
By embracing this innovative approach to online shopping, you can build a more interactive, personalized, and successful eCommerce experience for your customers.
How to reduce your Amazon shipping costs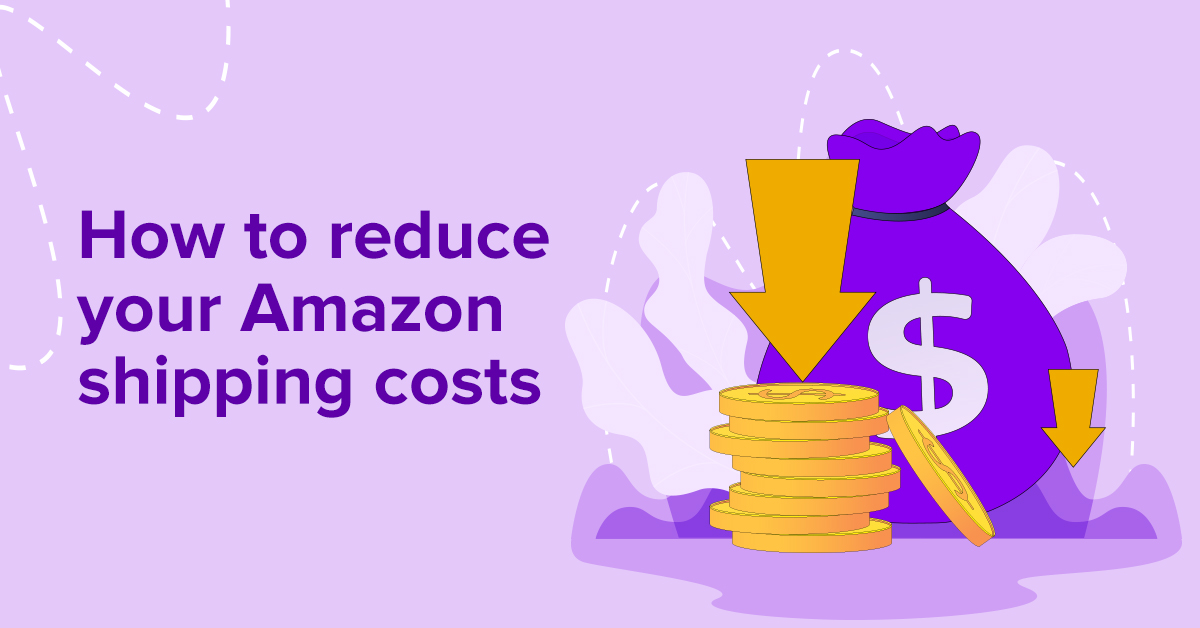 Shipping costs play a significant role in attracting and retaining eCommerce customers. By cutting your logistical expenses, you can increase your profits and differentiate your products from your competitors, which helps you stand out in a crowded market.
Read on to learn some top tips to reduce your Amazon shipping costs, from leveraging Amazon's programs and services to negotiating with carriers and passing on costs to customers.
Mitigating Amazon FBA fee increases
Amazon recently introduced fee increases for FBA storage utilization ratios and inventory aging. These aim to address the inefficient use of Amazon's warehousing for unsellable goods, which monopolize space and eat into working capital via holding costs. The most notable changes are summarized as follows:
Sellers with a high inventory cube (which is the total available space they use expressed as a percent) relative to their recent weekly sales face a new storage utilization surcharge.
Amazon has increased the surcharges applied to inventory stored for 271 to 365 days.
Amazon introduced inventory surcharges for goods stored for 180 to 270 days, except for products in the apparel, shoes, bags, jewelry, and watches categories.
To minimize the impact of these fee increases, it's essential to reduce your shipping costs. Review and incorporate the following strategies to lower your logistical expenses and stay ahead of Amazon's wide-reaching changes.
To learn more about Amazon seller fees, check out MyFBAPrep's Guide to Amazon Seller Fees.
1. Sign up for Amazon's Seller Fulfilled Prime program
Amazon's Seller Fulfilled Prime program enables you to fulfill orders and deliver them directly to domestic Prime customers from your own warehouse. Showcasing the Prime badge on your Amazon listings guarantees two-day delivery at no extra cost for Prime customers. This saves money on shipping costs and increases your sales by offering fast and free shipping. Additionally, Amazon provides the necessary transportation solutions to meet the high standards of Prime members.
This perk is exclusive to the Prime program though, so, if you aren't already, consider signing up. To enroll, you must meet specific requirements, such as providing accurate tracking information and storing your products in a secure facility.
2. Enroll in Subscribe & Save
Amazon offers a shipping subscription program designed for eCommerce retailers who ship a high volume of packages. Sellers can enjoy several benefits through the program, including:
Consistent sales: Regular purchases and 20% of annual revenue
Customer loyalty: Repeat customers and increased consumer loyalty with minimal investment
Engaged customers: Subscribers are more likely to purchase additional items
Increased visibility and reach: Priority placement and enhanced custom search filters in a dedicated storefront
To participate in the Subscribe & Save program, sellers must meet the following eligibility requirements:
Seller feedback rating of 4.7 or higher
Well-performing FBA account with strong sales
Active FBA account for at least three months
The discount you receive from participating in Subscribe & Sale will depend on the number of packages you ship, so be sure to research the program and compare its rates to those of other carriers.
3. Leverage Amazon's Multi-Channel Fulfillment program
If you sell your products on multiple sales channels like Amazon, eBay, and your own website, Amazon's Multi-Channel Fulfillment (MCF) program can help you save on shipping expenses and increase efficiency. It allows you to fulfill orders from various platforms through Amazon's fulfillment centers.
Obviously, you'll need a seller account on Amazon to participate in the program. However, you also have to meet certain criteria similar to those of Seller Fulfilled Prime, including providing accurate tracking information and ensuring your products are stored in a secure facility.
4. Ship your products in bulk
Shipping products in bulk enables you to take advantage of carrier volume discounts when you ship a large volume of products simultaneously. So, consider sending your products in large batches rather than individual ones.
When shipping in bulk, use sturdy packaging materials to ensure your products arrive at their destination in good condition.
5. Send larger packages
Larger packages let you leverage dimensional weight pricing, which slashes your fulfillment expenses because you pay based on the package size, not only its weight.
You should use larger boxes or pack your products to maximize the package's size. Like with bulk shipments, use sturdy packaging materials to ensure your products arrive at their destination in optimal condition.
6. Capitalize on Amazon's Buy Shipping discounts
Amazon introduced a Sponsored Discount option that allows you to purchase shipping labels through Buy Shipping at a discounted rate. You can access these cost savings by logging into your Seller Central account and navigating to the Buy Shipping page.
Look for the blue "Amazon Sponsored Discount" badge to find the shipping methods with discounted prices (they're listed next to the badge).
The number of labels you purchase determines how large a discount you receive, so research the program as well as the rates of other carriers.
7. Take advantage of Amazon's free shipping options
Research has shown time and time again that shipping costs are one of the biggest barriers to completing a purchase online. Approximately 28% of online shoppers will abandon their purchase if they encounter unexpected shipping costs during checkout.
Offering fast and free shipping can have a significant impact on your business:
Increase conversions and reduce cart abandonment
Boost customer satisfaction and loyalty
Raise the average order value
If you don't offer free shipping, there's a good chance that customers will go to a competitor who does.
One of the easiest ways to offer free shipping to your customers is through Amazon FBA. With Amazon's fulfillment program, you can offer fast and free shipping without having to worry about the logistics of shipping yourself.
8. Partner with regional carriers
Opting for regional carriers like FedEx and UPS is a cost-effective solution for your shipping needs, as they often provide lower rates than their competitors.
Be sure to compare the rates of regional carriers with those of larger ones to find the best deals. Further, regional carriers may have varying delivery times and coverage areas, so it's crucial to evaluate your options carefully and select the one that meets your requirements.
9. Negotiate with carriers for better rates
Related to the previous strategy, you can often secure lower shipping rates by negotiating with carriers based on the volume of packages you ship, the size of your packages, and other factors.
For the most fruitful negotiations, contact carriers directly and discuss your shipping needs and goals. Or, you may consider using a third-party service to negotiate rates on your behalf.
10. Adopt flat-rate shipping
Flat rate shipping allows you to charge a fixed shipping fee, regardless of the weight or size of the package. Flat-rate boxes and envelopes take advantage of dimensional weight pricing to reduce your shipping costs.
This can be an effective measure to attract customers and increase sales, as many buyers are willing to pay a flat rate for shipping in exchange for the convenience and reliability it provides.
11. Utilize USPS Priority Mail
USPS Priority Mail is a cost-efficient solution for shipping packages with fast delivery times and competitive pricing.
Before embracing this service, however, be sure to research the delivery times, shipping restrictions, and other key factors to ensure it'll accommodate your needs.
12. Assemble packages with Amazon's supplied shipping materials
Amazon offers a variety of shipping supplies at a discounted rate, including boxes, envelopes, and packing materials. This can save on dunnage expenses, but be sure to look into the restrictions and guidelines for each carrier to ensure your packages are eligible for the discounted rate.
13. Pass on some of your shipping costs to customers
Having customers shoulder some of your shipping costs will reduce your logistical expenses and increase profitability.
You could consider charging a small shipping fee either as a flat rate or based on the weight of the package. When shipping costs are passed to customers, clearly communicate the prices and allow buyers to choose their shipping method.
Alternatively, you can offer free shipping for orders over a certain amount, which encourages customers to spend more.
14. Contract third-party fulfillment services
Third-party fulfillment services like Fulfillment by Amazon (FBA) can slash your shipping costs and boost efficiency. These providers handle the storage and shipping of your products, freeing up time and resources for your business.
When considering a third-party fulfillment service, research their fees, restrictions, and delivery times to locate the best one for your business.
Looking for ways to cut your FBA fees? Learn more in MyFBAPrep's guide to understanding and reducing your Amazon FBA fees.
15. Choose the most economical shipping service
To find a cost-effective shipping service for your business, look into different shipping methods and compare their rates and benefits. Consider the delivery times, shipping restrictions, and other factors that affect your operations.
16. Analyze Amazon's Seller Central shipping reports
Amazon's Seller Central reports provide detailed information on your shipping expenses and help you identify opportunities to lower costs.
To use this tool, log in to your Seller Central account and access Shipping Reports. There, you'll find valuable information such as the cost per shipment, the cost per unit, and your total shipping costs.
17. Make use of Amazon's shipping credits
Amazon offers shipping credits to eligible sellers who meet specific criteria, such as providing accurate tracking information. Applying these credits can lower your shipping expenses and boost your profitability.
It's essential to monitor the requirements for these shipping credits regularly to ensure you remain eligible and can take advantage of the cost savings.
How MyFBAPrep lowers Amazon shipping rates for sellers
MyFBAPrep can help sellers reduce Amazon shipping fees in several ways, such as:
Optimizing shipping methods: MyFBAPrep finds the most cost-effective shipping methods for products by comparing rates among different carriers and advising on the best options.
Managing inventory: MyFBAPrep tracks and organizes items in Amazon warehouses, reducing the need for additional storage space — and the associated fees.
Reducing returns: By providing professional and efficient preparation services, MyFBAPrep can cut the number of returns, in turn significantly lowering shipping expenses.
Bundling products: MyFBAPrep can bundle multiple products into one shipment, which lessens the number of packages that sellers have to ship.
Offering competitive rates: MyFBAPrep enjoys access to bulk shipping rates and can pass on these savings to customers, helping sellers diminish their logistical costs.
Incorporating MyFBAPrep's services can streamline your shipping processes, save on fees, and increase your profits in the long run.
Wrapping up — Take steps to slash your Amazon shipping costs
By taking advantage of Amazon's programs and services along with the expertise of a third-party fulfillment service, you can improve your logistics and increase customer satisfaction to drive your business forward.
Reducing your Amazon shipping rates is essential to boost efficiency and grow your brand. So, take the time to research your options, find the best solutions for your business, and start paying less for your Amazon shipments.
How to Leverage AI to Improve the eCommerce Customer Experience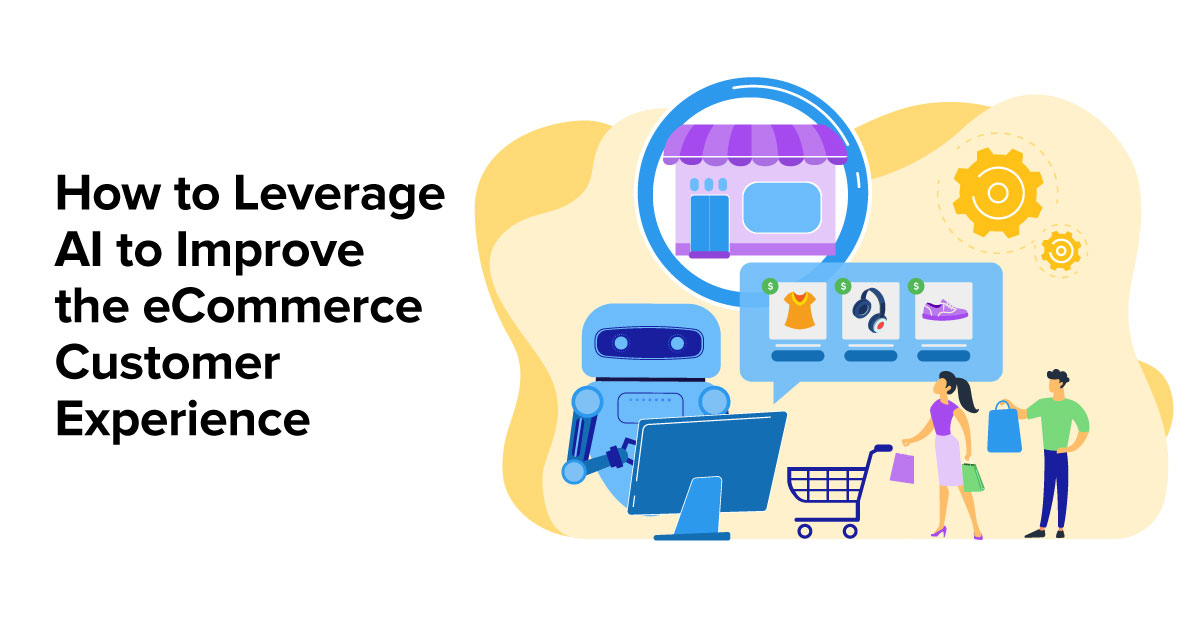 Eighty percent of customers consider their experience with a company to be as important as their products and services. This underscores how vital it is to deliver a personalized and seamless experience to compete in the eCommerce industry.
As online shopping continues to gain popularity, businesses must adapt to increasingly complex customer expectations. To remain competitive, many have turned to artificial intelligence (AI), which has proven invaluable for creating tailored consumer experiences.
Keep reading as we explore how you can leverage AI in your eCommerce business to improve your customer experience and increase satisfaction, loyalty, and sales.
Personalized customer experiences
AI improves the customer experience by delivering personalized content and product recommendations. With 91% of customers more likely to shop with brands that provide relevant offers and suggestions, AI is a powerful tool to make your company stand out. Listed below are the specific advantages AI brings to businesses.
Tailored product recommendations
AI algorithms analyze customer data such as browsing and purchase history and preferences to generate tailored product recommendations. These suggestions increase the likelihood of customers finding relevant products — whether they were searching for them or not — which, in turn, boosts sales.
Collaborative and content-based filtering are popular techniques used in AI-powered recommendation engines. Collaborative filtering relies on users' past behaviors and preferences, while content-based filtering considers item features and descriptions.
Targeted marketing campaigns
AI can help businesses segment customers based on behavior, preferences, and demographics to create targeted marketing campaigns. These campaigns have higher open and click-through rates and yield greater conversions.
Natural language processing (NLP) and sentiment analysis enable AI to understand customer emotions and feedback so businesses can tailor their marketing messages accordingly.
Intelligent site search
AI-powered site search engines understand natural language queries and provide accurate, relevant search results. This makes it easier for customers to find the products they're looking for, producing a smoother shopping experience.
To achieve this, AI relies on machine learning (ML) algorithms, which learn from customer search behavior to improve search results and provide better recommendations continuously.
Personalized website content
AI can also analyze customer data to identify patterns and preferences, enabling businesses to personalize website content such as layout, product display, and promotions.
By delivering a tailored user experience, you can improve customer engagement, increase conversion rates, and boost customer loyalty.
Automated returns processing
AI software can automate the return process by generating return labels, processing returns, and issuing refunds. Removing the manual aspect from these tasks reduces the time and effort required to manage returns so customers enjoy a more satisfactory experience with fewer headaches.
Want to improve your returns process? Discover how MyFBAPrep can help you refine your reverse logistics.

AI-powered customer support
You can leverage AI in your customer support across a variety of communication channels, such as:
Email: AI email assistants can respond to customer inquiries and provide personalized recommendations based on the consumer's purchase history and behavior.
Chatbots: Chatbots and live chat software offer real-time support and answer queries 24/7. AI-powered chatbots can learn from customer interactions and become more efficient and effective. You can also integrate them with your CRM system to access customer data, ensuring personalized support.
Social media: AI-backed monitoring tools help companies track consumer feedback on social media platforms and address their concerns in real time.
Virtual assistants: AI voice assistants and IVR systems provide customers with automated support or route them to the appropriate agent or department that can solve their more complex problems. Virtual assistants can also offer personalized product recommendations and promotions based on customers' preferences.
Self-service portals: AI self-service portals give customers access to relevant information and resources such as FAQs, tutorials, and troubleshooting guides.
By applying AI to your various communication channels, you'll provide customers with seamless and consistent support, regardless of the portal they use to ask for help. All of this leads to higher levels of customer satisfaction, reduced response times, and ultimately, increased loyalty and sales for the business.
Visual search and augmented reality
AI-powered visual search enables customers to find products using images instead of keywords, simplifying the search process and enriching the customer experience.
Image recognition
AI algorithms can analyze and recognize images to match them to products in an eCommerce store's inventory. This allows customers to upload photos of items they're interested in and receive relevant product suggestions.
Visual search can also help businesses identify trends and patterns so they can stock up on popular items and improve their product offerings.
Augmented reality (AR)
Combine AI and AR to create immersive shopping experiences. The two enable customers to visualize themselves using your products in their environment before purchasing, which reduces the likelihood of returns and boosts satisfaction. You can also use AR for virtual fitting rooms so shoppers can try on clothing and accessories virtually.
In 2019, online fashion retailer ASOS launched an AR feature in their app that allows customers to view 3D images of clothes on different body types. It superimposes virtual clothes onto the user's body to give a more realistic idea of how they'll look and fit.
Optimize pricing and inventory management
AI can optimize pricing and inventory management to ensure businesses remain competitive and meet consumer demands.
Dynamic pricing
AI algorithms can analyze various factors like competitor prices, shopper behavior, and market trends to determine the optimal price for products. This dynamic pricing strategy helps brands stay competitive and maximize profits.
ML models can continuously learn from that data and help businesses adjust prices based on changing market conditions in real time.
Inventory management
AI can help businesses predict customer demand and send automated notifications when stock is running low, allowing them to optimize their inventory levels and prevent stockouts and overstocking.
ML algorithms analyze historical sales data, seasonality, and trends to forecast demand accurately. Businesses can then leverage this data to make decisions about their inventory, leading to increased efficiency and reduced costs.
Streamline order processing
AI-powered tools and robotic process automation (RPA) can automate repetitive tasks in order processing, such as order entry, data validation, and updating order status. This reduces manual intervention (which minimizes the risk of human errors) and speeds up processing.
AI can also optimize warehouse operations by automating picking, packing, and shipping procedures. These tools can determine the most efficient routes for order picking, cutting the time to fulfill orders and lowering the risk of errors.
Are you struggling with a disjointed fulfillment process? Get organized and streamline your operations with MyFBAPrep.
Fraud detection
AI can help you spot scams through anomaly detection. By analyzing large volumes of customer data, AI-powered fraud detection systems can identify unusual patterns or behaviors that may indicate fraudulent activity.
For example, suppose a customer has a history of making consistent and relatively small purchases but suddenly makes a large purchase and returns it soon after. The system may flag this as an anomaly to be investigated for potential fraud. Similarly, if a customer frequently returns items without a clear reason, this could also be tagged for further review.
With AI-powered fraud detection, you reduce your risk of losses due to fraud and maintain the trust and satisfaction of your customers.
Improve product quality
AI can significantly improve product quality in eCommerce by optimizing various aspects of the product life cycle, from design and development to manufacturing and customer feedback.
Predictive maintenance
AI-powered predictive maintenance tools can analyze sensor data from manufacturing equipment to detect potential failures and schedule maintenance before issues arise.
Predictive maintenance helps maintain consistent product quality and reduces downtime in the production process.
Quality control automation
You can also enjoy automated quality control processes like visual inspection and defect detection with AI. Applying computer vision and ML algorithms, AI can identify defects and deviations from quality standards more accurately and consistently than human inspectors, ensuring higher-quality products.
Automation can extend to testing processes — such as software or product testing — as well to increase accuracy and efficiency while slashing the potential for human error.
Sentiment analysis
Returning to consumer sentiment, AI can use NLP to analyze customer reviews and feedback to identify patterns and trends in product quality. This information helps you address product issues, make improvements, and better accommodate customer preferences.
Wrapping Up — Harness the power of AI for more eCommerce conversions
AI has the potential to improve your eCommerce customer experience significantly by delivering personalized content, enhancing customer support, streamlining operations, and ensuring a secure shopping environment.
To maximize the benefits of AI in your eCommerce business, invest in the right tools, integrate automation into your existing processes, and evaluate and refine your strategies continuously based on data-driven insights. By leveraging AI technology, you'll stay ahead of the competition, keep up with evolving customer expectations, and drive growth.