Category:
Fulfillment and Logistics
An introduction to cold chain shipping and how it's revolutionizing the supply chain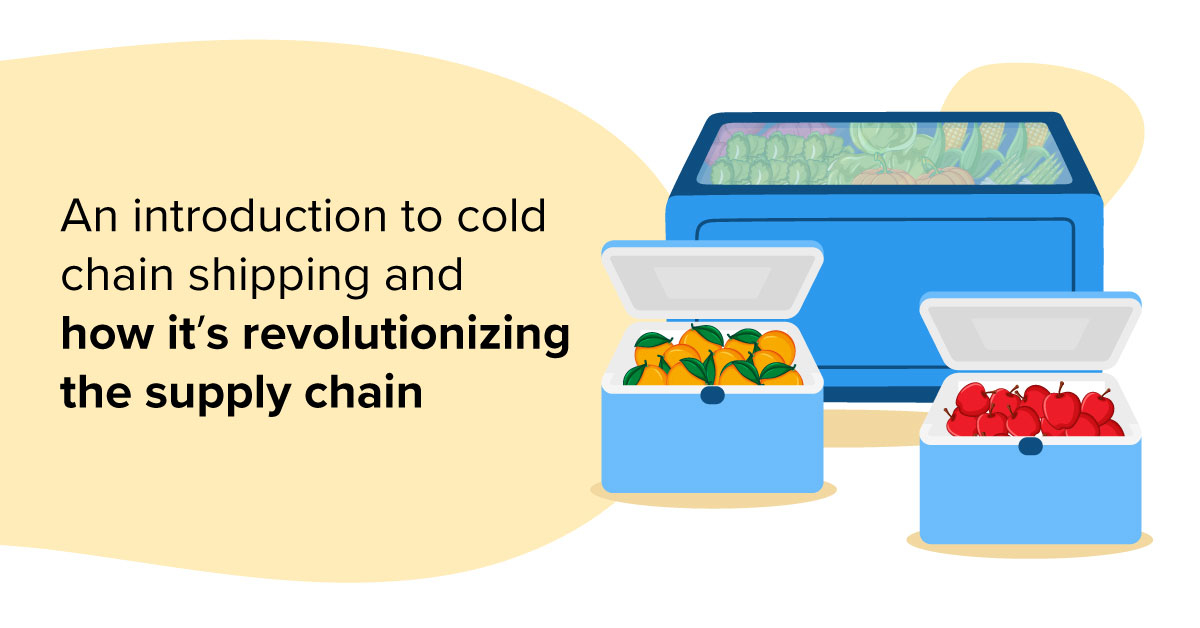 This a guest post from Maddie Horton, product marketing manager at Smart Warehousing. She helps brands find the right fulfillment solution through email communication, case studies, and more. Outside of work, she enjoys spending time with her dog and exploring new restaurants.
As more consumers use online ordering to tether themselves to brands, companies are increasingly shipping their products across state and country lines. In the last few years, we've seen a large uptick in food subscription boxes and other temperature-sensitive items alone. As the demand for such items grows, so does the need for robust logistics. To keep up with this trend, more and more brands will have to master their cold chain shipping.
What is cold chain shipping?
Cold chain logistics is the transportation of temperature-sensitive products at a consistent temperature and humidity level. It's an integral part of the distribution of perishable food and supplies to ensure they maintain their quality.
It's commonly used in the pharmaceutical, food and beverage, and cosmetics industries, as temperature-sensitive goods must remain within a certain temperature range to ensure quality, freshness, and safety.
Often, perishable products require frequent deliveries to locations while avoiding long travel times. As such, a reliable cold chain shipping strategy is essential for maintaining product integrity. In this guide, we'll walk you through the advantages of cold chain shipping and its impact on supply chains and related technology.
Advantages of cold chain shipping
The rise in global trade and demand for perishable goods has increased the importance of reliable cold chain shipping in recent years. It's essential to ensure perishable products are delivered safely and on time. Shipping temperature-sensitive goods has a number of advantages over traditional shipping methods, including improved safety, extended shelf life, reduced waste, and, sometimes, cost savings. Most importantly, it reduces the risk of spoilage due to temperature fluctuations, which can cause serious health issues or even product recalls.
By controlling the temperature and humidity of the product environment, cold chain shipping allows items to be transported over longer distances without compromising quality. This helps businesses maintain inventory levels more effectively, as well as ensures products reach their destination on time and in perfect condition.
Typically, the cold chain process operates based on the following aspects:
Variations in demand: Demand variability considers the product's arrival time and state upon arrival. If certain goods are in demand, companies may request them as needed.
Load integrity: Load integrity requires technology to determine and maintain shipment temperatures.
Transport integrity: Transport integrity requires staff and technology to ensure transportation temperatures.

How cold chain shipping is redefining supply chain management
Shippers and third-party logistics (3PL) providers continuously adapt to consumers, and that includes cold chain shipping: NTT Data's 2023 27th Annual Third Party Logistics Study found 67% of shippers and 72% of 3PLs are expanding their cold chain capabilities and capacity over the next three years. It's anticipated that, by 2030, the global chain logistics market will reach about $801.26 billion and grow at a CAGR of 14.07% from 2022 to 2030.
Two increasingly influential industries, grocery delivery and micro-fulfillment, are contributing to this expansion as they broaden their logistical capabilities to include cold chain shipping.
Grocery delivery
Due to the Covid-19 pandemic, eCommerce and online grocery services have gained a larger share of the cold chain industry. Over the next five years, online grocery sales will see a compound annual growth rate (CAGR) of 11.7%, bumping e-commerce's share of overall grocery spending from 11.2% in 2022 to 13.6% in 2027. This trend will continue as customers are now used to the convenience and time savings of grocery delivery. Moreover, eCommerce is predicted to account for 20% of the U.S. grocery market by 2026.
While this growth is exciting, grocery retailers feel pressured to deliver products to customers quickly and while meeting increasing demands. To support service deliveries and operations, brick-and-mortar stores now look to cold chain shipping for guaranteed food freshness.
Micro-fulfillment
Micro-fulfillment involves establishing smaller-scale warehouses in populous urban or suburban locations. By shortening the physical distance between consumers and goods, businesses reduce their last-mile delivery time. This is especially important to the cold chain, as it improves supply chain efficiency and lowers the costs and risks associated with temperature-sensitive shipments.
Micro-fulfillment centers typically carry enough inventory to last a few days' worth of orders. They rely heavily on inventory management software and customer-driven analytics to determine what SKUs are most often purchased, by which customers, and in what geographic area. This ensures product availability and eliminates wasted storage and stagnant inventory.
The technology driving change in cold chain logistics
The first documented use of cold chain technology dates back to 1797, with British fishers using ice to preserve their catch. It's continued to evolve since then, with its present-day incarnation allowing companies to track shipments in real time and guarantee products are stored and transported at optimal temperatures throughout their journey.
Advancements in artificial intelligence and machine learning have led to analytics tools that can dive into data points to deliver actionable insights, like predicted inventory, transportation time, consumer demand, and spoilage probability.
Software products as well can monitor the trailers used during transportation between distribution centers to ensure temperatures remain consistent. Previously, cold chain shipping employed passive temperature sensors. These often battery-powered thermometers would monitor the food containers rather than the trailers. However, new technologies now allow products to ship in ideal temperature conditions as well as provide real-time data on temperature fluctuations.
Adopting Bluetooth Low Energy (BLE) trackers, for example, enables users to monitor the temperature and climate of transportation containers remotely with real-time insights like temperature, humidity, movement, data entry, and analytics. This reveals any issues concerning suboptimal conditions that businesses can improve with GPS, RFID, and barcodes (to track items in real time).
If goods arrive spoiled, it can be difficult to pinpoint where the breakdown occurred without sophisticated software. Advanced tracking systems continuously track temperature and humidity to alert users if pre-configured limits are breached, thus proactively preventing damage. Often, location-based insights like GPS will inform you where the goods are when they're harmed. This helps you trace the timeline back to ensure accountability and avoid repeating these mistakes.
What are the challenges of cold chain shipping?
Cold chain shipping is a complex process, as you have to maintain the temperature of the product, ensure timely delivery, and manage costs associated with this type of shipping. Perishable goods are sensitive to temperature changes; even the slightest variation can spoil or damage products.
To ensure items remain in good condition and hold steady at a safe temperature, cold chain shipping requires products to have storage units. A storage unit can be anything from a refrigerator to an insulated box and is crucial for transporting these goods at their original temperature.
Cost can be another major challenge for companies, as cold chain logistics is more costly than ambient. Its expenses include specific packaging and some kind of coolant, and you usually have to pay for expedited shipping to ensure the product arrives quickly and doesn't spoil en route to its destination. All of these elements increase your overall costs, so finding ways to lower them is essential for businesses shipping temperature-sensitive items. One way to do so is to outsource this process to a 3PL.
Cold chain shipping best practices
It's easy for problems to arise in cold chain shipping. To avoid headaches and ensure well-oiled operations, cold chain shippers must adhere to best practices.
Packaging: When packaging, include an inner layer and vapor barrier or plastic film to maintain a consistent temperature for products during transportation and to maximize their shelf life. This prevents any outside air, humidity, or environmental factors from sneaking into your containers, as well as protects against leaking. A reliable protective barrier between your packaging and your products avoids outside contamination.
Coolants: Use the right coolants and in the correct amounts. Once you have your insulated packaging, add gel packs, dry ice, or another coolant to keep your item frozen or cold while it's transported. How much coolant you need and which type will depend on the distance and length of time the package is traveling and the temperature it needs to maintain throughout its journey. When using dry ice, you also need to be aware of and abide by the restrictions associated with it.
Transport speed: Fast transportation is another best and necessary practice for businesses that employ cold chain shipping. Most times, you'll want next-day air or two-day shipping to make sure your product arrives quickly at its destination. Also, avoid shipping your product toward the end of the week or near a holiday; you don't want it to sit at a shipping center over a (long) weekend. Planning ahead and choosing the fastest shipping option available is imperative for your product to arrive in pristine condition.
Leading solutions and service providers
With cold chain shipping increasing in use, 3PLs are also expanding their cold chain management services. As such, more and more retailers want to outsource their cold chain warehousing and distribution to encourage their business growth. Because it requires specialized labor, warehousing, and transportation, a 3PL with experience and expertise in managing sensitive products can save brands significant costs.
When looking at 3PL providers, it's important to evaluate:
Shipping times and on-time deliveries: A 3PL provider must be able to provide one- to two-day shipping to avoid products melting or becoming spoiled in transit.
Omnichannel capabilities: If you manage multiple channels, you need a 3PL provider that can handle omnichannel selling so you don't have to worry whether your logistics can keep up with your business growth.
Nationwide coverage: With nationwide coverage, you can employ a distributed inventory model. This means your products spend less time in last-mile delivery transit.
Wrapping up — Moving forward with cold chain shipping
When you're ready to scale your brand, first look at what elements are most important to achieve your goals. Which ones can you handle internally and which can you outsource? If your brand's growth is dependent on incorporating great cold chain shipping, you need to dedicate time and energy into either perfecting your logistics processes or finding a great 3PL partner to handle it for you. Cold chain shipping will continue to corner the market as consumer preferences fluctuate due to the introduction of new products and brands. Take advantage of this growth to expand your brand and achieve greater success (and revenue).
Amazon multi-channel fulfillment: Benefits & drawbacks of MCF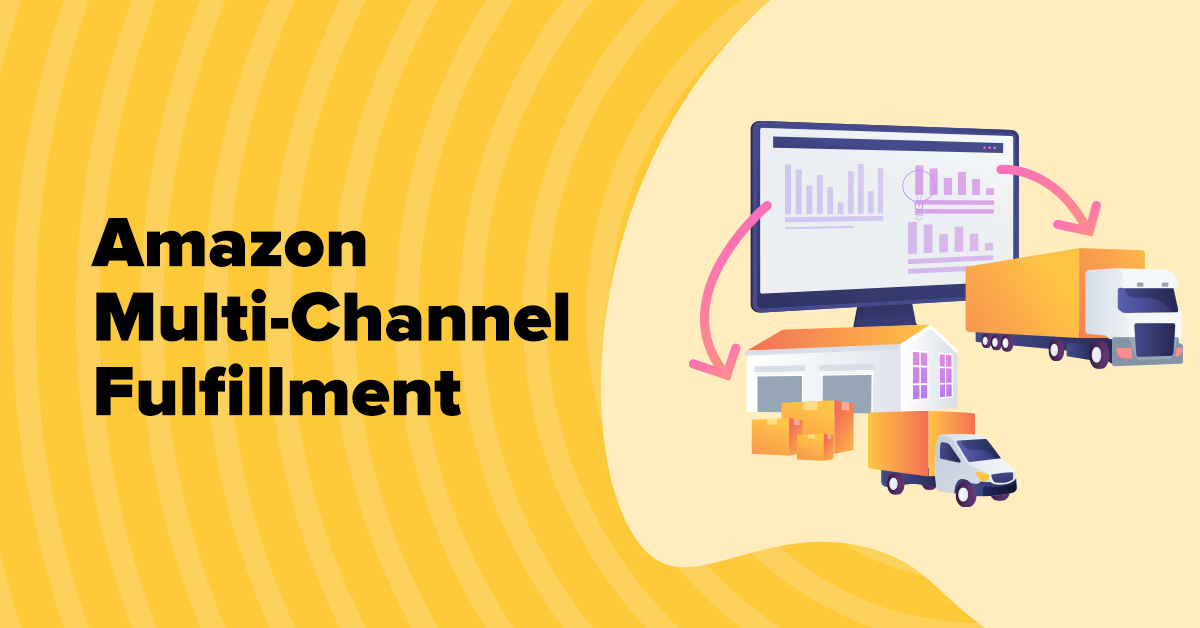 If you're an eCommerce business owner, you've probably heard rumblings about Amazon Multi-Channel Fulfillment (MCF) and how it can help you grow your business. But you might be wondering, What exactly is Amazon MCF, and how can it benefit my business? In this blog post, we'll answer those questions and more.
Don't have time to dig in? Here's the short version:
TL;DR –> MCF
MCF is a fulfillment service that lets businesses fulfill orders from multiple sales channels, including Amazon, their own website, and other third-party platforms. The service has been in beta testing for almost a year and opened on January 31, 2023 to all eligible U.S. merchants.
So, how does MCF work?
Essentially, MCF uses pooled inventory stored in Amazon warehouses to fulfill orders via channels outside of the Amazon platform. So, if you're a business owner who sells products on multiple platforms, MCF lets you streamline your fulfillment process, saving time and money.
One of the biggest advantages of this service is that it allows you to leverage Amazon's extensive fulfillment network to fulfill orders quickly and efficiently. This is particularly beneficial for businesses that experience high levels of demand.
For brands already selling on the marketplace, MCF can simplify their fulfillment operations: Businesses can manage all their fulfillment needs from a single platform, improving the efficiency of their operations.
It also lowers the cost of fulfillment and shipping. Amazon leverages its massive logistics infrastructure to compete with large shipping carriers like FedEx, UPS, and USPS, which drives down shipping costs and provides a cheaper alternative to these big names.
Granted, there are some disadvantages to using MCF. For one, Amazon's storage fees change frequently, and picking, packing, and shipping fees can be unpredictable. This can make it difficult for businesses to estimate their fulfillment costs.
Businesses must also meet certain eligibility requirements to qualify for MCF. One such criterion is maintaining minimum inventory levels in Amazon's fulfillment centers, which can be challenging for businesses just starting out or that have limited resources.
W​ant the full details? Dig in below.
What is Amazon MCF?
The Amazon Multi-Channel Fulfillment service allows sellers to take advantage of the conglomerate's fulfillment network to fulfill orders from external channels, such as their eCommerce websites or other marketplaces. MCF's first-class fulfillment and shipping capabilities ensure customers receive their orders quickly and efficiently, regardless of where the orders are placed or sent.
The service works by integrating the seller's non-Amazon sales channels with Amazon's fulfillment network. When a seller receives an order from their eCommerce website or another marketplace, it's passed to MCF, which then picks, packs, and ships the order to the customer. This eliminates the need for the merchant to manage their inventory or shipping processes, freeing them to focus on other aspects of their business.
MCF is particularly beneficial for sellers who have seasonal spikes in demand or who want to expand their sales channels without adding significant operational overhead. It also provides a consistent customer experience, as Amazon's fulfillment network is known for its fast, reliable shipping and order handling.
To use MCF, sellers first need to set up their inventory in Amazon's fulfillment network, either by sending their stock to an Amazon fulfillment center or by using Amazon's FBA (Fulfillment by Amazon) service. Once there, sellers can then adopt MCF to fulfill orders from their other sales channels.
Sellers are charged a fee for the service that includes the cost of picking, packing, and shipping orders, as well as storage fees to store their stock in Amazon's fulfillment centers. However, the savings in time and resources merchants would otherwise have spent managing their fulfillment and shipping processes offset these costs.
How do MCF and FBA differ?
The main difference between Amazon MCF and FBA is the sales channels they support: The former allows merchants to sell products on marketplaces other than Amazon (primarily their eCommerce websites) while still leveraging Amazon warehouses for fulfillment. Meanwhile, FBA only fulfills orders from the Amazon marketplace.
T​his is huge for eCommerce professionals looking to grow their web presence and diversify their sales channels — especially those with unique product offerings on each channel.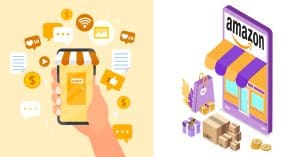 Benefits of Amazon MCF
Amazon MCF's greatest advantage is that it allows businesses to leverage the marketplace's extensive fulfillment network, which improves the speed and reliability of their order fulfillment. This can be a lifesaver for businesses that experience high demand and need to guarantee prompt and efficient delivery.
For brands that already sell on Amazon's platform, MCF can save time and reduce the complexity of their fulfillment operations. Businesses can manage all their logistical needs from a single platform, simplifying these processes.
For small to medium-sized sellers, Amazon MCF also cuts costs on fulfillment and shipping. Amazon leverages their massive logistics infrastructure to compete with large shipping carriers like FedEx, UPS, and USPS and drive down shipping costs.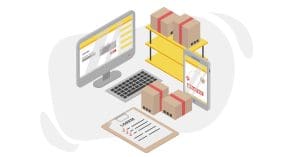 Drawbacks of Amazon MCF
While there are many benefits to using Amazon MCF, there are also some downsides to consider. For instance, Amazon's storage fees change often, and picking, packing, and shipping fees are known to be unpredictable, meaning costs can add up quickly.
Merchants may also be required to meet minimum inventory levels in Amazon's fulfillment centers, which can be challenging for businesses just starting out or that have limited resources. Additionally, there's little to no access to your inventory, and Amazon may move it without notice.
Lastly, Amazon doesn't offer customization options for packaging, which can be a major deterrent for brands wanting to make an impression on their customers.
Who should use MCF?
Amazon (MCF) is a valuable service that can benefit a wide range of sellers who want to streamline their fulfillment processes and expand their sales channels, such as:
Ecommerce retailers: If you have your own eCommerce website, using Amazon MCF can help you scale your business and reach a wider audience without having to build your fulfillment and shipping infrastructure. By integrating your website with Amazon's fulfillment network, you can offer your customers fast, reliable shipping and handling, which improves their overall buying experience and increases customer loyalty.
Multi-channel retailers: If you sell products on multiple marketplaces or channels like eBay, Walmart, and Shopify, you can streamline your fulfillment processes and manage all your sales channels from one central location on Amazon MCF. This helps reduce errors and shipping costs, as well as optimizes inventory management and order tracking.
Seasonal sellers: For those who sell seasonal products or experience fluctuations in demand, Amazon MCF can help manage inventory more efficiently and avoid the costs of maintaining an internal fulfillment and storage infrastructure. Using Amazon's fulfillment network, you can quickly ramp up or scale down your inventory as needed, without worrying about warehouse and shipping overhead.
International sellers: Amazon MCF is highly beneficial for merchants who sell products to customers in different countries, as it reduces shipping costs and provides a better customer experience. Amazon has a global network of fulfillment centers so you can store your inventory closer to your customers and cut shipping times and costs. As a result, you'll compete better with local sellers and improve your international sales.
High-volume sellers: If you sell a large amount of products, Amazon MCF enables you to automate and streamline your fulfillment processes, which reduces errors, saves time, and improves customer satisfaction. Outsourcing your fulfillment to Amazon frees you to focus on other aspects of your business, such as marketing, product development, and customer service, while leaving the logistics to the experts.
New sellers: News sellers just starting out can leverage Amazon MCF to gain momentum quickly with no significant up-front investment in fulfillment and shipping infrastructure necessary. By capitalizing on Amazon's world-class fulfillment network, you can build your brand and gain a foothold in your market faster than it would normally take.
Whether you're a small eCommerce retailer or a large multi-channel seller, Amazon MCF can reduce your overhead, improve customer satisfaction, and scale your business more efficiently. If you're interested in learning more about Amazon MCF, visit the Amazon Services website.
Wrapping up — Hone your logistics with Amazon MCF
Amazon Multi-Channel Fulfillment is a great option to improve the efficiency and reliability of your fulfillment operations. However, first consider the potential costs and requirements associated with this service to determine how profitable it could be for your business. If you're a U.S.-based merchant wanting to expand your sales channels and streamline your order fulfillment process, Amazon MCF might be the solution to take you to new heights.
How To Write a Killer Return And Refund Policy
Imagine you're standing in line at a store preparing to purchase an item and you have some doubts in the back of your mind. Perhaps you're worried it won't match the color scheme of your home, or maybe it's an article of clothing that, once you try it on later, doesn't flatter the way it did in the fitting room. As you prepare to check out, you ask the cashier about the return policy — specifically, about getting your money back. The clerk explains the policy, circling it on your receipt so you know what to do if you want a refund.
In eCommerce, customers have no opportunity for this type of conversation at checkout. As such, it's important to ensure your returns and refund policies are clear and easy to find on your website. This critical piece of information can help you reduce returns, avoid refunds, and improve the customer experience.
While it may seem like a hassle to deal with returns and refunds, they're an important part of doing business online. Even if you strive to provide top-notch products and excellent customer service, there will nevertheless be times when a customer wants to return a product or request a refund. When this occurs, your well-honed refund policy will be your lifesaver to navigate the process smoothly, and we'll explain how to draft one that fills both you and your customers with confidence.
---
---
Why you need a strong refund policy
A refund policy outlines the rules for receiving refunds for purchased goods and/or services. It details the eligibility requirements for returns, what types of refunds are given, the time frame, and the return process, giving you and your team a rule book to follow when processing returns and refunds. This is especially important as you grow your business when you'll likely begin to receive more returns as your sales increase, making a one-off or ad-hoc returns too cumbersome to manage.
The document lets customers know what to expect before they buy, which reduces the likelihood of dissatisfaction and avoids additional returns on your end. Clearly defining your policy and laying out the terms for customers in a concise manner act as insurance for your sales. For example, if you only offer refunds on regular-priced merchandise, customers know they can't get their money back on sales items.
You should also aim to be fair and reasonable with your policy. It's understandable you don't want to give refunds for products that have been used or heavily worn, but you should also consider the unique circumstances of each request. If a customer has a legitimate complaint about something they've purchased, it's in your company's best interest to resolve the issue as quickly and amicably as possible.

How to write and launch an appealing return policy
Every return policy is unique to the individual business, and different products might require different eligibility terms. However, there are certain core elements that every document should include. Approach your writing thoughtfully and consider how to accommodate your and your customers' best interests.
Determine a reasonable time frame
Firstly, choose a time frame during which your customers are eligible to request a refund. This can be whatever range you prefer, whether it's 10 days or 365.
Decide when you'll start the clock as well. Does the refund period open when the purchase has been completed (the date on the receipt), when the order was fulfilled (sent from your warehouse), or when the order has been delivered (as noted in the tracking information)?
You might opt to build your policy around a "try before you buy" approach, letting your customers use the product for a predetermined amount of time, such as one month, so they have the opportunity to change their minds with less hassle. These types of guarantees are attractive to shoppers, but they also benefit you.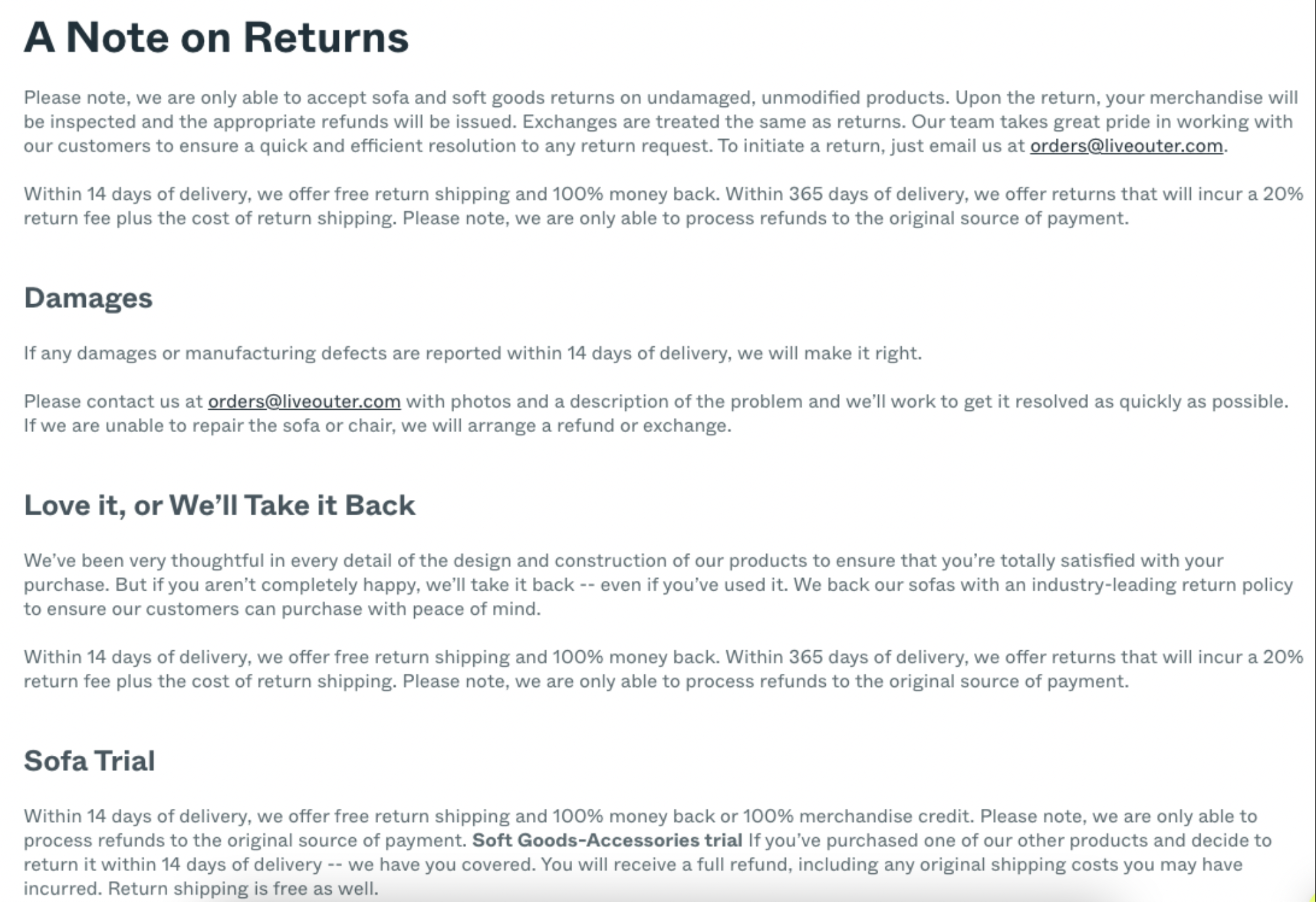 Source: Outer.com
O​uter, for example, is a furniture company with a generous and unique return and refund policy: They'll refund 100% of the cost of an order if the request comes within 14 days, but customers can receive an 80% refund up to one year after buying Outer products. This allows customers to test an item for an extended period of time. However, Outer doesn't offer free returns outside of the 14-day window.
Longer time frames — those greater than the standard 10 to 14 days — allow your customers to become familiar with and fall in love with your products. When customers are not bound to a tight refund window, such as a 10-day limit, they may put off submitting a return, which could result in them missing it altogether.
Establish acceptable item conditions
Depending on your product type, you can have an array of requirements concerning the condition of items eligible for refunds. Regional laws where you do business can also dictate (or at least influence) these terms as well. For instance, in some countries, baby items like carriers, strollers, breast pumps, and larger toys can only be returned if the box is unopened.

Source: Allbirds.com
If you adopt a "try before you buy" approach, you'll need to be comfortable accepting items in varying degrees of a used condition, but that doesn't exclude you from having strict requirements for the condition. For example, if you allow customers to test a product for 14 days, you can still require the item to be in a gently used, undamaged condition.
As a concrete example, A​llbirds, a popular lifestyle company that sells footwear and other products, have different requirements for returns and refunds based on the products offered. They'll happily take back any product within 30 days, but underwear and socks must be in unopened packaging; however, shoes can be worn.
List the steps for refunds to be processed
Once you've determined a time frame for refunds and the condition required for an item to be eligible for a return, detail the steps for the refund process.
Depending on your company and processes, you may have an online request form that customers can fill out, or buyers may need to contact you directly. The request may include:
Proof of purchase (order number)
P​roof of condition (photos)
Complaint or reason for refund request
Whether or not to offer free product returns is up to you, but there's considerable evidence that free returns boost sales. While free returns will cut into your profits, a 2012 report demonstrated how free returns can increase sales by a whopping 357% — proving it's a worthwhile investment.
The next step in offering returns is to verify the return package has shipped. Some large retailers like Amazon (particularly through FBA) simply wait for tracking to start before processing a refund, with funds deposited to the original form of payment within a few days. But many other retailers require the returned products to be delivered in acceptable condition before the refund is issued.
In some cases, returned products may only be fit to be used for parts, or you might be able to resell them at a discount with an "open box" label. Keep this in mind when you decide on the item conditions you're willing to accept.
It goes without saying that defective products — that is, those with manufacturing issues or that arrived at their final destination damaged — should be refunded or replaced as quickly and seamlessly as possible.
Finally, you may choose to offer refunds on products without requiring your customer to send the item back (although this practice is less common).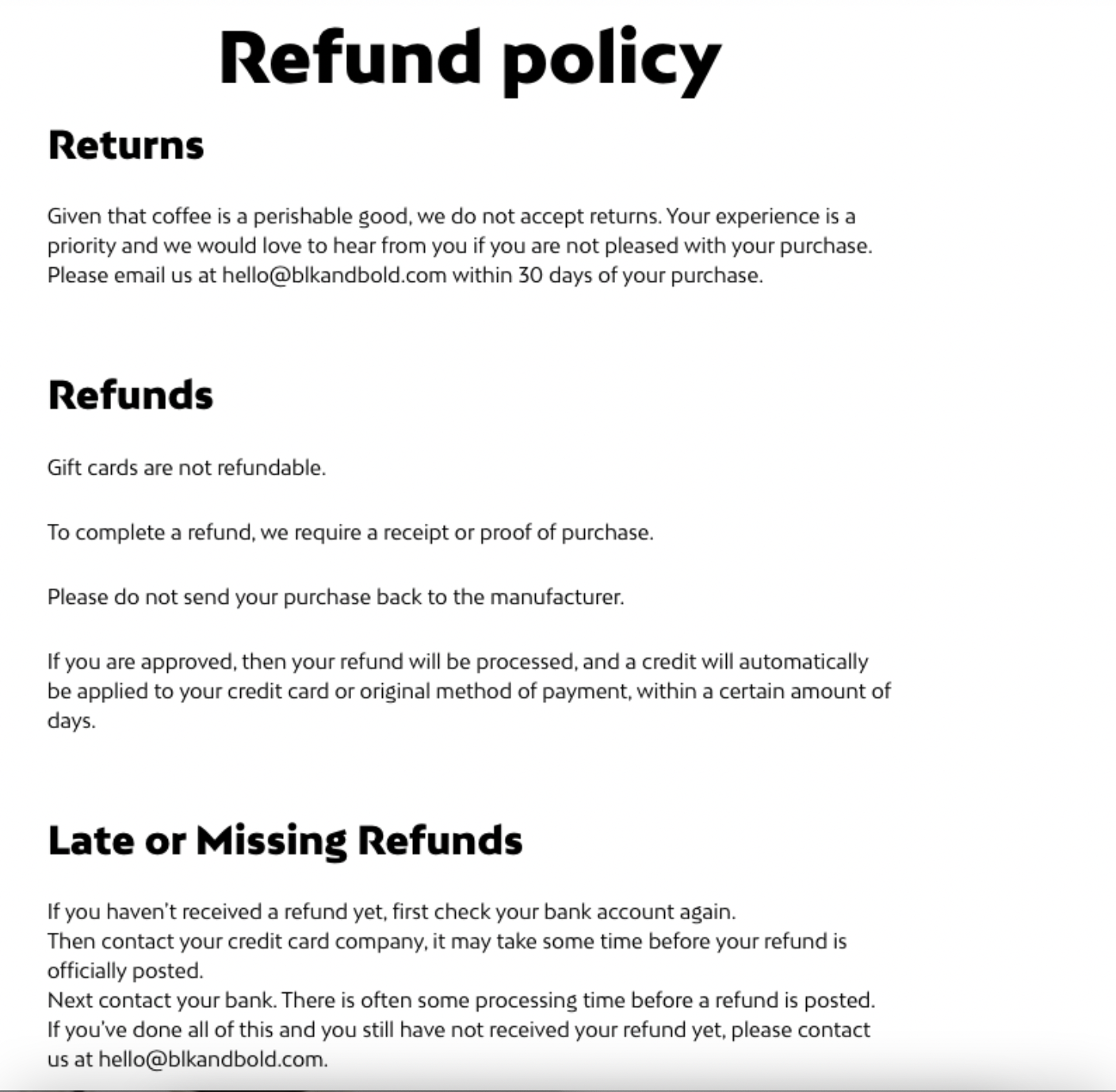 Source: blkandbold.com
BLK & Bold is a coffee and tea beverage company with a focus on supporting youth initiatives. They offer in-store and online purchasing options, including subscription programs, and customer satisfaction is a main focus for them. They're committed to excellence in that regard, and it's reflected in their refund policy: The company doesn't require products to be returned. However, refund requests will only be processed within 30 days of purchase.
Clearly display your policy
Y​our returns and refund policy should be readily visible and easy for your customers to find. Some retailers have gotten creative to make it easy for shoppers to see. T​enTree, for instance, includes their return policy directly on their product pages, located in a handy accordion that can expand. Although their policy is somewhat generic, costing customers a flat $10 within 30 days of purchase, its visibility, and simple language ensure zero confusion.
Employ a service to handle your returns
Services exist that can support your return and refund policy by handling every step of the process for you.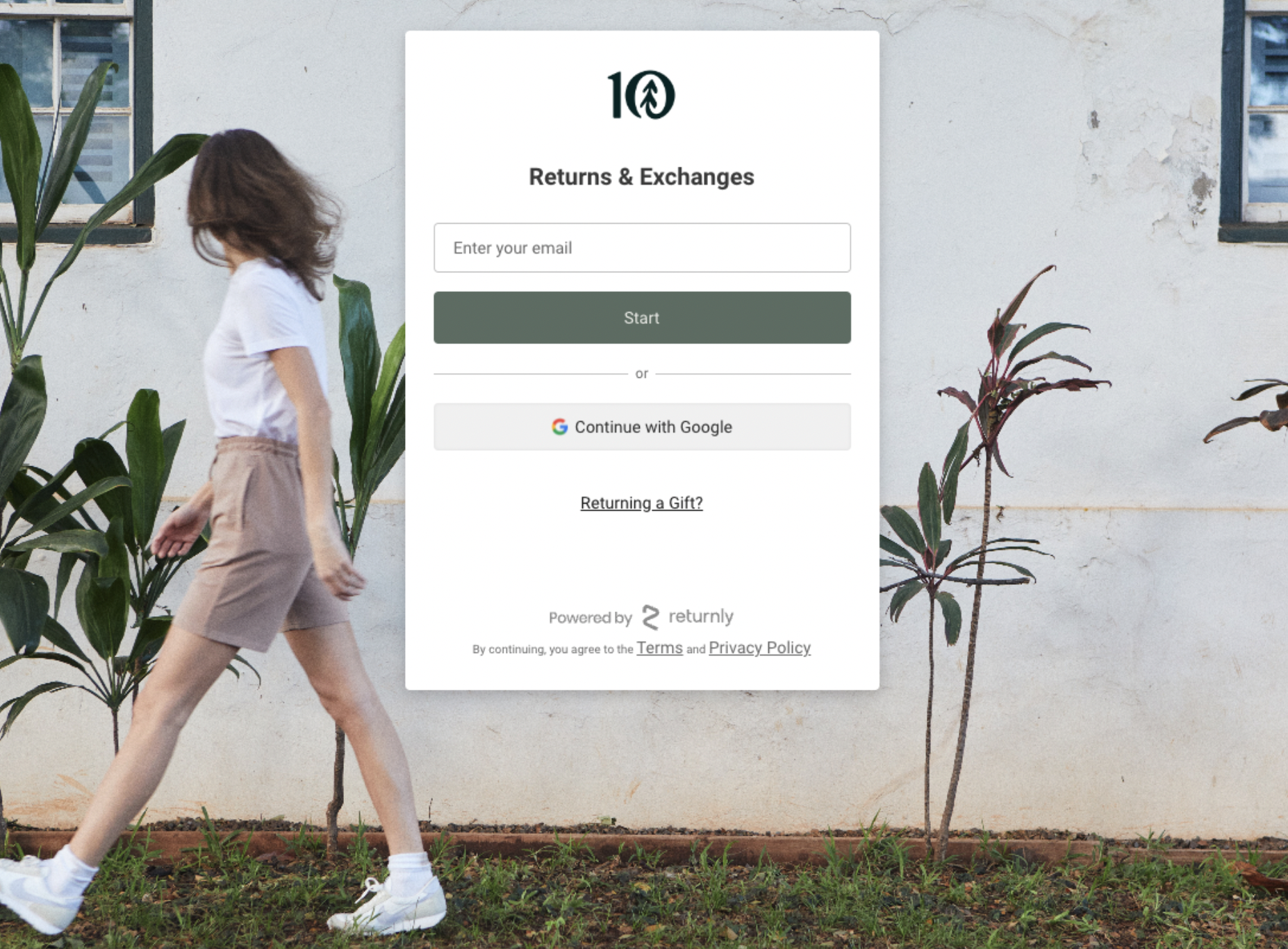 Source: TenTree.com
For example, TenTree (mentioned above) uses a platform called Returnly, while Allbirds uses Loop. Meanwhile, Amazon sellers who use Fulfillment by Amazon (FBA) can rely on FBA to take care of all aspects of customer service, including returns and refunds.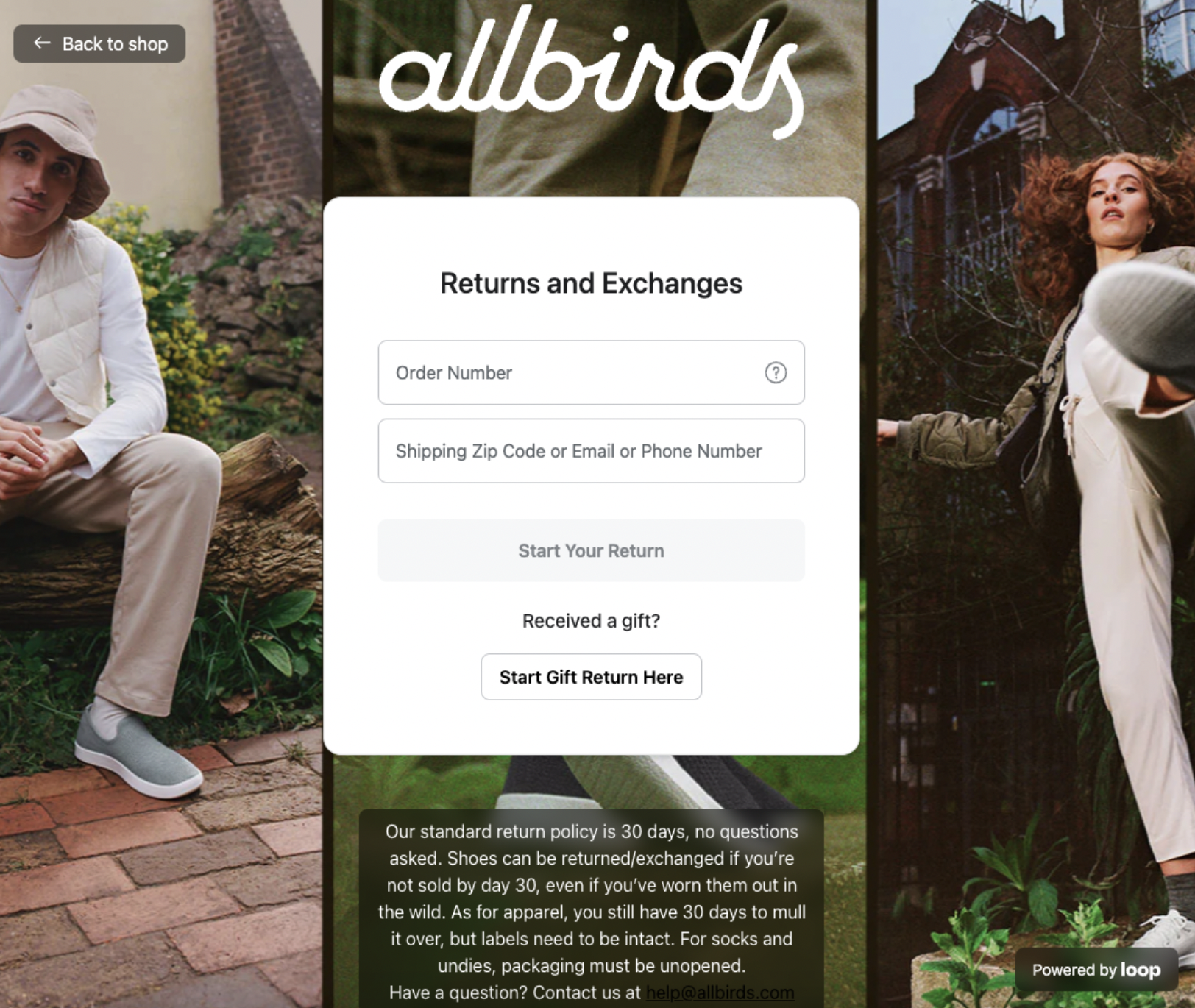 Source: Allbirds.com
These are but a few services that manage the reverse logistics of returns and refunds to ensure seamless customer experiences.
Choose between a refund or store credit
Another important decision you'll have to make is whether to offer refunds or store credit for returned items.
One advantage of refunds is that customers can choose how they want to handle the returned item. This is appealing to buyers who are unhappy with the product or who changed their mind about the purchase.
On the other hand, offering store credit allows consumers to purchase a different item from your store, which is an effective way to retain their business. It can also be less burdensome administratively for your business, as you don't have to process a refund.
You can make refund methods time-sensitive, such as offering a full refund within X days, or they can vary by product — for example, offering only store credit when a product was purchased on sale. However you decide to proceed, communicate whether items are eligible for refunds and/or store credit (and if any items will be labeled as "Final Sale").
Keep the language simple and to the point
The language in your refund policy must be clear, concise, and easy to understand. This helps ensure customers understand their rights and options when it comes to returning a product or requesting a refund. If the policy language is too complex or difficult to comprehend, it can cause confusion and frustration for customers, which could lead to negative experiences and potentially damage your reputation as a merchant.
By implementing clear verbiage, you effectively communicate your policy and resolve customer issues in a timely and efficient manner — often before they purchase, which reduces the number of refund requests you receive. Additionally, an open and simplistic refund policy can build trust and confidence in your company by demonstrating transparency and fairness in your dealings with customers.
Disclose any associated fees
Returns can be a necessary but expensive evil in an eCommerce business. With shipping costs rising around the world, it's understandable some merchants choose not to offer free returns on products. If you decide to follow suit, it's imperative you outline any fees associated with a return.
Two companies we've previously mentioned clearly define the costs accompanying any returns:
TenTree has a flat $10 rate on all returns to cover the cost of postage.
Outer offers free returns within 14 days. Past that date and up to 365 days post-purchase, they require customers to cover the cost of return shipping.
In general, the cost of returns is subtracted from the total refund offered.
Leverage tools to generate a policy for you
Crafting a full returns and refund policy can be overwhelming, and if you dislike writing, it can be downright unpleasant.
M​yFBAPrep offers a DIY solution to generate your refund policy that takes the heavy lifting out of policy creation. The Refund Policy Generator takes only minutes and provides an easy-to-read policy that clearly details your company's approach to returns and refunds.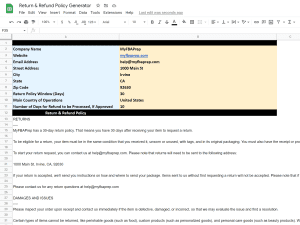 Download it below!
---
---
Answer the form above, fill out your company information, and make any necessary edits. From there, you can copy and paste the generated policy onto your eCommerce store and begin promoting.
*Note that this is not professional legal council. Every store's policy will be unique, so please review the generated policy before adding it to your store.
Promote your policy
A strong refund policy also provides a great marketing opportunity for your business. Show off your generous refund policy to build trust with prospective customers. As long as you adhere to it, your policy can breed customer loyalty by showing them you'll do what it takes to make things right for each issue.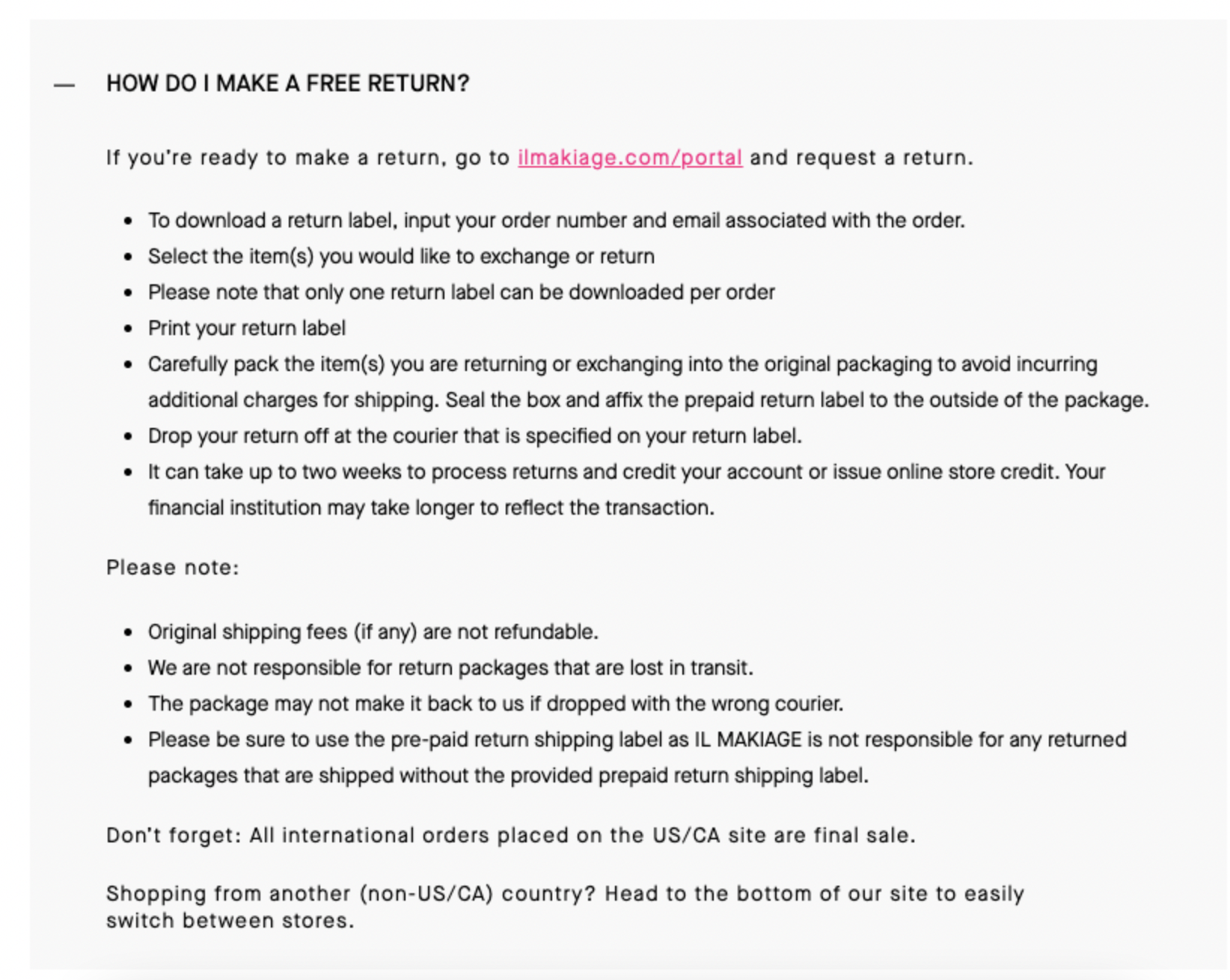 Source: IlMakiage.com
Take I​l Makiage, an eCommerce brand that sells cosmetics and skincare products, for example, much of their marketing leans on their Try Before You Buy approach while also highlighting their unique "shade finder" tool and other products. They allow customers to use the product for up to 14 days, and at any time during that period, dissatisfied customers may request a refund — no questions asked.
N​ot sure where to begin? Keep the following key tips in mind:
I​nclude your refund policy on product pages.
Highlight your returns and refunds policy on your home page.
Work your refund policy into your marketing messages.
Link to your returns and refunds policy in every post-purchase communication, from the success page to your retargeting emails.
Wrapping up — Create an awesome return and refund policy to set expectations

Having a clear and concise refund policy not only protects your business but also builds trust and credibility within your customer base. It's also a fantastic marketing tool for your business when displayed strategically.
It shows potential customers you're a professional and reliable company that stands behind its products. A generous refund policy also encourages customers to shop with confidence, knowing they have recourse if they're dissatisfied with their purchase.
The Ultimate eCommerce Glossary for Online Sellers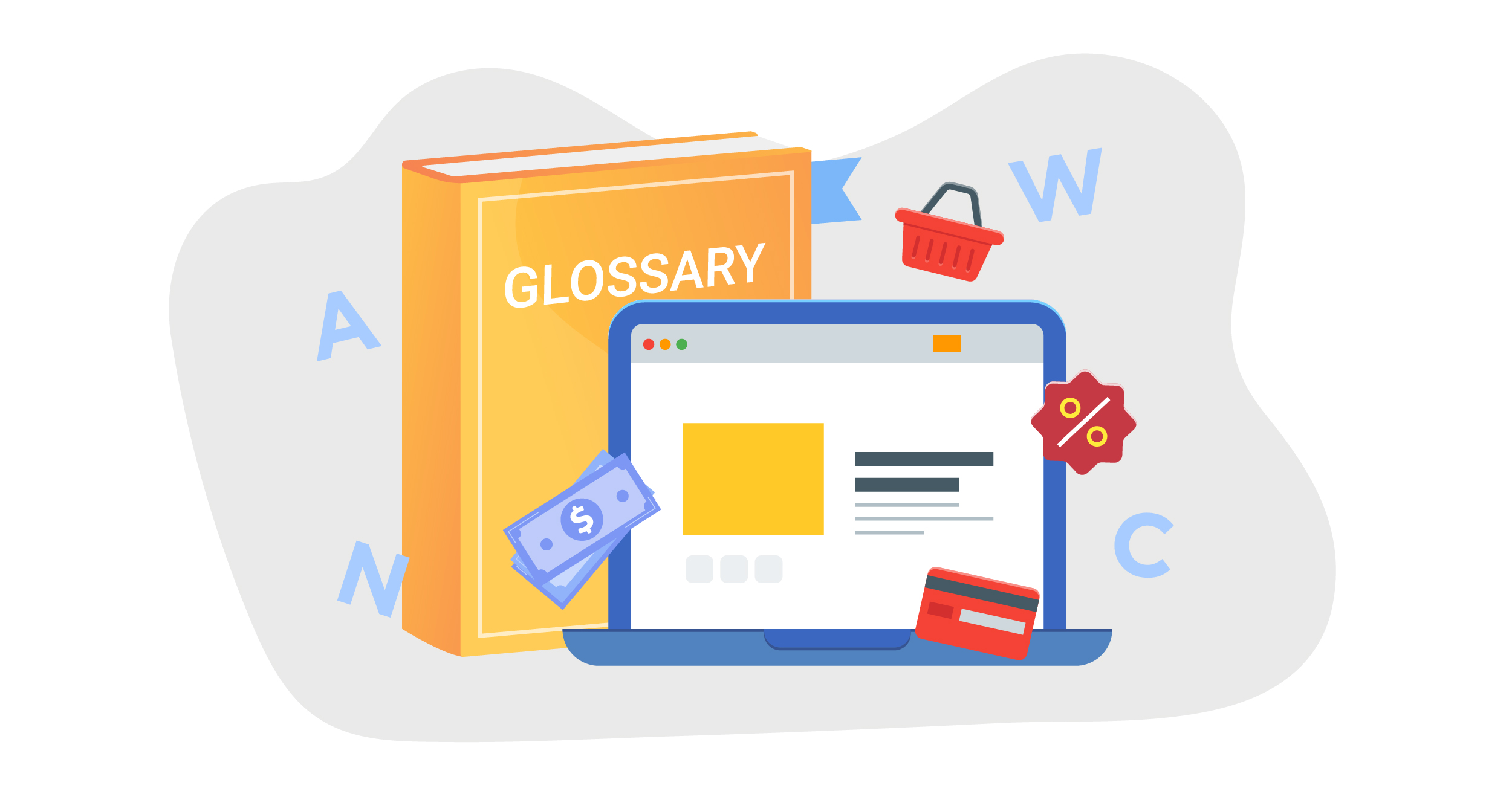 If you've been in the eCommerce world for a while, you know the space comes with its own terminology, methodologies, strategies, and tactics. There are many to learn, understand, and implement to ensure your eCommerce business reaches its full potential. So, to get you up to speed, we've put together a comprehensive eCommerce glossary. Let's dive in.

Stock-related terms
Bundling: The process of grouping products together for sale. A brand can create a bundle by packing multiple quantities of the same item into one offer, varying products, or both.
Product kitting: The procedure of taking individual items in any state and turning them into a bundle or kit, typically via packaging.
Variety packs: An offer created by packaging different items or variations of a product together, e.g., multipack chips.
Product kits: Singular items grouped together to form a new product offer. Kits can also be customized to customer specifications per order. A kit usually has a purpose, like simplifying and systemizing a process.
Listing: An online page created on a website or eCommerce marketplace to display products. It holds crucial assets like product descriptions, images, videos, and reviews. It can also act as a landing page for marketing campaigns.
Product descriptions: Text written to highlight the key feature of a product for sale. Weight, measurements, materials.
Minimum Order Quantity (MOQ): A figure that represents the lowest unit quantity you can purchase from a supplier or manufacturer, e.g., 100 boxes.
Economic Order Quantity (EOQ): The order size you need to minimize risks and costs such as holding/storage, shortage, order processing, and waste.
Hazmat: Short for hazardous materials. It's an umbrella term for liquids and substances that can be flammable, toxic, carcinogenic, corrosive, or dangerous. For example fertilizers or cleaning solutions.
Inventory turnover: Reveals how quickly a business sells through goods. Inventory Turnover is calculated using the formula Cost of Goods Sold / Average inventory value during a specified period.
Auto-replenishment: A subscription model that sends refills to clients on autopilot using machine learning to gauge when customers need to top up their products. It's also used as a sales and marketing selling convenience and timesaving.
Anticipatory Stock: Inventory purchased and stored in advance of a Season change or major Sale
Beginning Inventory: The value of stock items a the start of a specific accounting period
Ending Inventory: The value of stock items at the end of a specific accounting period; this is also the Beginning Inventory for the next account period
Cycle Counting: A method of periodic inventory taking where only certain portions of stock are counted at a time. This eliminates the need to close entirely to take inventory. 
Periodic Inventory: Physically counting items to ensure counts are accurate with digital records; often the business needs to close while this is underway
Cycle Stock: Also known as working stock; the amount of inventory kept to fulfill anticipated orders for a specific period of time. This is replenished as soon as it is sold.
Demand Forecasting: Using various data points to anticipate demand and help make business decisions such as new products or working relationships.  
Digital Inventory: Number of items in stock based on data from software and digital scanners. Physical Audits should be done periodically to ensure accuracy. 
Physical Inventory: The amount of physical items in stock as confirmed by a person; can be used to confirm Digital Inventory
Pipeline Inventory: Items purchased that are not yet in-hand; may be in-transit or still being manufactured. 
Excess Inventory: Raw materials that are past their expiration dates, unsold items, or otherwise unsellable stock
Psychic Stock: Inventory used for marketing, that is not for sale 
FIFO (First In, First Out): an inventory and accounting method that works on the assumption that items are being sold in the order in which they were purchased. 
LIFO (Last In, First Out): An inventory method based on the newest inventory being sold first. 
Finished Goods Inventory: Items that are packaged and ready for sale; also referred to as Merchandise inventory
Out of Stock: No inventory available, without an anticipated restock date
Reorder Point (ROP): A predetermined inventory point at which specific SKU's are reordered to maintain stock
Safety Stock: Additional inventory kept on hand for use in case of increased demand or supply issues
Stellar products need stellar fulfillment. Learn how MyFBAPrep can give your business the upper hand.

Marketing and sales-related terms
Sustainability: The process of meeting human needs without hindering the progress of future generations or the globe. There are 4 pillars of sustainability: social, human, economic, and environmental.
Social proof: A psychological and social occurrence in which people are influenced by others and, as a result, copy their actions in a situation. Brands use social proof to convince shoppers to buy based on other buyers' actions.
User-Generated Content (UGC): Content created by your customers and influencers displaying your products. It can take many forms, including short and long-form videos and images.
Landing page: An individual web page set up for people to "land" on after clicking on an ad or link. It can be created on a website or hosted via landing page software.
Influencer marketing: Promoting your brand and products by collaborating with content creators.
SMS marketing: Outreach method to a phone number lead list using text messages. Due to legalities, shoppers often need to opt-in to receive communications and have an opt-out option.
Content marketing: A marketing strategy that involves attracting, nurturing, and closing leads through various content assets like blog posts, case studies, and eBooks.
Email marketing: A marketing strategy executed via email campaigns. The emails educate, build relationships, and drive sales. They include newsletters, nurture sequences, and win-back campaigns.
Affiliate marketing: A marketing method that involves promoting products through influencers and industry experts known as "affiliates".
Split testing: Also known as A/B testing, split testing is a conversion rate optimization method that involves testing different variations of an element against each other to determine which feature performs best.
Content management system: Software, also called a CMS, centralizes content assets, allowing you to create, edit and manage them across your business ecosystem.
Presale: The sales strategy of selling goods to customers before they're manufactured.
Giveaways: A marketing strategy involving giving away products via a competition to raise brand or product awareness and increase engagement.
Referral program: A reward system that incentivizes customers to introduce their network to a business.
Customer loyalty program: A program designed to reward customers for repeat purchases and visits.
Customer retention rate: A metric that measures how many of your buyers remain your customers over time.
Bounce rate: A metric that calculates how many visitors go to a webpage and leave without taking action. The formula is: single-page sessions / total sessions.
Conversions: When a prospect or customer sees marketing material and takes action. E.g., a link click, email signup, or purchase.
Average Order Value (AOV): The typical amount a customer spends in your store. AOV is calculated by the formula total revenue / total orders.
Customer Lifetime Value (CLV): How much a buyer is worth to your company on average over the time they spend as your customer.
Pay-per-click (PPC): An advertising vehicle that is used to drive traffic to a website or landing page. The users typically pay for the advertising through impressions and/or clicks generated.
Advertising Cost of Sales (ACoS): A metric that reveals how much you spend on PPC, e.g. (Amazon PPC) to generate revenue. The ACoS formula is (Ad spend / ad revenue) x 100.
ROAS: A KPI which shows how much revenue is generated per $1 spent on advertising. ROAS is calculated by the formula revenue / ad spend.
Cost per click (CPC): Refers to how much you pay as a bid per click. You can set maximum bids to control costs.
Conversion Rate Optimization (CRO): The process of improving your website or landing page to increase the percentage of conversions it generates.
Cart Abandonment Rate (CAR): The percentage of carts users add items to and "abandon" before completing a purchase.
Return on Investment (ROI): A ratio that displays the net income to capital invested over a specified period.
Click Through Rate (CTR): A metric that shows how many people view your ad and click on it compared to how many times it's shown.
Presale: A sales initiative in which goods are sold (normally at a reduced price) before they're manufactured.
BFCM: Stands for Black Friday and Cyber Monday and represents two of the most significant final-quarter shopping events in many countries.
eCommerce personalization: The continuous act of providing tailored experiences and communication to shoppers on your website, including personalized offers and product suggestions.
eCommerce landing page: A standalone page built to market eCommerce products and services.
Post-purchase survey: A survey sent to a customer after they've made a purchase to gauge satisfaction with their experience.
Checkout optimization: The practice of improving an online store's checkout process to increase its conversions.
Customer-first data: Insights gathered from prospects and customers with their permission and explicit consent.
Augmented Reality (AR): A technology that creates images and overlays them on the user's view of the real world, altering and enhancing their view.
Virtual Reality (VR): Technology that creates 3D image simulations. They are used in retail and eCommerce to help shoppers visualize products in their environment or on their person.
Omnichannel eCommerce: a type of selling that aims to make the customer seamless regardless of where they start and finish their buying journey.
Multichannel selling: Selling goods on multiple channels simultaneously. Multichannel selling includes online and offline channels.
3D Secure (3DS): A security protocol built to provide additional security for debit and credit card transactions.
Headless commerce: An eCommerce solution in which the front end is decoupled from the backend. E.g., the customer-facing shopping interface is split up from the background tools and operating systems.
Cross-border eCommerce: The act of selling and fulfilling goods online internationally.
Platform migration: The process of moving from one eCommerce or web platform to another. E.g., switching from Shopify to Magento.
Amazon Seller fees: The charges Amazon levies on sellers. It includes a referral fee, a selling plan subscription, and fulfillment fees (if you fulfill via Amazon).
Live shopping: A marketing initiative in which brands sell goods through a live-stream broadcast.
Amazon seller account suspension: When Amazon removes the selling privileges of a seller account holder. The suspended seller will need to appeal with a Plan of Action to request reinstatement.
Amazon aggregator: A business model which acquires Amazon brands. They optimize the brand's marketing and backend operation to scale and make a positive ROI.
Amazon Inventory Performance Index: A metric between 0-1000 Amazon assigns stores which measure how effectively a store manages its inventory.
Shopify Audiences: A marketing solution that helps users find and close new customers by creating an audience list of engaged buyers from ad platforms like Facebook and Instagram.
Section 321: A US law issued by the US Customs and Border Protection (CBP) permits low-value shipments to be cleared through customs without imposing taxes and duties and with less paperwork.
Retail Arbitrage: The business model of buying goods from a physical store and selling them with a markup on marketplaces like Amazon and eBay.

Fulfillment and logistics-related terms
Distributed order management system: A rule-based system that helps users manage and fulfill customer orders while keeping costs low and maximizing fulfillment operations and actions.
Inventory management: The process of managing stock levels and flow in a business.
Direct-to-customer (DTC): A business model which involves selling goods to the end consumer with no middleman, e.g., on your own website.
Fulfilled by Amazon (FBA): A fulfillment service offered by Amazon to sellers on its platform. FBA orders get perks like Prime shipping, improving the service for customers and sellers.
Fulfilled by Merchant (FBM): When the sellers execute the order fulfillment for an order on an Amazon order.
FBA Prep: A term that refers to preparing and packaging goods to go into the Amazon FBA network.
Batch fulfillment: A type of shipping process which involves grouping packaged orders to be shipped out simultaneously.
Crowdfunding fulfillment: The processing and shipping of a crowdsourced product to funders.
Amazon Multichannel fulfillment (MCF): A fulfillment program in which Amazon handles the storage, picking, packing, and shipping of orders for goods sold online (and not just on Amazon).
Distributed fulfillment: The fulfillment strategy that involves placing inventory and fulfillment service close to demand and customers.
Looking for help with your fulfillment? MyFBAPrep is the answer you've been searching for.
Picking: Selecting goods in packing and for shipping.
Packing: packaging goods in anticipation of shipping goods to customers.
Value-added services: Premium services typically offered by 3PLs, which modernize, streamline, and improve fulfillment,e.g., pallet bagging and product kitting.
Barcoding: A service in which barcodes, e.g. UPC codes, are added to products in preparation for storage and sale.
Stock Keeping Unit (SKU): An eight-digit number (usually) that businesses with physical products use to track and manage inventory levels.
Third-Party Logistics (3PL): A service that enables businesses to outsource key parts of backend operations like goods distribution, warehousing, and fulfillment.
Fourth Party Logistics (4PL): A service that allows businesses to outsource the management of their entire supply chain and logistics to one fulfillment provider.
Fifth Party Logistics (5PL): A service that manages all aspects of the business's supply chain starting at production and ending at delivery.
Prep and pack service: A service offered by a fulfillment provider in which they manage receiving customer orders, arrange the package with the purchased goods, and ship the items.
Backorder: An order that can't be fulfilled when made due to a lack of available inventory.
Electronic Data Interchange (EDI): Using technology to share data instead of paper-based. For example, customer data and order insights.
Zone skipping: The practice of shipping many packages to a carrier's parcel hub near the package's end destination.
Returns process: The process for managing when a customer buys goods from a store and sends it back to your distribution center for a refund or exchange
Shrinkwrapping: A service that involves tightly wrapping boxes or products with a polymer plastic film that "shrinks" around the object.
Relabelling: Relabelling involves taking products with premade labels, e.g. barcodes or printed packaging, and attaching new labels in line with the requirements of the sales channel and brand.
Co-packing: A service that consists of taking goods from their raw and packaging them into finished products.
Pallet bag packing: A fulfillment-related service in which goods are bundled and attached to outbound shipments to a pallet in one go.
Sort and segregation: Also known as sort and seg. A value-added service in which the fulfillment provider handles unloading and reorganizing shipments. It also includes services like stock counting, quality inspection, packaging, and repacking.
Fixed logistics: A logistics approach with more permanent fixtures through assets like leases and owned buildings and takes place in a set location, making set up and take down
Flexible logistics: A logistics model with little to no assets or long-term commitments, allowing for simple setup, adjustment, and take down.
Inbound logistics: Obtaining products and materials from suppliers. 
Assembly Services: Some (not all) 3PLs offer this service to add a finishing touch that manufacturers don't provide, such as placing items in branded boxes, or adding custom packaging 
Awaiting Delivery Scan: A designation meaning that the item is out for Delivery, but has not been scanned as such; this does not mean that the package has not arrived, as there may be extenuating circumstances, however these discrepancies are often cleared up within a day or so
Carrier Facility: A location that acts as a hub for Shipping Carriers within a region, similar to a Distribution Center
Delivery Duty Paid (DDP) shipping: A method of shipping in which the Seller takes responsibility for all aspects of the sale. If you choose to use this option, the Customer is charged at the time of their order for the product, shipping cost, and associated fees. This will require you, as the seller, to estimate these fees in advance and implement them to amounts charged. 
Delivery Duty Unpaid (DDU) shipping: In this case, the responsibility for Shipping costs is shared between you, the seller, and the buyer. You would ensure that items are received at the Country of Destination, and absorb any associated costs. Once the item has reached Customs, it then becomes the responsibility of the buyer to pay for import Duties or transportation costs before they can claim their items. 
Delivery Exception: Any type of unexpected delay a Shipping Carrier encounters while a package is en-route. This could be anything from poor weather conditions, to a more widespread issue such as border closures. 
Delivery Not Attempted: A message used to show that a package was out for delivery but was unable to be completed. The Driver may have run out of time, or encountered another issue.
Dimensional Weight (DIM): Also known as Volumetric weight, is a formula used by Shipping Carriers to determine cost per Volume for eCommerce packages
Discreet Shipping: A method of shipping where there are no labels, branding, or address to identify the Seller or what the item is. There are a number of reasons this could be selected, from sensitive contents, or detraction of theft. 
Dunnage: Sturdy packaging material to protect items during shipping, such as packing peanuts or bubble wrap. 
Out for Delivery: A notice that the Shipping Carrier has the package on a truck for delivery.  
Packing Slip: An itemized list of all package contents
Reshipment: A replacement shipment sent if an order is damaged, lost, or incorrect. 
Scheduled Delivery Pending: A message received when the shipping carrier is unable to make the delivery as expected and is unable to provide an alternative date
Wrapping up
And, there you have it – a list of commonly used eCommerce terms. For the best results on your selling journey, keep on top of these terms to uplevel your knowledge. Also, use the services and strategies mentioned to get inspired on things you can improve in your eCommerce business for bigger and better wins.
New to eCommerce fulfillment. Go from novice to pro with MyFBAPrep.
11 Effective Ways To Optimize Your Shipping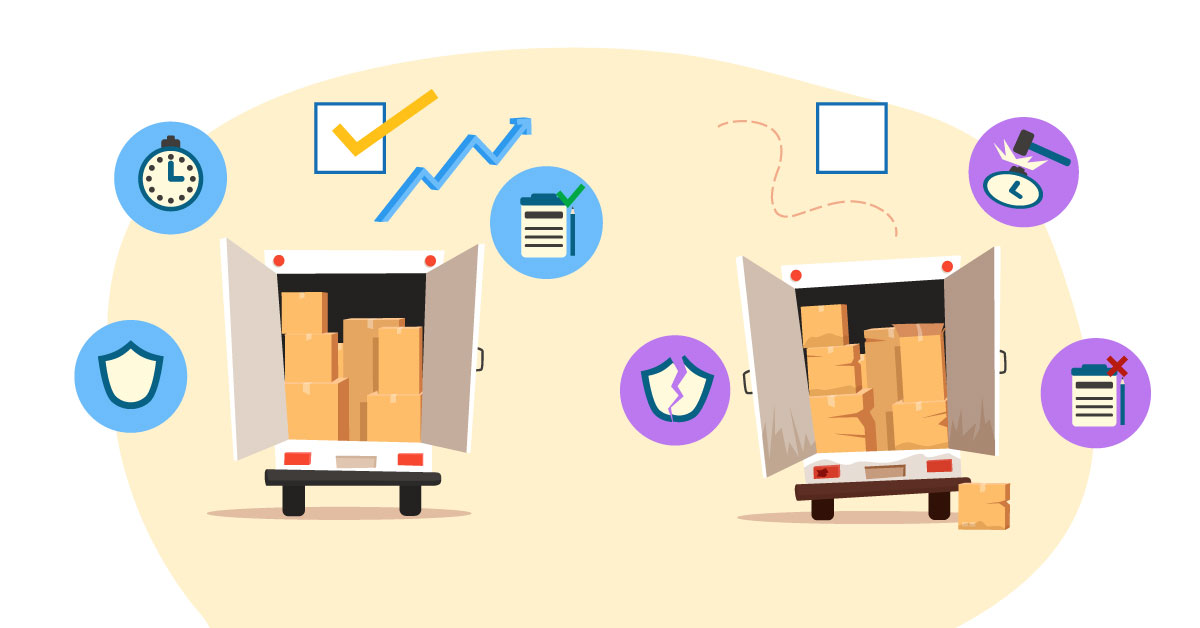 As more players enter the eCommerce market, it's essential to find ways to stand out. There's one area that online stores notoriously neglect that can give your brand a competitive edge; fulfillment.
Just 28% of people surveyed by DigitalCommerce 360 said they were completely satisfied with their online order delivery experiences. Clearly, there's a lot of room for improvement, but you may be wondering how to go about it.
We've got you covered. In this post, we'll share why upgrading your shipping is always a good move and the best ways to make it happen.
Is your fulfillment option causing problems? Get a makeover with MyFBAPrep.

Why optimize shipping anyway?
Optimizing backend processes may seem like a task to complete when you've got more time on have outgrown your existing ones, but this couldn't be further from the truth. Acting now to uplevel your fulfillment can pay off in many ways. Let's explore a few:
Save cash to invest
Poorly executed shipping and expensive carriers cause businesses to bleed cash. This wastage creates an opportunity cost since you could invest this cash elsewhere in the business to scale. Conversely, the more capital you save on shipping, the more you'll have to invest.
Drive more sales
A great shipping experience isn't just beneficial for customers, it makes your business more memorable. This, in turn, makes it easier to sell more goods to these customers and boosts your bottom line.
Improve supply chain efficiency
An optimized supply chain keeps service consistent and high quality and has positive knock-on effects on your business. For example, you can clear goods through customs, restock items, launch new offers, and manage returns efficiently and cost-effectively.

11 Strategies to uplevel your shipping process
No matter your operation size, there are some actions you can take now to build a phenomenal shipping experience. Let's dive into some ways you can improve your fulfillment:
1. Streamline stock receiving process
On the surface, receiving inventory may not seem like a factor that can impact shipping, but backlogs in receiving inventory can cause delays in restocking and ultimately sending goods to customers. So, analyze your existing process, and remove unnecessary steps in your unloading and stock count. You could use robotic process automation to receive and arrange stock shipments.
For example, brands like Amazon and Walmart are investing in warehouse automation to streamline supply chain management, fulfillment, and logistics. This includes tasks like receiving, sortation, and retrieval.
2. Revaluate packaging for internal and external shipments
Ever received an oversized box containing a small item or a package excessively wrapped with bubble wrap? It's not ideal. These scenarios not only leave customers perplexed, but they can increase your shipping costs and waste. It's also essential to use the right dunnage for the transportation of your goods to and from warehouses and in customer packages to protect items from damage. Some tips include:
Establish criteria and standard operating procedures for outer packaging selection.
When shipping goods to your warehouse, optimize shipment weights at the point of loading.
Bulk ship items to your warehouses when spreading stock.
3. Upgrade your prep and pack process
The faster your prep and pack process, the faster you can dispatch orders. So create packing processes with the most efficient methods for creating. Here are some tips to optimize your prep and pack:
Create standard operating procedures for each product's packaging requirements and distribute them among manufacturers and staff.
Train staff on how to create and pack each product type you sell.
Work with one manufacturer to get labeling outer packaging.
Pre-packing certain items ahead of time in preparation for shipment and storing them in.
Ship and store pre-packed items in key locations.
 4. Work with an experienced multichannel fulfillment provider
If organizing and shipping orders internally don't work for you, there's another way to build a top-tier shipping process. Use a fulfillment partner that covers multiple channels and steps such as prep, pack, delivery, and returns. The fulfillment provider should also have:
Experience in managing the products you sell
The facilities, equipment, and staff to execute
Warehouses distributed in key locations
Reliable carrier partners
For example, at MyFBAPrep, we have 50+ warehouses globally, offer 3PL and 4PL services, and can handle any volume. We've also transformed a shipment of 50,000 dog bones into individual packs with J-Hooks and hang tags. Plus, our team customized the prep process by making custom plywood tools to boost productivity and maintain high hygiene standards.
5. Consider zone skipping
If you've got high order volume and ship to specific regions regularly, shipping options like zone skipping can come in handy. Zone skipping is a fulfillment method that involves sending a large number of packages (by truckload or less-than-truckload) to a carrier's parcel hub, which is close to the parcel's final stop.
Many retailers and eCommerce brands engage in zone skipping because the practice of skipping carrier zones allows them to save costs and get goods to customers faster and easier with less product damage.
Before you sign up with a carrier, ensure:
They have experience in zone skipping for your product type
The cost and time savings are worthwhile
Have resources to build the right prep and dispatch setup
6. Offer subscriptions
If there is one shipping service shoppers love, it's subscriptions. The market rocketed to more than $23.18 billion in 2021. Work out the products shoppers buy the most, along with the typical buying frequency and quantity, and use the information to guide your offers.
To get your shipping right, you'll need tech solutions to share customer data and produce order reminders seamlessly. Solutions like Nexer, ReCharge (for Shopify sellers), and Subbly,
You'll also need to find ways to fulfill orders fast, especially if you pack and send subscription boxes once a month. For example, you could assign specific days to prep outer packaging boxes and educate staff on efficient packing methods.
7. Present shipping multiple options
Shipping costs can be the difference between whether someone buys or walks away. 54% of shoppers have abandoned an order due to delivery costs. Also, 70% of people consider free shipping to be the most important factor, followed by shipping speed and delivery options (43%) when considering delivery from retailers.
In the same breath, costly carriers and fulfillment strategies can wipe your margins, so it's important to find a balance between customer wants and keeping profits. For example, you could offer multiple shipping options that match customer needs, e.g., free, expedited, BYOP, and price shipping and returns costs into your products. You could also look for the most cost-effective delivery channels.
Shoppers are ready to buy. Is your store ready to ship? Get your fulfillment process.
8. Make tracking goods a memorable experience
Did you know 24% of buyers will abandon a cart if delivery dates aren't given? Tracking orders is important for both parties. But when it comes to customers tracking shipments should be an exciting experience that builds anticipation and reduces buyer's remorse. Here are some ways to keep customers engaged during the delivery process:
Share the parcel tracking number within 24 hours
Provide updates on where their order is
Show time slots on when the order will arrive in their neighborhood
Offer an hour's notice of delivery and driver details or allow shoppers to book delivery slots
Share photos of where the item was left
Share tips on how they can use the products bests
Encourage shoppers to share content on receiving the parcel and unboxing items.
Massive growth on the horizon? Level up your fulfillment strategy to maximize results.
9. Distribute clear shipping terms and conditions
Not knowing what to expect from a company can be frustrating and blindsiding. So be upfront about your terms and conditions, especially during peak season.
Share updates to your shipping schedule in multiple areas, so regulars become aware of any changes, and place your terms and conditions in multiple high-traffic areas to increase visibility.
 10. Optimize stock storage location to reduce shipping times and costs
Going out of stock slows down your shipping process and forces you to rush in orders which cut into your margins. To avoid this scenario, it's critical to optimize your inventory and shipping, so they work together to keep optimal stock levels.
Store goods close to demand and in quantities that will match sales velocity.
Have buffer stock in key areas.
Choose carriers that can offer fast and affordable transportation to hubs and shipping to customers both internationally and domestically. (Note: shipping charges should reduce as your order volume increases).
11. Make your returns process painless
Your eCommerce business' reverse logistics process is just as crucial as your outbound shipping. The right strategy would inspire shoppers to give your brand another chance even if the product wasn't the right fit. Offer multiple stress-free options like Buy Online Return In Store (BORIS), paperless returns, and locker drop-offs.
To keep your returns operations economical and efficient, it's critical now which products make sense to return to your warehouses and which products can be written off a loss without requiring them back. It's also important to know what you'll do with goods once they are returned. E.g. refurbishing and selling them on an alternative marketplace.
Power ahead with streamlined fulfillment
Shipping offers your brand the chance to shine and make operations more profitable. Also, the better your shipping experience, the increased likelihood that customers will return. So, take advantage of this opportunity. Step back from your current operations and pinpoint the areas that need work. Ask customers for feedback and onboard reliable shipping solutions, and start your optimizations in areas that'll have the most impact first. Take action, and soon, your fulfillment will be running like a well-oiled machine.
It's never too late to uplevel your fulfillment process. Learn how MyFBAPrep can set you up for success.
10 Critical Questions to Ask Before Choosing Your Fulfillment Partner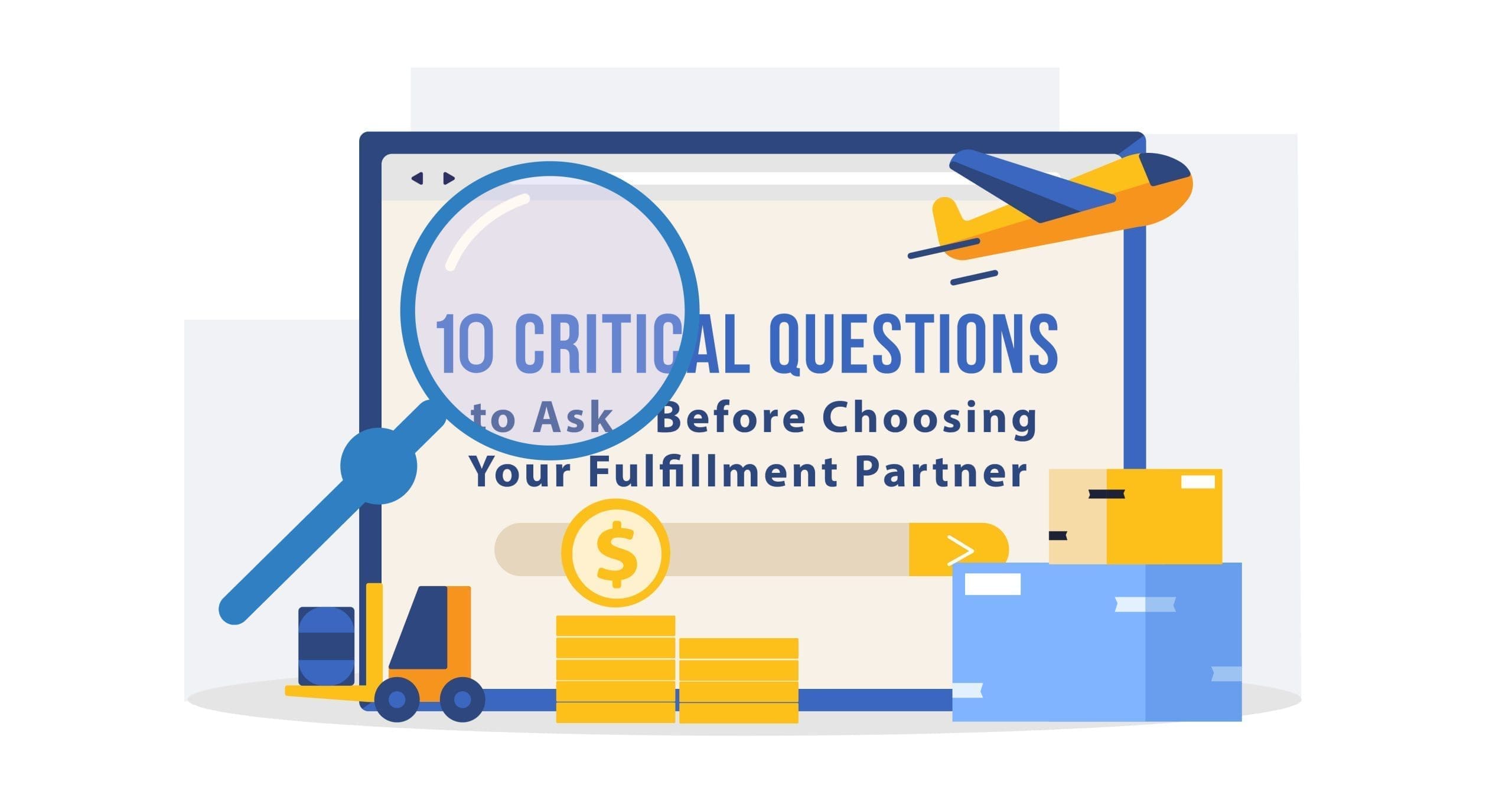 Fulfillment is an important consideration for buyers. They judge companies based on the speed, cost, efficiency, and trustworthiness of their shipping and return options — and they have high expectations. So much so that over 90% of shoppers expect their items in less than a week. Moreover, 53% of shoppers have canceled an order when they found shipping to be too slow, and 54% due to expensive fulfillment.
Needless to say, your fulfillment process is a huge deal and will play a critical role in your brand's long-term results.
So, how do you get started on your search the right way?
Today we'll shine the floodlight on the best questions to ask when looking for fulfillment services to ensure you find the right fit.

The real reasons why brands struggle to find their fulfillment match
Picking the right fulfillment partner is a long process, but there are some common mistakes businesses make that can prolong and increase your costs.
Rushing the process
It can be tempting to sign up for the first deal you see with little research to back up your decision. But "slow and steady wins the race" when searching for fulfillment services. Ideally, the fulfillment partner you choose will be with you for the long haul, so you should take your time.
It's a worthwhile investment to assess your options diligently before committing. Set aside time in your schedule to give the search your full attention and thoroughly evaluate your options.
Not knowing what to look for
No matter how many years they've operated or awards they've won, no fulfillment service is perfect and offers everything.
Every business is unique, which means the services and turnaround times you need from your fulfillment partner will be unique as well.
It's vital you know what the green and red flags are when searching for a partner. This approach will up your odds of finding your ideal match. Consider your budget, products, trading territories, services required, and the desired fulfillment experience before searching.
Tip: While it's important to find a service that provides good value for money, if a deal sounds like it's too good to be true, it probably is.
Having unrealistic expectations
It's critical to enter the search with a clear understanding of what services are reasonable to ask for from a fulfillment provider.
For example, if you value ownership, you can ask for more insight into the warehouse processes. A fulfillment partner should be happy to take you on a warehouse tour to see how your inventory will be handled, and most should have a warehouse management system that provides real-time visibility into where your inventory is at all times.
However, you cannot hire your own warehouse manager and expect a 3PL to put them in charge of their entire warehouse.

10 Questions to ask before you select a fulfillment partner
1. What processes do we need to outsource?
Assess your fulfillment obligations, including prep and pack, warehousing, and shipping. Remember to add the tasks that aren't mission-critical but either take up too much of your team's time or are simply tedious and unenjoyable.
Action points:
List the fulfillment tasks you need.
Consider tasks you may want to outsource in the future.
Assess the fulfillment options your competitors offer to gain an idea of what you're up against.
2. What are our fulfillment needs?
Even if a company sells identical products, its fulfillment needs can differ greatly depending on things like internal processes, capacity, and budget.
Be specific about what characteristics and assets you want in a fulfillment service. You could look at:
Experience
Pricing
Transparency in processes
Setup offered (e.g., flexible or fixed logistics)
Order volume capacity
Storage capacity
A variety of services offered
Take note of any storage, packing, and transportation requirements. Also, acknowledge your current customer shipping expectations (e.g., two-day shipping and free, paperless returns). If you aim to target new markets, research shipping options and expectations in those regions.
Action points:
Understand your customers' shipping wants and needs.
Pinpoint essential characteristics your fulfillment provider must accommodate.
Research your target customer's shipping expectations in territories where you aim to sell.
Ask if the provider can inventory-related initiatives like back orders, presales, and subscriptions.
3. What's our budget?
To receive realistic quotes, it's vital you establish a healthy budget that reflects the fulfillment services you need. If you have a small budget, it's okay to start small. It may mean outsourcing only a few tasks until you have more capital to work with and add as you go.
It's important to know upfront the costs of fulfillment services and materials like dunnage, shipping boxes, and custom packaging for your order volume and shipping requirements. The offer should then go into a service-level agreement (SLA).
Action points:
Shop around to gain an idea of the typical starting price for the services you need and the type of fulfillment provider you want to work with.
Create a shortlist of potential providers based on who can provide the best value for the money.
Gather quotes from your shortlisted fulfillment service providers.
4. What information do we need from the fulfillment providers to make an informed decision?
While you can uncover certain things on your own, like reviews and testimonials, you'll need to request other information directly from the fulfillment provider (although some details may be proprietary).
This can include performance data (e.g., on-time shipment rate, error rate, and inventory damage), closed case studies from businesses in your niche, insurance documents, and samples of standard operating procedures they use for items like yours.
Action points:
Know what data you need, using your internal processes, executive team's requests, and past experiences as a guide.
Request the information you need from Sales, Customer Support, or Management.
5. What tech integrations do we need?
From CRMs and inventory management software to sales and social media channels, every business has the essential tech tools they need to operate. Before you sign on the dotted line, learn whether the fulfillment provider can accommodate your preferred stack.
Action points:
List the software you wish to integrate.
Inquire whether the fulfillment provider accepts these tools for integration.
Ask how much data you can export from existing tools.
Understand the downtime involved in integrations.
Ask whether it's possible to integrate tools not on their current integrations list, how much it'll cost to execute, and how long it'll take.
6. What shipping services are must-haves?
Efficient and affordable transportation of goods from manufacturers to warehouses and then to customers is critical. So, enquire about the provider's logistical capabilities to ensure they match your needs.
For example, if you sell in multiple territories, ask if they have access to a freight network and contracts with various reputable carriers to act as first-, second-, and third-line options.
Action points:
Understand your average inventory turnover rates.
Know the average time it takes to ship goods using your chosen transportation method (e.g., by rail and road).
Ask the fulfillment service about the shipping types they offer and their costs.
7. Is the fulfillment provider tech-driven?
From AI product sorting to live inventory tracking, digital transformation is sweeping the fulfillment industry. A company that's serious about driving efficiency, speed, and productivity for its customers should be invested in technology. This could be analytics to track inventory levels, bots to handle boxing, and more. Continuous improvement should be an ongoing priority of theirs.
Action points:
Find out what tech stack the fulfillment service uses.
Enquire which services are executed manually and why.
Ask about pending technological improvements and when they'll go into effect.
8. What security measures are in place to protect our inventory?
Counterfeiting, theft, tampering, and tech malfunctions pose huge risks to your business. Your fulfillment provider must have robust security systems to keep your inventory safe, no matter where it is in their ecosystem.
Action points:
Ask whether the fulfillment provider has 24/7 security and if so, how robust it is (e.g. how many guards oversee the facility and do they have quality video surveillance and alarm systems).
Find out if they have temperature and fire control systems in place.
Investigate how many security issues they've had in the past year and how they resolved them.
9. What are the service level agreements you must adhere to?
Each sales channel has its own service level agreements (SLAs). This helps to protect the buyer experience by ensuring items are delivered on time, accurately, and reliably.
You want to find a good logistics partner that matches where your supply comes from and where your consumers live.
For example, if you're based in Florida but your shipments come into California, look for a partner that has a California warehouse so you don't have to truck items all the way across the country before you start prep. Likewise, if many of your customers live on the East Coast, you'll want a partner that can store inventory nearby for fast deliveries.
Action points:
Ask about a fulfillment provider's service level agreements when it comes to turnaround time and delivery reliability.
Find out what holidays they take that might interrupt regular delivery hours.
Enquire about their delivery rates for other merchants and how they meet SLAs on different sales channels.
Learn if there's a communication channel in place for emergency support.
10. Can a provider support international expansion?
As brands look to scale and expand their businesses, cross-border selling is quickly becoming a must.
Many brands are eager to reduce risk through territorial diversification, accelerate sales, and increase brand notoriety. So, look for a provider that can help you execute cross-border strategies affordably and efficiently.
For example, at MyFBAPrep, we have a warehouse network of over 50 warehouses and partnerships with some of the world's most trusted freight and logistics companies like SEKO.
Action points:
Ask what cross-border services the fulfillment provider offers.
Find out how much it costs to ship goods to the countries you receive the most orders from.
Determine pricing and timelines for shipping by region and item size/height.
The right partner is worth the effort
Finding a fulfillment partner that's the right fit for your brand can be a research-intensive process that requires significant time and resources. But when you're armed with precise information, you can sidestep mistakes to identify your ideal match faster.
Create a partnership framework with our questions, approach potential providers, and set up tests to verify assumptions or dispel any concerns. With a reliable fulfillment provider, you'll have optimized shipping solutions at your disposal, and your customers, staff, and bank account will thank you for it.
How to Optimize Your Fulfillment Strategy With Zone Skipping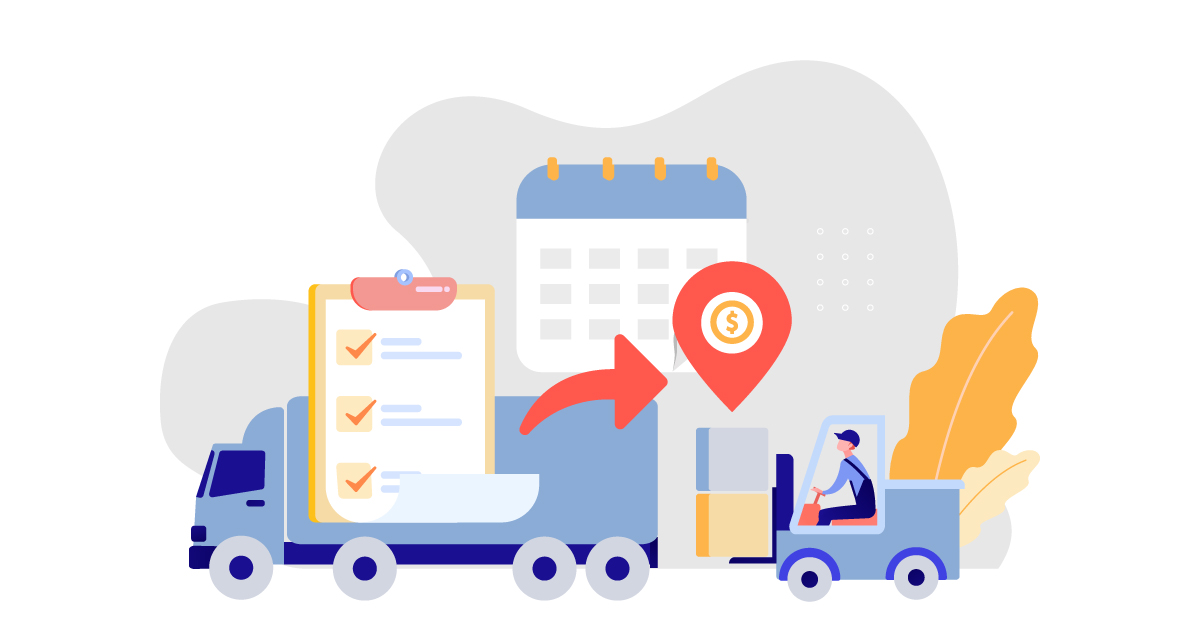 Whether you run a marketplace behemoth or an up-and-coming eCommerce brand, there's one thing you can't avoid. Shipping costs.
Rising fulfillment costs remain a cloud over eCommerce businesses, sapping up as much as 18% of every dollar earned. To make the situation even more complex, 62% of shoppers expect fast, free shipping and are willing to back out of purchasing if they consider fulfillment too slow or expensive.
Consequently, the hunt is on for a consistent way to drive down fulfillment costs without sacrificing quality.
Depending on your business circumstances, your solution could come in the form of zone skipping. In this post, we'll cover the ABCs of zone skipping and how to implement this shipping strategy to workaround sky-high fulfillment fees and drive your business forwards.
Ready to upgrade your shipping strategy? Start your fulfillment optimization journey with MyFBAPrep.
What is zone skipping exactly?
Zone skipping is the process of delivering large amounts of packages (either a truckload (TL)  or less-than-truckload (LTL)) to a carrier's parcel hub, bypassing specific zones on the way. The parcel hub is nearby to the packages' end destination, making it an efficient parcel delivery option.
Many retailers and eCommerce brands engage in zone skipping because the practice of skipping carrier zones allows them to save cash on shipping expenses and get goods to customers faster and easier with less product damage.
How does zone skipping work?
Each carrier will have its rules and processes for zone-skipping services. However, there are some typical steps you can expect. These are:
The carrier maps each territory's zones. The cities and towns will fall into these zones based on their postal code.
With zip code data. the carrier creates shipping routes to "skip" certain zones, consequently stop-offs to create the fastest and most economical route.
The carrier then combines packages bound for the same zone into one load destined for the carrier's local parcel hub, allowing it to get goods from point A to point B as quickly and cost-effectively as possible.
It's time to get serious about your fulfillment processes. Discover how MyFBAPrep can help.

Is zone skipping right for us? Here's how to know
Zone skipping can be a great way to increase your store's fulfillment capacity, speed, and profitability. However, it's not for everyone. Let's run through some instances when zone skipping makes sense and when it's best to seek an alternative fulfillment approach:
When to consider zone skipping:
Your store has a high order volume
If you process hundreds of orders or more daily, zone skipping could work for your business. This is because the more orders you can send to a zone in one shipment, the more you can save per parcel.
You receive orders from concentrated locations with a territory
Zone skipping works best for businesses whose orders come from a set number of regions with a country rather than dispersed across the territory. This setup allows for bundling parcels into a TL or LTL shipment bound for a specific carrier station. For example, if you sell in the UK and receive orders from Manchester, Birmingham, London, and Cardiff so you can ship to hubs in these areas near your customers.
You want to find and test new carriers in various regions
If you're hoping to test more carriers, zone skipping can help you do it. You can use a different carrier for each zone you serve to assess their capabilities, making zone skipping a quick and easy way to find your match.
Zone skipping isn't a good idea if:
You need more than the usual tracking updates
Zone skipping provides opportunities to monitor parcel movements efficiently. But depending on the route length and carrier used, parcels can go days without being scanned once split according to their zone and in transit. Also, some carriers don't provide updates on the first part, "line haul" of the zone-skipping journey, reducing your visibility. So, if you need updates on the hour, every hour zone, or very regular notifications, zone skipping won't meet your needs.
You've got unstable sales
Peaks and troughs in your sales are normal, but if you have huge, unpredictable slumps, zone skipping may not work out. This is because you need a significant shipment size to fill a TL or LTL continuously. So when your store can't make the order volume your carrier has agreed to ship, you'll have to wait to fill it, which could cause delays.
You don't have the budget for additional tech solutions
If you don't outsource your fulfillment, there may be some set-up costs to implement the appropriate transport management solution and IT integrations with partner carriers to track parcels and monitor operations.
Don't go it alone on your zone-skipping journey. Partner with MyFBAPrep for stress-free fulfillment.

How to upgrade your fulfillment strategy with zone skipping
If you decide zone skipping could be a profitable shipping method for your business, the next stage is to get your set up right for maximum efficiency and productivity. Let's break down the steps to take:
Assess your business for zone-skipping opportunities
The first task on zone skipping to-do list is to identify all the areas you ship to and consider which ones lend themselves to this fulfillment method. Don't forget to run each potential region the criteria (high order volume, steady sales, and order origins concentrated in certain regions). Remember, you not only be able to fill a TL or LTL but also ship to a particular town, region, or city as a load should be cheaper than shipping the parcel solo.
For example, say you sell from the East coast in the US, and many of your orders come from the West coast; it could be a zone-skipping prospect. If you have sufficient order volume and the cost of using zone shipping is considerably less than shipping the product individually.
Top tip: The more zones you can skip, the larger the cash and time savings you stand to make.  So, double-check your potential routes.
Upgrade your parcel sortation system
Your sortation system will play a critical role in how smoothly your zone-skipping strategy plays out. So put your best forwards.
Analyze past sales and customer data to understand how many orders you expect to process per hour. Once you have this information, implement sortation tools that'll allow you to sift through to goods quickly, even during peak times. For example, some equipment that can help you sort through high-order volumes include:
Conveyor belts
Push tray sorters
Bombay
 Explore and test different carriers
The good news is there are more carriers in the market than ever. But to find those well-equipped to execute zone skipping and has experience in handling eCommerce orders, you'll need to do some digging. Speak with existing carriers to understand whether they offer this service. Also, explore to help filter through the options, only entertain carriers that:
Ship to the zones, you fulfill orders in now and anticipate you'll ship to in the future.
Offer cost-saving that make zone-skipping worthwhile.
Have good performance stats for their zone-skipping services.
Equip your warehouse to process zone shipping parcels
If you choose to execute zone skipping in-house and partner with carriers, having a fulfillment process and station built for speed and efficiency is essential. Here are a few key resources to have:
A door dock and conveyor lane: To streamline your operations and accelerate pickup processes, set up this duo for each zone skipping carrier you work with.
Trained staff: Cross-train staff on the requirements for each carrier you work with and the packing requirements for your products and sales channels to keep errors low and output high.
Labeling and packing solutions: Set up stations with all the equipment and material you need for labeling and packing, e.g.,  laser printers, dunnage, and parcel boxes in multiple sizes.
Outsource to a 3PL to execute zone skipping efficiently
Perhaps you've looked at the costs and work involved in executing zone skipping in-house and don't find them appealing. No problem, there's a workaround. Outsource your zone skipping activities to a 3PL to cut the learning curve and lengthy setup. As a standard, the 3PL you choose should have:
Finetuned prep and pack capabilities.
The ability to integrate their solutions with carriers and your tech stack.
A sortation system optimized to handle large orders.
Reliable and cost-effective partnerships with carriers that use zone skipping.
Door dock systems for their main carriers with conveyor lanes help sort and dispatch goods fast.
Technology to manage multiple carriers and zones simultaneously and improve routes.
Analytics to track order volume, goods in transit, and drop-offs.
Harness the power of zone skipping to accelerate growth
Zone skipping can be an excellent opportunity for high-growth eCommerce businesses to save cash, simplify operations, and drive efficiency.
However, remember, zone skipping isn't right for every business.
Before you dive in, get familiar with the traits needed to do well with zone skipping and explore other fulfillment options to make a solid assessment.
If you decide to proceed with zone skipping, only use it in the areas that make sense, considering the cost-saving vs. time and effort required. And if you're in a hurry to see results without placing pressure on your team, outsource! An optimized fulfillment strategy awaits, so get started today and watch your business transform.
Need to get your business ready for zone skipping?  Learn how MyFBAPrep can make the process easy.
The Importance of Economic Order Quantity (EOQ) and How to Calculate It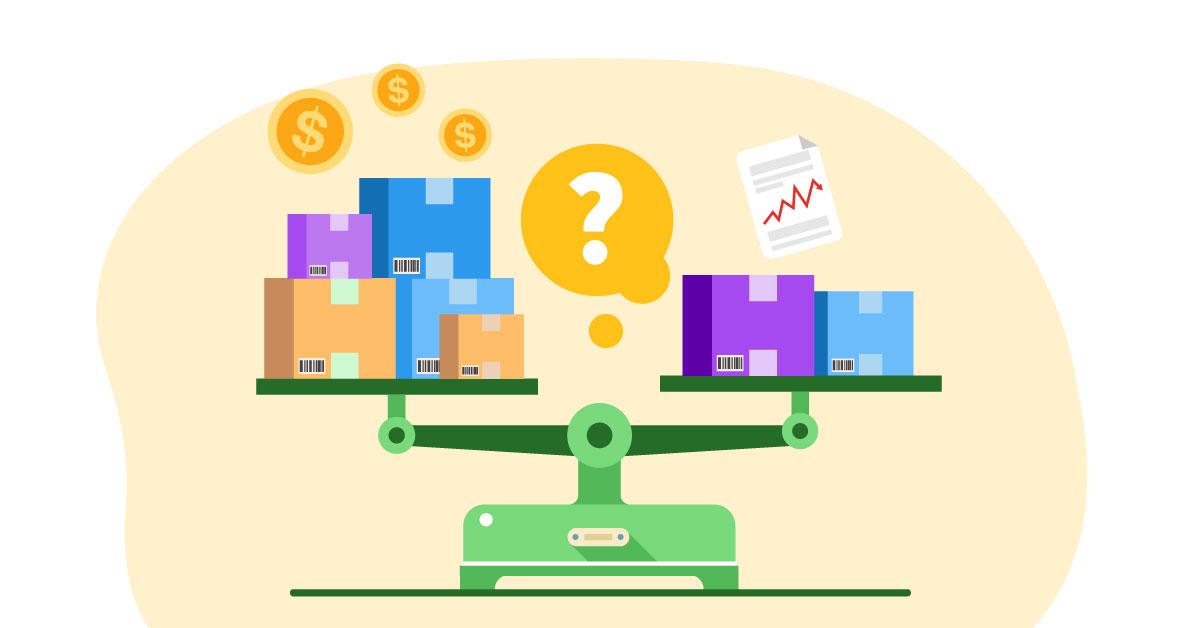 Managing inventory is one of the most important aspects of a thriving eCommerce business, but most entrepreneurs have little experience in it when they launch. Effective inventory management can help you optimize how and when you order inventory to reduce overhead, risk, and thus total costs.
The calculation most inventory managers rely on for this is economic order quantity (EOQ), which is the order size you need to minimize risks and costs such as holding/storage, shortage, order processing, and waste. You need a considerable amount of data for this calculation, including actual costs associated with holding inventory, the likelihood of risk, and more.
Why use EOQ
Although there are dozens of inventory management equations, EOQ is a crucial one. It calculates figures such as the rate of sale, the cost of placing an order with your wholesaler or manufacturer, and delivery, processing and stocking, holding, overstock, and overselling expenses to set ideal timelines between orders.
Once you tweak the formula to fit your business, you'll be able to minimize the amount of inventory in your warehouse at any given time. This frees up floor space and lowers the possibility of damage or being stuck with dead stock. It also cuts down the number of people needed to manage, track, and audit inventory, while making room for other types of stock.
At the same time, EOQ should balance the costs it computes with those of delivery so you reach an equilibrium. For example, if you place an order and it's more expensive than placing a larger one and simply storing stock for longer, you need to increase the order size.
The EOQ formula
The most common EOQ formula is:
The square root of [(2 x Demand) (Sales) x Cost per order / Holding costs] 
In this equation, the terms are defined as:
Period – The span of time the calculation covers. The EOQ formula above is based on annual demand. However, you can calculate using monthly or quarterly demand as well.
Demand – The total movement of product on a unit basis over the established time period, with calculations for peak periods, sales growth, and new business endeavors. For example, if a business has historically seen an increase in sales between 1.5% and 4% per quarter over the last five quarters, you'd calculate a 4% increase in total sales. If you know 35% of total sales occur during the holiday season, you can recalculate on a quarterly basis to adjust for it. If you're expanding to a new channel, you can buy excess stock based on predictions for it.
Holding costs (for the period) – The cost to store inventory per unit (carrying/storage costs, including capital, warehouse space, refrigeration, insurance, etc.). Holding costs normally increase proportionally to the quantity; for example, if you store through FBA, it's a direct, linear rise; if you have your own warehouse, holding costs plateau at certain levels and increase at others. Actual holding expenses include computers, paperwork, software, warehouse rental, and wages. It's important to look at the cost of warehousing per square foot and then break down inventory based on that number. If you have lots of empty space, these costs will be low. But, if you use FBA or some other third-party provider, your expenses will be significantly higher.
Ordering cost (per order) – The cost to place an order with your supplier, including paperwork, man hours, setup, shipping costs, etc. This should be in total, not per unit.
In practice, your EOQ equation might look like this:
(2 x 1,000) x $27 / $1.12 = $219
You can then round up to $220 or down to $200 based on how your supplier sends shipments. Order frequency is simply your EOQ divided by your demand.

Challenges of EOQ
While EOQ can help you optimize total costs, it's not perfect. In fact, it introduces complications at multiple points, including:
Business growth – Most EOQ models incorporate the projected rate of growth into demand, usually as a sliding scale based on historic growth. That's difficult in the early stages of scaling. Even if your business is well established and has plenty of data, making accurate projections can be complex. EOQ also has trouble predicting new growth because of market shifts, new marketplaces, competition, ad campaigns, etc. Whenever you add something new to the equation or the market shifts, your EOQ falls. So, it's important to pay attention to real-world market behavior whenever you calculate it.
Sales peaks – Sales peaks (normally driven by the holiday season), weather changes, and other acute events are common, but EOQ calculations usually occur on an annual basis. Taking these peaks and other unstable demand factors into account can prevent you from overstocking for most of the year and understocking during a peak period. If you have historical sales data, map expected peaks and adjust your EOQ accordingly. Peaks may be seasonal, campaign or competitor related, or due to other irregular occurrences.
Data accuracy – You need reliable data to make reliable predictions. If you lack basic automation in your warehousing, inventory management, and order processing, you're almost certainly missing data (for example, scanners that automatically enter SKUs into and out of inventory and consolidated data streams where stock is synchronized on a central management platform). This also holds true for supplier data, where changes in order fulfillment time, delivery availability, and other factors can greatly impact your supply chain. Having that data in real-time ensures you maintain accurate EOQ and reorder points.

Optimizing EOQ With Automation
While many organizations traditionally calculate EOQ manually, you can let technology handle the math instead. An intelligent inventory or warehouse management system will track EOQ and other calculations in near real-time. For example, JIT (Just-in-Time) inventory is an extreme form of EOQ where you minimize in-stock inventory at any given point, scheduling reorder points to arrive exactly when you sell out.
Keeping up with those numbers is all but impossible without real-time data. The algorithms make up-to-the-minute calculations based on both the current (exact) rate of sale and long-term forecasts. That's possible when you have all of your sales points and marketplaces linked to a central inventory management system, because you see the actual rate of sale per location or warehouse, per channel, and per product. You can then track the actual rate of sale and update your EOQ on a per-order basis with the supplier.
Often, this allows you to automate reorder points either by flagging an administrator when the stock reaches a critical level or by automatically submitting the order.
Calculating EOQ for Optimal Inventory
A credible EOQ calculation takes data from every part of your business to align metrics like rate of sale, sales forecasts, and historic data with demand. Then, you can determine how many times per year you have to order and update that frequency as data changes. Granted, you'll still have to calculate reorder points, which rely on supplier data and shipping timelines, as well as the time required to process incoming orders.
However, EOQ isn't infallible, so you should regularly update your calculation or your order based on current, real-world data. While EOQ can be complex to figure out at first, in the long run, it can greatly reduce the inventory you have in your warehouse at any given time while preventing you from selling out.
Value-added services from MyFBAPrep
Do you know how many stores are on Shopify?
3.9 million and counting. And, let's not forget the 1.9 million active Amazon sellers. Looking at these numbers, it's clear that eCommerce is thriving.
As the online selling world becomes increasingly crowded, some brands have learned a hack that gives them a much-needed edge. Efficient fulfillment.
But as a scaling brand, completing all the fulfillment-related tasks to a high standard consistently can be challenging. That's where an experienced prep and pack service provider like MyFBAPrep takes the load off your shoulders and builds an optimized fulfillment process.
Many services fall under the "fulfillment" umbrella that can take your prep process and customer experience from good to great. In this post, we'll cover why partnering with a fulfillment provider to secure value-added services is a worthwhile investment. We'll also share some of the most impactful services for growing eCommerce brands and the rewards you stand to reap by using them.
Struggling to manage fulfillment in-house? Learn how MyFBAPrep makes outsourcing easy.
Why invest in fulfillment services?
From prep and pack services to prep to 3PL and 4PL solutions, investing in your fulfillment processes can pay huge dividends for years to come. Let's take a look at some benefits you can get when you pick the right provider:
Enhance your end-to-end fulfillment with the perfect details
Whether you need items securely shrink-wrapped for transporting to your retail stores or want some finishing touches added to your show-stopping bundles, the right value-added service provider will be right on hand. As you polish your fulfillment, you can expect lightning-speed efficiency and productivity that'll upgrade your eCommerce selling results.
Make your resources count
Time and money are two of the most important resources you can have as a growing eCommerce brand. Using fulfillment services will not only help you maximize your budget but it'll also make your processes more streamlined and profitable.
Set a high bar for customer happiness to accelerate growth
One of the great things about using value-added services is that phenomenal customer experience will become your standard. As swift fulfillment becomes your signature and you can attract even more business into your store, boosting its growth.
Feeling overwhelmed by your fulfillment duties? Let MyFBAPrep do the heavy lifting.

Value-added services: Top picks for eCommerce brands
When it comes to value-added services, the world is your oyster. You can pick and choose from a wide variety of services whether you have a fixed or flexible logistics setup. As an eCommerce store, there are some core fulfillment services you should consider. Let's break them down:
Re-labeling at scale
Relabelling involves taking products with premade labels, e.g., barcodes or printed packaging, and attaching new labels in line with the requirements of your sales channel.
If you have unlabelled goods from manufacturers and suppliers, you can also use this service to attach labels such as QR codes, Stock Keeping Units (SKU), or product name tags to your goods.
The perks of relabelling services
Create compliant labels without exploding your workload: Sticking labels onto boxes may seem manageable, but as your order volumes and SKUs increase, it's easy for things to go haywire. A relabelling service will ensure labels are accurate, organized, and uniform.
Keep costs low: Relabelling can be a time-consuming and intricate process. If you depend on an eCommerce marketplace's fulfillment service to carry out this task, you could be left with an eyewatering bill. Outsourcing this task to a 3PL will help keep your costs in check.
Consistent labels no matter where your goods come from:  When you use multiple manufacturers or suppliers, maintaining consistency in your labeling can be costly and get any safety or branded stickers added at scale.
MyFBAPrep works with brands to develop labeling and sticker guidelines to ensure uniformity in your labels every single time. Staff executes the labeling service based on the guidelines, and relabelling work is inspected for quality and consistency before sign-off.
Co-packing
Co-packing involves taking goods from their raw and packaging them into finished products. While often used in the food industry, co-packing is also great for eCommerce brands with multiple SKUs and sales channels. Co-packing services can also include inventory management, packaging design and production, product assembly and warehousing, and distribution.
The perks of co-packing services
Increase your supply chain output: Taking an item from freshly made to packaged products can be a messy labor of love, requiring expertise and space to get the job done efficiently. A co-packing service will help you access the necessary tools, space, and workers to maximize productivity.
Prep goods fast no matter what: When you've got a small team working on everything from customer service to prep and fulfillment, it's easy for important tasks like prep to get bumped down your to-do list. By using sorting and segregation, you can prep and send goods quickly no matter what your team's obligations look like
Slicken your prep process: By taking the prep and shipping off your hands, a co-packing service can help you gain more flow in your fulfillment process while executing multiple packaging specs. This will help you avoid issues like stockouts and non-compliant goods.
MyFBAPrep will work with you to craft product and shipment outer packaging guidelines for every product and sales channel. We will receive your goods in any state, then we brief and assign team members to a station and task to speed up workflow.
For example, At MyFBAPrep, we recently received 50,000 dog bones that we needed to put on individual J-Hooks and hang tags. We made custom plywood tools to accelerate work output and keep our workstations and product handling hygienic.
Within 24 hours, we got the bones ready for sale with the right labels and packaging. We also boxed and palletized them to keep the shipment organized.
Bundling
Bundling is when you batch similar products together to an offer. You can use them for promotions, holidays, and even as a way to shake up your existing product without creating new items.
The perks of bundling services
Increase average order value: Bundling is one of the few services that can visibly impact your bottom line. Since you can earn more per order, bundling is a fantastic way to boost your store's return and make your marketing campaigns more cost-effective.
Optimize your items' perceived value: Be it saving time, creating a memorable gift, or an easy kit, shoppers love bundles and the value they provide. For instance, by putting together products your customers often buy together at a discount, your offer can become more appealing despite not offering new products.
Save space and simplify replenishment: With rising costs and continuing supply chain chaos, warehouse space is precious, and filling it with your most important goods is essential. Bundling helps you get goods into stock more easily and can even serve as backups for single product purchases by tearing them down when necessary.
MyFBAPrep can take individual items and package them as one unit. Alternatively, we can prep singular products into one order at the fulfillment stage.
Pallet bag packing
Pallet bag packing allows you to bundle and attach outbound shipments to a pallet in one swoop. Choose from different-sized bags and purchase in bulk to fit your need.
The perks of pallet bag packing
Give your goods a safe ride to their destination: Pallet bag packing allows you to you lock the goods into one solid unit for transportation. This improves the pallet density and stability so you can ship them worry-free.
Reduce inventory loss: With pallets secured using pallet bags, you can reduce the risk of product damage from things like mobile goods, dust, and moisture during transit and unloading and so protect your investment.
Quick, easy, and cost-effective prep: If you're looking for a fuss-free solution for your outbound shipments, pallet bag packing is the answer. You will add the finishing touches to your outbound shipments fast and easily without breaking the bank.
Variety packs
A variety pack service allows you to package individual items into one unit.  You can vary the assortment by size, product, or quantity.
The perks of variety pack services
Switch up your offers to skyrocket sales: From assorted chips to face mask multiple packs, variety packs are a staple in the retail and eCommerce worlds. Using a variety pack service can help offer more choices to shoppers and increase conversions.
Keep inventory costs manageable: As a growing business, it can be challenging to cover inventory costs with variety packs alongside your regular stock needs. Using a variety pack service will give you the option of creating variety packs on demand from one inventory pool.
Hit the gas peddle on laggard items: Variety packs services offer you a great way to reposition slow-moving products to clear your inventory quickly and get higher margins per sale.
Shrink wrap
Shrink wrap involves tightly wrapping boxes or products with a polymer plastic film that "shrinks" around the object.
The perks of shrink-wrapping services
Save on product packaging: Not every product needs a box or a tag, sometimes shrink wrap will do the job. Using a shrink wrap service will help you keep costs packaging, storage, and shipping costs lower.
Add an extra security layer to your shipments: Got a shipment of valuable goods? Shrink wrap can offer a layer of protection by making it harder to access its contents.
Make your pallets more: As the saying goes, "there's strength in numbers". A shrink-wrapping service will help you tie boxes together, wrap shipments to pallets for more, and put individual items into one bundle for more sturdiness.
Sort and segregation
Sort and segregation, a.k.a. sort and seg, involves your fulfillment provider handling unloading and sifting through shipments. This involves stock counting, quality inspection, packaging, and repacking.
The perks of sort and segregation services
Get goods ready from sale easily: Purchased a liquidation pallet you want to rebrand? No problem! A sort and segregation service can help you prep goods for sale with minimal fuss.
Get faster prep: Since you can send goods exactly as they are from your suppliers, you can speed up your prep and pack for faster restocking and fulfillment processes.
Access specialized skills no matter your budget: Things like quality assurance and packaging take specific skills to execute, and with limited resources, it can be difficult to maintain high standards. A sort and segregation service will allow you to tap into these skills without needing to develop them in-house or sign up for lengthy contracts.
MyFBAPrep can handle the entire process from receiving goods from manufacturers to sorting and segregation of your SKUs according to your spec.
Get ahead with optimized fulfillment
Value-added services offer an excellent opportunity to streamline back-end processes and make your fulfillment hassle-free and cost-effective.
No matter your budget, product portfolio size, or packing requirements, there's a service out there for you. So pick the areas you need help with the most now and get started.
The sooner you sharpen your fulfillment process, the faster you can start seeing results in your customer satisfaction and sales.
If you're looking for a prep and pack partner, MyFBAPrep is ready and waiting with the services and tools needed to set your brand apart. Get in touch to learn more.
The Importance of eCommerce Inventory Insurance And How to Choose The Right Provider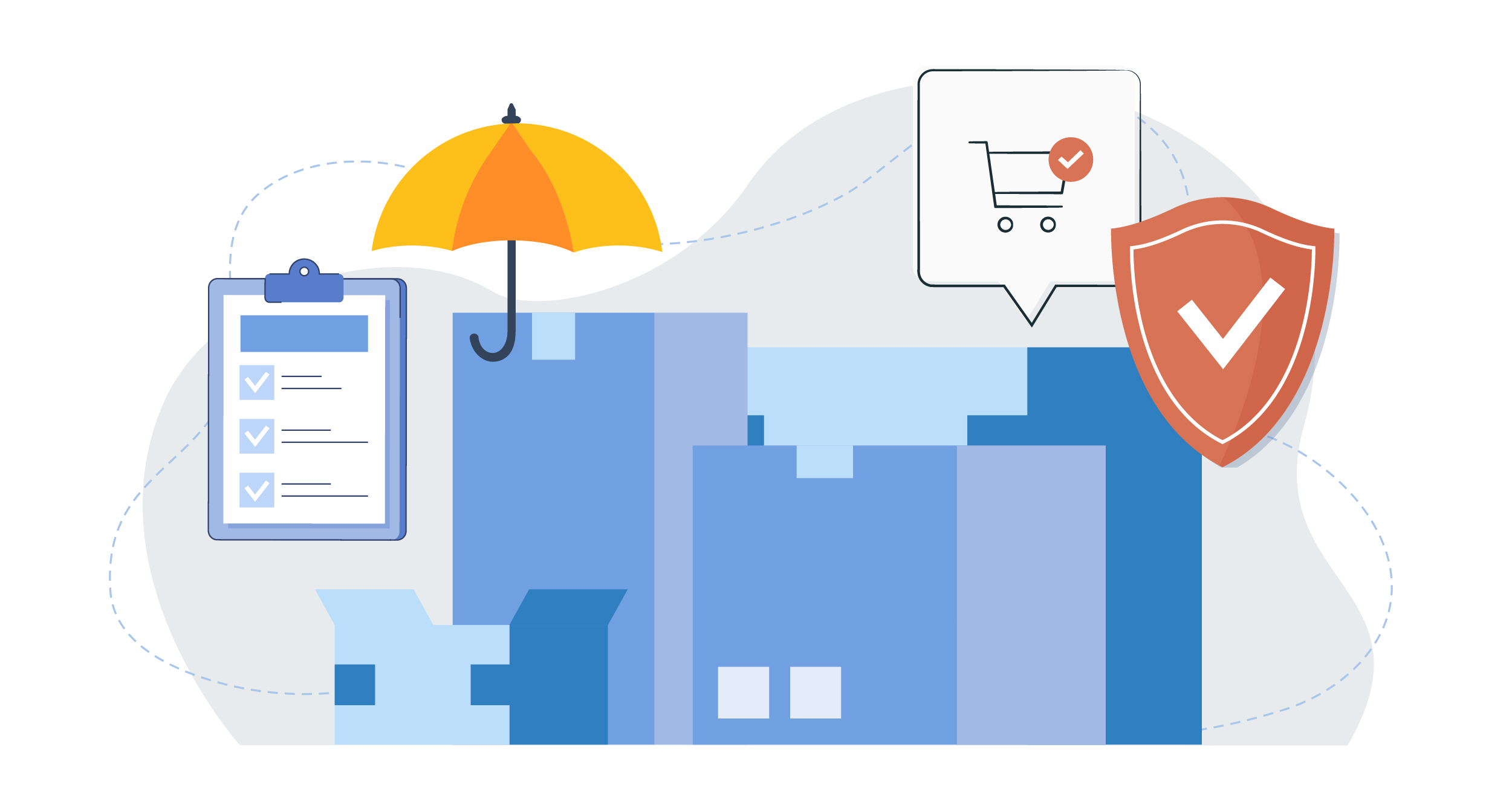 Ever suffered a stock loss?
If so, you're not alone. In 2020, 15% of US retailers experienced an inventory shrink of 3% or higher, and only 10% said they saw stock losses between 1% and 1.24%. These figures may not sound like much, but losses can rack up to eye-watering amounts when operating with high sales volume or selling expensive goods.
Not only is this experience painful, but your business will have to foot the hefty bill solo without a lifeline.  Worse, the unrealized sales still impact your store's profits and overall ROI, rubbing more salt into the already gaping wound.
Luckily, for an eCommerce business, that lifeline is inventory insurance.
In this post, we'll explore what inventory insurance is and what it's not. We'll also share some perks of using this type of cover and tips on selecting the best insurer for your business.
Still nursing wounds from stock losses and damage. Learn how MyFBAPrep can keep your inventory safe.
What is inventory insurance?
Inventory insurance is protection you buy to cover physical stock in your business. While buying stock cover is a necessity for all eCommerce businesses, it becomes especially useful in scenarios such as:
Brands experiencing fast growth
Selling items that are known to have high defect rates, e.g., electronics
Retailing goods with a short shelf-life, e.g., consumables.
Costs can vary depending on the service level you choose along with factors like inventory spec, the type of cover you need, and your business' claim history.
What does inventory insurance usually cover?
You can choose what issues and circumstances to cover by carefully vetting your provider and matching them to your store's unique requirements. As a base, most insurers offer protection against issues like:
Theft
Loss
Damage
Late dispatch/arrival
What inventory insurance doesn't cover
Inventory insurance doesn't cover assets or areas in your business besides stock. For example, if you want indemnity for operational ceasing, litigation, or employees, you'll need to seek additional insurance policies.

5 Tempting benefits of inventory insurance
By now, you probably have a few different policies in your eCommerce business and are questioning whether the extra financial commitment to inventory insurance is worth it. In short, it is! Let's run through a few reasons why purchasing cover for your stock is always a good idea:
1. Security when disaster strikes
Whether it's flood damage to inventory during peak season or a warehousing blip that leads to large stockpiles expiring, disasters happen. Getting inventory cover will ensure you can get back on track sooner by reducing your risk exposure, so you can rest easy at night.
2. Protect yourself from known issues
It's easy to worry about the unknown sneaking up on you and neglect the stock-related problems you often encounter, that can derail your progress. For example, if you sell fragile goods or operate in an area where inventory theft is common, you could frequently find yourself with stock-related losses.
Buying inventory insurance can help you stay steps ahead of the common problem you encounter to minimize damage.
3. Get access to essential eCommerce services
For many services and solutions, insurance is a right of passage to do business. So, if you want to work with a fulfillment house, 3PL, or multiple carriers, inventory insurance comes in handy. You'll have peace of mind knowing if anything happens to your goods while in their care, your insurance will kick in to save the day.
4. Show investors their cash is in safe hands
Nobody likes to lose money, not even investors. Inventory insurance can help reassure your investors their cash won't go up in flames if you experience stock loss. It'll also give them more confidence that your business can remain agile and recover in the event of stock losses.
5. Maintain a good buyer experience
Even when things go wrong, inventory insurance will give you the cash flow to fix problems for your buyers. As a result, your buyer experience can escape unscathed, protecting your brand reputation and future sales.
What to look for from your inventory insurance provider
To get the best provider and insurance cover, it's critical to vet providers carefully. There are many questions you can ask and traits to require to whittle down the list of viable insurance options. Here are a few characteristics to look out for:
Fair terms, service levels, and rates. Whether you opt for the premium or basic cover, insurance that gives you your money's worth is essential for solid ROI. Your provider should also offer fair terms and rates, with the option to upgrade or downgrade your plan.
Flexible policy periods and extensions. eCommerce is constantly changing, and your policy should be too. Opt for a plan that allows you to adjust its setup when needed. For example, switching from yearly to monthly payments is hassle-free.
Satisfactory claim windows. Ensure your plan offers reasonable terms on when you can begin claiming once signed up and the timeframe for making a claim when catastrophe strikes. This will help avoid stressful rushing to claim during peak seasons.
Low to no charges to make a claim and hikes following a claim submission. Choose plans with affordable claim charges that won't punish you financially for making claims by imposing larger premiums. Depending on the big claim, a small hike in the premium price may be feasible.
Complete reimbursement for eligible claims. Buy insurance that will payout 100% of the cost of the goods when damaged to ensure you aren't left out of pocket.
Multi-site coverage. Look for insurance covering multiple locations and territories where your inventory is stored and sold.
Is your store scaling fast?  Get the right fulfillment solutions for the journey.

Tips for picking the right inventory insurance plan
Now we know what to look for in an inventory insurer, it's important to craft a strategy to choose the right service and know when to tweak it for optimal cover.
Let's dive into the steps to take.
Record which items need insuring
First up on the inventory insurance to-do list is to create a physical asset list and decide which items need coverage. Use this list to set the budget and service level you require. Your stock list should include information such as:
Product name and a short description
Price and manufacturing dates
Current number of units in stock (per SKU)
The average number of units in stock per month (per SKU)
Item cost
Product recommended retail price (RRP)
Serial numbers
Tip: Take note of important details such as inventory location(s), the time it takes to produce each product, and the Units you sell per month to give insurers. This information will help them advise on the most suitable plan for your business.
Shop around
No matter how good the deal may look, never take the first offer. Explore different options and seek advice from multiple companies on the type of cover you should procure.
Obtain quotes, compare prices, and use them to get even deal quotes. It may seem like a lot of work upfront, but since your inventory will be an ongoing expense, it's worth the extra time and effort to secure the best rates and services.
Only work with reliable and experienced providers
Make sure your inventory insurance plan is legitimate, and the issuing company is trustworthy and experienced to avoid issues later down the line. A few things to look for in your inventory insurance provider include:
A solid track record for dealing with cases justly
Overall positive reviews and testimonials
Good payout rate
Quick response rate
Excellent communication
Conduct annual reviews
As your business matures, its inventory may change along with its required cover. So keep your stock list updated for easy monitoring and track your claims frequency, reasons, and success rate. Also, make a note to re-evaluate your inventory insurance needs to guarantee it continues to meet your business needs. Some areas to consider when reassessing your inventory insurance are:
Portfolio size
Product complexity
Territories traded in
Number of claims that year
Have a cash buffer
Sadly, not all claims will be eligible for a payout like "acts of God" unless your policy outright says it's covered. So, have sufficient emergency cash reserves to protect your business. This amount can vary depending on your product costs. However, aim to have enough cash to meet your minimum required stock units for your top products, manufacturing minimum order quantities, and funds for expedited shipping.
Need a hand managing inventory? Learn how MyFBAPrep can help.
Wrapping up — Strengthen your defenses with inventory insurance
Stock loss poses a real threat to eCommerce sellers' and retailers' long-term success. Inventory insurance creates invisible, ironclad walls around your eCommerce business to ensure it thrives come rain or shine.
Understand your business needs, research the best inventory insurance providers in your territory, and evaluate multiple quotes to find the best fit. Keep an eye on your business's changing needs and adjust your insurance plan accordingly to ensure you don't get left out of pocket when something goes wrong with your inventory.
Take these steps, and soon, you'll have inventory insurance that protects investments and helps your store grow through the highs and lows of eCommerce.
Don't let stock losses dull your store's shine. MYFBAPrep can help you manage inventory with ease.